May 19 - June 9 - Las Vegas
On Saturday, May 19, we departed the Rexhall Parking Lot in Lancaster, CA bound for Las Vegas. There were but two noteworthy events during the drive - our routing software didn't know that you needed military ID to follow the shortest route across Edwards Air Force Base. Neither did we, so we had to turn back and go around - 20 miles wasted. And when we stopped for lunch in Primm, NV,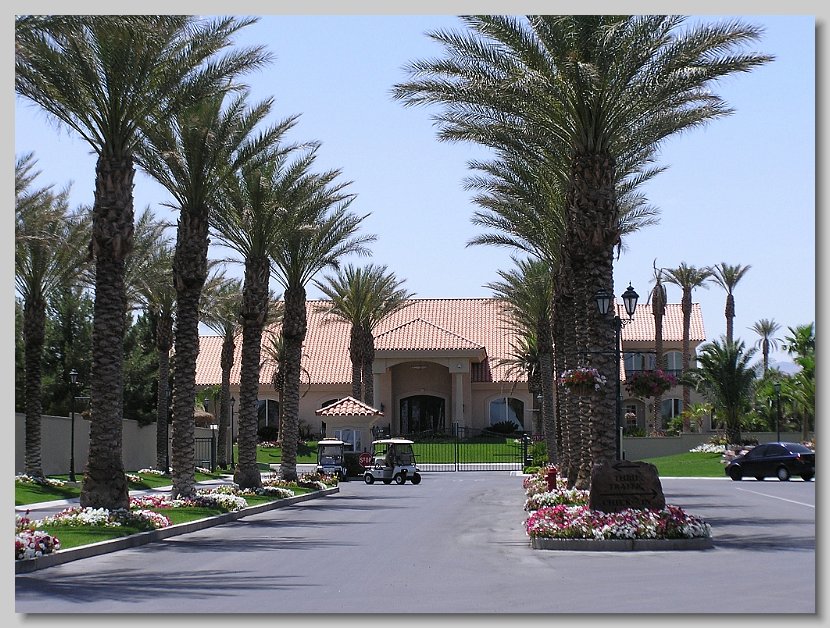 there was a noticeable slippage in the transmission when we started back up. Nevertheless, we arrived safely at the Las Vegas Outdoor Resorts - a lavish condo-style RV resort. We had a coupon good for five free nights, no sales pitch. We wouldn't have bought anyway - $300,000 for an RV parking place is a bit much for us. Even if there are five on-site swimming pools. After our five free nights, we moved across town to the 1000 Trails Las Vegas park, where we planned to stay for two weeks.
We figured there was bound to be someplace in Vegas to do the body work on the PT Cruiser - you remember the fender-bender in Astoria, OR in April. We can't say enough about the great way this was handled by Farmer's Insurance. They pointed us to a long list of body shops, we picked one, they rented us a car (well, a truck at first), and 10 days later we had a restored car. So aside from some aggravation, the whole adventure didn't cost us a thing. And since the whole back bumper had to be replaced, there is no evidence remaining of the time when Judy backed into the garage door from the inside of the garage (blush).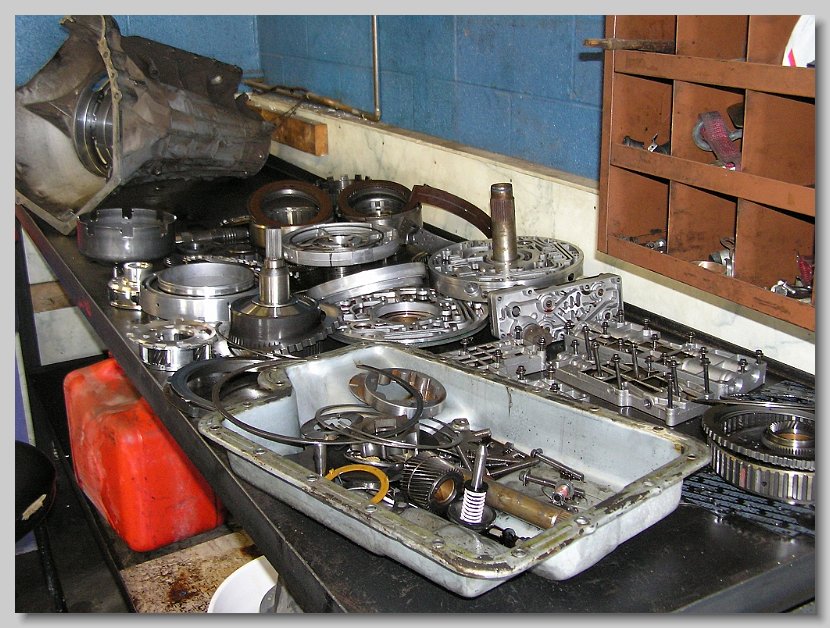 Unplanned was the need to have the transmission on the motorhome rebuilt. We settled on a Cottman Transmission Center, in part because they were on a Good Sam list, partly because when we stopped in to chat, they seemed to know what they were doing. The projected one-day job turned into a three-day project, resulted in replacing the whole transmission, and involved several frustrating phone calls before we were able to get the transmission shop and the extended warranty company on the same page. But the warranty company finally agreed to pay for the entire job, so we were out only $37.50 ($50 deductible minus a senior discount!), plus the price of three nights in a hotel (Sam's Town). It got us out of Las Vegas a day later than we'd expected, but no more gear slippage - hooray!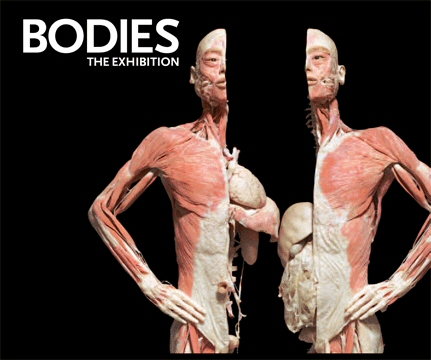 But enough about errands. What wonderful things did we see and do? Lots of things where you couldn't take pictures. We saw four shows: Cirque du Soleil's "Zumanity" at New York New York, billed as the "Sensuous side of Cirque", was much more bawdy than we'd expected; the "Ultimate Variety Show" at the Miracle Mile Shops was a vaudeville-type show that defies description and was absolutely amazing; "Wayne Brady Makes It Up" ("it" being the last half of an oft-censored word) at the Venetian Hotel was a fun evening of improv, impressions and unpredictability; "Spamalot", the Monty Python musical at The Wynn, was way more fun than anything should be, and extremely well done. We also couldn't take pictures at the "Bodies" exhibition at the Tropicana, where a couple dozen human bodies were permanently preserved (plasticized) in various stages of dissection, and numerous body parts were displayed (this is not nearly as gross as it may sound - the anatomical detail was amazing - better than having a college anatomy course); at a marvelous exhibit of Picasso ceramics creations in the Fine Arts Gallery at the Bellagio Hotel; and at an amazing display of classic and collectible automobiles at the Imperial Palace ("Take me home - just $4889 per month"), where we could have taken pictures, but as we hadn't planned on going there, didn't have a camera with us. And we didn't take pictures at the movies we saw - Pirates of the Caribbean, Ocean's 13, and Lions 3D at the Luxor Imax.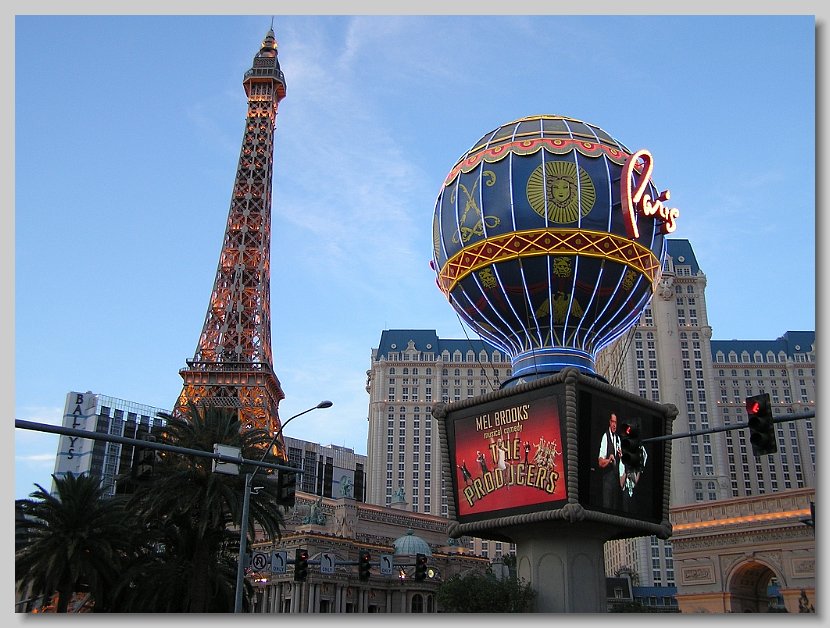 Not to disappoint all you fans of the Aslakson photo galleries, there were lots of places where we did take pictures (see some of them here). We toured again the Ethel M Chocolate Factory so we could get free samples; rode to the top of the half-size Eiffel Tower, visited again the marvelous Chihuly blown glass ceiling in the lobby of the Bellagio Hotel; spent a couple of evenings at the Fremont Street Experience in downtown Las Vegas, watched the musical fountains at the Bellagio, ate way too many wonderful dinners out, meandered those fascinating shopping galleries of hyper- expensive stuff at several hotels ("Wanna buy a Ferrari - step this way...."), visited the Red Rock Canyon, a wonderful wild area just outside Las Vegas, had our first $200 fuel fill up for the motorhome, sold our folding bikes to a neat couple from Ocala, FL who saw our listing on Craig's List Vegas, sweltered through some 108 degree days, toured the Liberace Museum, ate (twice) at Metro Pizza on Tropicana Blvd, which had been recommended by the folks from Florida who bought our bikes, went to church three times at First Presbyterian Church Las Vegas, got a mail delivery from Reedsport, and made the requisite multiple visits to Costco, Camping World and Wal-Mart.
And, believe it or not, we spent several days not doing much of anything at all - too darned hot!
On Sat, June 9 we headed north to Virgin, UT and our first visit to Southern Utah's marvelous canyon country. Wow! Many, many pictures promised in the next report.
You want some pictures? The slide show for this leg of our life is here.