Jan 24 - Feb 7 - Fort Myers FL Area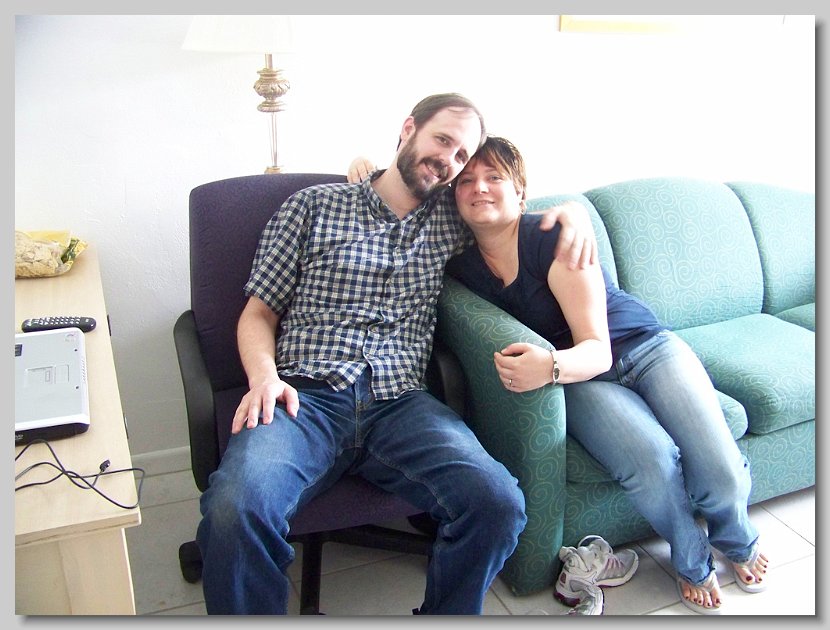 Two weeks in the Fort Myers area, including some real high spots and one real bummer. On Thursday, Jan 24, after driving a little over 50 miles south from Venice, we parked the motorhome in North Fort Myers, plugged in the electricity, and immediately jumped into the car and drove 140 miles across the state to Fort Lauderdale. We arrived at the Fort Lauderdale airport a little after 4pm, and about an hour before Ira and Anna arrived from Oregon on their way to a cruise. Happy reunion ensued. We spent most of two days together in Fort Lauderdale before heading back to Fort Myers Saturday afternoon.
We were slowed somewhat by two nasty-looking crashes on I-75 between Naples and Fort Myers, and got home around 7:30 to find we had no water. Real bummer. When we'd left, our water tanks were about 2/3 full. Rummaging around in the dark, we found that the hot water faucet in our outdoor shower (which we never use) had disintegrated while we were gone, pumping about 60 gallons of hot water into the very dry Florida sand. Until the leak could be fixed, we'd have no water. Spent much of Sunday removing the outdoor shower assembly and capping the water lines that feed it. We now had water again. But the cap on the hot water line failed Sunday evening, this time just a dribble, but inside a bathroom cabinet. More time spent Monday recapping the line. Drying out the bathroom cabinet and floor carpeting took most of two days. NOW maybe we could start enjoying this wonderful part of Florida. The leaking water pipe saga will, however, be continued.
There were three major things we wanted to do while in the Fort Myers area - visit the winter estates of Thomas Edison and Henry Ford, spend some time on the beaches of Sanibel Island (arguably the best beaches in the world for sea shells), and explore some of the Everglades. We did them all.
Edison's first successful filament for his light bulb was made of carbonized green bamboo, which grows very well in South Florida. While searching for a good supply, he found it on an estate in Fort Myers, which he immediately bought. It became his winter home, and several years later his good friend Henry Ford bought the adjacent estate as his winter home. Both estates and homes are today museums, open for tours. The homes are fairly modest as estates go, but the location (right on the water) and the landscaping are spectacular. Edison, Ford and Harvey Firestone formed a research company in the 1930s to find a native source for rubber - essential for the tires that Firestone made for the cars that Ford made. Many of the most spectacular trees on the Edison-Ford estates are the result of that partnership - including the second largest Banyan tree in the world, and some spectacular fig trees. The research did find a good latex source - would you believe goldenrod? - but the folks at DuPont developed synthetic rubber about the same time, so the goldenrod of the world was saved.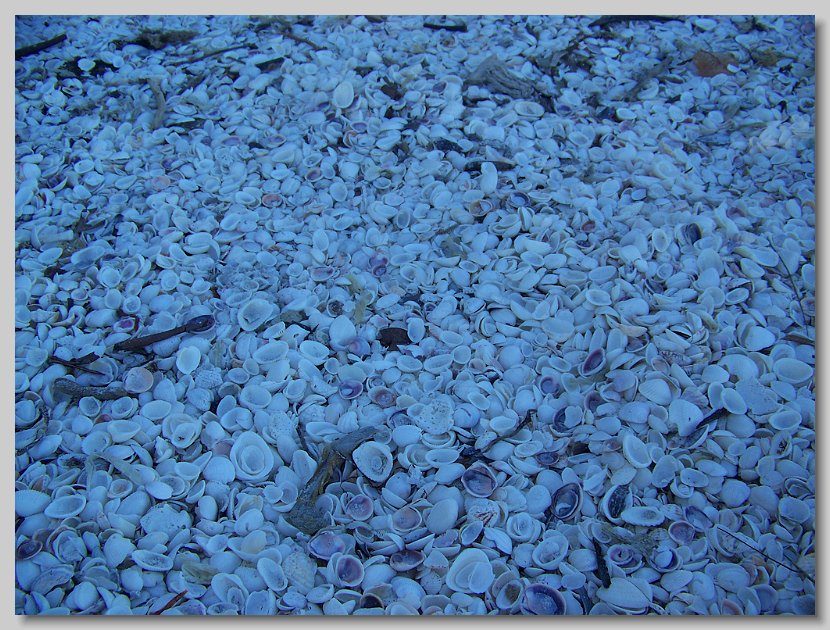 Sanibel Island is across a $6 toll bridge from the Florida mainland, and due to location and shape, collects a spectacular quantity of seashells as the gulf currents sweep past. There are miles of beach literally covered with shells. Most of them are pretty mundane shells, but Judy found a bunch she wanted to keep. There were many people swimming, but we settled for wading. Water temps in the high 60s are not for us. Sanibel is also home to some very nice (and spendy/trendy) places to eat. We landed at a gourmet burger place named "Cheeburger Cheeburger", which not only serves really good burgers, but lists 72 different milk shake flavors on the menu. We can report that the Elvis memorial shake - peanut butter banana - is really good, but also tends to clog the straw.
We split our two weeks in Fort Myers between two RV parks, both of them primarily residence parks. The first was in North Fort Myers, just off I-75. The second was at Fort Myers Beach, about 4 miles from the Gulf of Mexico. Both parks are older resorts, built when RVs were smaller, with narrow roads and tight spaces, and lots of permanent structures. We continue to experience new environments, and at least so far in Florida, wonderful weather, with temperatures in the 70s and low 80s most days.
As far as the Everglades are concerned - WOW! After poking around on the internet, we made reservations for an all-day EcoTour. We made a good choice. The tour included a pick up just a few blocks from the RV Park, a naturalist-guide, a 90-minute boat ride through the 10,000 islands to the Gulf, several stops to view wildlife, and finally an hour-long airboat ride through a lake that's home to an unbelievable quantity of alligators. We'll let the pictures in the slideshow tell the tour story, except to mention one thing that we couldn't move fast enough to get pictures of. A dolphin was seen while on our boat ride, and as the boat slowly approached, the dolphin came completely out of the water - a full vertical jump. The captain said "Maybe he wants to play". So he revved the engines and got the boat going fast enough to create a wake, and the dolphin pulled in behind and surfed the wake. Most wonderful, and way too fast to get pictures. But we have memories.
From Fort Myers, we'll move a little bit north - first to the Tampa area, then further north to the Crystal River area, then across the state to the Daytona area, and then back to Orlando. We'll essentially be in Florida until the end of March before heading back into the northeast.
There are about 150 pictures in our slideshow for these two weeks. You'll find them here.