Apr 21 - May 1 - Greensboro, GA
After a few more weeks in the Orlando area than we'd planned on, we finally started north on Mon 4/21. We spent our first night at an "RV Camp" just outside Tiffton, GA - full hookups, but that's about it. The price was right, and it was just one night. Wouldn't want to spend much more time there, unless we develop more of an affinity for mosquitoes and fishing.
On Tuesday, we drove another 180 miles to the North Shore Resort on Oconee Lake, near the town of Greensboro, GA. Greensboro is about half-way between Atlanta and Augusta, and about 30 miles south of Athens. The North Shore Resort comes with one of our membership packages, so the rent was zero. Took us a while to find a site we could get level on and also get satellite signals, but we did. This resort is 20 years old, and built on a railroad theme - all of the park buildings are old train cars - boxcars, cabooses and parlor cars. Oconee Lake is an impounded lake built around 1980 to generate electricity, but it's also a major water recreation area. And in some places it's rapidly becoming an upscale water resort area. Some of that is spilling toward Greensboro, but not much, at least yet. But the town does have a Curves, so Judy was able to continue her workouts.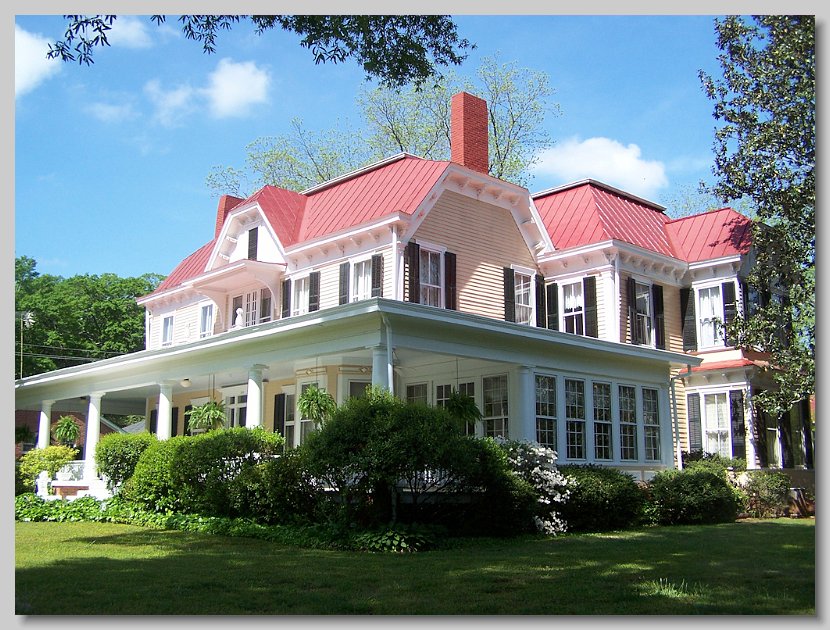 About 20 miles east of Greensboro is the town of Madison GA - lovely anti-bellum town ranked in 2001 as the "No 1 small town in America" by a travel writer. Madison was not destroyed during the Civil War - some say General Sherman "refused" to burn the town during his March to the Sea. Some say Sherman "declined", some say he was "persuaded", some say "bribed". Or maybe he just didn't - the orders Sherman issued to his various forces specifically prohibited laying waste to any town if there was no hostile resistance as the troops came through. In any event, the downtown walking tour included about 50 buildings dating back to the early 1800s, most of them carefully restored or preserved. A very friendly town. We went to church at Madison Presbyterian Church, in a building dating to 1842, with Tiffany stained glass windows and a partitioned sanctuary. It was the farewell Sunday for their head pastor. They also had a xylophone that played with the anthem and offertory - that's a new one for us.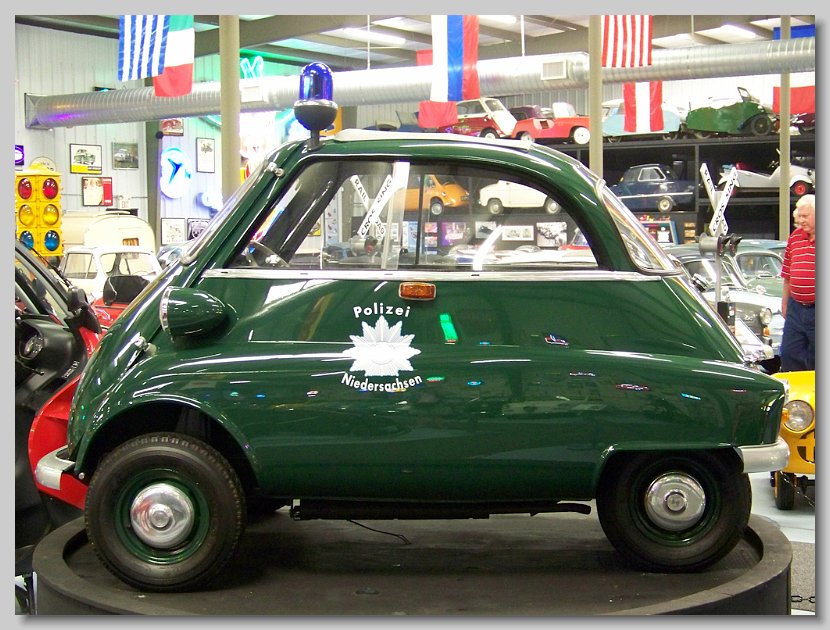 Our surprise discovery for Madison was the Microcar Museum. Microcars are defined as having two or fewer doors and engine capacities of 700cc or less - often much less. They are a primarily a post-WWII European thing, when factories that had been building war stuff had to find something else to do. In the late 40s and early 50s, Messerschmidt and others started building very small automobiles, which became known as Bubble Cars. The Bubble Car era was pretty well over by the early 60s, about the time the original British Mini came along. Anyhow, a guy by the name of Bruce Weiner, an executive with and former owner of the Dubble Bubble bubble gum company, started collecting those microcars in the early 90s, and there's a now a museum just outside Madision with a couple hundred itty bitty cars on display. There are early models of Subaru, lots of Isettas, and a bunch of British models we'd never heard of. Absolutely fascinating. And microcars are coming full circle - with the increased concern for the environment, there are now new microcars being built, including the very stylish Smart Car. Pictures of little cars abound in our slideshow.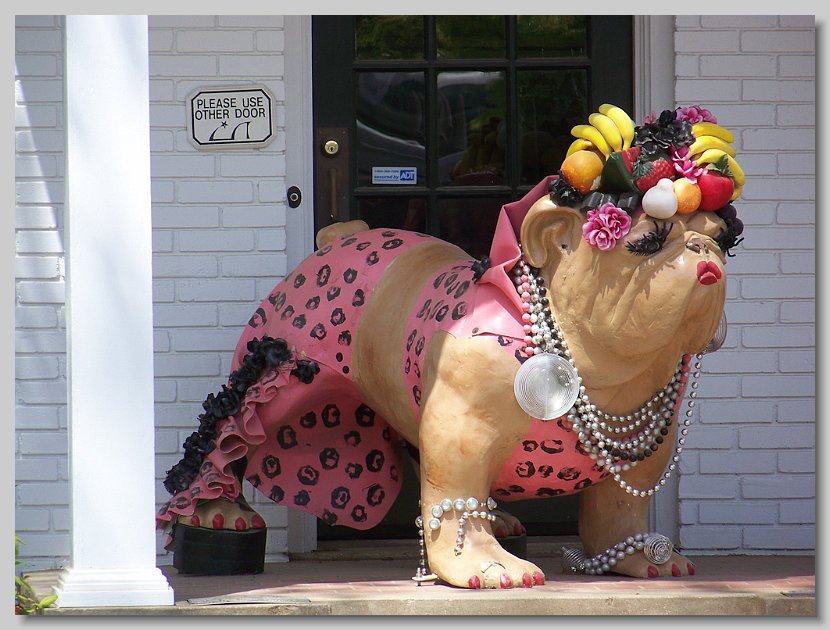 Athens GA is home to the University of Georgia, and the whole town is pretty much a college district. The mascot for the University is the bulldog, and the town is currently populated by about 50 four-foot tall fiberglass bulldogs, all painted and decorated by local artists. The theme is "We let the Dawgs out". We didn't find nearly all of them, even with a map. Our favorite was probably "Carmen Mirandawg", complete with platform shoes and fruit basket headwear. We've now seen painted ducks, cows, bison, pigs and dawgs in various parts of the country. Athens was also home to a natural foods store, something we didn't see many of in Florida, so Judy was able to replenish her stock of Yogi Teas (from Eugene). We also visited the Georgia State Botanical Gardens, just south of Athens, but there weren't a lot of blooming things that day, and the garden was being prepped for their annual plant sale, so it wasn't as much fun as we'd hoped. It's a huge garden, and will be spectacular when the summer blooms are out.
From here, we head north to revisit the Winston-Salem, NC area for a couple of weeks, trying to stay in spring as long as we can.
There are about 80 pictures in our slideshow for these 10 days. You'll find them here.