June 30 - Jul 6 - Pocono Mountains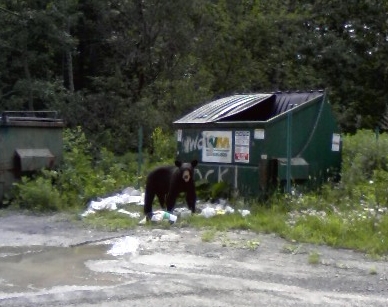 The Pocono Mountains of Northeast Pennsylvania are one of the major resort areas in the northeast. We hadn't really planned on visiting the Poconos, but we ran up against the 4th of July and a lot of full RV parks further north. So from the Catskills, we backtracked 50 miles to the Lake Adventure Community in Lords Valley, PA. This is a huge RV community - over 1500 RV sites, most of them permanently occupied. It wasn't really set up for "transients" like us. We managed to get one of the few spaces where our satellite dishes would work. And we found more wildlife wandering around than almost anyplace we've been. There were numerous wild turkeys wandering around, and several times we had deer (including a fawn) in our "yard". There were lots of woodchucks scampering around, and one morning Judy encountered a black bear in the parking lot of the local Curves.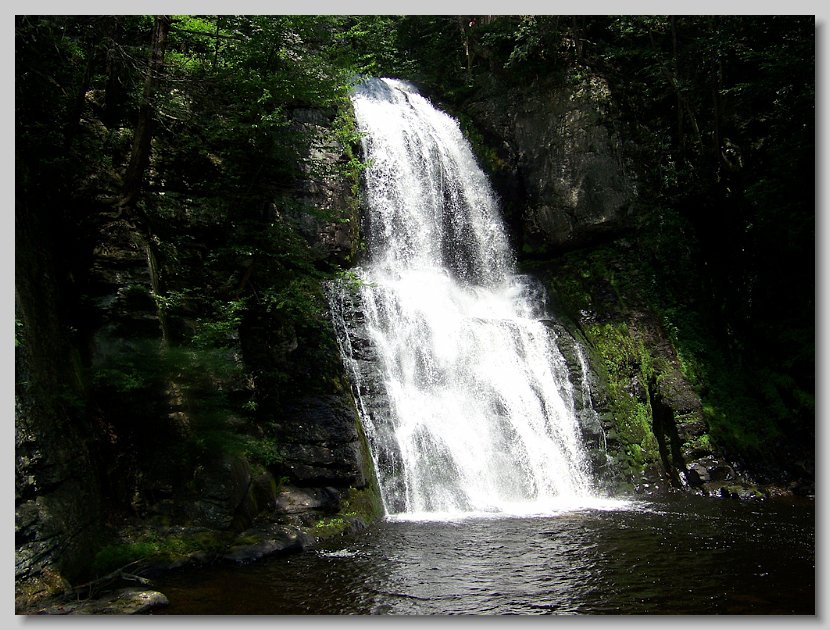 There are several neat waterfalls in the Poconos, and some of them were within 20 miles, so one day we "did" waterfalls. Bushkill Falls is billed as "Pennsylvania's Niagara", which is a major exaggeration, but it's a really neat place. There are actually about 8 waterfalls that drop a total of about 200 ft. It's surprising to find something like this privately owned and operated. The park has several trails ranging from the easy 1/4 mile walk to the main falls all the way up to a two-mile hike involving over 900 stair steps into and again out of the canyon. We opted for the 2nd-easiest hike, which still took us to the bottom of the canyon. Very photogenic place. On the way to Bushkill, we happened upon another waterfall complex and wandered through the woods to Dingmans Falls, the 2nd highest waterfall in Pennsylvania. Very nice.
In Stroudsburg PA we found the Quiet Valley Farm, a well preserved Pennsylvania German farm dating to the early 1800s. The guides and hosts were all in period character, and did a pretty good job of transporting us back 200 years for a few hours. Neat place, neat people.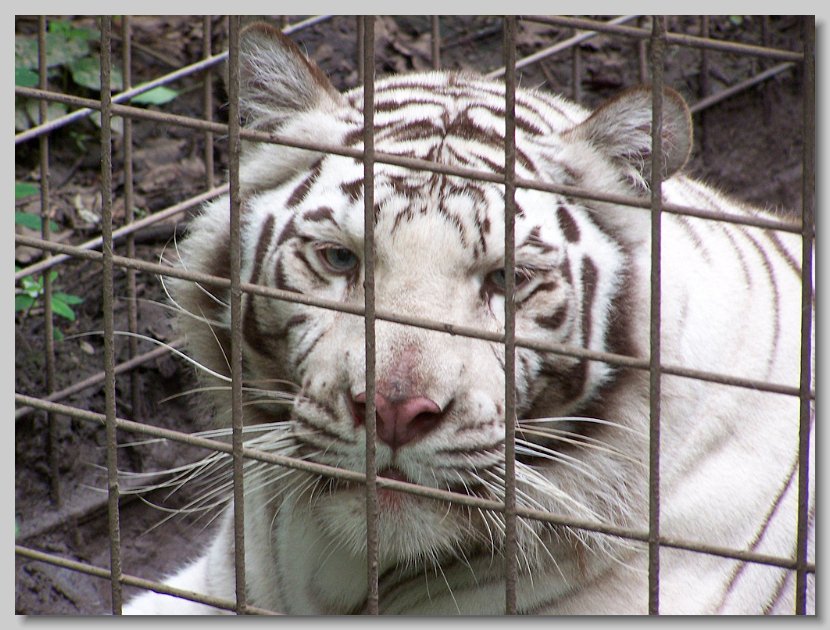 We're suckers for zoos, and there's one named Claws 'n' Paws near Lake Ariel, PA - an old-style roadside animal attraction with a better than average selection of exotic animals. We felt kind of sorry for some of the animals in those cramped cages, but some of them were in better accommodations than some we've seen in major zoos. It was still enjoyable.
And then there was the Dorflinger Glass Museum - home to the nation's largest collection of Dorflinger glass - more than 900 pieces of cut, engraved, etched, gilded and enameled crystal. Christian Dorflinger was a highly respected glass maker in New York City before building a glass factory in White Mills, PA. They didn't allow photography, so if you're ever in the area, be sure to stop and see for yourself. It's really nice.
We tried to find some close-by fireworks to watch on the 4th, but couldn't. We wound up watching the New York City fireworks display on TV, which was absolutely spectacular. And all the while, we could hear what sounded like major fireworks displays going off all around us. But apparently not for us transients.
There are about 90 pictures in our slideshow for these six days. You'll find them here.