Nov 4-30 - On The Road Again!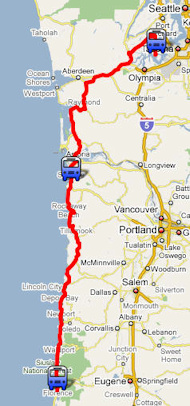 On Nov 4, having been in and around the Central Oregon Coast for seven weeks, and having completed almost all of our preplanned errands, we hooked up and headed out for our next adventure. Being that we spent both of last year's major family holidays thousands of miles from family, we elected to not go so far so fast this time. So, we stayed on the Coast for a few more weeks before heading up to Jan & Denny's in Washington for a family Thanksgiving.
From Florence, we drove north to the Thousand Trails Seaside Preserve, where we set up for three weeks. Seaside is just south of Judy's home town of Astoria, and it's a neat area to visit. It was a bit disconcerting, though, to be meeting all of those other RVs heading south. Didn't take too long for us to realize that maybe they knew some things we didn't.
The map on the right shows the 338 miles we traveled on this leg. When we last fueled the RV in Florence back in October, we paid $3.23 a gallon and felt good about it. When we fueled near Astoria on Nov 25, we paid $1.76. That felt really good. That's actually the cheapest gasoline we've put in the RV since we bought it three years ago.
Shortly after parking at Seaside, it started to rain. The Seaside Resort is just 5 feet above sea level, so the drainage isn't the greatest, and the in-park "water features" are all connected to waterways that connect to the ocean. We had upwards of 10" of rain in two days, which also coincided with a full moon and unusually high tides. Parts of the RV park were flooded, and parts of our site were also under water. We kept thinking about all those smart folks we'd seen heading south. Maybe next year . . . .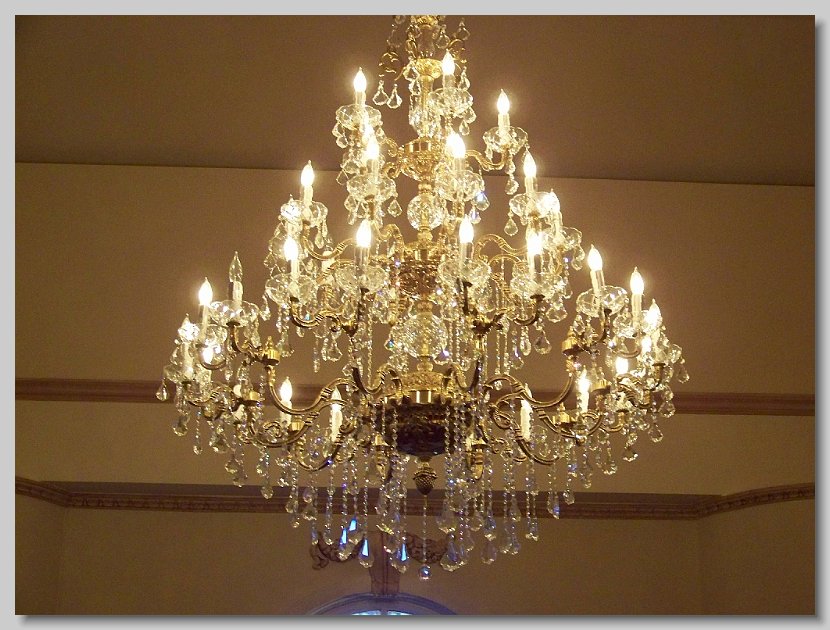 While in the Astoria area, we managed to visit with Chuck & Jan Wolfe - Chuck was on crutches, a major improvement from the wheelchair we saw in September. To celebrate his complete recovery (expected soon), they've planned a Mediterranean Cruise after the first of the year, including some camel time in Egypt. We had dinner with Bob & Stephanie Potts, folks from Reedsport we haven't seen in a bunch of years. Stephanie's a nurse-practitioner working in Seaside, while Bob's a photographer. We had dinner (twice) with Judy's brother John and Starrlette. We toured Astoria's showpiece Victorian home, the Flavel House, built around 1885 by the then richest man in town. We managed to see a delightful big band show at the restored Liberty Theatre, the first time Judy's been in the theatre since it was a movie palace back in the 50's. It's now a performing arts venue. At the local Curves one morning, Judy ran into two high school classmates, and a brief reunion ensued. We discovered a glass blowing studio in a converted gas station in Gearhart - appropriately named the Glass Station. We're fascinated by the whole process of glass blowing, and at this place we could get up close and personal with the whole process. And we now have a new favorite eatery in Astoria - the Cafe Uniontown. Outstanding food, and if you get one of their weekend specials, even more affordable than usual. Oh - and we replaced the tires on the PT Cruiser. Just because the odometer didn't record the 16,000 odd miles we towed it behind the motorhome the past 18 months doesn't mean the tires didn't feel them.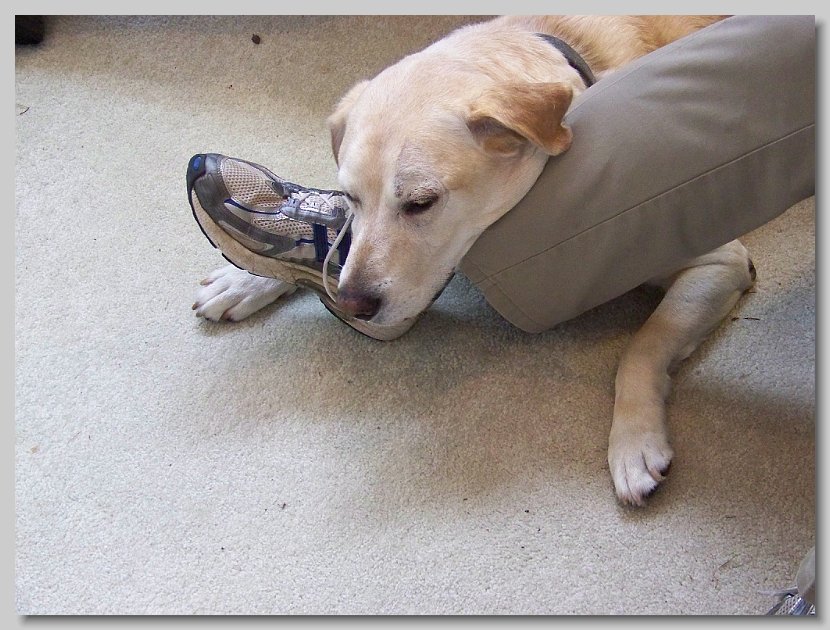 Just before Thanksgiving, we rolled north to Jan & Denny Prichard's place on Puget Sound for the holiday. Jan had just had some tendon repair surgery on her right foot, and was supposed to be totally incapacitated for the extended recovery, so Judy was prepared to become her surrogate for the holiday meal preparation. We got there on Tuesday, and Al & Denny did some computer repair that would allow Jan computer access from downstairs where she was hanging out. Late Wednesday, Judy's sister Joanna, Denny's sister Diane and Jan & Denny's foster son Basil arrived from Eugene. And on Thursday, Denny's sister Robin drove down from Seattle to complete the gang. Denny even borrowed a dog - Buddy - from neighbors who were going to Alaska for the holiday (and we thought we were headed in the wrong direction). Buddy was extremely well appreciated. A spectacular dinner was prepared under Jan's direction, and we all over-ate as usual. We all mostly hung around until Sunday morning, eating leftovers, decorating Jan's cast and fawning over Buddy. On Sunday morning, everybody dispersed. It was a great holiday.
There are about 80 pictures in our slideshow for this leg of our trip. You'll find them here.