Mar 30-Apr 13 - Casa Grande, AZ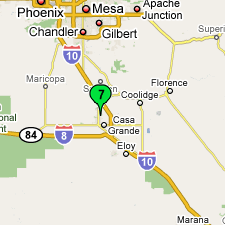 Casa Grande is a popular snowbird city. John & Valerie Smart from Reedsport have been wintering here for several years, and we keep intending to visit. This year we made it, but so late in the season we almost missed John & Valerie.
The Desert Shadows RV Park we stayed in is about 3 hours south of Cottonwood, on the north side of Casa Grande. It's a pretty bare-bones park - about 200 spaces rather tightly arranged, but with most of the essential amenities. John & Val, however, spend their winter in a much nicer place - the Palm Creek Golf & RV Resort, with about 2,000 RV sites wrapped around their own 18 hole golf course. We can see why they like it there. And there are plenty of neighbors from Reedsport close by - Jim & Linda Mix were encamped across the street and Dave & Bonnie Morgan were just around the corner. We caught up with the Smarts for dinner on about their last day (and our first) in Casa Grande.
Whenever we mentioned we were heading to Casa Grande about the first of April, folks would say "That's about when it starts to get hot down there." Actually it was very pleasant, and while we ran the air conditioner most every afternoon for a couple of hours, the temperatures hit 90 just once or twice. We experienced about three days of inhospitable weather while in Casa Grande - two days of rather brisk winds that generated some pretty spectacular dust clouds, and one day when it actually rained. As the average rainfall around Casa Grande is about 8 inches, that one rain probably generated 15% of the year's rain.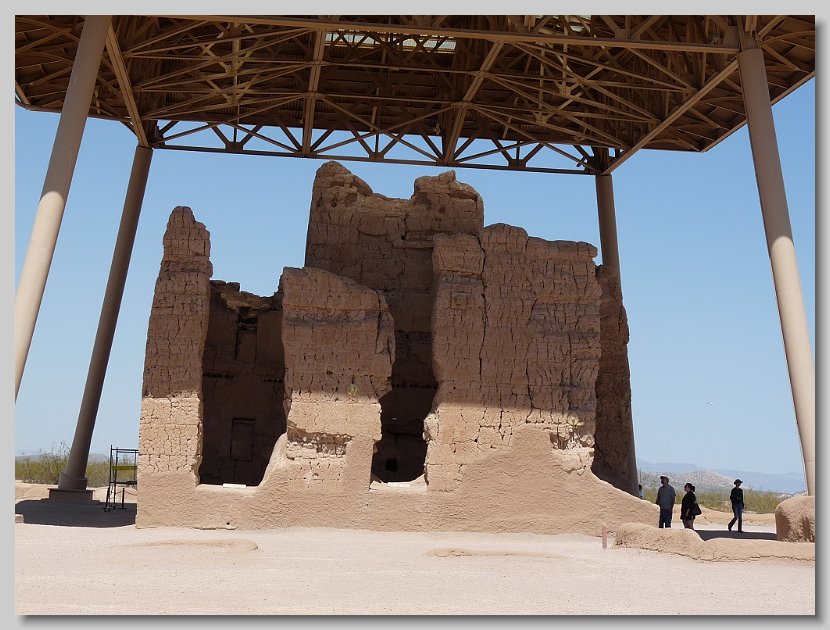 Casa Grande is Spanish for "Big House", which is what the early missionaries named the large pueblo ruin about 20 miles east of the present city. The Casa Grande Ruins are the largest remains of a fairly large Indian farming and trading community, with an estimated peak population of around 1500 people. The community was occupied for around 800 years, the big ruin for just the last 100 of those years, and the residents had moved on by around 1450 AD. The archeologists speculate that the large pueblo was probably a central governing building, as it shows few signs of people actually living in it. The Visitor's Center has fascinating displays showing how they built hundreds of miles of irrigation canals throughout the area, and how the city was probably a primary trading center for an area that extended over 1,000 miles in every direction. Neat place.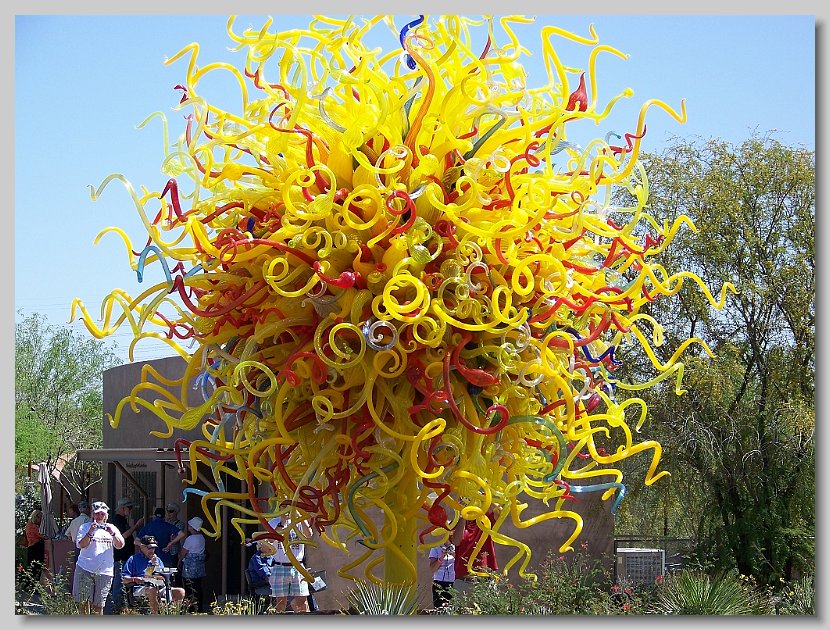 We've been fans of the blown glass artist Dale Chihuly since we happened upon an exhibition of his works many years ago in the Columbia Gorge. So when we found that the Desert Botanical Gardens in Phoenix was featuring one of his Gardens and Glass installations, we had to go. The gardens themselves are pretty spectacular, but when you add in several hundred pieces of blown glass scattered amongst the plants, it's almost other-worldly. We took way too many pictures, of course. Over half the pictures in our slide show come from this exhibition. The only major Chihuly installation we'd previously seen "live" was the lobby ceiling at the Bellagio Hotel in Las Vegas. We're glad we had this opportunity.
John & Val gave us some tips on places to go and things to see, starting with Mimi's Cafe. It's a chain of comfort food restaurants with New Orleans decor, and the food is quite good. Counting dinner with John & Val, we ate there three times in two weeks. Sinfully delicious desserts, especially the triple chocolate brownie and the bread pudding with whiskey sauce.
Another suggestion was the Mesa Marketplace Flea Market, in Mesa AZ, just outside Phoenix. We've never been attracted to flea markets, but we gave this one a try. Wow! The place has about 1600 vendors, and we happened to be there the last weekend before many of them headed elsewhere for the summer. It's hard to think of something that wasn't being sold - from furniture to clothing to jewelry to RV supplies to almost every gadget and gizmo you can think of. We had a blast. Twice.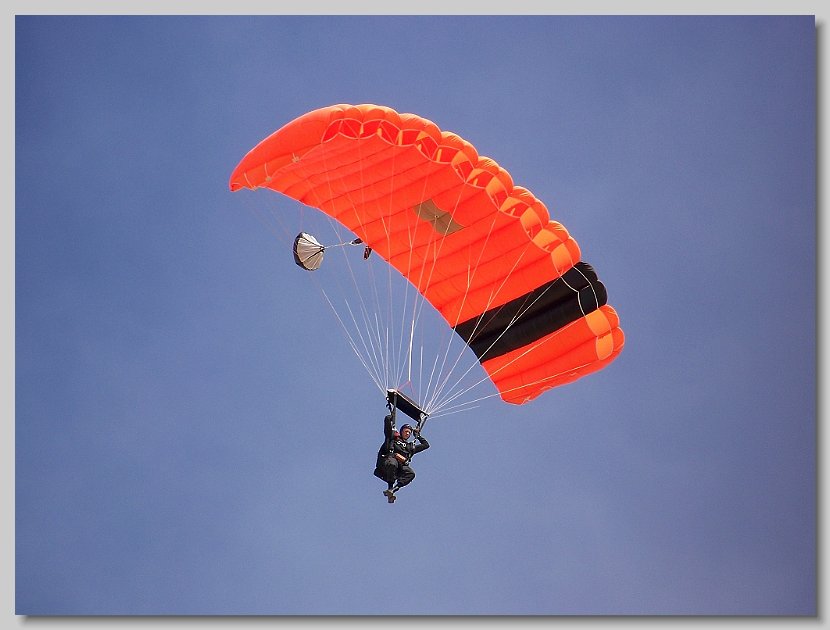 The Smarts also suggested we visit Skydive Arizona. Just a few miles from Casa Grande near the town of Eloy, this is one of the premiere skydiving centers in the country, maybe in the world. Because of the predominantly clear weather, folks can skydive almost every day all year long, and they have a huge vertical wind tunnel for the times when the weather is less than perfect. The afternoon we were there, a team of Canadian Air Force rescue jumpers were training, and we watched about 30 folks jumping and landing within just a few feet of our car. We understand that competitive dive teams also practice here. Nice diversion.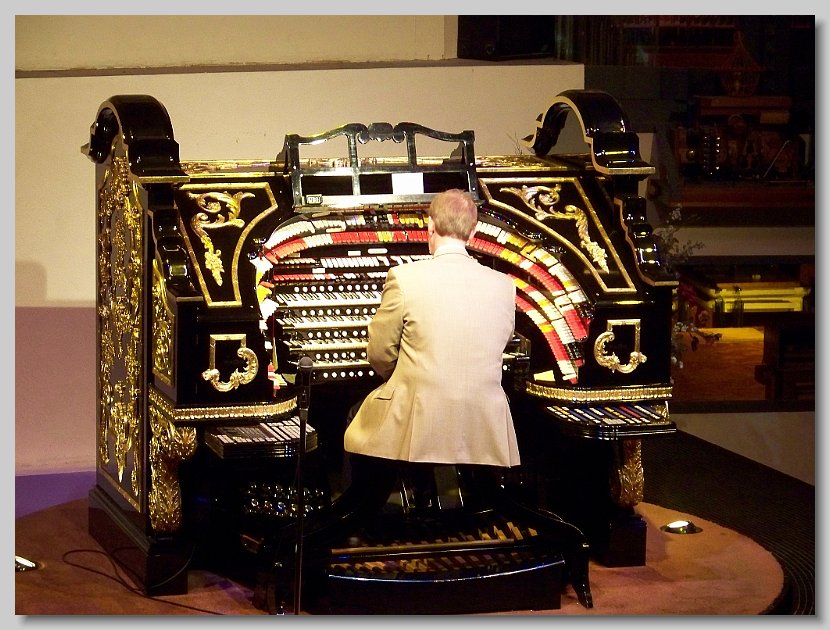 And finally, they suggested we check out the Organ Stop, a pipe organ and pizza restaurant in Mesa. We'd been to a pipe organ and pizza place in Florida, so we knew we'd enjoy it. As John said, it really doesn't matter whether the pizza's any good (but it was). The restaurant is built around what they claim to be the world's largest Wurlitzer Theatre Organ, with over 6,000 pipes and bunches of other musical attachments. We managed to stretch our pizza over two 45-minute musical sets. Most enjoyable.
About 60 miles south, just outside Tucson, is the Saguaro National Park, and the internet says there's a wonderful petroglyph site in the park. So we went to check out the rock art. The rest of that park certainly eclipses the petroglyphs. The Saguaro (Sa-WAH-row) cactus inhabits the Sonora Desert, and is native only to the southern parts of Arizona, New Mexico and California and the northwestern parts of Mexico. In the parts of the park we saw, there are tens of thousands of those majestic plants, as well as almost every other kind of cactus you can imagine. Oh, yeah - the petroglyphs were pretty nice, too.
Many years ago, Al's mother adopted a Christmas Cactus, and in her kitchen in Michigan, the cactus grew to be pretty large. But it never would bloom, and that's the whole point of a Christmas Cactus. After she'd had the cactus for 20+ years, she figured out she must be overwatering the plant. So every day, she'd check the weather report in the paper. Whenever it rained in Phoenix, she'd water the cactus. From then on, it bloomed spectacularly every Christmas season. In this part of Arizona, many of the cacti were in bloom. You'll find several blooming pictures in our slide show.
One of the interesting things we learned while here is that the Arizona desert we see today is quite unlike the desert that existed just 75 years ago. The desert used to be largely wooded, with mesquite and other desert trees. Seems that when the US got involved in the 2nd World War, there was a big need for large quantities of food for the troops. So large areas of the desert were irrigated and planted. The irrigation lowered the water table from about 15 feet below the surface to about 50 ft, and all the desert trees that had tap roots into the ground water died. Today, with the demands of modern civilization, the water table around here is about 300 ft below ground. Won't be any trees in this desert for quite a while.
Our two weeks in Casa Grande included Easter, and we went to church at First Presbyterian of Casa Grande. Their pastor is a dynamic youngish guy who majored in opera in college, and subsequently toured as a tenor soloist. The church was packed, the service was very nice, and included a solo by the pastor.
The day after Easter, we pulled out, heading north toward Albuquerque NM. We like Casa Grande. We have a feeling we'll be back.
The slide show for this report contains about 175 images. Click here to see the pictures.