Jan 12-26 - Yuma & Casa Grande AZ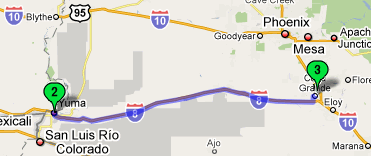 We'd never been to Yuma (2) before, but we think we'll be back. It's probably the most RV friendly place we've ever been - looks like half the population of snow country comes there. It's almost hard to find an Arizona license plate. We were there just two nights - long enough to find a Wal-Mart and a good steak house, but not much more. The area even has a 48-page "Welcome RVers" magazine. Of course, with the way the Arizona economy is going, there might not even be an Arizona this time next year.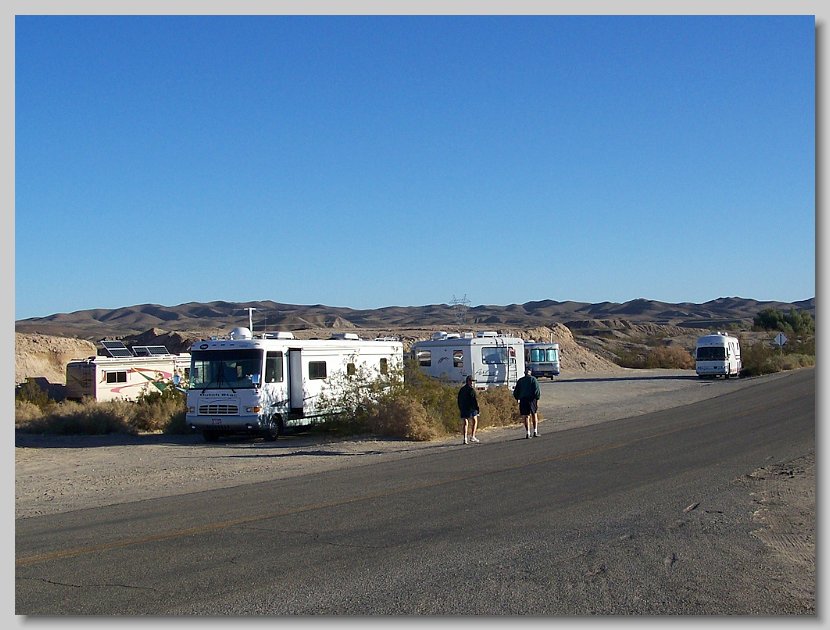 We went to Yuma mostly because we had two nights to kill between Palm Springs and Casa Grande. It's also about half-way between those two places, although not exactly on the direct route. Yuma's on the Mexican border, tucked right up against California. It's where the Colorado River leaves the country, although there's almost no water left in the river. Yuma claims to be the winter vegetable capital of the US, and that's undoubtedly where the water goes. Endless acres of lettuce. With an annual rainfall of under 3", almost nothing grows naturally around Yuma. Just west of Yuma are the Imperial Sand Dunes, a large expanse frequently used by Hollywood to sub for the Sahara. The dunes, as expected, draw a lot of off-roaders to the area. There are a couple of membership parks in the Yuma area we can probably stay at, so next time we'll plan on staying longer. Maybe we can just hang out along the road like these folks outside our RV park.
We have been to Casa Grande (3) before. We were introduced to Casa Grande by John & Valerie Smart, who spend their winters here (although not this year - John's doing another turn as interim police chief back in Reedsport). Casa Grande is a pleasant enough town, close enough to Phoenix for relatively easy access to all the big town things we like. We stay at a place called Desert Shadows, essentially a big gravel parking lot with some amenities. It's about 3 miles north of downtown, and convenient. We had tentative plans for lots of things we wanted to see and do while in Casa Grande. Unfortunately, the weather wasn't on our side. On various days, we experienced rain, a dust storm, and high winds. We had high wind warnings, flash flood warnings and tornado warnings. We even had a winter storm warning. And when it rains during a dust storm, it actually rains little mud balls. Never knew that.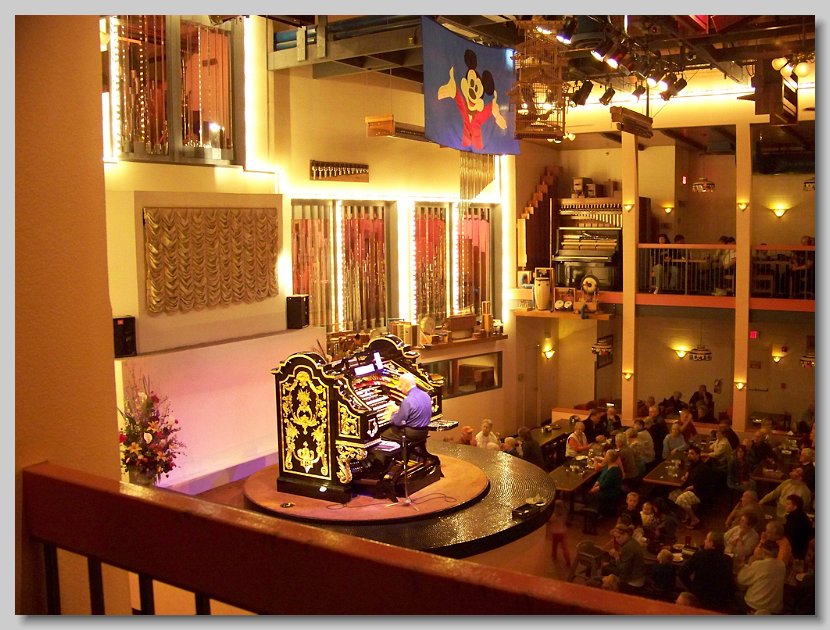 Besides hunkering down, we did manage a visit to the gigantic Mesa Marketplace flea market, a couple of visits to Camping World, and a trip to Organ Stop Pizza, one of the world's largest theatre organs built into and around a pizza restaurant. An internet search seems to show there are just three restaurants in the US with theatre organs, and we've been lucky enough to visit two of them (so far). There's one in California we haven't yet visited. Judy also found the Native American jewelry dealer who visited the RV park irresistible, and was able to make some much-needed additions to her collection.
We escaped most of the really bad weather. There was serious flash flooding in the Phoenix area, and the winds were strong enough to blow down some of the tents being used by one of those mammoth classic auto auctions, damaging several extremely valuable cars. Other than lots of big puddles and a couple of closed streets, about the only effect we noticed from the rains were a lot of very fat Saguaro cacti. Saguaro store up water when they can get it, and they got a bunch. Some of them more than doubled their girth overnight. These ocotillo came into bloom after the first night's rain.
Oh, and we also enjoyed our visits to the local Mimi's Cafe (great food) as well as two stops at the Culver's Butterburgers and Frozen Custard place in Mesa. We wish there were Culver's wherever we go, but then we'd both probably weigh about double what we do now.
On Jan 26 we hooked up and headed for Texas, keeping one eye on the road and the other on the weather. We're having a bit more winter than we expected, but so far nothing we need to shovel.
We didn't take a lot of pictures these two+ weeks in Arizona. Weather and all that. So there's NO slideshow for this report. These three images are all there are.