March 18-April 8 - Columbus & Conroe TX
We'd originally planned to spend these three weeks at the 1000 Trails Colorado River park near Columbus, but chose instead to move to 1000 Trails Lake Conroe for the second and third weeks. We were concerned that we'd be out in the middle of nowhere at Columbus. Turned out we weren't, but we moved anyway. Just as well - Judy said the laundry at Colorado River was completely unsatisfactory. For the most part, the weather was fantastic. Spring has certainly sprung for us.
Colorado River (9) is a smallish park - about 60 sites, on the banks of the Colorado River (the Texas one, not the more famous other one). Columbus itself is one of those small towns worth exploring - about 4,000 people, a nice town square around an old courthouse. We became enamored of Nancy's Steakhouse - some of the best french-fried onions we've ever had. Steaks and catfish were pretty good, too.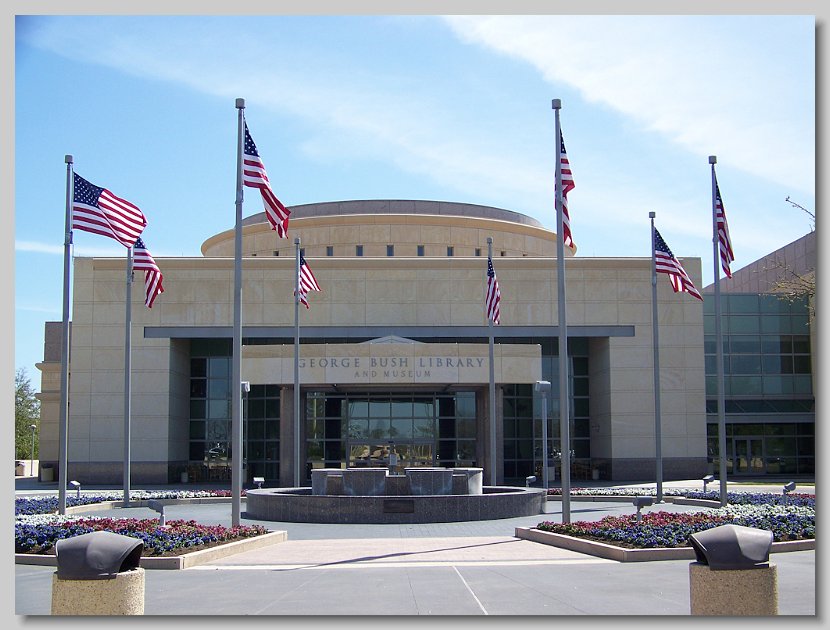 Our one major touristy outing was a day trip about 80 miles north to College Station, site of the George Bush Presidential Museum and Library. That's Bush 41, the original. College Station is also home to Texas A & M. The Museum is a most enjoyable tour through relatively recent history. On the way to College Station we passed through the small towns along Texas Route 237 that host one of the largest weekend antique festivals in the world. They were just starting to set up, and we'd certainly not want to try going through when the festival was running - there must have been nearly 1000 vendors getting ready.
We found out too late that we were in the midst of the Painted Churches of Texas - about a dozen churches of various denominations that look pretty ordinary on the outside, but are painted in bright colors on the inside. We would have liked to tour them. This part of Texas was settled 150 or so years ago by European immigrants - German and Czech, mostly. When they built their churches, they painted them brightly on the inside. There are more than 20 Painted Churches. Maybe someday we'll come back and visit them.
We went to church at the only Presbyterian Church around - First Pres in La Grange TX, about 25 miles from the RV park. A very friendly church, but not one of the "painted". Lots of people came up to meet and greet, and after church we were invited to the local country club for brunch. Seems there's a well-established "Presbyterian Table" at the club on Sundays. We were the guests of Virginia Bibee, a gracious lady who had been widowed just 6 weeks earlier. Interesting conversations, and we left feeling most definitely welcomed.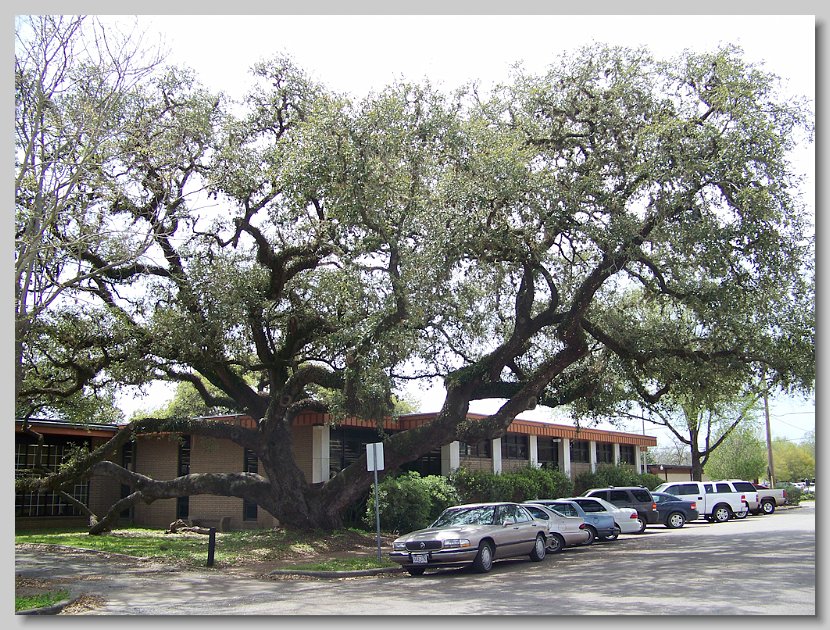 While in Columbus, we set out to find a Census Form to fill out, as we knew we wouldn't be getting one in the mail. Took a couple of days to find one - the Post Office suggested the Library which suggested the Voter Registration office at the Court House which said to talk with Susan "down the hall". Apparently all roads in Columbus lead to Susan, who just happened to be the keeper of the keys for the local temporary Census office, which had just opened the day before. So, next day, we became the first visitors to the new office, where the lone employee dug out the proper form for us. We have now been counted. Interestingly, a week or so later an actual census taker showed up at our RV.
We had one very blustery, wet Saturday, and used it to plan the rest of our summer. Jan & Denny (Judy's sister) called to see if we'd be interested in house-sitting on Puget Sound for a month or so in late August and September. They're going to set sail in their boat, and thought maybe we'd like to have a bigger place to hang out. Took us several seconds of intense discussion to decide we could do that. So we did a little planning and got it all worked out. It means we'll be skipping Harpcon, the big harping convention in St Louis, but we'd not figured out a way to park our RV in downtown St Louis anyway. Our current itinerary is always posted on-line at http://www.aslakson.net/wherenext.htm if you want to see where we're intending to be.
On to Lake Conroe (10). About 40 miles north of Houston, the RV park has about 400 sites, and water access to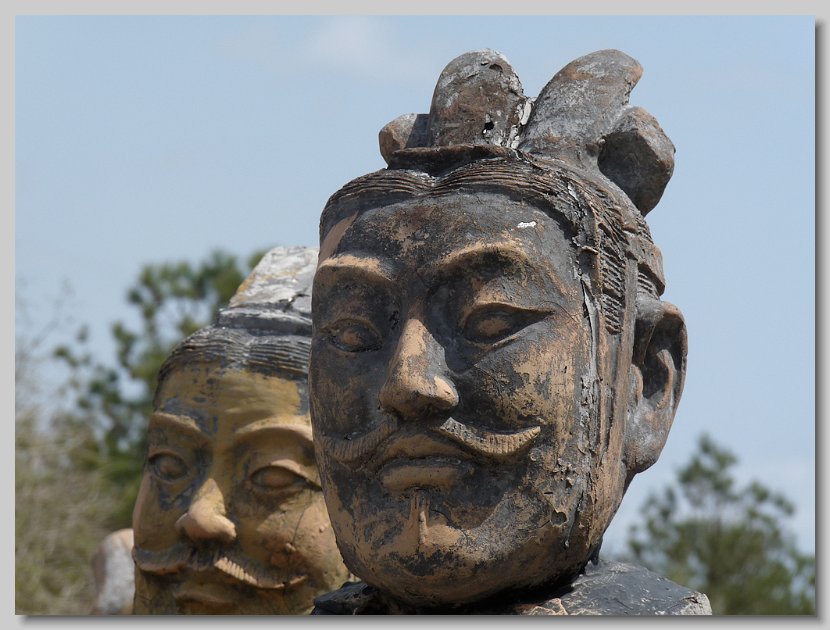 Lake Conroe. We've all heard of the Forbidden City in China, and of the thousands of buried terra cotta soldiers found in that Emporer's tomb. Some of you may have been there. But for the rest of us, there's the Forbidden Gardens of Katy, Texas. There's a very detailed model of the entire Forbidden City, and you can walk through it. But the neatest part is the nearly 6,000 terra cotta soldiers they've had built. Most are 1/3 size, but some are full scale. It's a most interesting place to visit. Everything on display was made in China. Unfortunately, it wasn't built for Texas weather. Many of the figures are showing weather damage, as are many of the buildings in the Forbidden City. It's said that the owner of the place has deep pockets and is committed to restoring everything, but he'd better get started. The things piled on the scrap heap out back are very disheartening.
For several months, we've been trying to figure out how to replace our mattress with something better. RV mattresses are not a standard size (lots of RV things are strange), and most bedding stores can't even order them. Having one custom-made seemed to always take longer than we stay in any one place. So we were very pleased to encounter a Sleep Shop in Conroe that promised to build us a custom memory foam mattress in under a week. It was our anniversary present to ourselves - we celebrated 18 years on Palm Sunday, and ordered the mattress the next day. It was delivered the following Saturday.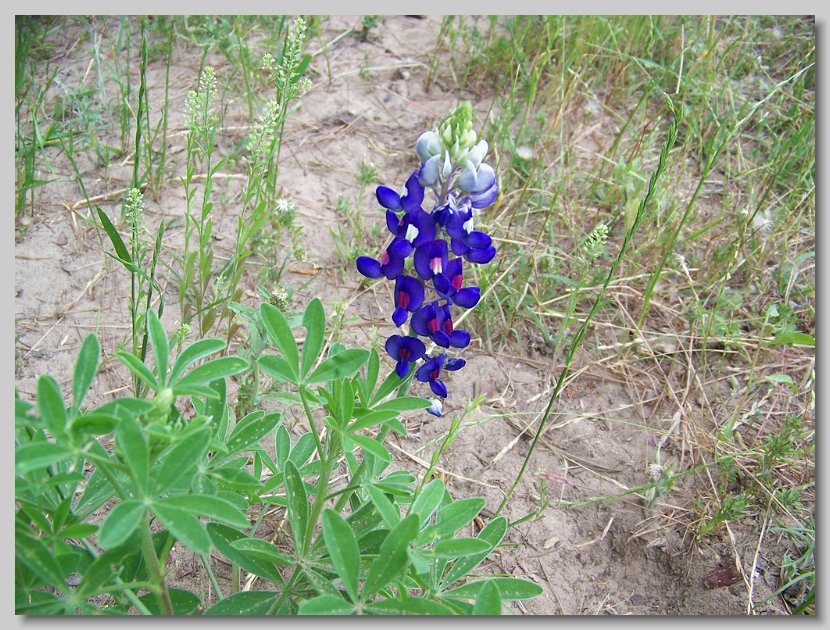 We celebrated Easter at the very nice First Presbyterian Church in Conroe TX. It's a largish church with a very good choir and musicians. Like our church back in Oregon, they have a flower cross on Easter, and attendees are encouraged to bring flowers from home to decorate the cross. As we don't travel with a flower garden, we just stopped along the road while Judy picked some wildflowers. Several people at church commented on our flowers. Seems we'd just happened to pick some of Texas' most famous flower - the Bluebonnet. It's the state flower, and apparently this year it is blooming especially profusely. Ours were the only bluebonnets on the cross. We hope we didn't violate some law by picking the state flower.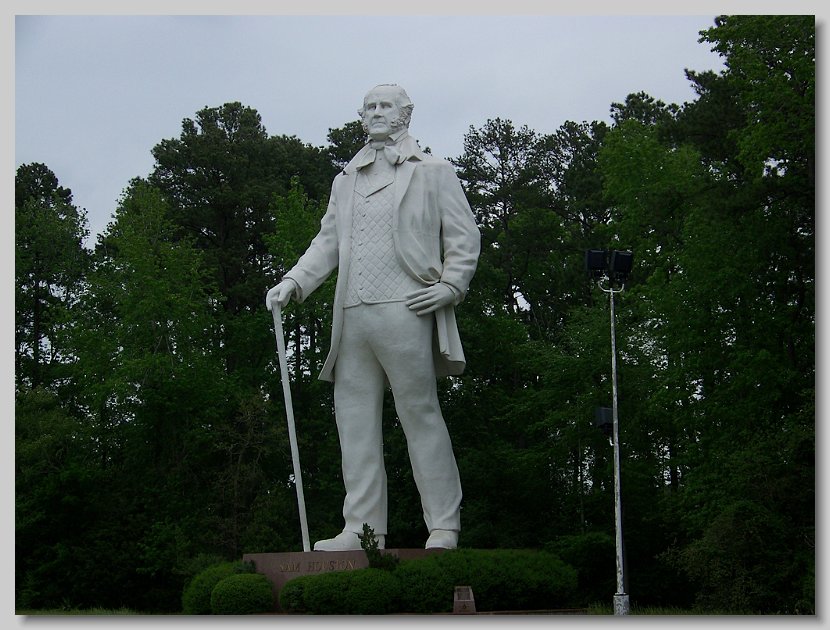 We also took a short trip north to Huntsville TX to visit "Big Sam". Located at Sam Houston State University, Big Sam is a 67-ft tall statue of Sam Houston, perhaps the most revered historical Texan, if you don't count Willie Nelson. Most impressive. - you can see Big Sam for miles driving north on Interstate 45.
We've been Winter Texans for about 10 weeks, and we like Texas. The people are friendly and welcoming, there's plenty to see and do, the weather's been generally good, and the whole feel of the place is . . well . . .comfortable. But all things must end, and on April 8, we packed up and headed east into Louisiana. But that's our next report.
There are about 55 pictures in our slideshow. You can see them here.