April 28-May 5 - Alabama Part 1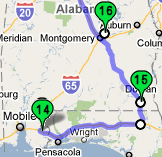 Never been to Alabama before. We got there by leaving Louisiana and crossing Mississippi (also never been there before), and now have two more states filled in on our "been there" map. We covered a lot of territory our short time Alabama, so we've divided our writings into two parts.
We started by spending a week at the Styx River RV Resort (14), about half way between Mobile AL and Pensacola FL. In Greek mythology, the River Styx was the boundary between the earth and Hades. We don't know why the Alabama river was named after that mythological Greek river, and we don't know which side of the river they were standing on when they named it. We walked along the Styx River, and both sides looked pretty nice to us. And if this is as close as we ever get to Hades, that's just fine too.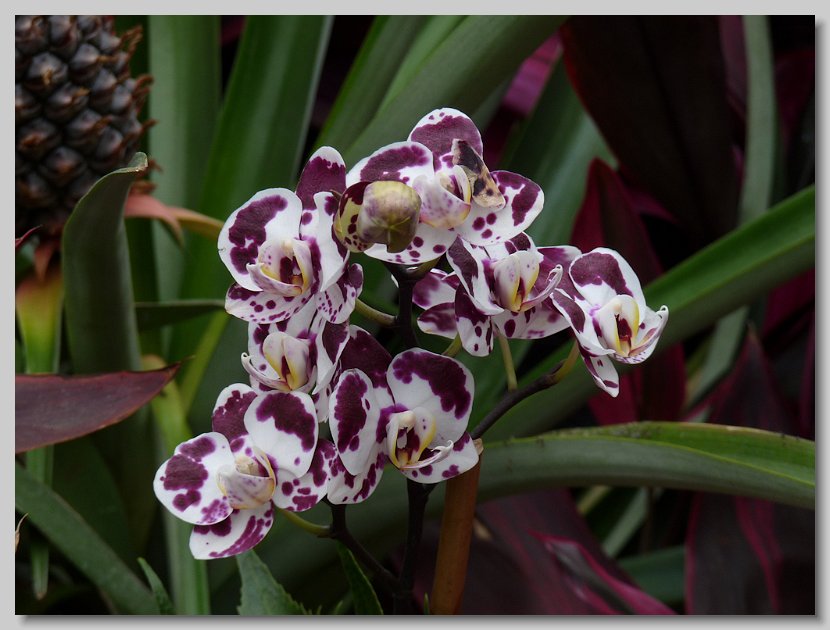 Our "1000 Things to See Before You Die" book includes Bellingrath Gardens, just outside Mobile. Walter Bellingrath owned the first Coca Cola bottling plant in Mobile, and in 1903 bought a fish camp along the Fowl River. After he married his secretary a few years later, she first built some pretty spiffy gardens at their home in Mobile, and then started taking some of her favorite plants to the fish camp. Walter liked that, and got some professional landscapers involved. The result is 65 acres of absolutely delightful gardens and a wonderful 10,000 square foot residence. We were a couple of weeks late for the full beauty of the azalea bloom, and it was a really gray day, but even so the beauty of the place is outstanding. Many flower pictures in our slide show this time.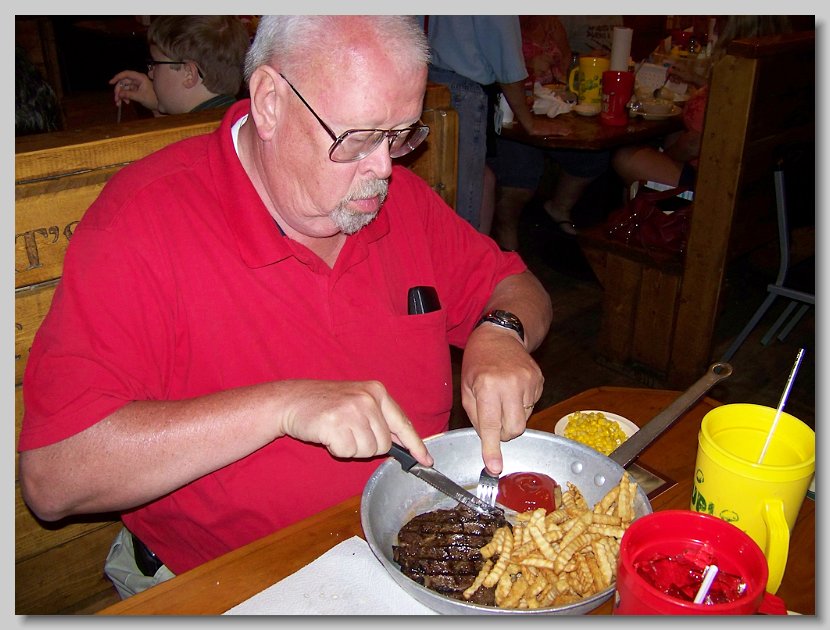 Being this close to the Gulf Coast, we drove the 40+ miles to Gulf Shores AL just to see what it was like. Along the way, we had lunch at Lambert's Cafe, the "Home of Throwed Rolls". Their schtick is to have somebody throwing hot dinner rolls to (or at) you. They also have lots of "pass arounds" - big bowls of stuff you can have or not. Fried okra, macaroni and tomatoes and boiled cabbage were some of them. Judy tried the okra and loved their fried potatoes and onions. The food was pretty good (we had BBQ), and the atmosphere a lot of fun. They have two other places near Branson MO with the same general approach to food fun. Gulf Shores is pretty much like any other condo-lined seashore, but there's a big state park right on the water to make sure us poor folks can get to the beaches.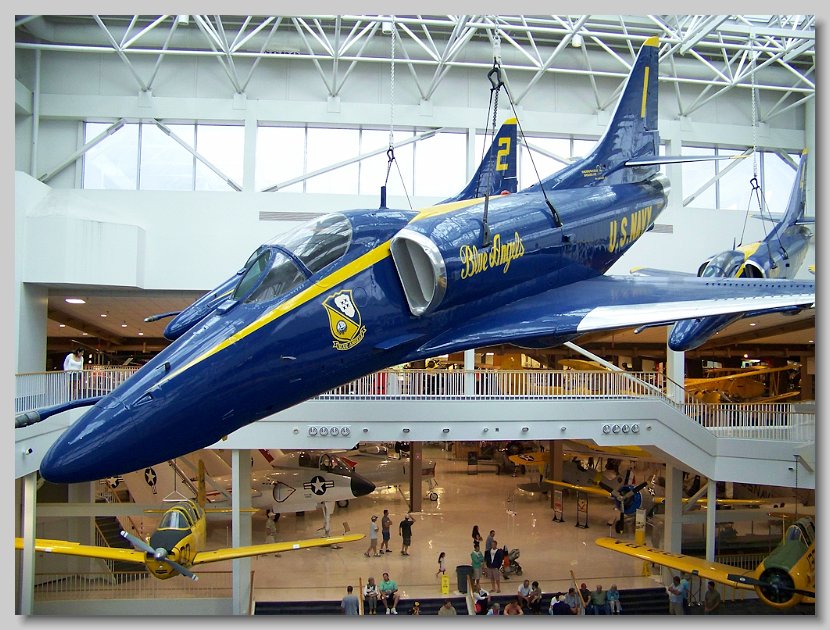 Being this close to Pensacola, we just had to visit the US Navy's Flight Museum. It's located on base at the Pensacola Naval Air Station, and it's a fantastic collection of aircraft and flight memorabilia. Being that NAS Pensacola is the home base of the Navy's Blue Angels precision flying team, there are plenty of blue and gold jets around, but there are also lots and lots of historical aircraft. A fascinating exhibit covers the recovery of some of the over 300 WW2 aircraft abandoned on the bottom of Lake Michigan. After Pearl Harbor, with most of the US destroyers and battleships sunk or damaged, the decision was made to focus on carrier-based aircraft, but there was no safe place to train carrier pilots in the oceans, where enemy submarines were prowling. So, the Navy bought a couple of paddle-wheel steamers and put flight decks on them, allowing carrier pilots to qualify on Lake Michigan, where there were no known enemy submarines. There were obviously many mishaps as pilots were trained, resulting in over 300 planes on the bottom of Lake Michigan. Some of those planes turned out to be historically significant, so about 20 years ago they started salvaging and restoring some of them, which are now on display at the museum. Neat stuff. More than a few airplane pictures in our slide show.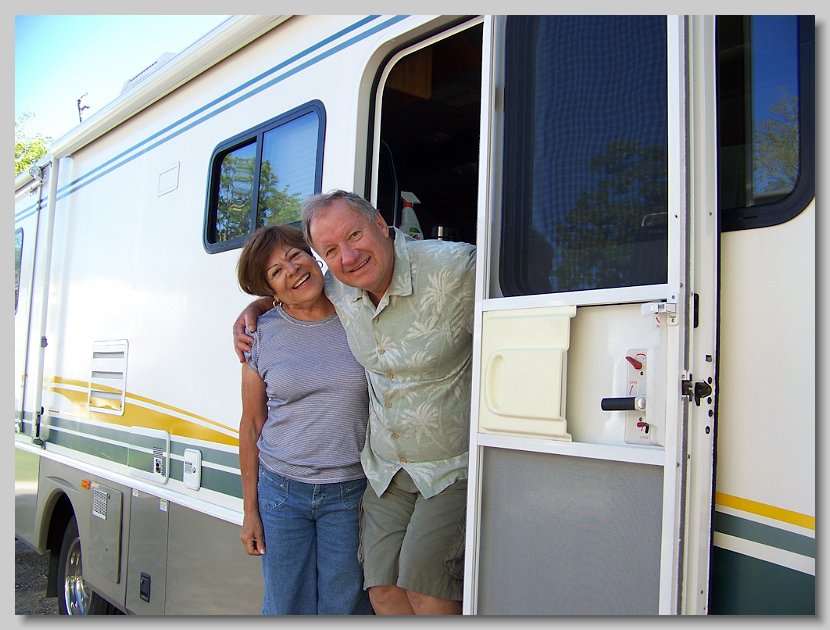 On Sunday 4/25, our friends Lynn and Terri Schreiner from Salem OR caught up with us. Lynn and Terri had retired a few weeks before, and having spent three years in exile in Houston working toward retirement, drove their motorhome to Key West for a rest, then to Fort Lauderdale for a retirement cruise, and then started heading for Oregon. They pulled into our RV park about noon, and we spent the afternoon and evening enjoying the fellowship, the food and Lynn's magic margarita machine. And on Monday they hooked up and headed west again. Much fun.
Just up the road from the RV park is a "Travel Oasis" with an intriguing "Derailed Diner". It's built to look like a train wreck, and the inside is decorated with lots of neat stuff. You can eat from the tailgates of pickup trucks instead of tables, sit on tractor seats or saddles or train seats instead of chairs, and behind the lunch counter is a full-size school bus, with the kitchen behind that. And the food is pretty good, too. This is really too good for a freeway exit truck stop diner; there's got to be franchising dreams somewhere in the woodwork.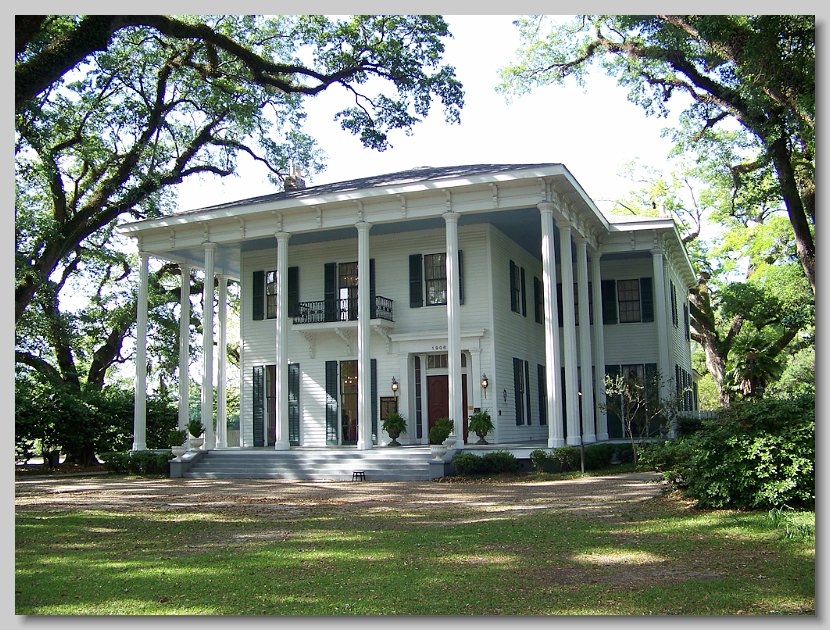 Our last day we realized we'd not yet actually been to Mobile, so we drove to the Mobile Welcome Center and picked up some driving tours. Somewhere there are probably handbooks on how to design driving tours, and the folks in Mobile need to study those handbooks. We finally gave up and went to the Bragg-Mitchell Mansion, where we had a delightful tour of what they say is the grandest antebellum mansion in the Mobile area. Our tour guide was fantastic and full of information, and as we were the only folks on the tour, it was more like a strolling conversation with a friend.
We've long ago realized that we'll never see everything at any of our stops, no matter how long we stay. But there's a long list of things remaining for us to see on our next visit to Mobile.
Next stop - Dothan (15), where we stopped for 3 nights. To get to Dothan from Mobile, you first drive east through about 130 miles of the Florida panhandle, then turn left. As we approached Dothan, we noticed we seemed to be meeting an extraordinary quantity of motorcycles. After getting to Dothan, we asked about them. Seems that around the first of May there's a big motorcycle rally in Panama City Beach FL, and a major portion of the 40,000+ bikes it attracts seem to pass through Dothan. Our RV park was right on the highway, and the rumble of Harleys was almost constant for 3 days. Beautiful bikes, most of them. The riders, not so much.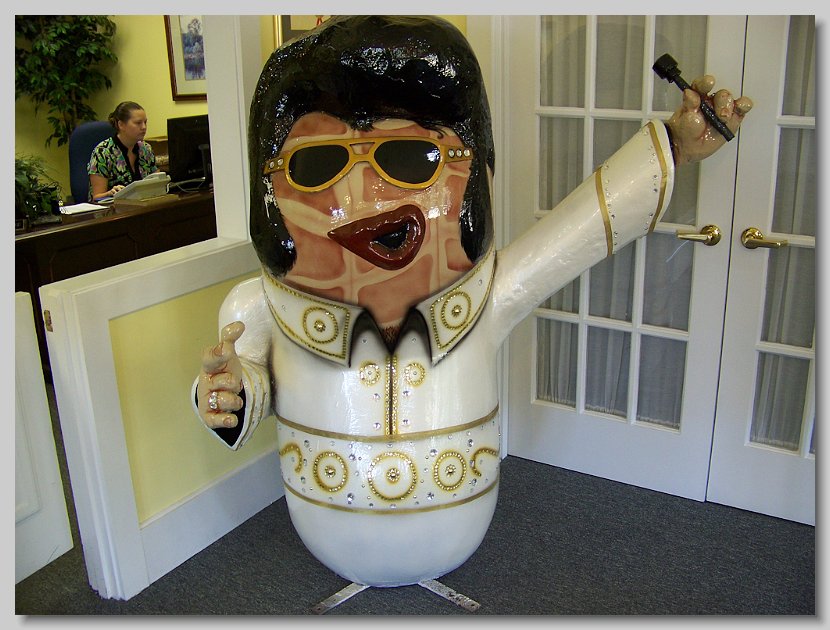 We had just two things on our list to do in Dothan, and we wiped out on both of them. The must-see stop in Dothan is the George Washington Carver Historical Center, and we never could find it open. And the other, a dinner-theater production of an original play "Grits on the Side", only happens in October. But we substituted. Dothan is the peanut capital of the world, and there are about 3 dozen decorated fibreglass peanuts scattered around town. Many of them are inside businesses, but we managed to find a few of the 4ft high goobers to drive by. Dothan is also known as "Mural City" and there are several large murals depicting various aspects of the history of the town. We managed to find a few of them as well. Neat stuff. On the spur of the moment, we bought tickets to the local Community Theatre production of "The Robber Bridegroom", billed as a Bluegrass Musical Comedy. It was kind of a mellerdrama, but with bluegass music, and some mistaken identity plot twists straight out of a Shakespeare comedy. It was a joy - very well done - and played to a full house. And we had a delightful dinner at Dobb's World Famous BBQ - "Serving you for 98 years - open since 1948". We couldn't make the math work either, but the food was sure good.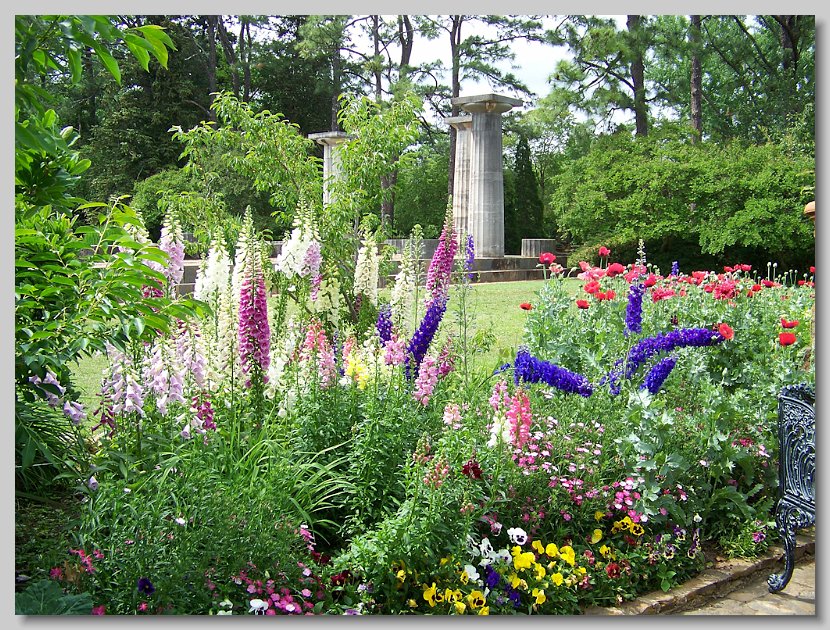 Next stop - Alabama's capital of Montgomery (16), where we stopped for 4 nights. Driving to the RV park, we spotted a sign for the Jasmine Hill Gardens. So after getting set up, we drove the few miles to check it out. In 1927, fearing an economic downturn, a Montgomery family decided to sell all their businesses and bought some property outside town. By the time the stock market crashed, they knew they'd not be getting back into business, so they started to indulge their love of ancient Greece. The result was a delightful garden filled with Greek statuary and colorful flowers. The centerpiece is a full-size replica of the ruins of the Temple of Hera, which is where in Greece the Olympic torch is first lit in preparation for the modern Olympic Games. Before the Atlanta games in 1996, the Olympic flame rested overnight in the replica temple, the only such replica in the world. Neat place.
Top of our list of things to do in Montgomery was the Alabama Shakespeare Festival, which produces 3 plays each spring, weekends only. We saw a Sunday matinee performance of a British comedy - "Lettice and Lovage". Absolutely delightful. ("Lettice" is the name of a character, "Lovage" is the secret spice she puts in her special "Quaff" beverage.) Their other two plays this season were Hamlet and Much Ado, both of which we've seen several times. Regional theatre is alive and well in Alabama, although we don't think anybody does it on the scale of the Oregon Shakespeare Festival.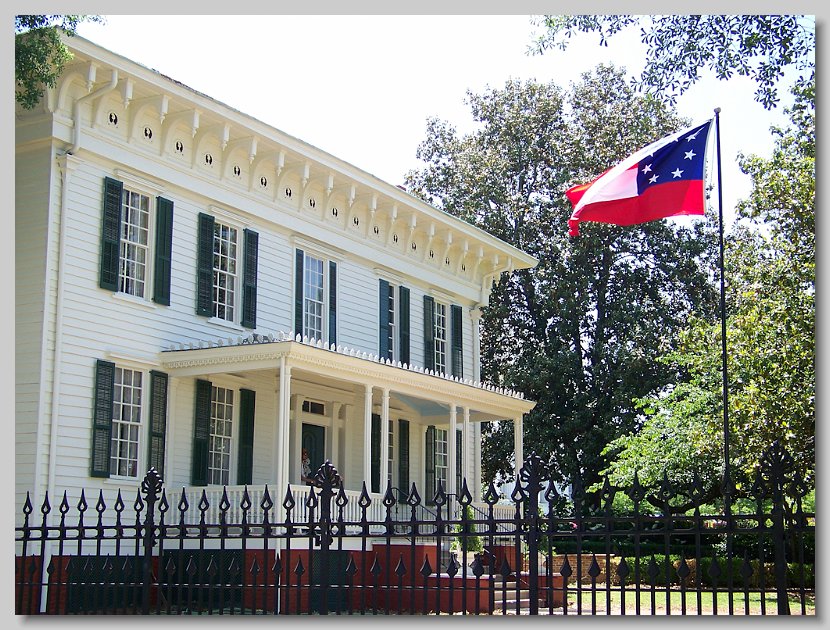 We had one day of horrendous rain, the southern tip of that storm that flooded Nashville and spawned the lethal tornados in Mississippi. We stayed indoors that day. Our last day in town, we drove to the wonderfully-restored train station, now the city Welcome Center, and for 50 cents boarded the downtown trolley to see the sights. We spent a couple of hours at the Alabama Historical Village, a complex of old homes and buildings from the mid-1800s. We drove by many historical locations - first Confederate "White House", the state capitol building, the place where Rosa Parks was arrested, the church where Dr Martin Luther King pastored.
There are about 111 pictures in the slideshow for this first part of Alabama touring. You can see them here.