Mar 1 - Apr 2 - Life is Getting Back to Normal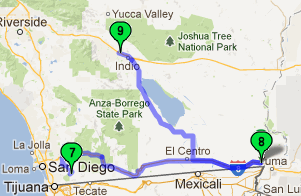 Seems like we're finally getting back to our wandering lifestyle. Kind of a grind having all those "gotta-do's" interfering with our agenda, whatever it may be.
We started our March at the 1000 Trails Pio Pico Resort (7), just west of Chula Vista CA. Other than the lack of any cell signals in the park, the Pio Pico resort is quite enjoyable. But having to scramble to get cell service and internet knocks it down several notches on our preferred parks list. We lead such a difficult life.
On March 4, Al picked up his new upper partial at the dental office in Mexico. That afternoon while entering a Home Depot, Al set off the security alarms. And again on leaving the store. And again at the Walmart next door. As it's impossible for the new teeth to be doing that - they're all plastic - we'll have to figure out what is doing it. The folks at the stores aren't too happy with us passing back and forth through the sensors while changing the contents of pockets to see what helps. Maybe we'll just have to leave Al in the car and let Judy do all the shopping. Probably save a lot of money that way. In the meantime, if you hear a store security alarm going off, it's probably just us.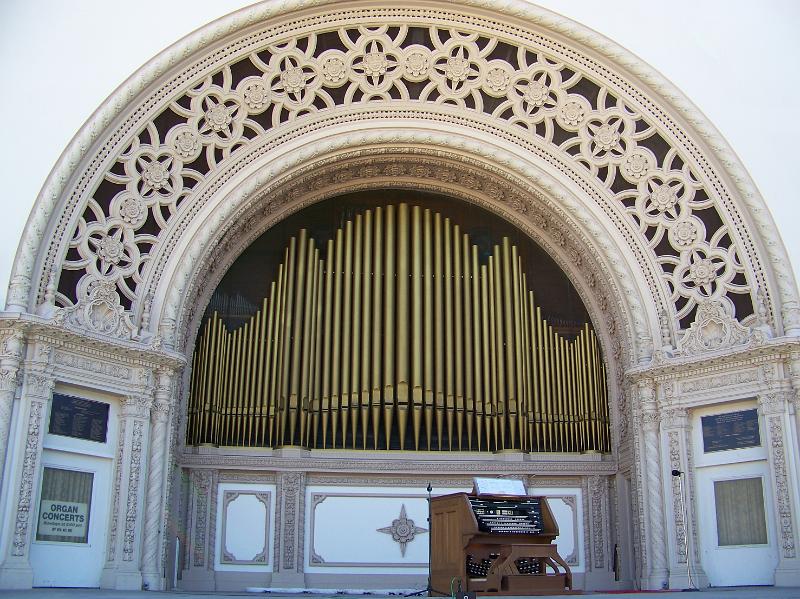 We promised more info on San Diego's Spreckels Outdoor Organ. We attended a second free concert a few days before leaving town, and this time got to go backstage inside the organ's pipe chamber. The Spreckels Organ was built for the 1915 Pan American Exposition, and the organ pavilion is one of the few buildings remaining from that World's Fair. The organ has just over 4,500 pipes in 72 ranks, and is the second largest outdoor organ in the world. A fundraising campaign is underway to get the organ over 5,000 pipes by 2015, it's centennial, once again making it the world's largest.
The organ was built as an "orchestral" organ, so it has a lot of non-organ instruments attached. There are drums and cymbals and the like. Story goes that as San Diego was not a big city in 1915, having one instrument that could emulate a full orchestra meant having to pay just one instrumentalist rather than an orchestra full of them.
San Diego appears to be the only city in the US with a paid civic organist. Dr Carol Williams is a Welch lady with much talent and personality, and she appears to be well-loved by the locals. There are some organ pictures in our slideshow.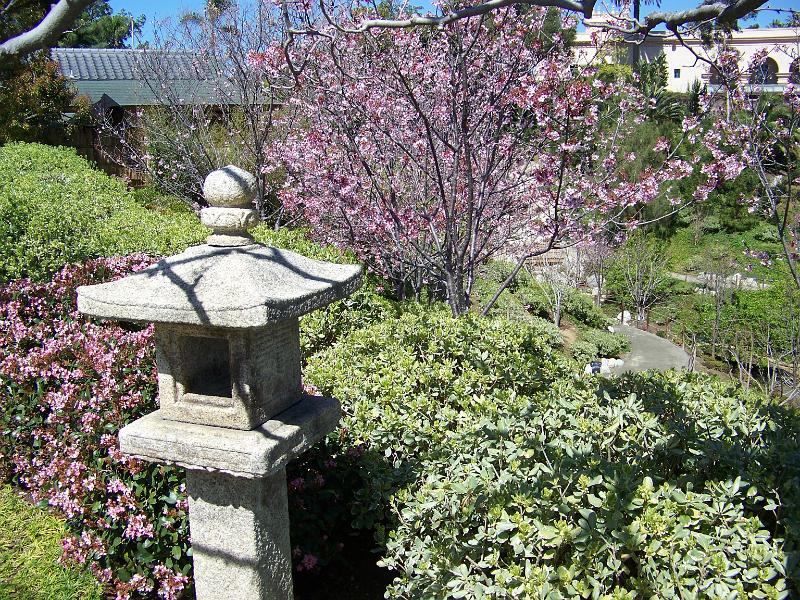 As we wandered around awaiting the organ concert, we encountered Balboa Park's Japanese Friendship Garden, the day after their Cherry Blossom Festival. There were still a few cherry blossoms around, but most of them looked to have dropped several days earlier. Nevertheless, it was a very nice garden, kind of peaceful in the middle of the big city. The carp in the central water feature are very well colored, and we overheard someone say that one of the big gold ones was insured for $30,000. The city is starting to expand the garden, and it'll be interesting to see it again in a few years when it's been built out.
Before leaving for Yuma, Al replaced the umbilical connector on the front of the Honda, just in case there was something preventing the RV from keeping the car battery charged while towing. Time will tell if it worked.>
On March 12, we hooked up and headed over Cajon Pass on I-8 to Winterhaven CA, just a couple miles from Yuma AZ. We parked at the Pilot Knob RV Resort (8) because it was free under one of our reciprocal plans. Although it was 12 miles from downtown Yuma, it was free. Free is good. And the car battery stayed charged. Maybe the problem has been solved.
We went to Yuma mostly to get some medicines across the border in Los Algadones and to pick up some water-related supplies at the RV Water Filter Store. And also because we like Yuma, at least in small doses. The surprise was directly on the other side of the interstate from our RV park - the unincorporated town of Felicity CA, in which is located the "Official Center of the World". Obviously, we had to go.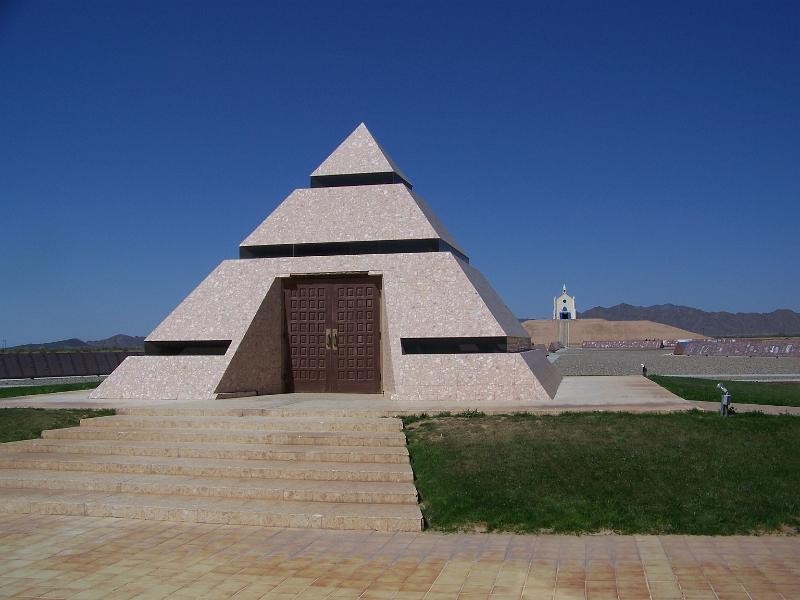 They say the heat in the desert can affect your mind. We're not sure where the line is that differentiates "eccentric" from just plain "weird". The guy who founded Felicity must be eccentric. He's too rich to be weird. The "town" has very few residents, a post office (run by the town at no cost to the postal service), a restaurant, a few apartments for rent, and, of course, "The Official Center of the World".
The founder of all this is Jacques Andre Istel, a French ex-pat and ex-Marine who pretty much invented skydiving. A successful investment banker, he's also the mayor of Felicity (he and his wife are the only two registered voters). He founded the town in 1986 after writing a children's book, and decided that if there were to be a "center of the world" it could just as well be in his little town as anywhere else. So he built a small pyramid ("It's a desert. You must have a pyramid.") and designated a point within as the center. "Official" because as Mayor he declared it to be so. At some later point, Imperial County CA also designated his point as "official", and then so did the government of France. Even sent their ambassador for the official announcement. Ahh, France.
Besides the Center of the World, the town contains the Granite History Museum - hundreds of granite slabs onto which is being engraved the history of humanity. Really. Also the history of the US, of California, of Arizona and of the US Marines. And lots of other stuff. In multiple languages. There's also a little church on a hill. The Mayor figured every town should have a little church on a hill, so first he built a hill (there weren't any in the desert) and then built a nice little church on top of it. You can see it all for just $3 a head. $5 for the deluxe tour with official certificate. Pictures in the slideshow.
We liked Felicity. We're not rich, so maybe we're just weird.
Things we'd never seen before, or even knew existed department: Spray bottles of Raid Scorpion Spray at Walmart. Good to know it exists. Scary to think it might be needed. If you get bit, will you stay alive long enough to get to the store, buy some spray, and come back to get revenge? Enquiring minds want to know.
After a week, during which Al set off a couple of store alarms, we hooked up on March 19 and headed northeast 140 miles to the 1000 Trails Palm Springs Resort in Palm Desert CA (9), where we could celebrate our 21st anniversary and Easter in a tad more style than Yuma offers. We had estimated our fuel needs for the trip and figured we had just enough. We hadn't counted on a couple of construction detours. When the fuel gauge needle dropped below "Empty", Al began fretting. Just then appeared a casino with gas station, out in the middle of the desert north of the Salton Sea. So we filled up at prices lower than we'd find in the Palm Springs area. Turned out we had 6 gallons left, which would have gotten us there, barely. But we saved a few cents on the lower prices, and added a little excitement to our day. And when we got to Palm Springs, our car battery had a full charge.
The Palm Springs area is an interesting area. There's lots of money about, and there's a conscious effort to keep the valley looking green and attractive. We shudder to think how much water that takes. There are many, many gated residential communities, golf courses galore, and some very expensive shopping. Parking at Costco means you're just as likely to be tucked in beside a Bentley as a Toyota. But there's plenty of stuff for us regular people that doesn't cost an arm or a leg.
Most of our two weeks in the valley was pleasantly hot - mostly in the 80s and low 90s. We had a few wind storms, and now have desert dust in places we'll never look. But we like it here. As our wedding anniversary fell on Maundy Thursday, we had a delicious dinner at Mimi's Cafe, followed by a Tennebrae service at Palm Desert Presbyterian Church. The service featured the 60-member touring choir from Houghton College in New York state, and there were at least 800 people there. Very nice.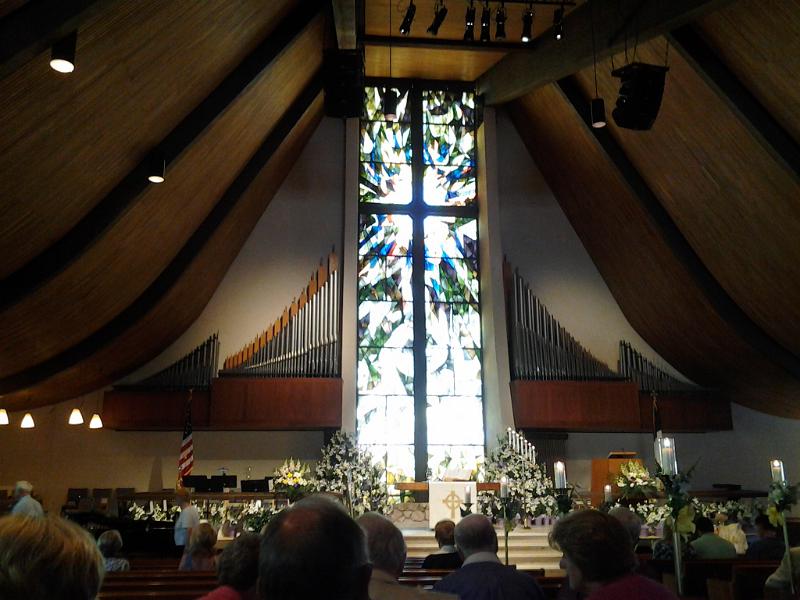 Palm Desert Community Presbyterian Church puts together the best-produced church services we've encountered. They are always well organized, the music is excellent, and the preaching is good. They rotate preaching among their three pastors, and the two not preaching generally participate in the service in some fashion. The church seats just under 1,000 people, and in our limited experience is usually close to capacity. Of course, we understand attendance is much, much lower in the summer when the temperatures hit 115 degrees. That's when the valley becomes a ghost town.
Easter Sunday, the church had four services, starting with an outdoor sunrise service at 6AM. We chose the 11am service, and surprisingly it was not a packed house. We were told the earlier services were both overflowing, and the 100+ extra seats in the tent out on the lawn were pretty much full. There was a brass quartet (interestingly, with five members) and full choir. Very nice service. Afterwards, we went to the Easter Buffet at the Spa Casino, Palm Springs original casino, built on the site of the hot springs for which the town is named. We over-ate, of course, and slept it off the rest of the day.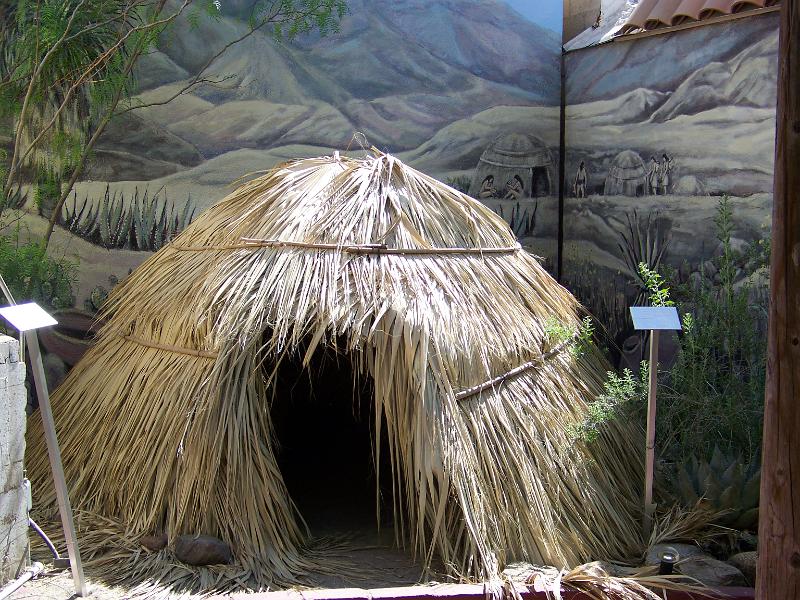 The local Native American tribes operate under the name Agua Calliente (Spanish for "Hot Water"), and have at least two casinos, a golf course and a reservation that encompasses about half the land area of Palm Springs City. We visited their cultural museum, which featured an exhibit entitled "Where are the Tipis?", an exploration of many of the misconceptions and stereotypes held by us European interlopers. Very sobering. We didn't realize that for the most part, Native Americans are still officially second class citizens in the US, with federal and state agencies owning and managing their lands. You'd think we could do better.
We also discovered a neat sculpture garden at the Palm Desert branch of the Palm Springs Art Museum. Pictures in the slideshow.
Al's tendency to set off store security alarms was resolved (if not solved) at a Home Depot, when the checkout lady said "happens all the time" and scanned his wallet. Whatever was triggering the alarms was deactivated. We now enter and exit stores without fanfare. But we still don't know what caused this to develop. Another of life's little mysteries.
Back in December, Al had surprisingly little pain associated with his inflamed gallbladder. In late March, however, the pain showed up when the final billing statements arrived. Total costs were upward of $35,000. After Medicare, our share was over $6,000. That's about $1500 an ounce for the gallbladder he no longer has. Ouch.
On April 2, we hooked up and headed for Las Vegas. Our last visit to Vegas was early in our first year of RV Life, back in 2007. That trip, we had to have the motorhome transmission replaced. We're expecting better this time, and it'll all be in our next report.
Only about 43 pictures in our slide show this time. Check them out here.