Aug 1-Oct 31 - Northwest Washington & Eugene OR

We've never reported on three months at once before. We must be slowing down. But, here goes.....
On August 1, we packed up and, after a fuel stop, headed north from Seaside OR (28) to the 1000 Trails Oceana Resort at Ocean City, WA (29). We were there a week, hoping for some great weather. We didn't have it. But we did rendezvous with Sara and Jerry Barton, whom we hadn't seen since spring in California. Sara is Judy's cousin, and they always have a great time together. Other than socializing and eating out, we didn't do much in Ocean City.
After a week, we hooked up again and headed for Sequim WA (30). Our trip wasn't exactly trouble-free. The tire pressure monitor sounded as we were passing through Aberdeen. Turned out the auxiliary braking unit in the Honda had shifted position, applying the Honda brakes and overheating both front tires. After cooling things off and disconnecting the auxiliary brake, we continued on our way. But the alarm persisted on one of the tires, so we pulled off again to discover that the overheated tire and brakes had melted the tire pressure sensor, bleeding almost all the air from the tire. After reinflating the tire and discarding the dead sensor, we headed out again with no further distress.
We first stayed at Sequim a year ago, and like the area a lot. We were there 11 nights this time, and our one big outing was to go across the sound to Victoria BC. The Royal British Columbia Museum in Victoria is one of Canada's best museums, and we'd missed it last year. We took the Black Ball Ferry from Port Angeles to Victoria - it docks just a couple hundred yards from the museum, an easy walk even for us old folks.
The museum is exceptional, and their displays of artifacts of the area are well thought out. The traveling exhibit was of the "Race to the Pole" in 1911-12 between the British led by Capt Robert Scott and the Norwegians lead by Roald Amundsen. There were many artifacts from both teams displayed, but, alas, photography was not allowed. The Brits were very well equipped, with about 70 men, some horses and some sled dogs. They even brought along a player piano and 50,000 cigars. The Norwegians came with a lean, tight group of about 20 men, no piano. The Norwegians, of course, got to the South Pole a full month ahead of the Brits. Scott and his polar party (about a half-dozen men) perished returning from the pole.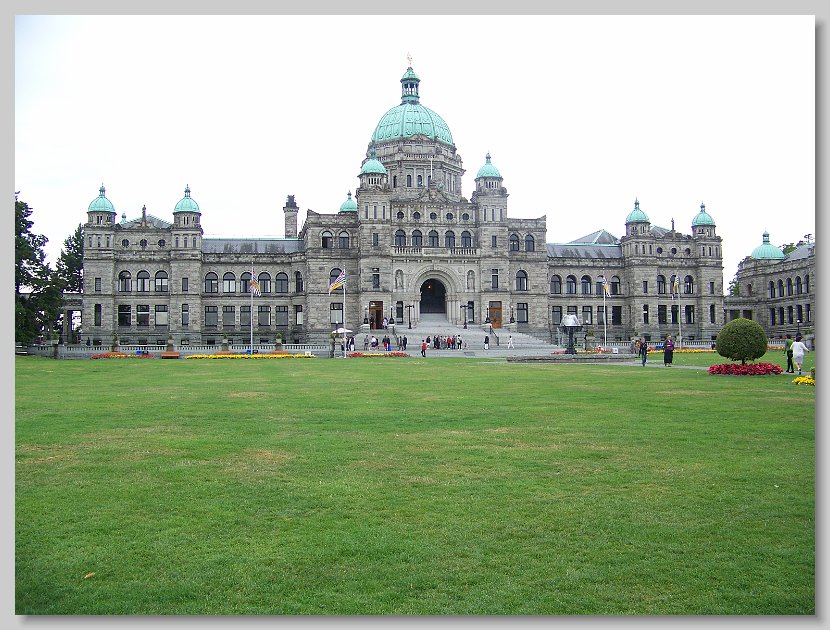 The Imax theatre (does EVERY museum have an Imax these days?) was showing an excellent film depicting the 1914 mission by Ernest Shackleton and company to be the first to traverse the Antarctic continent. Shackleton's ship the Endurance was trapped in the ice for two years, finally crushed and sank. But he and all of his men survived three years against impossible odds, before being rescued following some heroic actions. It's quite a story, and the film does a good job of telling it.
We ended our Victoria day with dinner at the Original Spaghetti Factory. It's located in the glass building that once housed the heated pool for the adjacent Empress Hotel. They serve a great meal, and afterwards we strolled along the waterfront back to the Ferry dock to await our ride back home. Victoria's a neat city. Seems a shame to just spend one day there. We'll have to figure out how to extend that next time.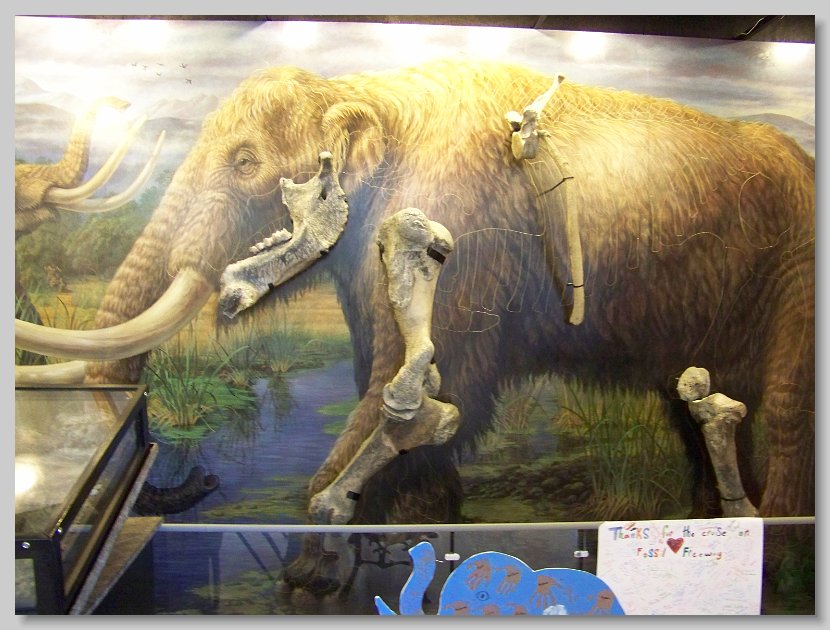 On the way back to Sequim on the ferry, we read about the small museum of the Sequim Historical Society, so went to see it a few days later. The big claim to fame of the Museum are a few bones of one of the earliest mastodon skeletons ever found in North America. In the late 1970's, a local farmer was digging a farm pond and turned up some bones first thought to be mammoth. Subsequent analysis showed them to be mastodon, never before known to be in that area. Even better, one of the rib bones had a stone spear-point embedded. Carbon dating put the age of the skeleton at around 14,000 years ago, making it the earliest known evidence of human habitation in that part of Washington state - beating the old estimates by more than 6,000 years. There's not much of the skeleton left in Sequim - bones were shipped out to many other museums around the country. But the exhibit is very informative.
Dairy farming was big in Sequim back in the day, and, for city folks, the museum exhibit included this explanation of a dairy cow:
A cow is a completely automated manufacturing machine. It is encased in untanned leather and mounted on four vertical, movable supports, one on each corner. The front end of the machine, or input, contains the cutting and grinding mechanism, including a unique feedback device. Here also are the headlights, air inlet and exhaust, bumpers and foghorn. At the rear, the machine carries the milk dispensing devices, along with a built-in reflex fly swatter and insect repeller.
The central part houses a hydrochemical conversion unit. Briefly, this consists of four storage and fermentation tanks connected in series by an intricate network of flexible plumbing. This part also contains the central heating plant complete with automatic temperature controls, pumping system and main ventilating system. The waste disposal sub-system is also located to the rear of this central system.
Cows are available in an assortment of sizes and colors. Production output ranges from two to twenty tons of milk per year. In brief, the main externally visible features of the cow are: two lookers, two hookers, four stander-uppers, four hanger-downers and a swishy-wishy. All in all, this is a successful automated machine which, over the years, has been completely debugged and is working very effectively.
So now we know.
The weather was very nice in Sequim - they call it the Banana Belt of the Olympic Peninsula. We like it there.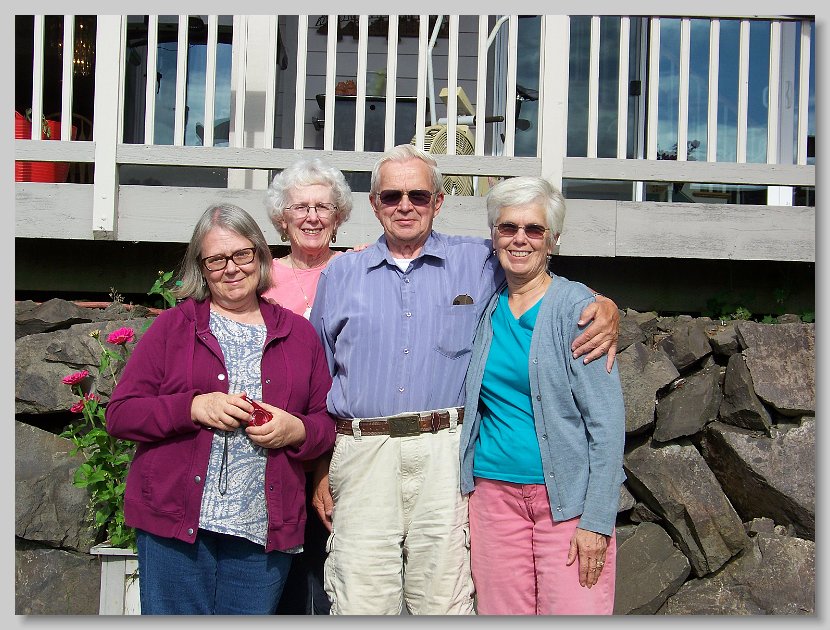 On Aug 19, we hooked up and headed down the road to Longbranch WA (31). We've been housesitting for Judy's sister Jan and Denny for a few years now while they take off on their boat for a month or so, sailing north into Canada. Judy's other sister Joanna and brother John were there when we got there, so it was a mini-family reunion.
A week later, Jan & Denny headed out in their boat, Al started taking advantage of Denny's well-equipped workshop for some RV projects, and Judy began enjoying a full-size kitchen. We took advantage of our relative stability to get some things done, including new glasses for Al. We replaced our laptop computer, a process that turned out to be more of a challenge than anticipated. A few days after leaving, we got a frantic call from Jan & Denny - they'd hit something and damaged the propeller on the boat. Could we ship them the spare that was in the garage? We could and did, and they got it four days later. Shipping things into Canada isn't as easy as you'd expect.
We made a quick trip to Eugene OR so Judy could have a 10-minute test to qualify for some Parkinsons-related speech therapy. Ira & Anna came up from Portland over Labor Day weekend, and we visited, and drove into Tacoma to tour the Lemay Automobile Museum and the Tacoma Museum of Glass. We weathered some spectacular storms near the end of September as the remnants of a Pacific ocean typhoon blew in, bringing record rainfall. And we spent a lot of time with Max, the resident cat, who bonded with us quite quickly.
Jan & Denny's hummingbird feeder gets a lot of action. One day Al set up a camera pointed at the feeder and let it take a picture a second for most of the day. After culling through over 20,000 images (we're retired, after all), we managed to come up with a couple hummingbird images that are pretty nice. They're in the slideshow.
On October 4, Jan & Denny sailed back home, we met the boat and helped them unload, and started our preparations to depart. The four of us spent part of one day touring a few of the farms on the annual Key Peninsula Farm Tour, and took advantage of a "cheap movies Tuesday" to see the space thriller "Gravity". And then on Oct 9, we hooked up and headed south to Eugene OR (32). We'd booked a month in Eugene to accommodate some speech and physical therapy that Judy's neurologist recommended.
We've always stayed at the Premier RV Resort north of Eugene - a spendy place, but very convenient. They didn't have any available monthly sites, so we looked around and landed at the Shamrock Village RV Park on the south side of Eugene. Like most other urban RV parks, this is essentially a parking lot with hookups, not a lot of amenities. Plus, it's right next to the main Union Pacific rail line, which gets about 3 trains an hour. Not a quiet place. But it was available, and the price ($395 a month including utilities) was very right. And earplugs are not very expensive. We'll probably shift our Eugene stays to this park in the future - it'll be a lot less expensive.
In addition to a rather busy schedule of therapy sessions, we managed to squeeze in some socializing with Judy's sister Joanna, made two trips to the coast to arrange for the RV repair work we'll have done in November, and ate out way too much. We'd never before eaten at a Five Guys Burgers and Fries. We now have a new addiction on our favorites list. We also went to a presentation of the Stephen Sondheim musical "Merrily We Roll Along", shown in HD video at a local cinema. Not quite as good as seeing a live production, but at $15 a seat, affordable enough to also buy popcorn. And as October ended, we toured the Springfield OR Mayor's Art Show, which featured some very interesting works.
As October ended, we started thinking forward - planning our migration south in search of warmth and then eastward for the summer and beyond. Stay tuned.
Misc Temptations Dept: We recently received this season's events program for the McCallum Theatre in Palm Desert CA. Good thing we don't spend more time in the Palm Springs area - we'd be broke the first year! Just a sample - The Boston Pops, two productions of Man of La Mancha, Addams Family the Musical, Jack Jones, Michael Feinstein, Bernadette Peters, The Flying Karamazov Brothers, the Chinese Acrobats, Willie Nelson - the temptations go on and on and on. They even have a "Sing Along Sound of Music". We probably won't see any of them when we're there in January. Okay, enough drooling. Back to reality.
Despite merciless culling by Judy, there are still 118 pictures in our slide show. Endure them here if you'd like.