July 1 - July 16 - A Full Agenda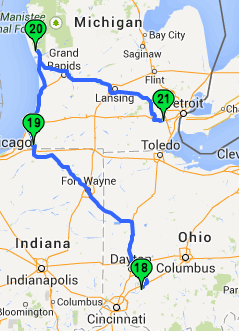 The first half of July was a very full period, the second half not so much. On July 1, we hooked up and headed out from Wilmington OH (18), bound for Michigan. As we got into northern Indiana, we started noticing that fields of wheat and corn had apparently been blown down. It wasn't until later that we learned the cause was "straight-line winds in excess of 70mph". No tornados, but hurricane-force winds, in Indiana no less. Good thing we were behind the storm.
After crossing into Michigan, we pulled into the Bear Caves RV Resort in Buchanan MI (19) for an overnight stay. We found an RV park that had been hit by a major storm the night before, and most of the park was without electricity. We were able to get a site that did have power, but most of the park was apparently powerless for several days. There were lots of tree branches down in the area. The storms in southern Michigan and Northern Indiana were apparently unrelated. We travel in interesting times.
On July 2, we hooked up and headed north to the Duck Creek RV Resort north of Muskegon MI (20) for a week's stay. Duck Creek is one of the nicest RV parks we've ever stayed in, with prices to match. We were there to visit with Al's family - first time in three years - and also because of a family reunion of Al's maternal relatives on July 4, the first one we've been to since getting married 22 years ago. The week was obviously taken up with lots of family functions, but we did manage a diversion or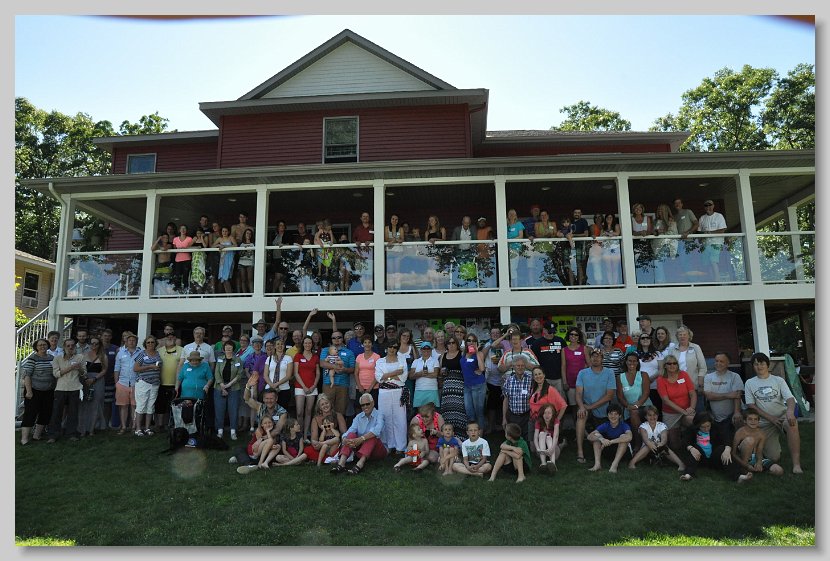 two. The reunion was a big success - about 165 people showed up, encompassing four generations. Al's mother was the oldest of 12 (4 still surviving) and Al is the oldest of 56 first cousins (about 50 surviving) on that side of the family tree. We saw people we hadn't seen for many years and met some that we'd never met before. And probably saw some folks that we'll never see again. Family reunions are like that. We also had three gatherings with Al's siblings, all involving food, much to the detriment of Al's weight-loss hopes.
One of Al's uncles, Lee Wilson, went into the hospital two days after the reunion and died three weeks later at the age of 89. He'd had pancreatic cancer, discovered a few months earlier. We didn't know that at the time, but in retrospect it was evident that Lee came to his summer home in Michigan from Texas specifically because of the family reunion. Lee had led a interesting life - a petroleum engineer for Atlantic-Richfield, he was responsible for bringing in the first oil well on Alaska's North Slope. He'd worked all over the world, specializing in offshore drilling, and had received two patents for improvements to those processes. At retirement, he was based in Hong Kong as Vice President and Resident Manager for ARCO operations in China. He was also the family genealogist, and had compiled an extensive record of the family history going back many generations to Scandinavia. We're glad we had some time with him.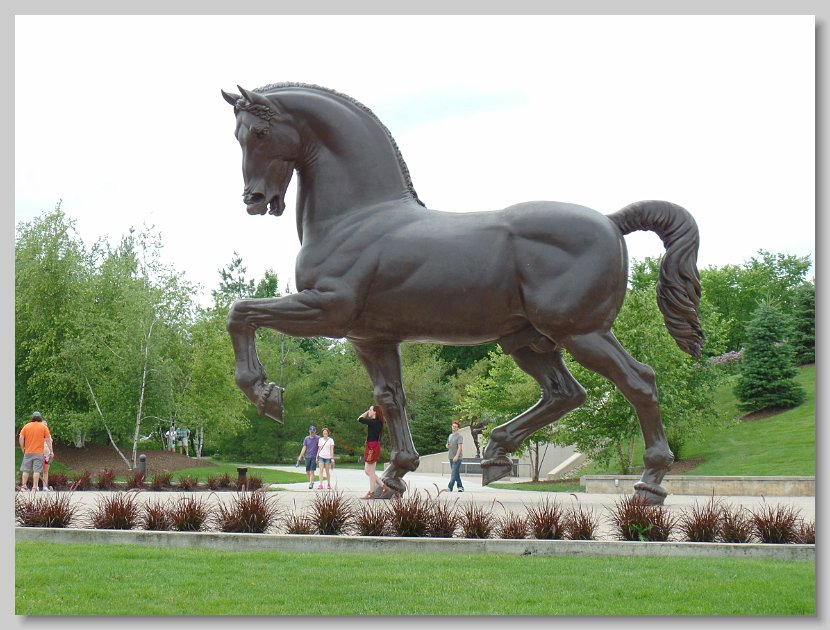 On July 5, we took advantage of the Bank of America's "Museums On Us" program and got free admission to the Meijer Gardens and Sculpture Park outside Grand Rapids. Frederik Meijer and his wife were avid collectors of large-scale sculptures and built the gardens to display some of them. We've been to Meijer Gardens a couple of times before, but with our mobility scooters we were able to cover the entire park for the first time, seeing things we'd not seen on previous visits. The largest installation in the gardens is the "American Horse", a full-scale execution of a 24ft tall horse designed, but never sculpted, by Leonardo da Vinci. The Meijers funded the sculpture and helped fund a duplicate that now stands in Milan Italy where da Vinci intended. There were lots of other neat things to see, and we've included pictures in our slide show.
On July 9, we hooked up and headed southeast across Michigan to the Wayne County Fairgrounds in Belleville MI (21) for a week's stay. The fairgrounds has a basic campground that's relatively inexpensive, but for us the best part is that it's only 15 miles from "The Henry Ford" in Dearborn, a complex that includes the Henry Ford Museum and Greenfield Village. Both built by Henry Ford starting in the late 1920s, they are one of the best museum-type attractions we've visited. The Village is about 50 acres, recreating an early 1900's town.
The buildings are all either authentic historic structures or faithful replicas. For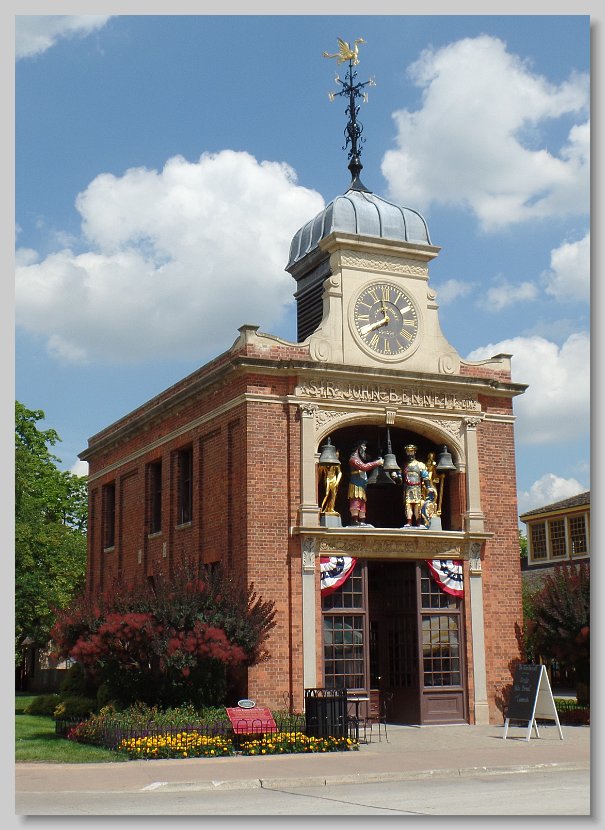 example, Ford replicated the entire Thomas Edison compound from Menlo Park NJ. You can ride around the village on a steam train, or in one of a fleet of Model T cars (all black ones, of course), or on one of the very few surviving Model A buses. We toured homes lived in by Robert Frost and Noah Webster and Stephen Foster. We sat in an Illinois courthouse where Abraham Lincoln once practiced law. We watched as a 50 ton locomotive on a 45 ton turntable outside a railroad roundhouse was manually rotated by one man to turn that engine around. We watched as TV personality Mo Rocca taped some material for a forthcoming CBS series called "Innovation Nation" (Saturday mornings this fall). We spent most of two very enjoyable days roaming the village.
The adjacent museum, 11 acres under one roof, is a celebration of America's industrial revolution. As you'd expect, there are a lot of automobiles, and not all just Ford products. There are also immense railroad locomotives, several presidential limousines, one of Edison's first large-scale electric generators, several monstrous steam engines and the even bigger machines they powered. There's the only Dymaxion home, designed by Buckminster Fuller, ever built. There's the first Sikorsky helicopter, and the airplane that Admiral Byrd flew over the North Pole. There's a DC-3 that, when it was put into the museum, had flown more miles than any other airplane ever (a record since broken by another DC-3). There's an Oscar Mayer Wiener-Mobile, and a tomato harvesting machine. There's Edgar Allen Poe's writing desk, and Mark Twain's dining room table. There's the Birmingham AL bus that Rosa Parks was riding when she refused to move to the back of the bus. There's the limo that President Kennedy was riding in that fateful November day in Dallas. We spent another two days touring the museum.
If the purpose of a museum is to preserve and interpret, then the Henry Ford complex does it in spades. It was one of the must-see places on our bucket list, and we're glad the weather was on our side. Lots of pictures in our slide show.
We also ate several times at a Culver's restaurant just up the road from the fairgrounds. As we head east, we'll be leaving Culver's territory. We'll miss those butter burgers and that frozen custard, but Al will probably be carrying remnants around his waist for several months, at least. Small comfort.
On July 16, we hooked up and headed southeast into Ohio, the next leg of our eastward migration. But that's for our next report.
There are (gasp) 161 pictures in our slide show this time. Check them out here. Advance apologies are hereby tendered for the quantity.