Oct 1-12 - Old Sturbridge Village and family time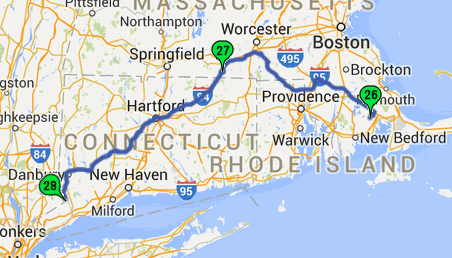 We had an event-filled October. This report covers just the first half.
On October 1, we hooked up and left the Gateway to Cape Cod Resort (26) for a 97-mile easy drive to the 1000 Trails Sturbridge Resort at Sturbridge MA (27). We'd heard about Old Sturbridge Village, and that was the only thing on our list for the five days we'd be there.
Old Sturbridge Village is a "living museum", in this case a typical Massachusetts farming village from around 1830. The complex grew out of a desire by some area businessmen to have a place to show off their antique collections. The result is a village of homes and businesses, some relocated from elsewhere, some constructed from scratch on site. It's very much oriented toward school groups, and there were probably 20 of them clamoring around the day we were there. In an age where we pretty much expect all the kids to be texting all the time on their smart phones they sure did a lot of yelling.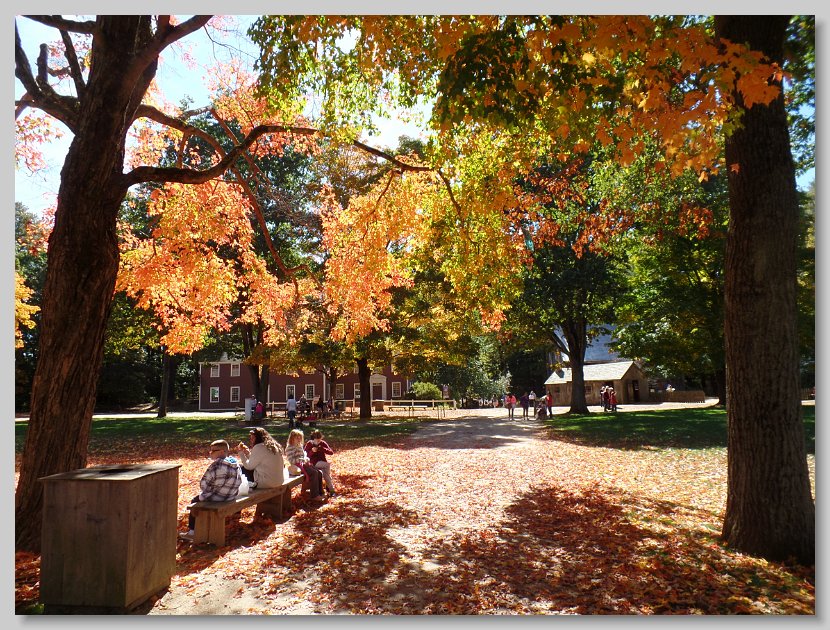 Anyhow, we managed to slip back in time and spend the day in old-ish buildings. It was enjoyable and we even learned a few things while we were at it.
We also went to the local "professional" playhouse for an enjoyable production of one of those dinner-theatre type small cast comedies, this one about two disagreeable inlaws who move in with their kids, who are expecting their first offspring. Just when you get to actively disliking both the protagonists, they turn human and roll on to a surprising final curtain. It was a little better than an amateur community playhouse performance, but not really up to the "professional" label.
On October 6, we hooked up again and drove about 100 miles and settled into the driveway at niece Lisa and Patrick McCarthy's place in Wilton CT (28). Patrick works for (and travels a lot for) the UN in New York City, while Lisa and the three kids hold down the fort. It was a good time getting to know Liam, Niamh and Aiden - we'd only had passing contact over the years, as they were living in France and never seemed to be stateside when we were where they were. We were anticipating a week with the McCarthys and with Judy's sister Jan and Denny, who were flying in from Washington State on October 7.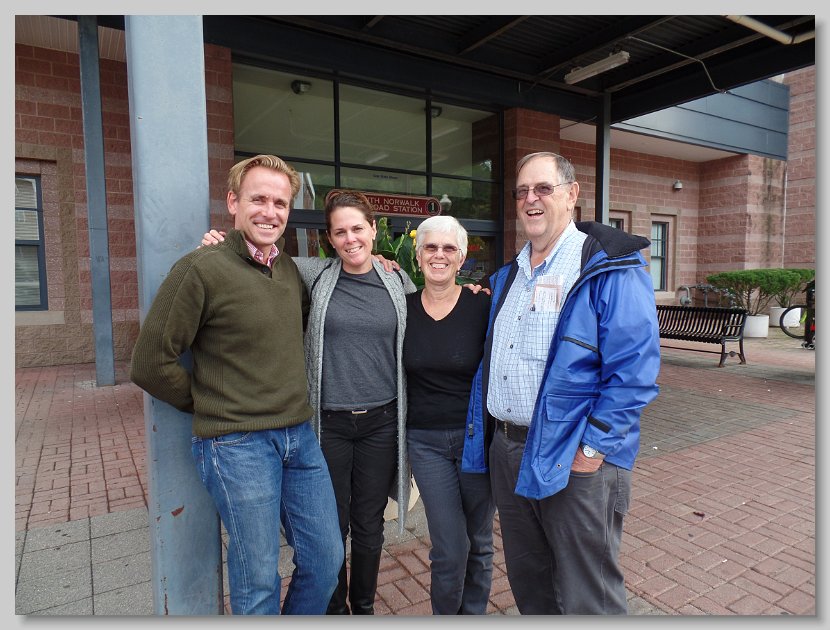 Unfortunately, as we were having dinner that first night, Patrick got a call from his brother in Ireland and learned that his mother had suffered what appeared to be a major stroke that morning. There were several more calls overnight, and by morning it was decided that Patrick would fly to Ireland. So, we made the airport run to pick up Jan and Denny, whose flight was only 4 hours late. And then we converged at the train station about 20 minutes before Patrick boarded for the ride to Newark NJ for his flight to Dublin, so at least they got to see him.
The next few days, we all tried to enjoy ourselves. Judy, Jan and Lisa went to a Tapas cooking class one night. Jan and Denny joined us for a day at the Mystic Seaport Maritime Museum. Word came a few days later that Patrick's mom had passed away, and plans were made for Lisa to fly to Ireland for the wake. We managed to squeeze in a day trip for the five adults to the Rockefeller family compound "Kykuit" near Sleepy Hollow NY (there really is such a place, and it's Hallowe'en there all year long). It was enjoyable, and hopefully gave Lisa a bit of a break.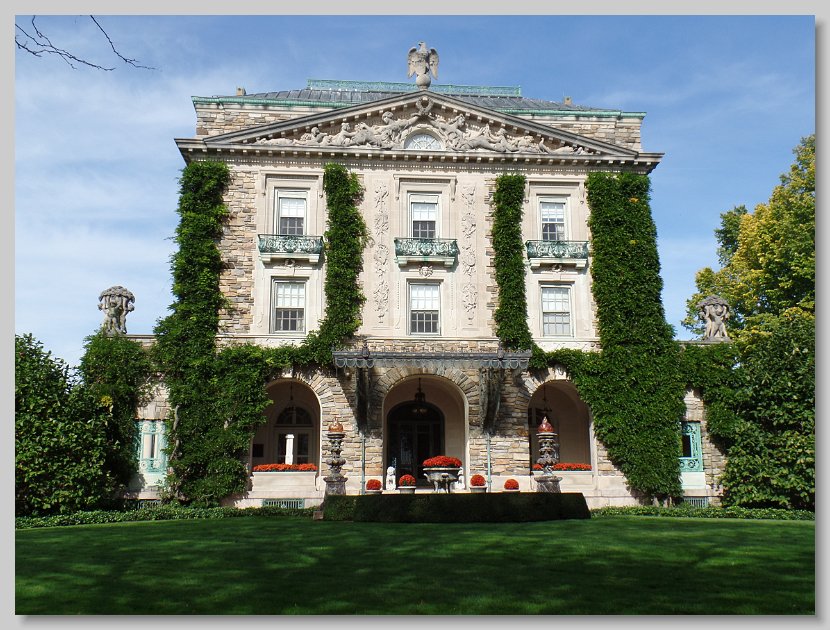 On Saturday Jan and Denny escorted the kids to Aiden's cub scout outing at the US Military Academy at West Point, where they got a tour and a football game. We delivered Lisa to the airport at Newark so she didn't have to take the train, and then proceeded to get royally lost coming back. We were almost home by the time we figured out why our GPS was trying to route us through upstate New York rather than straight back to southwestern Connecticut. Seems we'd set the GPS to avoid toll roads, and all of the east-bound bridges across the Hudson River are toll bridges. So it routed us almost all the way to Canada on the west side of the river, then all the way back down on the east side. Needless to say, we didn't follow those directions, but did manage to make a five hour ride out of a 90 minute trip.
So, while we didn't have the week we'd expected, we were all in the right place to help out with the week we had.
On October 12, we hooked up and headed south - destination: places we've never been before, all in our next report.
There are about 99 pictures in our slide show this time. Check them out here.