June 3 - July 1 - Happy Times and Interesting Places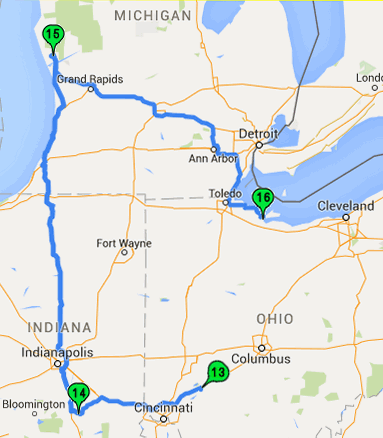 June was our month for friends and family, and we also managed to squeeze in some sightseeing. It's always good to connect with loved ones, and June did that for us in spades.
On June 3, we hooked up and left Wilmington OH (13) and drove the 121 miles to the Ceraland Recreational Complex outside Columbus IN (14), where we settled in for a week's stay. Ceraland was originally built as a recreation venue for the employees of the Cummins Corporation, but has transitioned into a public facility the last couple of years. We go for the RV park and campground. Others use the facility for softball and baseball, the golf driving range, a go-kart track, a model airplane area, a shooting and an archery range, indoor and outdoor pools, cricket and soccer fields and probably some stuff we haven't yet found. It's also the only place we've ever been with enough sense to properly label those annoying purpose-built lumps placed put across roads to regulate speeds. Ceraland calls them "Slow Bumps", which is certainly more accurate than "Speed Bumps".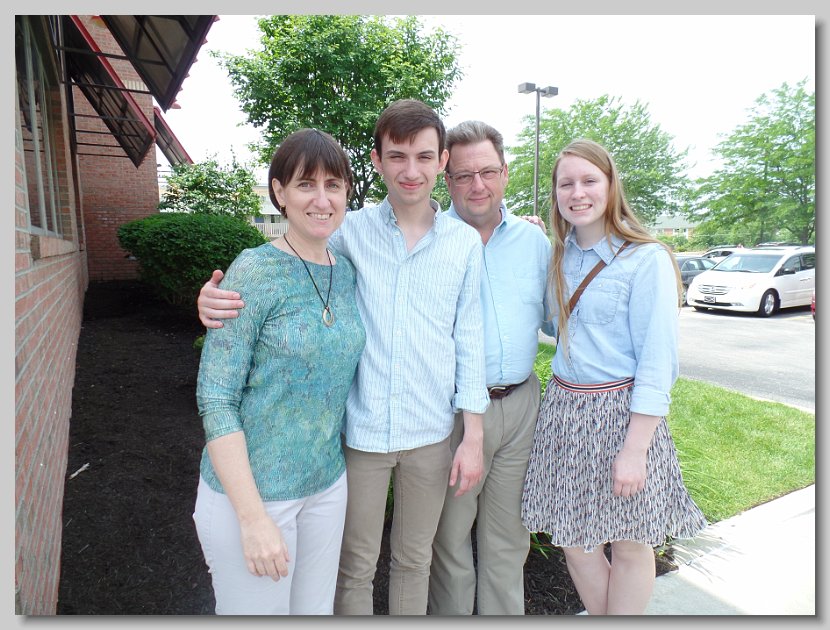 We come to Columbus to spend time with the Pierson family. 19 years ago, Luther and Linda, living in Reedsport OR, half a continent away from any family, asked if we would consider being surrogate grandparents to their new son Brian. We've been pretty much joined at the hip ever since. And while our responsibilities pretty much went away when the Piersons moved to Indiana 15 or so years ago, we still connect whenever we can. We spent time with Luther and Linda and Brian and Laura just about every day the week in Columbus, most of the time involving food. In between, Judy was able to visit the nearest Curves about 15 miles down the road, and we caught up on some shopping and laundry and rode our bikes around some. It was a most enjoyable week.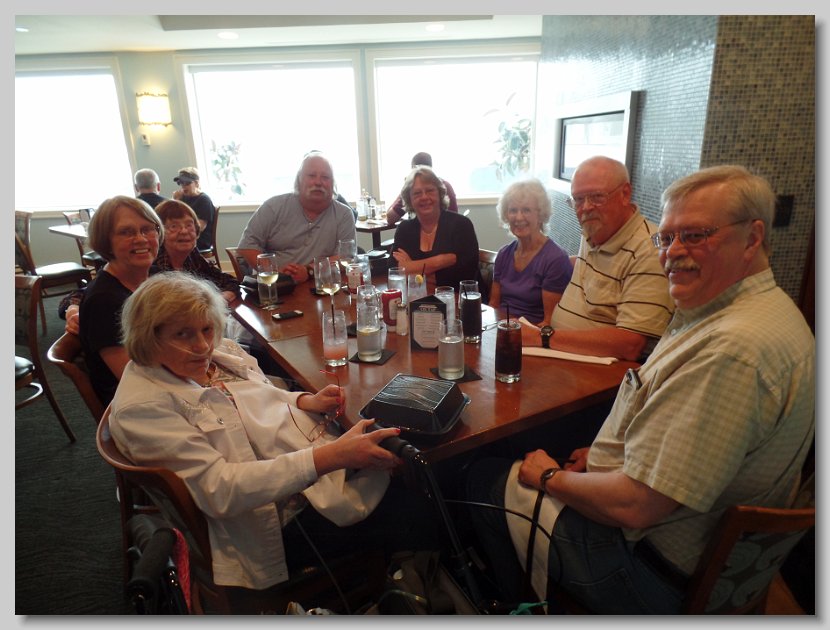 On June 10, we hooked up, gassed up, and made a longer-than-usual day's drive 323 miles north to the Duck Creek RV Resort north of Muskegon MI (15). Muskegon's Al's home town, and the rest of his sibs still live in that area. Again, we had several gatherings with some or all of the gang, again involving food. We're not sure if the Michigan folks dine often at the kinds of nice places we frequent when we're in town, or if they're just showing off, but the food and fellowship was exceptional. All of our get-togethers were just of our generation - the kids and grandkids have lives of their own now. We had one very intense rainstorm while we were in Muskegon, and Judy spotted some water dripping from the bathroom ceiling. Al spent some time on the RV roof caulking suspicious-looking places. It'll probably take another serious rainstorm to see if it made any difference. Other than that, a second most enjoyable week, over all too soon.
On Wed June 17, we again hooked up and headed out, driving about 276 miles to the Erie Islands Resort in Port Clinton OH (16). It was an interesting trip in one respect - in southeastern Michigan, our chosen route ran us up against a closed section of highway. We'd been experimenting with using the Garmin GPS unit from our car in the RV, and it automatically calculated a detour for us, and all was well. The disconcerting part was that the GPS unit didn't know that we weren't in a car, and could just as easily have routed us under a low overpass or over a low weight limit bridge. The upshot was the purchase of a Garmin GPS unit for the RV that would allow us to program in our weight, height and length so it could avoid such hazards. It's basically the same unit designed for long-haul truckers. It was delivered while we were in Port Clinton, and Al spent a fair amount of time getting to know it.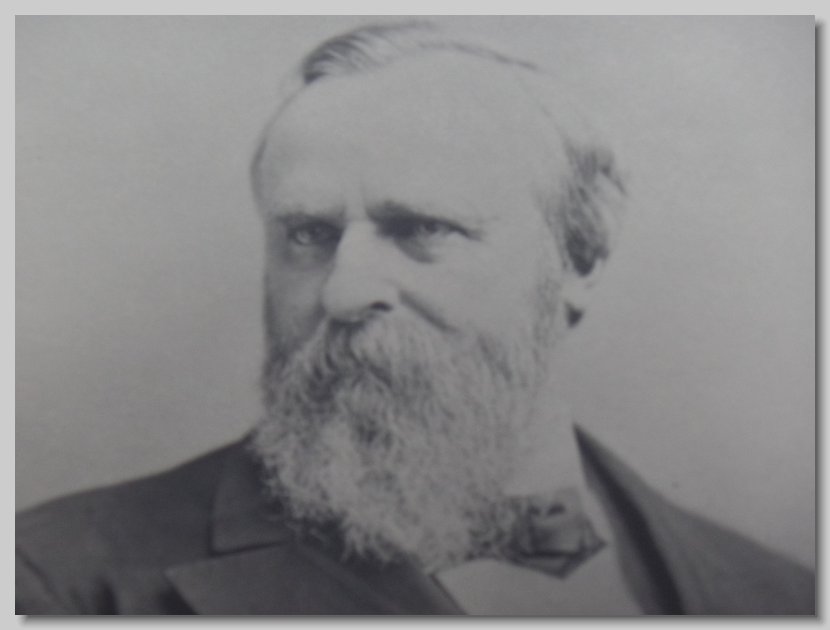 We often find out about things we'd like to see just as we're leaving a place, and Port Clinton was no different. On our last day here in early May, we heard about the Rutherford B Hayes Presidential Center in nearby Fremont OH. This time, we visited it. Hayes, our 19th President, is the least remembered US President, at least according to the center's introductory video. Hayes himself said he got nominated because he was everybody's second choice, and none of the first choices could get enough votes to get the nomination. Fremont OH was where he lived before and after his one term in the White House, and his home and a museum next door commemorate his life.
As a President, his accomplishments were few - he was most proud of cleaning up the New York City Customs House - seat of Republican Party power and also a seat of political corruption. In the process, he fired the director, Chester A Arthur, who went on to become US President No. 21 upon the assassination of Pres. James Garfield. Hayes also installed the first telephone in the White House (and promptly called Alexander Graham Bell) and was the first President to visit the US West Coast, where he took a particular liking to Oregon. A painting of Mt Hood was one of his favorites. He served one term, resisting all attempts to launch a re-election bid, and retired to his home in Fremont OH in 1881.
We had a couple of serious rainstorms while in Port Clinton, and again we had water dripping from the bathroom ceiling - plus a new leak dripping below the electronics cabinets in the front of the RV. Back on the roof, Al applied most of two tubes of caulk to anything that looked remotely suspicious. Seemed to do the trick this time. We'll see. And because we had trouble finding out just how much rain there had been - we think over 3" one day - Judy bought a rain gauge. Next time we'll know.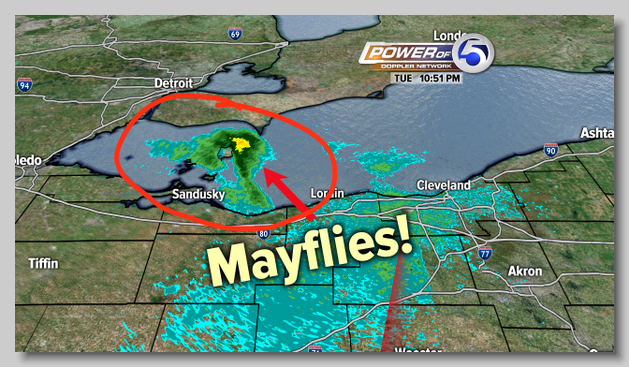 One morning Judy came back from Curves and said folks were talking about the Mayflies. Mayflies only live about a day, and erupt in early summer from fresh water lakes and streams to breed in mid-air before dying. There are billions of them, and while we didn't get any at our RV park, there was plenty of evidence of them in town. It was a relatively mild infestation compared to what might have been - a Cleveland TV station posted a picture of a radar image showing the mayfly swarm over Lake Erie. Fortunately, they had mostly died by the time they got to land.
While checking the internet for restaurants, we discovered the Tin Goose Diner at the local airport. It's an authentic 1950's diner, and part of the Liberty Aviation Museum, which we'd also never heard of. We had a delightful lunch at the diner, then toured the museum. As an aviation museum, it's not much. They have maybe 3 or 4 airplanes, and a lot of models and airplane parts. But there's a rich heritage and great plans. The museum actually owns two significant flyable aircraft - one a B-25 bomber, the other a Ford Trimotor. Neither were there when we toured - the B-25 is currently on the west coast, and the Ford is on loan to the EAA in Oshkosh WI. You may know that "Tin Goose" was a name applied to the Ford Trimotor Airplane, the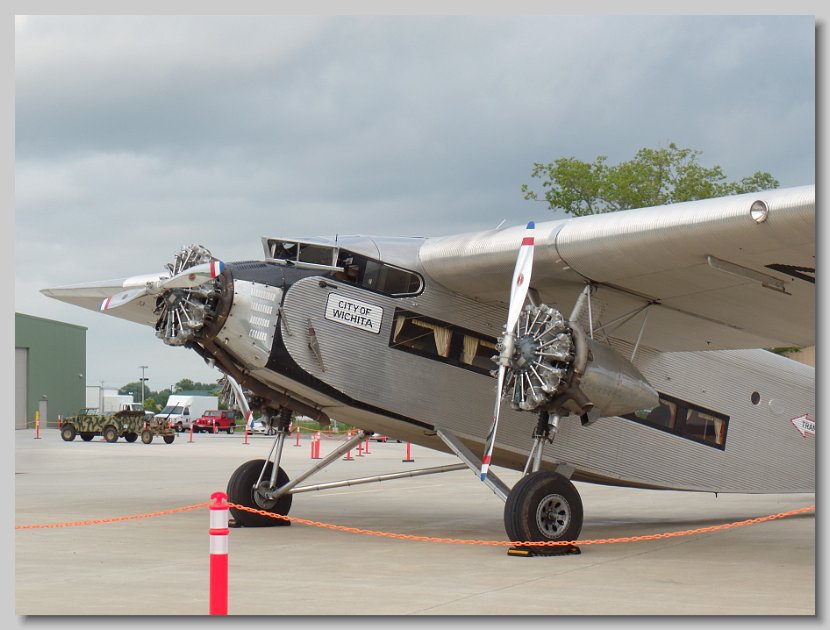 first all-metal airplane. Built by Henry Ford between 1925 and 1933, it was the first mass-produced airplane. From Ford's standpoint, it wasn't a great success. Fewer than 200 planes were built. Today, there are about 18 left.
But three of them used to be based in Port Clinton, where they flew short hops to the offshore islands in Lake Erie. The memorabilia of that airline operation make up the core of the museum. And they are restoring a second Trimotor of their own - they've been working on it for 11 years now, and figure they've got a few more years to go. In the meantime, the hanger space is full of old military vehicles and boats. It's interesting, but not yet ready for the big leagues. But on our last day in town, the museum was visited by it's flying Trimotor. We got some pictures.
We doubt our travels will bring us back to Port Clinton. We've been there four or five times in the past eight years, and have enjoyed every visit. So, with good memories, on July 1, we hooked up and headed east. We'll talk about July next time.
Our slideshow this report contains about 70 pictures, of friends and family, Presidents and planes, and even some mayflies. Check them out here if you choose.