March 10 to April 12 - Last Few Weeks in Florida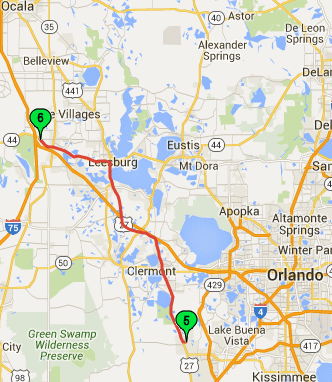 Our winter in Florida is winding down. We've spent a fair amount of winter time in Florida the past 9 years, but we doubt we'll get back here again, and we'll miss it. On March 10, we returned to the 1000 Trails Orlando Resort (5) from the Florida Keys for a two week stay.
We didn't do much those two weeks, but it seemed to keep us busy. Somewhere along the way to and from the Florida Keys, part of one of the RV headlight assemblies went missing. RV headlights are not standardized. After lots of research and internet searching, we finally figured out that ours most likely came from a 1997-ish Lincoln Town Car. It would have helped a lot if the folks who'd built our RV were still around, but they weren't. Amazon.com to the rescue, and the needed part was soon on its way from California, and it turned out to be the right part.
The problem was that we couldn't figure out how to remove the left-over pieces of the old one. Al pondered on that for a few weeks, and the project was still unfinished when our two weeks at the Orlando Resort was up.
Meanwhile, we went on with life - Judy got in her last visits to her home Curves, and made a new RVing Curves friend in Jan Keck, from Pennsylvania. We indulged too many times on Culvers Butterburgers and Frozen Custard, and because we didn't know if or when we'd see another, Sonny's BBQ restaurant. We e-filed our income tax returns, and actually got some refund money a week later. Most of the sandhill cranes that call the RV park winter home seemed to have started northward, and we could tell lots of human snowbirds were doing the same. The gopher tortoises were out and roaming the park, so we figured it was the season for making turtle whoopie, and for us to move on.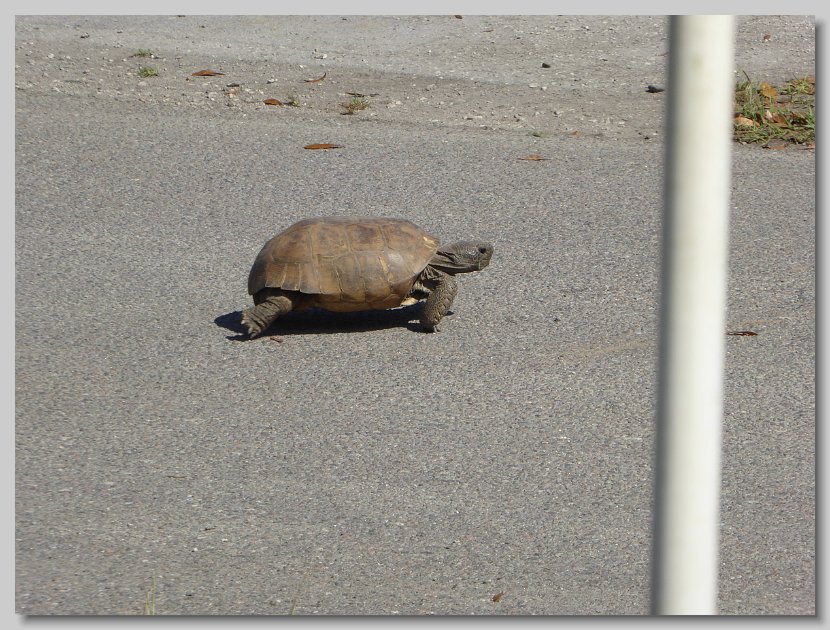 On March 20, we said goodbye to South Lake Presbyterian church, and the following Thursday pulled out and headed north. A whole 48 miles.
The 1000 Trails Three Flags Resort at Wildwood FL (6) is a very friendly park. It's not as big and polished as the Orlando resort, but the folks are all friendly. We signed up for the park's Easter dinner when we checked in, and then made a bee-line for the Russell Stover Candy Outlet just a mile up the road. We over-indulged, of course, but at our age we're entitled, right? Easter Sunday we joined a full house at First Presbyterian Wildwood, talked with relatives all over the country, and joined about 100 other folks at the RV park's Easter Dinner - all the traditional stuff plus dessert, and all free to us. We shared a table with six other folks we'd never met before and had a very nice time.
Easter Monday was our 24th wedding anniversary, and folks all over the country were wishing Judy a happy birthday. Explanation: When we opened our Facebook account, we found that Facebook doesn't really like shared accounts. We had a workaround, and "Judy-Al" soon had an account. Since Facebook requires that you enter a birth date, we put in our wedding date (aren't we clever!). Apparently folks around the country looked at "Judy-Al" and figured out it meant "Judy", and now believe Judy is 24 years old and was born in March of 1992. So much for cleverness.
We usually observe our anniversaries with a nice dinner out, but our chosen restaurant in Wildwood is closed on Mondays. So the next night, we went to Miss Kathi's Southern Cotillion and Sweetery for a very nice dinner indeed. Miss Kathi's is in a former bank building, and only seats about 30 people. The food is very good, and it was probably a good thing we hadn't found it before, as repeated visits would have increased our calorie counts (and girths) considerably.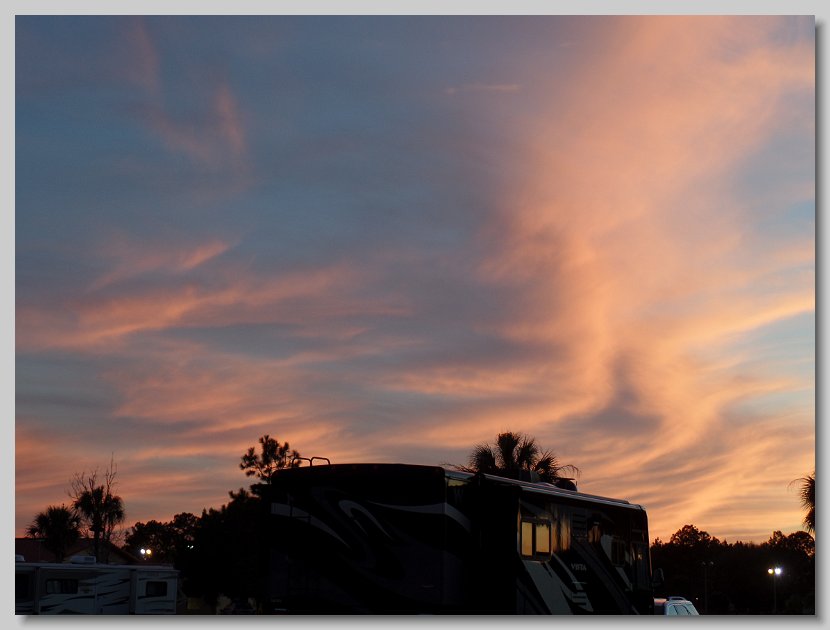 Al continued to ponder replacing that headlight piece, and finally decided that there was no point in removing the old one carefully. Out came the Dremel. He cut the old one apart and removed it piecemeal. The new piece then just snapped into place, and required only the drilling of two small holes for new screws to replace the original one that was impossible to get at. We now have one really new looking headlight part that looks a lot better than all the others.
RV parts are never inexpensive, so when it came time to replace the windshield wiper blades, Al searched around on the internet and found "exact replacements". They arrived a couple days later, and, of course, didn't fit. We spent an afternoon trying to find two specific screws that would make them fit, and finally wound up at a NAPA store where we bought a whole 'nother set of wiper blades (almost $80) that did fit. NAPA is apparently the only folks who stock those blades. Fortunately, we could return the other set. Next time we'll go straight to NAPA and save the time, if not the money.
This winter we rediscovered the live Saturday telecasts of the Metropolitan Opera, shown in some cinemas. Wed seen two at a theater in the Disney Springs complex, and we were able to find a theatre in Ocala FL (about 20 miles up the road) that was showing the Met's marvelous production of Madame Butterfly on April 2, and enjoyed it immensely. If we remember, we'll try to organize next winter so we can see more of those shows - they do 10 a season. It's certainly not the same as actually going to the opera, but at $22 a seat it's a whole lot more affordable. Except for the popcorn, which is never affordable. We buy it anyway, though.
We managed to get 3 Sunday visits in to Wildwood's First Presbyterian Church, a very friendly church. They've been growing the last couple of years to the point of considering adding a second service on Sunday - the sanctuary was almost as full two weeks after Easter as it was on Easter itself. We'd stayed in Wildwood a couple of times before, but somehow never before found this church. Our loss
We made one final visit to the Russell Stover outlet to stock up on calories, and on Tuesday April 12 climbed on to Interstate 75 and started north.
We didn't take hardly any pictures these last few weeks in Florida. There are only 7 in our slideshow, including those you see above. Check out the whole bunch here if you choose.
And finally . . .
There are lots of dog owners and their fur-kids in the RV parks we visit, and we see these dogs getting acquainted all the time. So this comic strip gave us a good chuckle. Hope it works for you.