June 20-27 - Jackson WY & The Tetons
Our inexpensive RV park for the Jackson, WY area was a place called the Star Valley Ranch at Thayne, WY. We kind of book these places sight unseen, and picked this one because it wasn't all that far (about 50 miles) from Jackson, and because it was not expensive. What a gem it turned out to be. Our trip north to Thayne involved multiple state border crossings - from Utah into Wyoming then back into Utah then into Idaho then back into Wyoming. In these mountains, there's no such thing as a straight line from point to point.
The Star Valley Ranch RV Resort has over 300 RV sites, most of them sold as semi-permanent residences. It's adjacent to its own golf course, and in the larger ranch complex, there are two more golf courses. Guess what everybody (but us) does around there?
It's just three miles outside Thayne, population about 300, where we discovered Tootsie's, a rustic-ish restaurant that serves some of the best pizza we've ever eaten - and their sandwiches are out of this world. Twice for dinner. And also lunch, where we met John and Michele Handfield from Phoenix, (AZ), off on their first adventure in an RV. John's a photographer. Neat people. We hope to see them again.
We also discovered the Star Valley United Church. How could we resist a sign that says "Presbyterian & Lutheran"? It's both PC(USA) and ELCA - and they say it's the only "traditional" Protestant church in this predominantly Mormon community. Communion is served with both wine and juice - take your pick. A very friendly church, populated largely by folks from the Star Valley Ranch community.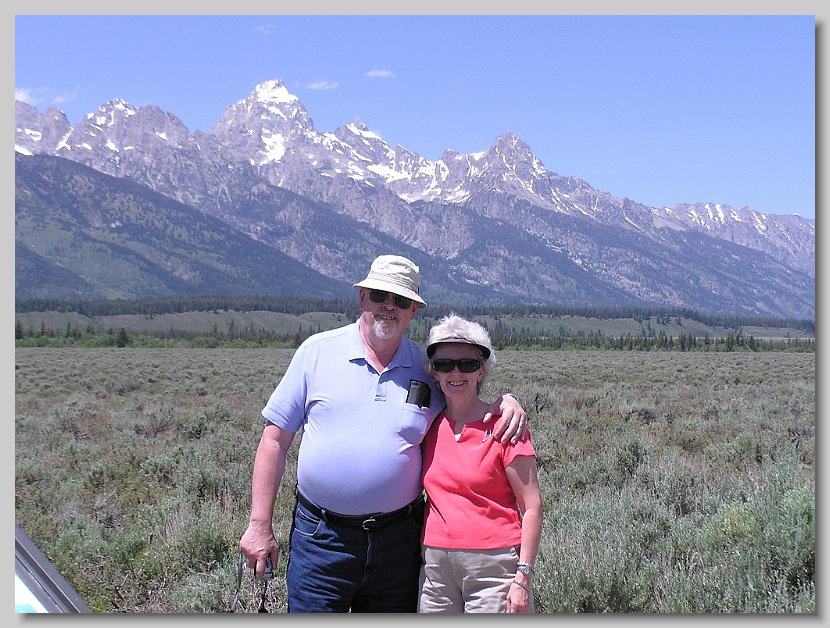 But we came here for the Grand Tetons and Jackson Hole. We took a lot of pictures of the Tetons when we were here a year ago, so we tried (really, we tried) not to post quite as many this year. But we've never spent much time in Jackson itself. What a neat town. Neither of our top two "discoveries" were photo-friendly. The National Museum of Wildlife Art is a world-class art museum devoted to wildlife and the artists who've painted and sculpted it over the years. And the Off Square Theatre Company is Jackson's resident repertory theater company. We saw a very well staged musical production named "Crazy Love" - cast of 18, full orchestra. It's not quite ready for prime time, but the production was very enjoyable and quite impressive.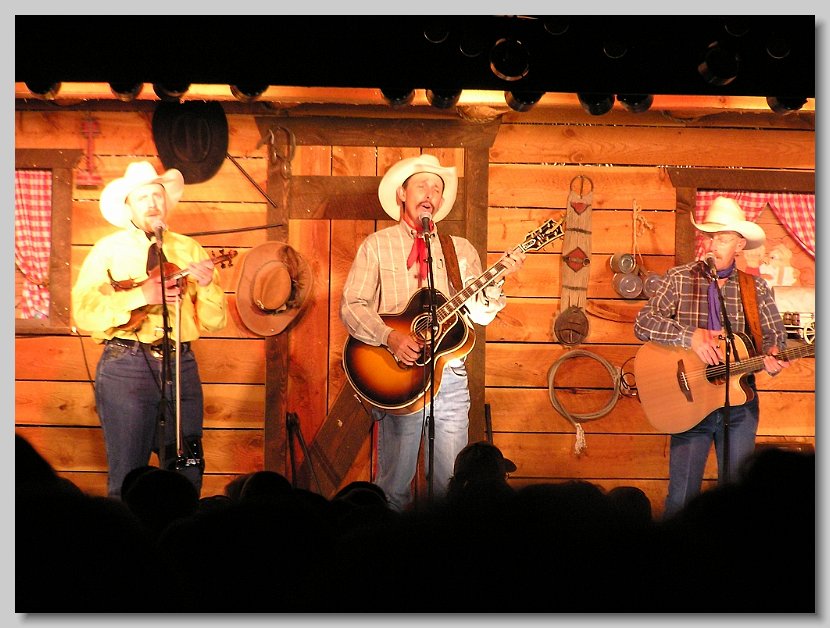 One of the volunteers at the Hill Aerospace Museum in Ogden, UT was very enthusiastic about the Chuckwagon dinner and western show at the Bar-J Ranch, just outside Jackson. So we went. Great fun. For the price of dinner - sorry, it's "supper" they serve here - you also get a full 90 minute performance, sort of a combination of the Sons of the Pioneers and Hee-Haw. The food was much better than we'd expected, and the show was absolutely enjoyable. No class, no culture, just great fun.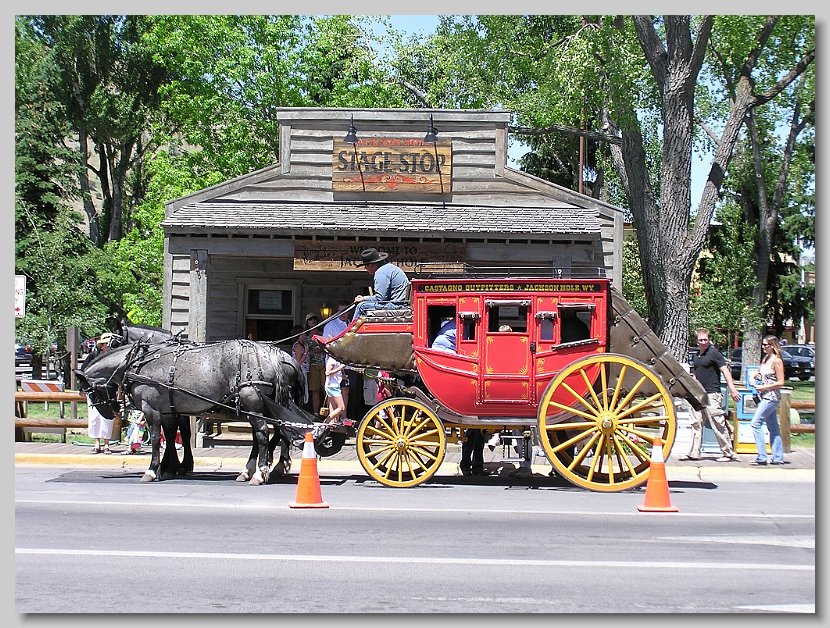 During our week, we also greatly enjoyed the new Jackson Visitor's Center, rode one of the Teton Village Ski Trams up to 9000+ feet to see if we could still breathe up there, and managed to put some fresh dents in our PT Cruiser. Stupid power pole. At least we were in the parking lot of a body shop when it happened. Not to mention the flat tire. But don't get us wrong. We had a great time.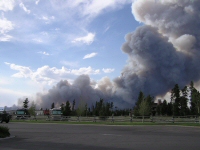 From the Jackson area, we headed north to West Yellowstone, MT - arriving about the same time a major wildfire erupted just a few miles from the RV park. Much smoke, some anxiety. Details next report.
There are about 100 pictures in this slide show. If you want more views of the Tetons, check out our slide show from last year. Otherwise, the slide show for this leg of our life is here.