July 17-30 - Mitchell SD, Omaha NE, Amana IA, Bloomington IL
South Dakota is a relatively large state west to east, and we try to avoid driving more than 250-300 miles in a day, so we planned our next stop for Mitchell, SD,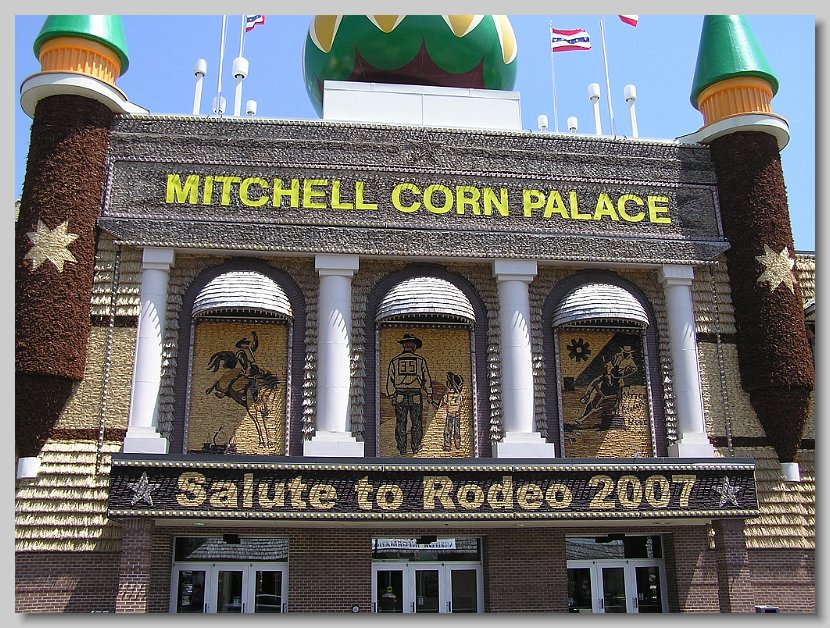 about 240 miles from Rapid City. But before leaving Rapid City, we needed to have a slow leak fixed in one of the motorhome tires. Having done that, and filled the petrol tank, we headed east around mid-morning.
We stopped for a couple of days in Mitchell last year, and found it to be a comfortable place. Friendly people, inexpensive RV park, and a Culver's Frozen Custard place nearby. Mitchell is best known for the Corn Palace, smack downtown, and we toured it last year. This year, we visited the shops nearby, including lunch at a one-man cafe called Merle's. Merle does it all, and very cheerfully. He also has a very creative vocabulary when he messes something up and thinks you can't hear him.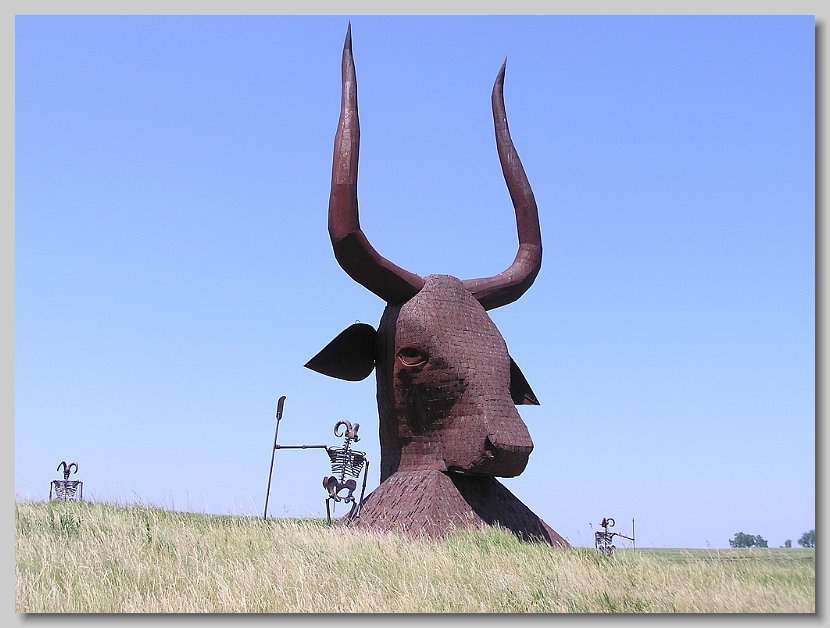 About 35 miles east of Mitchell is a place named Porter's Sculpture Park. Driving west on I-90, you can't miss this 60 foot tall steer head sculpture. We wanted to know what it was, and found out. Wayne Porter is a curious guy with a most interesting mind, we suspect. His welded metal sculptures are sometimes humorous, sometimes curious, sometimes just plain weird. But for six bucks, worth the wander. Before leaving Mitchell, we also had the motorhome oil changed - not something just anybody can do - at the local Ford dealership, and they also tried to figure out why the "Service Engine Soon" light was lit. Couldn't figure it out, so they reset the computer. We'll see.
We've never been to the Omaha, NE area, and it looked interesting, so when we got to Sioux Falls, we headed south into Iowa and then turned west across the Missouri River into Nebraska. Sioux Falls was where the gasoline prices dropped below $3.00 per gallon - first sub-$3 gasoline since we left Oregon. Anyway, we parked at the West Omaha KOA, actually in the town of Gretna, about 10 miles west. It's a rather unremarkable RV park except for the pizza. Hand made, on site, delivered to your motorhome. And good pizza, too.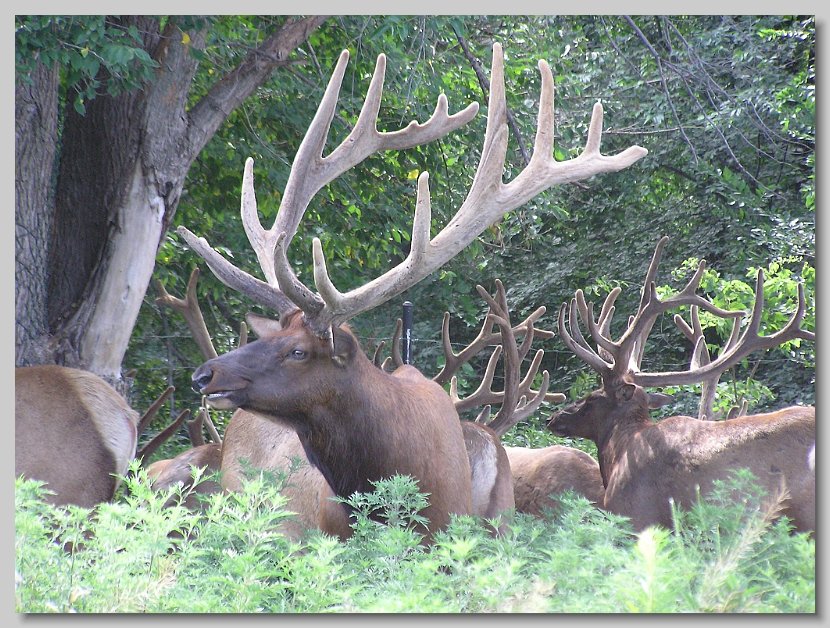 Just west of Gretna is the town of Ashland, home to a drive thru wildlife park named Wildlife Safari and to the Strategic Air Command Air and Space Museum. Being attracted to animals and airplanes, we toured both. We were more impressed with the wildlife park. The air museum is neat, but nothing spectacular. Maybe they need to mature some. It's only been open a couple of years, and there are a lot of very large planes crammed into those two hangers.
Before we left Oregon, Judy discovered Yogi Tea (actually made in Eugene), and we'd not found any since. Google guided us to the Omaha Whole Foods Market, and she stocked up. We set out to spend a day at Omaha's Zoo, but the heat got to us, and we bailed out mid-afternoon. Neat zoo, though. Maybe we can come back in the spring sometime. Before leaving Omaha, we stopped at the factory of Remco Engineering, who makes the transmission lube pump that lets us tow our automatic transmission PT Cruiser. Wanted to cure the intermittent alarms that indicates the pump has failed. Turned out to be a bad umbilical cable. No more alarms. We headed east . . . .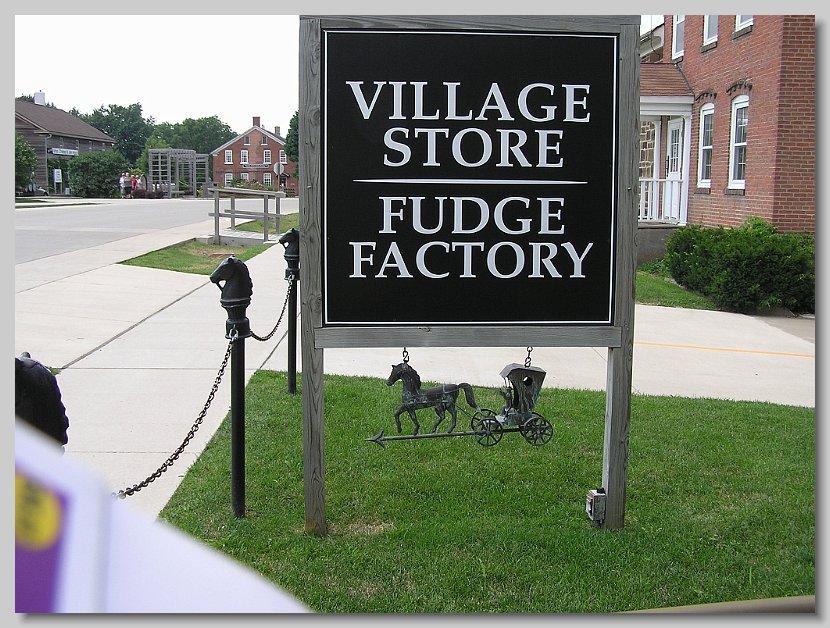 We'd spent a day in the Amana Colonies of Iowa ten years or so ago, and wanted to spend more. Amana, of course, is most familiar for the kitchen appliances of the same name, and they were indeed once made by the commune-owned factory here. Amana refrigerators are still made here, but the factory is now owned by Whirlpool. Amana was perhaps the most enduring religious communal society in the US, starting in the 1850's and finally dissolving the commune in 1932. The commune was survived by the Amana Society, which still owns several businesses in the area, and by the Amana Church, which preserves the religious aspects of the colony life. We toured several museums, the old Amana Woolen Mill (still in operation), and saw a musical at the local repertory playhouse. And had our first rainstorm since leaving Yosemite in early May.
From Amana, we continued east, holing up for the weekend in Carlock, IL, about 10 miles west of Bloomington. It was a pretty low-key weekend, except for a hurry-up drive 110 miles to Mattoon, IL to make a deposit in the closest Bank of America branch. But that also turned out well, as we discovered a SAS factory outlet store, where Judy found a couple of pairs of sandals that she can actually wear without pain. She's summery again! Sunday we visited the Second Presbyterian Church in Bloomington, a church of 1600+ members and a marvelous new sanctuary. There's something going on below the surface there - most of the ministerial staff is leaving or has recently left. Hope it all works out.
From Bloomington, east again to Columbus, IN, where we'll be for two weeks, visiting Luther and Linda and Laura and Brian Pierson and having the most recent dents ironed out of the PT Cruiser.
We've posted pictures, of course. There are about 140 images in the slide show for this leg of our adventure. You'll find them here.