July 9-17 - Rapid City, SD
Ahh, yes . . . the infamous Rapid City. Our new "residence". That's mostly why we stopped here for a week on our way east - to get our South Dakota licenses, register the vehicles, and register to vote. That makes us residents. All made possible by some favorable South Dakota laws and the invaluable assistance of Barb and Don, the owners of America's Mailbox. Not only do they handle our mail, they provide us a legal address we can claim as our residence, and they know all the ins and outs of getting vehicles registered. So with their help and guidance, we've now done it.
There are two principle reasons for doing it - first is that Oregon makes it difficult to be a resident if you don't have a residence, and we do hope to sell our house one of these months. Second reason is that South Dakota doesn't have a state income tax. That'll save us several thousand dollars a year. There are several states that offer those same advantages to full-time motorhomers, but America's Mailbox made our selection of South Dakota rather easy. So, we now have a three-part answer when folks ask us where we're from: "We live full time in our motorhome, we started out from the Oregon Coast, and our address is in South Dakota."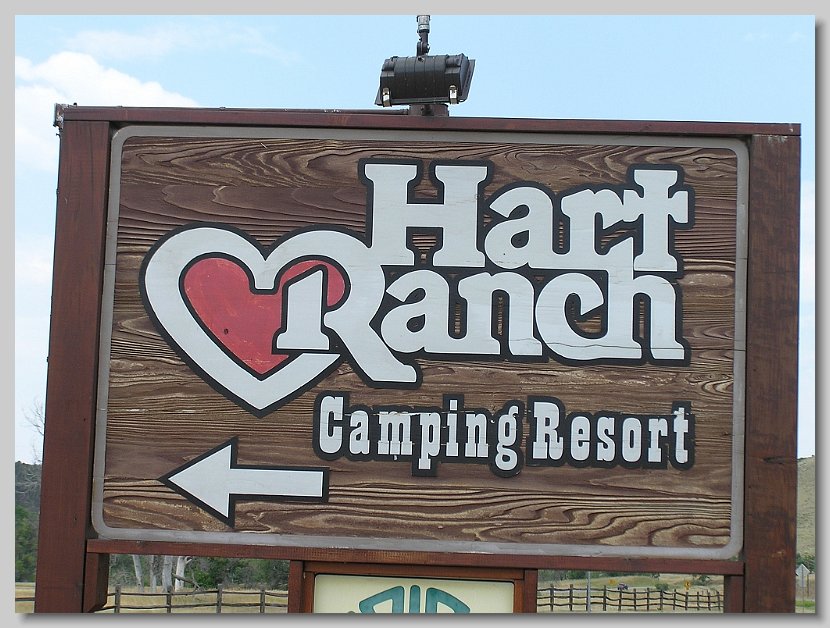 It wasn't all work in Rapid City, of course. You know us better than that. We stayed at a wonderful membership RV resort just south of town - the Hart Ranch Camping Resort. It's like a self-contained small town with a fluctuating population - store, gas station, swimming pools and hot tubs, restaurant, laundries. A very comfortable, friendly place. Judy commented that it was about the first place we've stayed that we might consider staying for a whole season. That was before the temperatures topped 100.
We'd never been to the South Dakota Badlands, so we did that. We'd never been into the "famous" Sitting Bull Crystal Caverns, or the Reptile Gardens, so we did those. We drove around Custer State Park and watched the wildlife, and we made way too many visits to the local Culver's, home of butterburgers and wonderful frozen custard. We fought our way around torn up streets to find the First Presbyterian Church (nice service), bought a little jewelry, had a leaking tire fixed, got an oil change for the Cruiser, updated our website, and generally enjoyed ourselves. Speaking of church - in the last four weeks, we've made it to church three times, and had communion each time. We think maybe the Presbyterian churches around here serve communion every week. And all of them do it slightly different. Interesting.
We've posted pictures, of course. There are about 110 images in the slide show for this leg of our adventure. You'll find them here.