Oct 18 - Nov 8 - North Carolina

Momentary Diversion Department: We often find ourselves in the comics pages of late, but this one struck painfully close to home.
Now, back to our regularly scheduled program.
We've been three weeks in North Carolina, two weeks in the Winston-Salem area split by a week in Asheville. We've found autumn! We were fortunate to time our visit to Asheville perfectly - the fall colors peaked while we were there. And then when we got back to the Winston-Salem area, the colors peaked again.
We stayed two separate one-week stints at the Thousand Trails Forest Lakes preserve, about 10 miles south of Winston-Salem, and about 8 miles west of Lexington. Lexington has at least two native sons of whom they are very proud. Bob Timberlake is a world-famous artist known for his paintings of country life. Richard Childress is a well-known former NASCAR driver, race car team owner, and currently owner of the Childress Winery, a very impressive operation. The Childress Winery and the Bob Timberlake Gallery are both very upscale, and the town is justifiably proud of both the men and of their businesses. But what really sets Lexington apart is barbeque. There are no fewer than 20 barbeque restaurants in this town of barely 20,000 people. One of them was once judged to have the best barbeque in the world. It's the barbeque capital of the world, they say. We've been eating well. We were in Asheville the weekend of the Lexington Barbeque Festival, but we hear it drew half a million people without us.
To us, the most fascinating aspect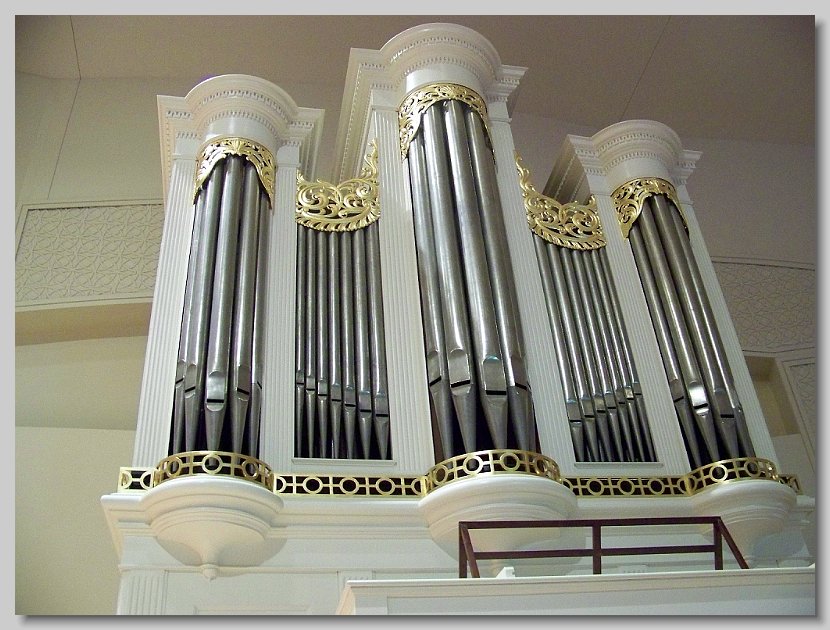 of Winston-Salem is Old Salem. Old Salem is the well-preserved Moravian settlement that predates the larger Winston. Salem was sort of an entrepreneurial commune, and flourished for about 75 years starting in the 1760s. You can tour many of the buildings, where craftspeople-interpreters explain how life was back then. The real treasures as far as we're concerned are the Museum of Early Southern Decorative Arts (MESDA) and two of only 9 known surviving pipe organs built by the Moravian organ builder David Tannenberg, one of them his largest pipe organ. If you watch Antiques Roadshow to see the old furniture, you'll love MESDA. They've built (and in some cases transplanted) typical rooms of furniture from all over the south, starting with the earliest days of English settlers and continuing until around the end of the 19th century. The knowledgeable tour guides help you trace the development of furniture builders in the southern colonies and states. Their collection has to be priceless - in many cases they have the only known example of a particular piece, in others the finest or largest or best preserved. Fascinating.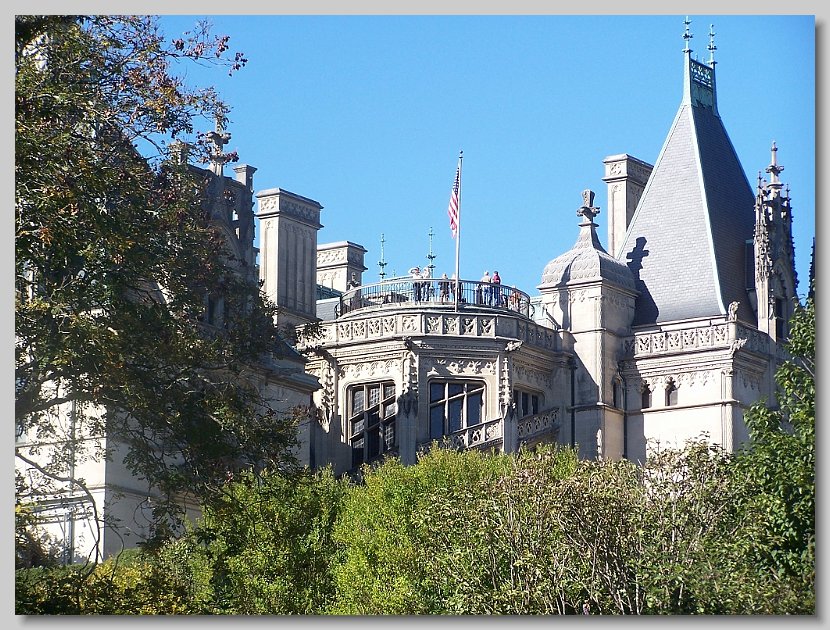 We went to Asheville, in the western end of North Carolina, primarily to visit the Biltmore Mansion, at 250 rooms the largest private home in America. Originally situated on 125,000 acres, it was built around 1885 by George W Vanderbilt, one of the heirs to the Vanderbilt railroad fortunes. They say he took his $10 million inheritance and ran it up into a small fortune. The home is still in the family, but operated now as a tourist attraction, along with an on-site winery and a very impressive luxury hotel. The estate is smaller now - just about 40,000 acres - but the entrance drive from the highway to the house is still over three miles! AAA said to allow 4 hours. We wiped out after about 6. The house, the gardens, the whole thing is absolutely wonderful. It's a great example of what could be done when you have so much money you never ask "Why", only "Why Not?"
The construction of the estate was a tremendous economic boost to the then whistle-stop town of Asheville. Vanderbilt insisted on paying New York City wages out in the Appalachian back country. And of course he had to build a railroad station, school, hospital and several stores.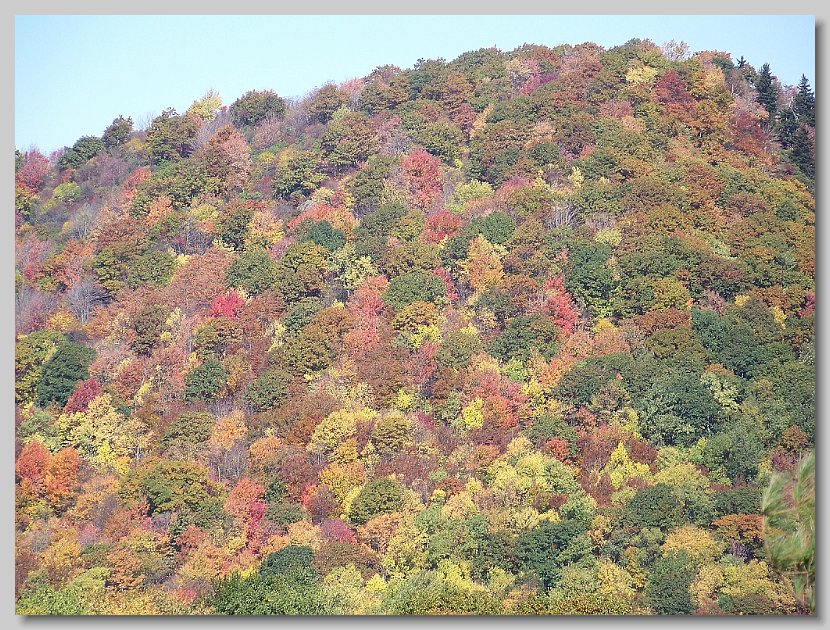 The estate was originally all logged-off timberland, and Vanderbilt hired a landscaper to build a forest so there would be a better view. It was one of the first managed forests in the world, and the only direction the landscaper had was to "make it look good all year round". 80,000 acres of the estate forest were sold to the US Government in 1914, and became the start of the Pisgah National Forest, through which runs the southern end of the Blue Ridge Parkway.
As mentioned, the fall colors peaked while we were in Asheville. We drove about 50 miles of the Blue Ridge Parkway, south and west from Asheville. Took about 5 hours, stopping as we did every time Judy said "Oh, wow!". Pictures, of course, abound.
We've been trying to stay ahead of the cold weather as we head south, but we've still had a few nights with temperatures in the mid-20's. Other than that, the weather has been spectacular, as have been the people. We're really starting to experience Southern friendliness, even if we do have to learn a new language, y'all. Ordered a diet cola at lunch, and the waitress said "You're not from around here, are you?". Gotta be specific - gotta say Pepsi or Coke or RC or even Cheerwine (look it up). Nobody says "cola". Most places we've been, mac & cheese has been offered as a vegetable. And if you don't specifically say "Cole Slaw" when you order "slaw", you'll get "Red Slaw", made with barbeque sauce instead of mayonnaise. We've eaten much "que", but not (yet) a moon pie.
We took advantage of our time in the Lexington area to catch up on chores we've been letting slip - new brakes for the PT Cruiser, new permanent for Judy, fixed a leaky tire on the motorhome, cleaned out the closets and gave away a bunch of clothes we never (or can't anymore) wear. After a particularly vexing wandering trying to find the Costco in Winston-Salem, we bought a GPS navigation unit for the Cruiser. Cool! Even has the AAA Tour Books all built in. We've not gotten lost again, although sometimes only because we sometimes know a little bit more than the GPS does.
From here, we head to the ocean at Myrtle Beach, SC and then south along the coast over a few weeks to Florida. We've booked 10 days at an RV park just about 9 miles from Launch Pad 39A at Cape Kennedy, and we'll be there when the next Space Shuttle goes up on or shortly after Dec 6, assuming it's reasonably on schedule. They say the view of the launch is really great from the RV park, but they also said they'd point us to a place where it's even better. That will be something we've long wanted to experience.
There are over 200 pictures for our North Carolina weeks. We're finding more and more places that won't let you take pictures inside buildings. Biltmore is one, MESDA another. You'll find the pictures we did take, with an emphasis on colored leaves, here.