Nov 20 - Dec 4 - Georgia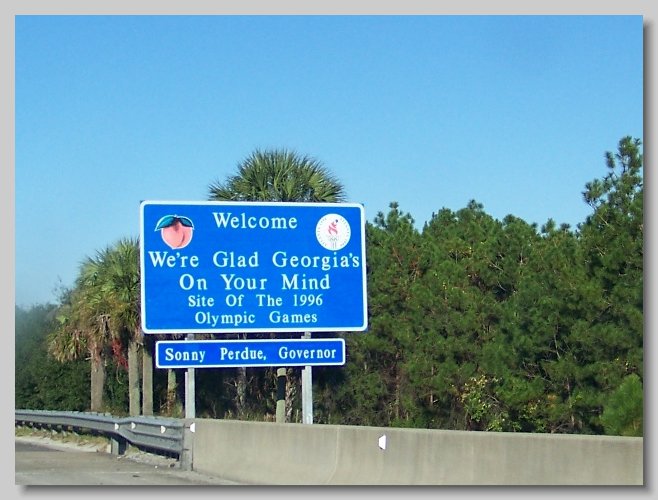 Ahh, Georgia. Makes you think of Willie Nelson and/or Ray Charles singing that song. We spent two weeks in Georgia, beginning with a week at Skidaway Island State Park, just outside Savannah, and then another at an optimistically-named King George RV Resort, just 7 miles north of the Florida state line. That included our first major family holiday away from family, something we'd been wondering how we'd handle. Thanksgiving was fine, thanks largely to an hour or two of phone calls.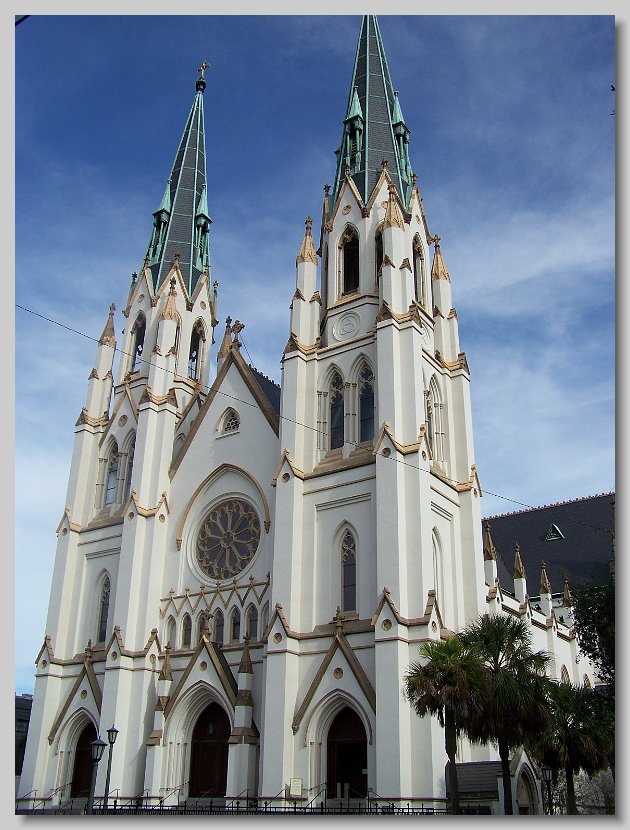 Savannah is an interesting city. It's the home town of folks like Johnny Mercer, Paula Deen and Juliette Gordon Low. Forrest Gump sat on a park bench here and shared his chocolates while waiting for that bus. Jingle Bells was written here in 1857 by the organist at the Unitarian Church (although there are some folks in Medford, Mass who will dispute that). It's where "Midnight in the Garden of Good and Evil" really happened. In many ways, it's a beautiful city, but in many ways it's a city that's almost a parody of itself. There are so many tourist buses running around you can hardly see the things they are showing you. There's obviously money here, but there's also obviously a lot of poverty.
Skidaway Island is one of the barrier islands that buffer the Georgia mainland from the Atlantic Ocean. Other than the State Park, it's largely an upscale, gated residential community. And it's just 20 minutes from downtown Savannah. We only went into downtown Savannah twice, spending most of our week in the eastern suburbs. Judy found a Curves and was able to work out several times. We encountered a delightful couple on the beach at Tybee Island who build and fly kites. They are really remarkable kites, and the day we saw them, they were flying about a dozen wonderful, colorful kites. Just for the fun of it. We had a couple of annoyingly chilly days that limited our outdoor activities, but it warmed up so we could take a tour of historical Savannah the day before we left.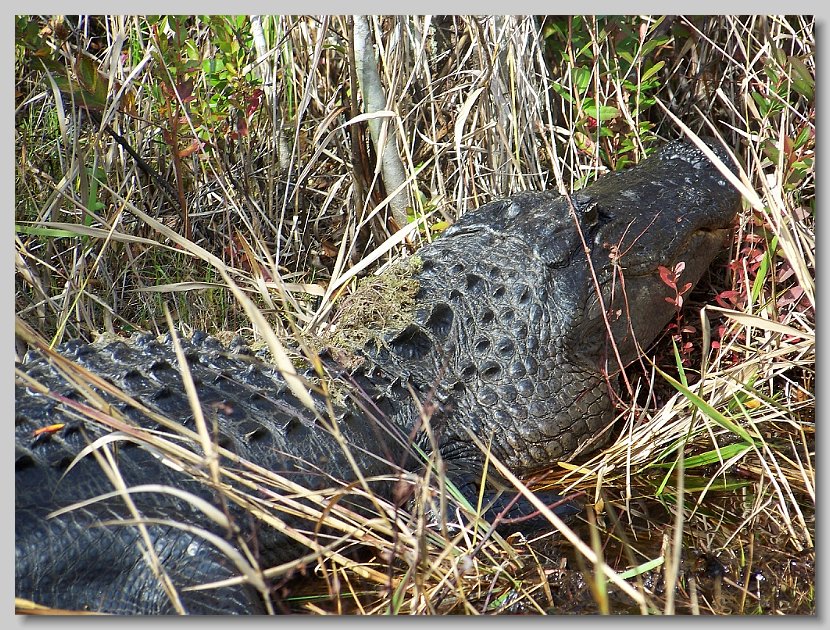 Our second week brought much friendlier weather. Our first outing was to the Okefenokee Swamp. About 20 miles inland, the Okefenokee is a huge wetland. Made famous as the home of Pogo Possum and friends, it's now a protected natural area, where the wildlife rules. We took a swamp tour boat ride, saw our first wild alligator, and learned quite a bit about the history and culture of the place. Our surprise that day was the Folkston Funnel - so named because almost all railroad traffic in and out of Florida funnels through the little town of Folkston. That's about 60 trains a day. It's become one of the major trainspotting places on the east coast. You can sit there and just watch trains go by any time, day or night. We speculate that Folkston must have a lot of sleepy people, given all the trains going through every night. Probably has a high birth rate, too. "Well, as long as we're awake anyway . . . . "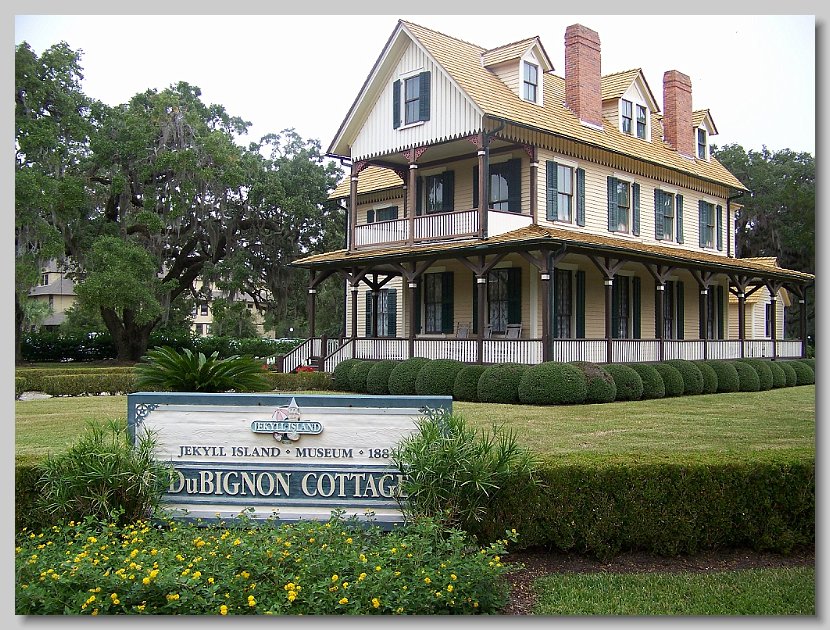 Our second outing was to Jekyll Island, off the coast near Brunswick. About the time the Biltmore Mansion was being constructed in North Carolina, a group of wealthy Yankees bought Jekyll Island to put up a hunting club they could retreat to in the winter when it was cold up north. These were folks with names like Gould, Rockefeller, Goodyear, Pulitzer and the like. They came down to rough it, so they built these little cottages around the central clubhouse, where they took all their meals. These cottages provided just the essentials - ranging in size from 4,000 to 12,000 square feet (you had to have servants quarters). By the time the First World War broke out, it was estimated that the members of the Jekyll Island Club accounted for 1/6th of the world's wealth. Anyway, over time the island became less popular and was finally abandoned. In the late 50s, the State of Georgia bought it and made it a state park. Since then, many of those cottages have been restored. It's a neat place to visit.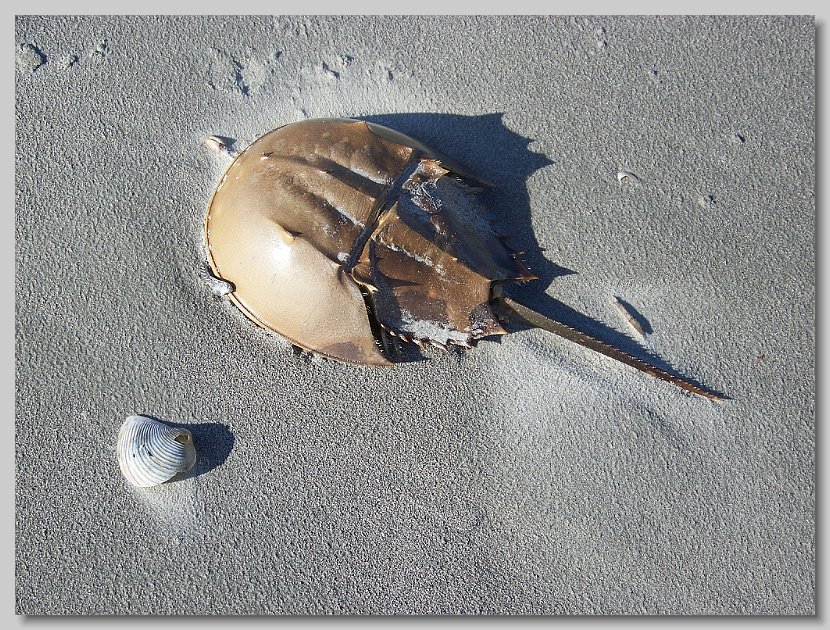 Being so close to Florida, we took a day and wandered about 50 miles down the northern Florida coast, starting at Fernandina Beach. The beaches along this part of the Atlantic coast are much different than those in Oregon. You see pelicans and dolphins and lots and lots of shells. Of course, the warmer weather helps. Judy, the Oregon born and bred girl, remarked at one point "It's raining, the wind is blowing and it's warm!" We could get used to this. The Florida beaches showed us some beached Portugese Man 'o' War(s) - (OK, what is the plural?) - not a jellyfish, but a symbiotic colony of several organisms. They have a balloon that floats on the surface, so they go where the wind blows. They have stinging cells that trail below, toxic enough to kill a human. We walked several inviting beaches, being careful not to step on the lethal stuff.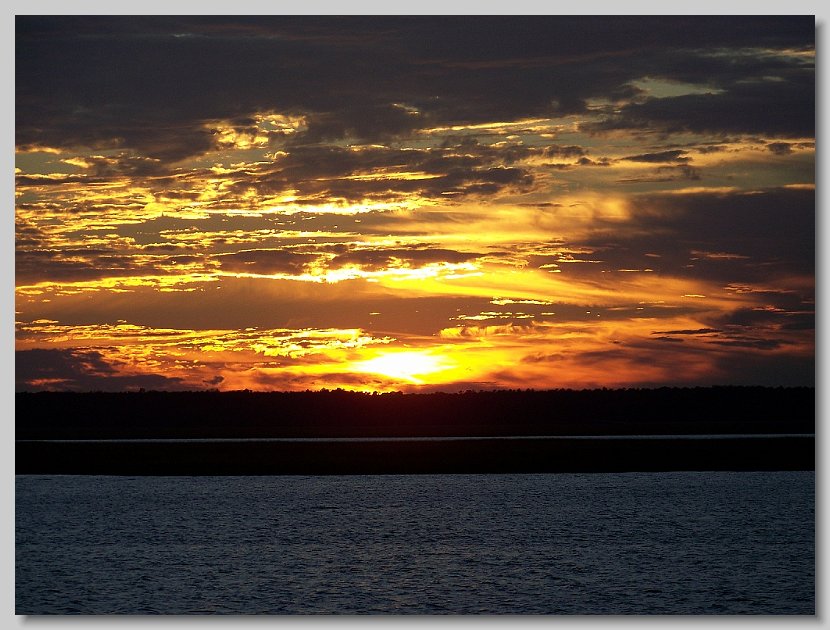 Luther Pierson said we had to visit the Cumberland Island National Seashore, Georgia's southernmost barrier island. We checked it out and had pretty well decided it would be a more strenuous outing than we wanted to handle. But the couple who sat behind us at church convinced us that we absolutely had to go. And it turned out to be the highlight of our week. Cumberland Island was home to a succession of plantations until the Thomas Carnegie family (Thomas, brother of Andrew) bought it late in the 19th century. Various members of the Carnegie family lived there until the 1950s, and several years after that gave it to the US Government, which now preserves it. There are some marvelous ruins of the last plantation home that burned in 1959. There are miles and miles of pristine ocean beaches littered with sea shells. There are about 250 wild horses leaving soil enrichment almost everywhere. It takes 45 minutes by ferry to get there, and the park service limits the island to 300 visitors at a time. You can almost convince yourself that you're all alone out there. Absolutely wonderful.
Now we're in Florida, where we'll remain until around the middle of March, staying at several different RV parks scattered about the state. We're still waiting for the space shuttle to launch a few miles from here, and then we'll move inland to the Orlando area for the holidays.
There are about 125 pictures for these two weeks, and you'll find them here.