Dec 13 - Jan 3 - Orlando Area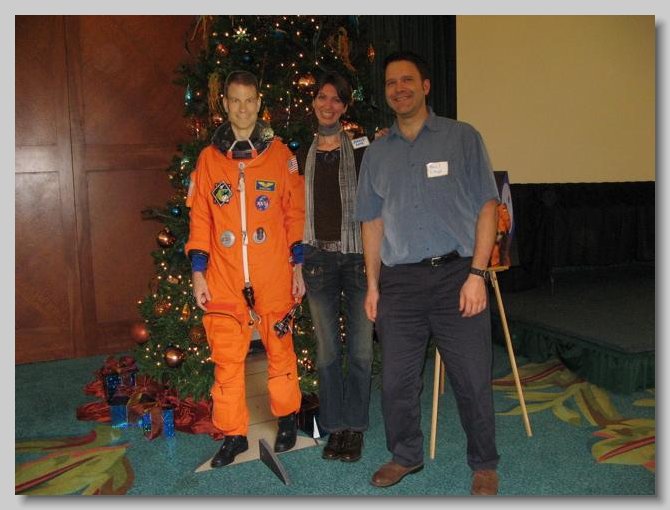 Old Business: You'll recall we mentioned not being able to connect with the Eugene folks in Titusville for the launch of the Space Shuttle. Well, we've now heard from Jenny Love, who's the sister of Stan Love, one of the astronauts still waiting (as of this writing) to go up, up and away. Jenny is the girlfriend of Basil Clough, who was one of the ushers at our wedding, and is sort of a foster nephew of ours. Anyhow, we've now connected, and there's even a picture in our slideshow. The picture was taken at the family gathering the night before the scheduled launch; brother Stan, in pre-launch quarantine, was represented by his official stand-in, a cardboard cutout.
Orlando: Funny thing happened when we got to the 1000 Trails Orlando park, which is actually west of Orlando, and south of Clermont, FL. Maybe it was the coming holidays and the things we had to do, maybe it was just time to take a vacation. But we kind of transitioned from "Tourist" mode into "Living" mode. We knew we would at some point, just didn't know when. But there we were, just minutes away from some of the premier amusement parks and tourist attractions in the world, and we didn't visit any of them during our three week stay. Maybe it was the $80 per person per day cost of a Disney ticket (but only $76.85 at Wal-mart). Maybe it was the realization that every school kid in North America was going to be romping through those parks during Christmas Break. We just couldn't develop any enthusiasm for visiting the Magic Kingdom. Maybe next time - we'll be back in the Orlando park for two weeks in late February. Maybe all those kids will have gone home, leaving some space for us big kids.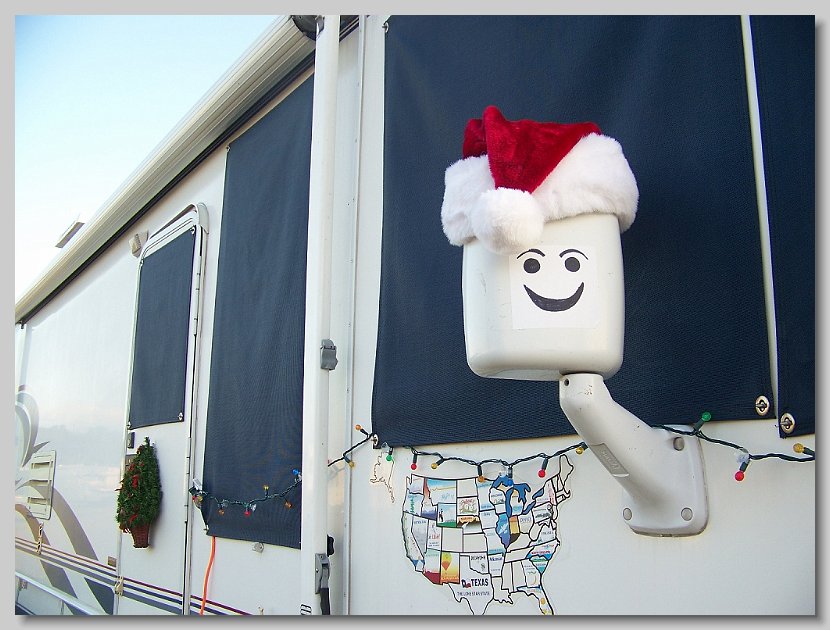 Three weeks is the longest we've spent in any one place since leaving home. The Orlando park is huge - over 800 RV sites, a couple of fishing lakes, two big swimming pools, a couple of miles of paved access roads just built for bicycles, plus all the usual things - big rooms for working jigsaw puzzles, horseshoe pits, etc . Very friendly place. We also discovered the South Lake Presbyterian Church, about 15 miles from the park, a very nice church with a dynamic young (well, 40ish) Associate Pastor running the show. Definitely one of the most comfortable churches we've visited. We had a very nice "Christmas" dinner at the RV park on the 22nd, and spent a couple of nights touring the Christmas Lights. Some of these RV folks go all out with lights and decorations - you won't believe the inflatable holiday things you can buy. Palm trees were very popular, as were snow globes. Our decorations were much more modest. Judy managed to survive with just 6 Christmas trees, all very compact.
Anyway, Judy found a Curves just over a mile away, and rode her bike to her workout most days. There were two RV dealers in the park with displays of motorhomes that we could tour, so we did that. They showed free movies with free popcorn one night a week, and served a steak dinner every Saturday night, so we did those. The park is home to a small flock of Sandhill Cranes, a couple of quite large tortoises, at least one flock of wild turkeys, and if you believe the signs, more than one alligator. We rode our bikes around, more than Al wanted, less than Judy wanted, so probably about right.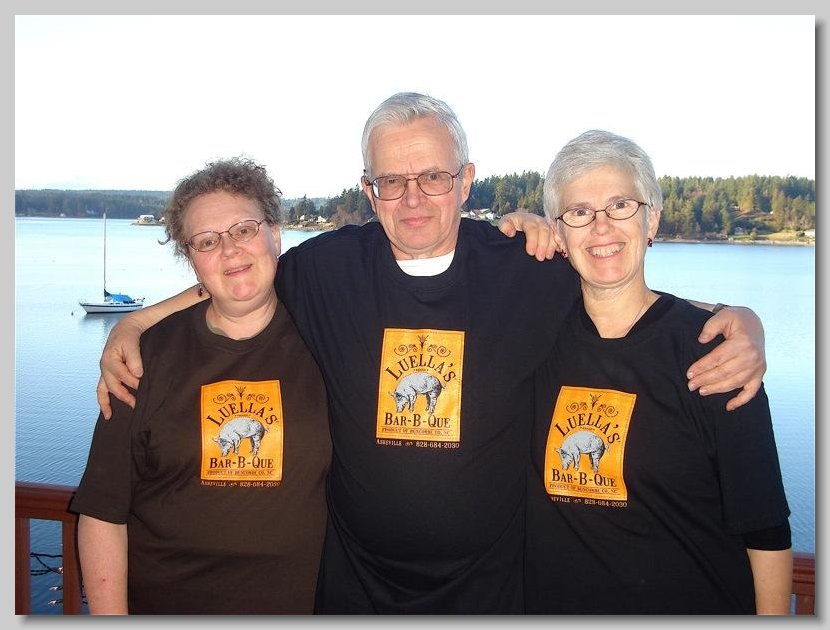 When we were in Asheville, NC we discovered Luella's Barbeque. As Judy's mother's name was Luella, eating there was a high priority. Finding our how good the food was was a good thing, too. We concocted the idea of trying to share Luella's Barbeque with the rest of Luella's kids, all of whom would be gathering in Vaughn, WA to celebrate Christmas at the home of niece Lauren and husband Paul Littleton. So we bought a bunch of Luella's t-shirts and the week before Christmas arranged an overnight shipment of enough beef brisket and sauce to feed the 15 or so folks who would be there. It was a surprise for all of Judy's siblings, who were given their t-shirts as they sat down for lunch, and went over very well. We wish we could have been there, and in a way we were. And with the several hours of phone calls between us and Oregon, Michigan, Washington and elsewhere, we really weren't at all alone, and our first Christmas physically away from family went very well indeed.
We did take a day after Christmas to visit one of the oldest tourist attractions in Florida, the legendary Cypress Gardens at Winter Haven, about 30 miles south of Orlando. It was a neat day, especially wandering through the original gardens.
And some days, we just puttered. And it was good.
As we were ending our 3 weeks in the Orlando area, the temperatures took a dive. One night, a low of 27, with a wind chill well below that. We heard it actually snowed in Daytona Beach. That morning it was much warmer in Reedsport OR. Must be a message in there somewhere.
There are about 100 pictures in our slideshow for these three weeks. You'll find them here.