Feb 27 - Mar 18 - Orlando & The Rally @ Perry, GA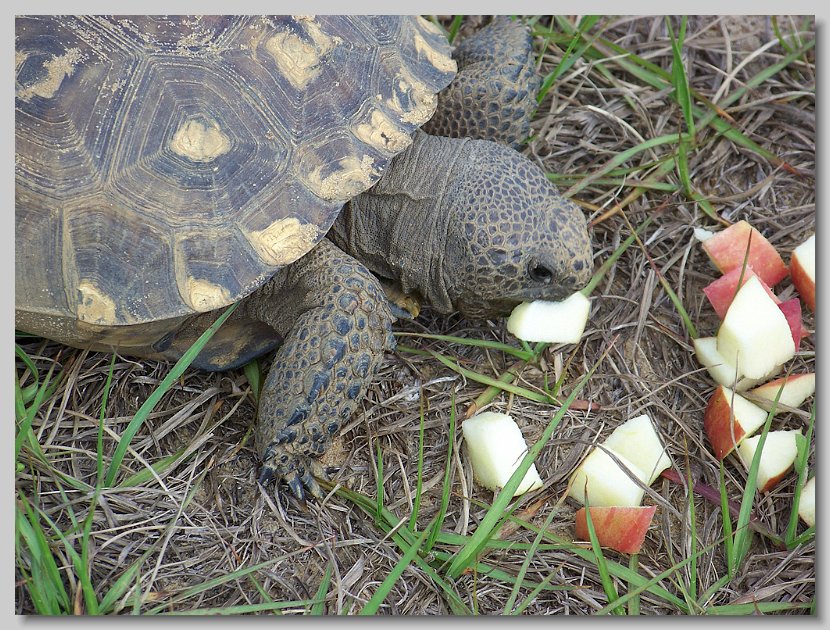 After being exposed to history in St Augustine, it was back to the 1000 Trails Orlando preserve for two weeks, and then we headed north 300 miles to Perry, GA for The Rally - our first ever RV Rally. It seems like we stayed busy the two weeks in Orlando, but in retrospect it doesn't seem like we actually did all that much.
We'd made an appointment with the Chrysler dealer in Clermont, FL to get our air conditioning fixed once and for all. While they were appalled that we'd spent as much as we had with Midas to not solve the problem (not as appalled as we), they were able to diagnose the problem (a bad cooling fan assembly) and fix it (for another considerable sum). And while they were at it, they found a factory recall for something to do with the cruise control, and we made an appointment to come back and have that done (for free). But we were now cool while in motion.
Al had developed a gum infection while in the St Augustine area, and being one to always under-estimate health things, waited until the discomfort was interfering with life to do something about it. A fine local dentist managed to squeeze us in on short notice, did a quick examination, made some disparaging comments about the general condition of the mouth, and then prescribed some antibiotics. They also did a blood pressure reading as part of the exam, and made some disparaging comments about that as well. The prescription turned out to be free at the local Publix market, where they have a policy of filling prescriptions for generic oral antibiotics for nothing. And we dug out the blood pressure monitor and starting doing almost daily readings. Higher numbers are better, right?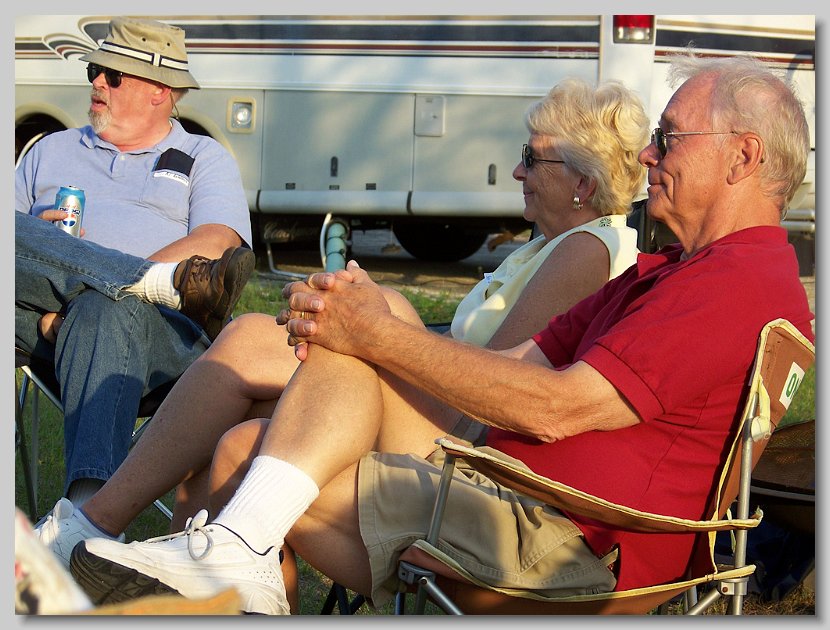 There are always sales presentations for various things at 1000 Trails parks, and we went to one on an RV Caravan tour of fall colors in New England, inasmuch as we were planning to tour New England before heading west later in the year. It sounded like a marvelous tour, but it also included several places we'd already been. In passing, the presenters mentioned a "Rose Parade Rally" that had just been announced. We've always wanted to go to the Rose Parade in Pasadena, and this package offered us grandstand seating, a chance to help build a float, several meals, and a bunch more. So that evening, we biked over to the RV of Dave & Nancy Smith, the folks who sell these tours, had a glass of wine, and signed up for the Rose Parade Rally at the end of this year. It was only later that we fully realized that we're now committed to being at the Santa Anita Race Track on Sunday afternoon, Dec 28. And Christmas will be somewhere well north of that on the Thursday prior. We'll be hoping the weather over the mountain passes is really, really good.
We've been hoping to see a Space Shuttle launch since getting to Florida in December. So we got up at 2am the morning of March 11 to try to see the shuttle go up. It was a very cloudy night, and there were a bunch of us out in the field hoping to see the launch 50 miles away - but all we saw on the eastern horizon was a very bright glow on the underside of the clouds for about 4 seconds. Sigh.
A few hours later, we headed north toward Perry, GA, where The Rally would be held. We took two days to drive the 320 miles, and overnighted at an interesting place called the Spirit of the Suwannee Music Park. It's a huge place, bordered by the Suwannee River, quite rustic, lots of trees, and an impressive summer-long schedule starting in April of music-related activities, primarily of the bluegrass and country music variety. One of the park rules is that you must stop pickin' and strummin' at 11pm unless you're not annoying your neighbors. We think being here during a bluegrass music gathering would not be our thing - and the park is fully booked for the whole month of April, so that's a good thing for us!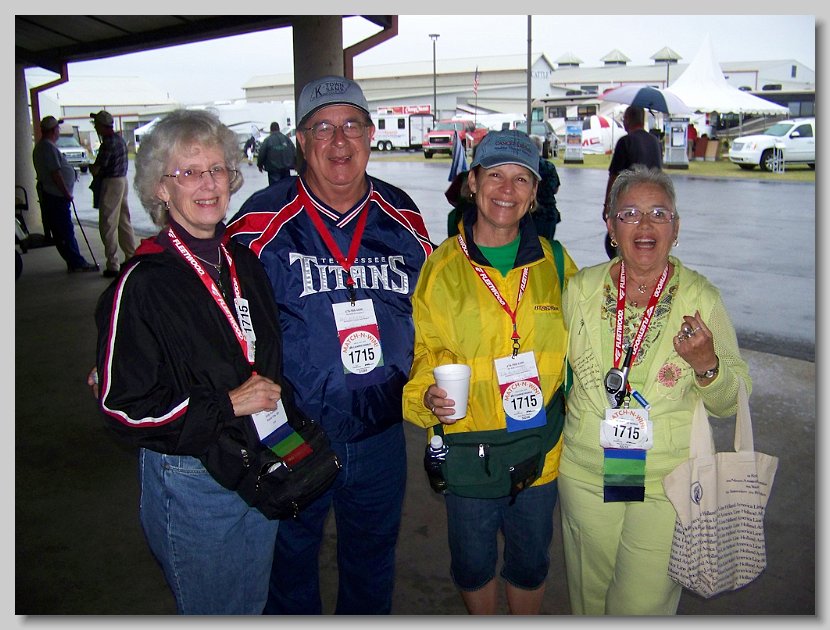 Perry, GA is home to a large fairgrounds complex, where previous RV rallys had drawn upwards of 8000 RVs. Largely because of high fuel costs, this year's crowd was considerably smaller - about 3300 RVs - but as it was our first rally, it was still huge for us. In addition to indoor exhibits, there were over 700 new RVs of almost every size and description on display. Having all those RV-related vendors in one place was awesome. We'd been saving up a list of stuff we needed or wanted (mostly wanted), so we did help the economy of the RV industry that week. As we arrived, we discovered that the battery in the PT Cruiser was dead when we unhooked it. Around dinner time, we got a jump and were able to drive it to our parking place. The car ran fine after that.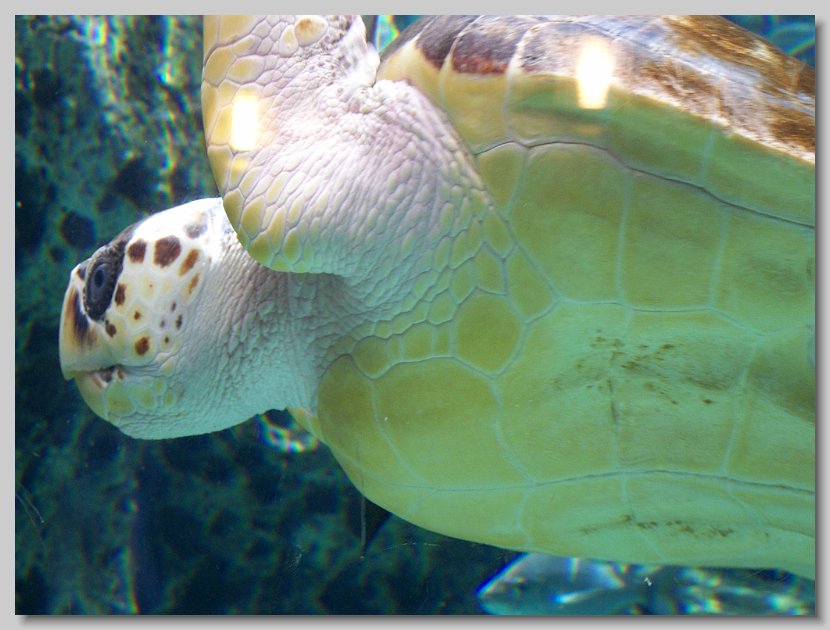 We had arranged two optional tours from the Rally - the first an all-day tour to Atlanta to see the wonderful new Aquarium. We were there on Thursday 3/13, and the next night that tornado hit the Olympic Park area of downtown Atlanta, where we'd been the day before. Downtown Atlanta was largely still closed when we left Perry the following Tuesday. Our other tour was of Macon, GA - it was billed as the White Columns and Cherry Blossoms tour, but the rains that accompanied that Atlanta tornado pretty much wiped out any cherry blossoms we might have seen. Nevertheless, the Macon tour was excellent. Pictures from these two tours make up most of our slide show for this chunk of our life.
There were entertainments every night of the rally, much of which we skipped. We skipped the event in which the Guinness Record for the Most Couples Concurrently Dancing was wrested from the Venezuelans, and we skipped a country/blueglass show as well. But we did go see Bobby Vinton. In a wonderful 90-minute show, he sang almost every one of his hits - Roses Are Red, Blue Velvet, There I've Said it Again, and many many more - and had the audience absolutely captivated. On the tram ride back to the RV parking area, lots of folks were speculating on how old he must be - most of those 60's music stars we all remember are about 50 years older now. We checked the internet. Bobby Vinton was born April 16, 1935. Dang. He still looks darned good (from a distance), kinda like us.
We'd been speculating all week on what kind of traffic jam there must be when 3300 RVs all try to pull out of the fairgrounds at the same time. Fortunately, a fair number left on Monday night, so when we got up early (6am) on Tuesday to try to beat the rush, we pretty much had the exit roads to ourselves. We drove an hour down the road, stopped for breakfast at a Cracker Barrel, and were back at 1000 Trails Orlando shortly after lunchtime. And the battery on the Cruiser was dead again.
There are about 100 pictures in our slideshow for these three weeks. You'll find them here.