Feb 12-26 - Palm Springs, CA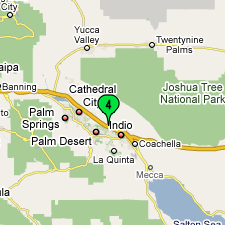 We've never spent much time in the Palm Springs area, so we were looking forward to our visit. The 1000 Trails Palm Springs Preserve is actually located closer to Thousand Palms and Indio, but the climate is much the same. It's a very popular place during the winter months, and we'd been advised to get there as early as possible to assure getting a good site. Unfortunately, we awoke to a very flat tire on the motorhome. A couple hours later, we were on our way, and when we arrived at the Palm Springs resort a little after noon, we had no problem finding a very nice site. The resort is in what appears to be an old date palm farm, with over 800 very tall palm trees. Many of them still have the date harvest ladders attached. More importantly - it was actually warm when we arrived. We'd been seeking warmth, and now we'd found it.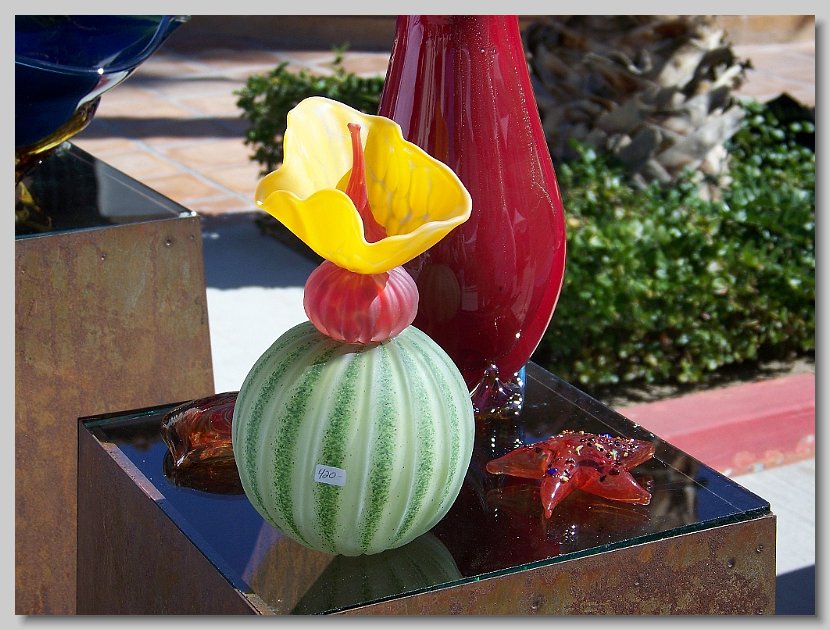 About once a month, there's an "Art Under the Umbrellas" event in Old Town La Quinta, an upscale shopping complex in La Quinta with lots of art galleries. We went our first Saturday in the area. It was lots of fun to wander the complex where many artists and craftsfolk had set up tables and, of course, umbrellas. And it was warm. We had a delightful lunch with outside seating before heading home. That afternoon, Bill Adams, who had sold and installed our satellite internet dish, came by to tweak things a bit. Nice visit, too.
We're thankful that the Presbyterian Church USA maintains an excellent website that lets us locate Presbyterian churches most everywhere we land. That's how we found the Palm Desert Community Presbyterian Church, a large congregation (about 800 members) with a very nice campus. The first Sunday we went twice - once for church in the morning and then back in the afternoon for a 2-hour piano concert by a Dr Calvin Taylor, formerly the organist for the Hollywood CA Presbyterian Church. Lots of church music peppered with some classical stuff. Our second Sunday the special speaker was a missionary pilot from Kenya whom the church has been supporting for several years. His presentation was most informative. And the church hand-bell choir played, too. Neat, friendly church, with lots of seasonal folks. We saw lots of out-of-state license plates in the parking lot.
On Monday Feb 16 it rained in Palm Springs. We stayed home. Rain is relatively unusual in the desert, even in the winter. But the rainfall did add some very nice snow to the tops of the mountains that surround the Coachella Valley, enhancing the views.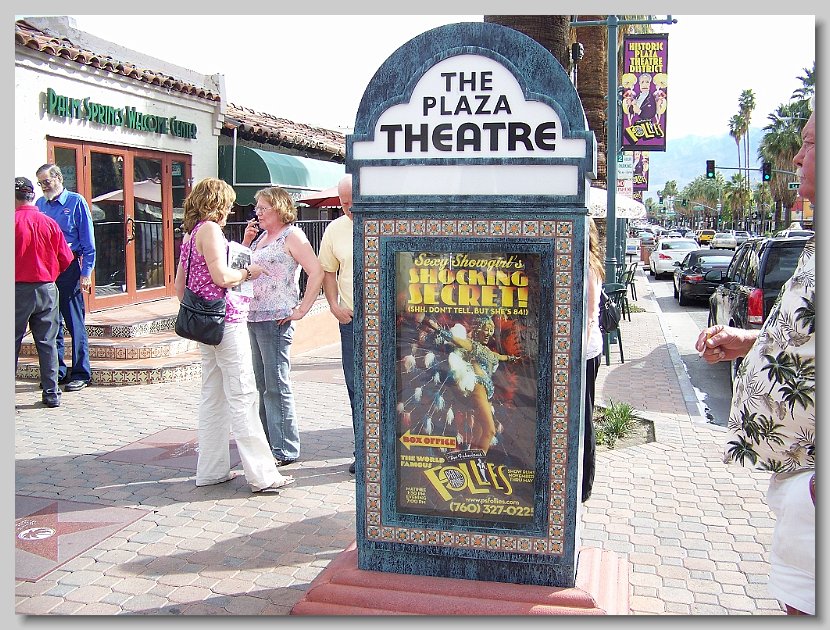 There are a lot of things that are proclaimed to be "unique" - or, one of our pet peeves, "very unique". One that must truly be one of a kind is the Palm Springs Follies. It's a classic vaudeville show, a throwback to the 30's and 40's. And almost everybody on stage is also from that era. Their chorus girls range in age from 55 to 85, the boy dancers are all in their 60's and 70's. The MC and the primary singer are both in their 70's. They do 9 shows a week in a restored 1930's vaudeville theatre. It's a blast, and the show runs a full 3 hours with two intermissions. A little bawdy, of course, but 100% enjoyable. If you're ever in the Palm Springs area during the winter months, be sure to attend. And if you're looking for a part-time job, they'll be auditioning for the 2010 show in a month or so. They're especially interested in singers and dancers age 75 or older. Check out their website at http://www.psfollies.com/. (Edit: The Follies ended their run at the conclusion of the 2014-2015 season, and sadly is no more.)
Speaking of veteran performers still going strong, a couple of itinerant ancient acrobats put on a show poolside at the RV park. The Golden Twins look to be at least 80 years old, but are still doing their act - tumbling, contorting, and soliciting tips. It was both fascinating and a little sad. These ladies are way past their prime, looking a little threadbare, and we only hope they are doing this for the love of it, and not because they really need the money. Neither of them have any body fat, and have moves that none of us could ever have done in our youth.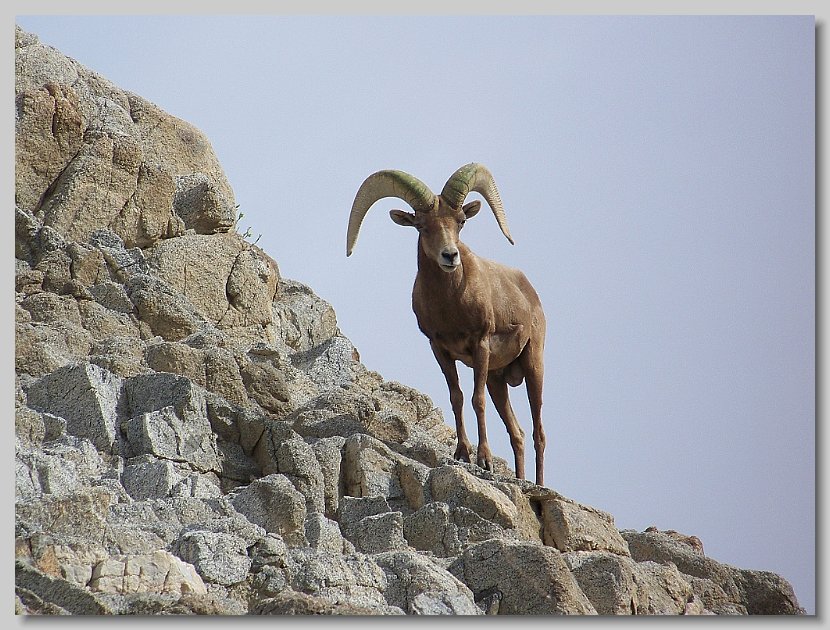 The Living Desert is Palm Springs' combination zoo and desert plants preserve, and it's really world class. They're most proud of their role in managing an international program to bring the Mexican Wolf back from the edge of extinction - when their program started in 1976, there were but 7 pure Mexican Wolves left in the world. There are now over 300, including about 100 that have been released into the wild. But the highlights of the place as far as we were concerned were the bighorn sheep and the model train layout.
The Bighorn Sheep compound is a pretty good sized hill, where a half-dozen or so sheep climb the rocks. While we were there, we saw three females and two males - all magnificent animals. We spent a lot of time watching them. We understand that Bighorn Sheep in the wild are getting pretty scarce around Palm Springs, but they can apparently still be spotted if you know where to look and what to look for.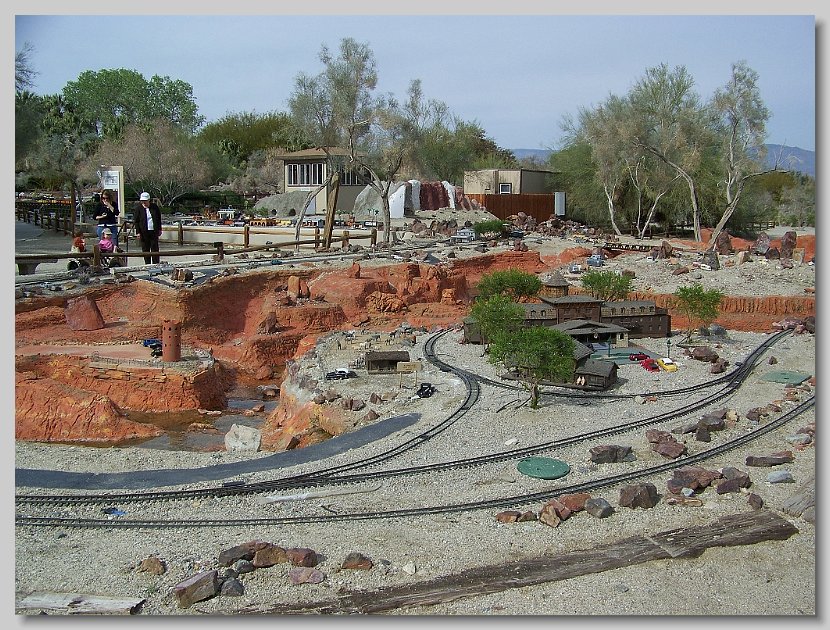 Now about the model trains. Where to begin. We have never seen a model train layout like this one. If you're into trains, the layout is "G" scale (1/2" per foot), or about twice the size of the Lionel trains we all grew up with. The whole layout covers about an acre, and is still growing. There's over 3,000 feet of track. There are at least 8 or 9 trains running simultaneously. It includes a model of the Grand Canyon, one of Mount Rushmore, and the world's longest model train trestle (over 200 feet). There's real water in the rivers and flowing over the waterfalls. There are several towns and villages through which the trains pass. It's just amazing. If you want to know more, check out the website - http://www.livingdesert.org/exhibits/model_train.asp.
On Monday Feb 23 Dave & Audrey McDougald, friends from Reedsport arrived, and stopped by to say "Hi". We arranged to have dinner out before we left town. That afternoon, we visited the Palm Springs Air Museum, a really nice collection of WW2-era military aircraft. All but two of their planes are still in flying order; in fact one was being recertified while we were there. It's not a huge air museum, but the planes are all well displayed, and, like all air museums, there are plenty of volunteer docents around who are more than happy to tell you tales.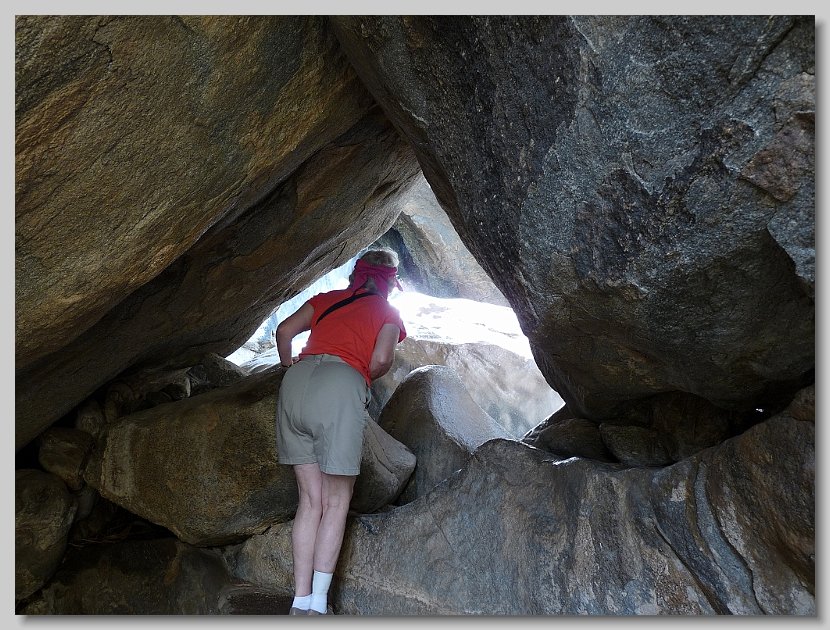 Long before the Palm Springs area became a golf and tennis resort for the folks from Hollywood, the locals were mostly Native Americans, and much of the land is still controlled by the tribes. Four of the canyons on the northwest side of the valley have been preserved by the tribes, and are open for day visitors, with lots of trails and oasis areas. Compared to the desert, these canyons are lush and green and refreshing. After climbing around for a while, we set out to find ice cream, and wound up in the Ben & Jerry's in downtown Palm Springs. As we were leaving, a lady approached Judy and said "I think you used to be my neighbor!". It was Sue Grassl from Reedsport (now Sue Harms. She says, "Just remember 'in harm's way' "). She now lives in Albany, OR. We enjoyed talking to Sue and Gary over our ice cream cones.
On Thursday, Feb 26 we packed up and headed east across the Mojave Desert - destination, Bullhead City AZ. Never been there before. We hear it's also warm.
The slideshow for this report contains about 140 images. Click here to see the pictures.