July 30-Aug 20 - Skagit Valley of Washington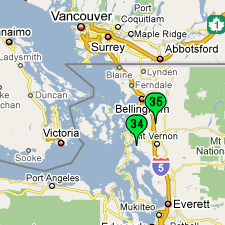 The Skagit (rhymes with gadget) Valley is one of Washington State's better agricultural areas, plus offering some spectacular scenery and lots of access to the waters of Puget Sound and the San Juan Islands. Our first stop (34 on the map) was at the 1000 Trails LaConner Preserve, situated on waterfront property inside the Swinomish Indian Reservation. It's a popular destination, but we found it difficult to settle in. The spaces were cramped, the cell phone service was very bad, and satellite service was blocked by the many trees. After a few days, we moved just 23 miles to the 1000 Trails Mount Vernon Preserve (35 on the map), located just north of the town of Burlington. Much more comfortable, with space to spread out, good cell service, and good satellite access.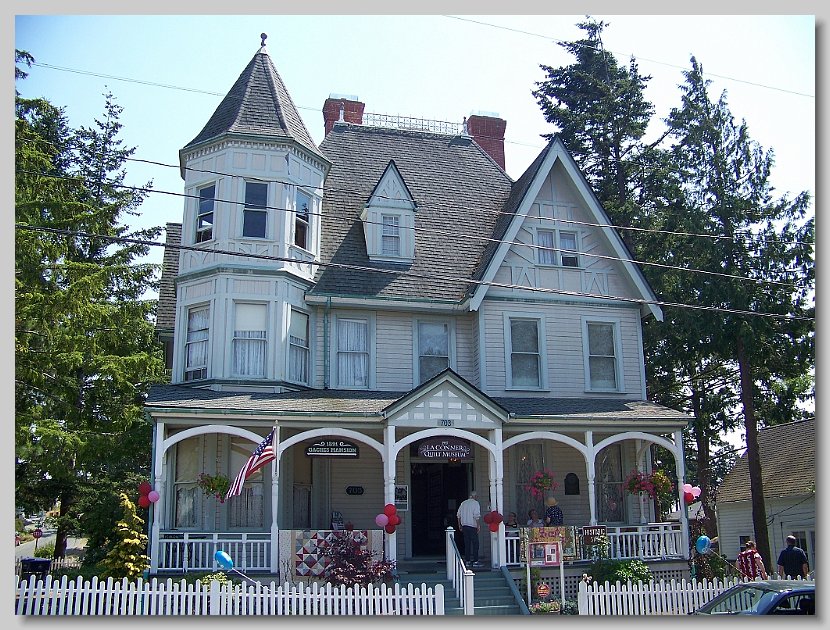 LaConner is a very attractive artistic community strung out along an active waterway. This was our first visit to this area, so pretty much everything was new to us. Summer's the season for boating and farm fruit stands around here, but most of the major tourist events are held in the spring. The area is one of the largest tulip producing areas in the country, and when the fields are in bloom, hundreds of thousands of people come for the annual Tulip Festival. We missed all that. But we did enjoy wandering LaConner streets and eating LaConner ice cream.
There's a fascinating quilting museum in LaConner, which occupies a restored old Victorian home. The day we went they were having an open house, and admission was free (as were the hot dogs). We also visited the local historical society museum, which had some very nice exhibits, and did the local walking tour of public sculpture - found all but one of the sculptures on the tour.
Being this close, we took a day and rode the ferry from Anacortes WA across to Sydney BC and then took the local bus to the fabulous Butchart Gardens. The Gardens are on the site of an old limestone quarry, and when her husband's quarry became inactive about 100 years ago, Mrs Butchart decided to spiff things up and do some landscaping. There are now over 50 acres of wonderfully landscaped gardens with millions of beautiful flowers. The day we were there, the Victoria BC Symphony Orchestra was rehearsing for a pops concert that evening in the gardens. Most evenings, the gardens are lit, and on Saturday nights they have a big fireworks display. We'd have loved to stay for the concert and the lights, but the last ferry back to the US left at 6pm. It was a wonderful day. Most of the pictures in our slide show are from these spectacular gardens.
One night, we went to a local dinner theater in the town of Mt Vernon for an old-fashioned mellerdrama - boo the villain, cheer the hero, all that. It was an interesting theater, upstairs over an Italian Restaurant in an old grain elevator. The cast numbered about 7 folks, the director ran the lights and held up the cue cards for booing and hissing, and the music was by digital piano. There might have been 2 dozen people in the audience. It was fun, but we don't think the folks on Broadway have anythng to fear.
And then there was the opera. We ran across an ad for a cinema presentation of Verdi's Aida, and decided to check it out. The high-def digital video of the opening night of the 2006 production at the La Scala Opera House in Milan Italy played to an almost full house, and it was absolutely wonderful. Granted that the theater (in nearby Bellingham) was small, the seats were uncomfortable and the popcorn stale, it was still great. Turns out that there's a growing movement to bring great performances like this one to the cinema. Most of the La Scala productions the past few years have been so captured, the Met from New York City is presenting live HD big-screen video of about 6 of their productions in movie theaters around the country this season, and several other major venues are working on similar projects. Considering that even a local live production of an opera would cost upwards of $100 for a decent seat, being able to see a world class performance for around $20 is a pretty good deal. If that sort of thing interests you, check your local listings. We'll certainly be on the lookout for other opportunities as we wander.
We also managed to reconnect with Dick and Kathy Ulrich from Pasadena CA. We first met Dick & Kathy last fall when they parked next to us at the Long Beach WA 1000 Trails. We saw them again a few weeks later at the South Jetty park near Florence OR. We spent most of an afternoon eating, visiting and catching up. Neat folks. Hope to see them again when we get to Southern California later in the fall.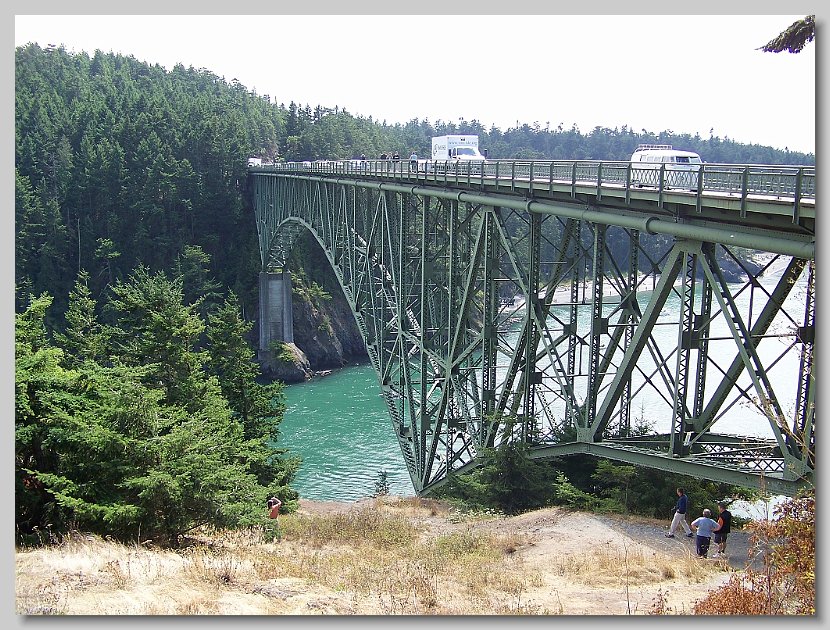 We had a few days of unfriendly weather, and stayed home while it rained. We visited Washington's most-visited state park, Deception Pass, where we walked the spectacular bridge connecting Fidalgo and Whidbey Islands (and challenged Judy's acrophobia). We poked around the town of Anacortes a couple of times, and got new front tires put on the motorhome (they were due). All in all, a very relaxing and productive three weeks. There are a couple more 1000 Trails parks within just a few miles, and next time we're in the area we'll try them. One of them, the Birch Bay park, is just a few miles south of the Canadian Border, and looks like an especially nice place to base and visit the Vancouver area.
We seem to have had an adverse effect lately on some of the wildlife at the RV park. We came home one evening to find a small bird sitting on our steps, looking very confused (hard to tell with birds). The bird didn't react when we picked up the step and moved it to the picnic table, where the bird hopped off the step and onto the table, but didn't try to fly away. We suspect it had probably flown into the window and was dazed. About 20 minutes later, we looked out and it was gone. Next day there was a loud thump at our door. Looked out, nobody there. But there was a bird on the ground looking very unwell. After about a half hour, we checked, and this one hadn't survived. Far as we know, these are the first birds who've tried to fly through our closed door. We hope they're the last. The park is also teeming with rabbits, and they're always scampering out of our way as we drive in or out. We don't think we've damaged any of them.
There are 93 pictures in our slide show for this report, and you'll find them here.