May 21-June 9 - Kentucky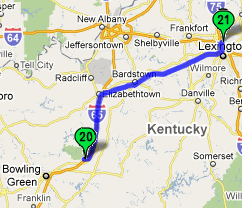 This was our first visit to Kentucky in our motorhome, although we'd visited on a day trip a few years ago. We always try to have firm reservations for holiday weekends, to make sure we have someplace to stay, and for Memorial Day we chose Cave City KY (20), the heart of Cave Country. We stayed 12 nights at the Singing Hills RV Park just outside the entrance to Mammoth Cave National Park, and took five different cave tours while we were there.
Just 40 miles south of Cave City is Bowling Green KY, hometown of the Corvette. Not only is the GM factory that makes all the Corvettes there, but right across the street is the National Corvette Museum - pretty much hallowed ground for Corvette owners and wanna-bees. We toured the museum and wanted to tour the factory as well, but turns out you need to make your factory tour reservations nine days out, and by the time we found that out, we didn't have time. But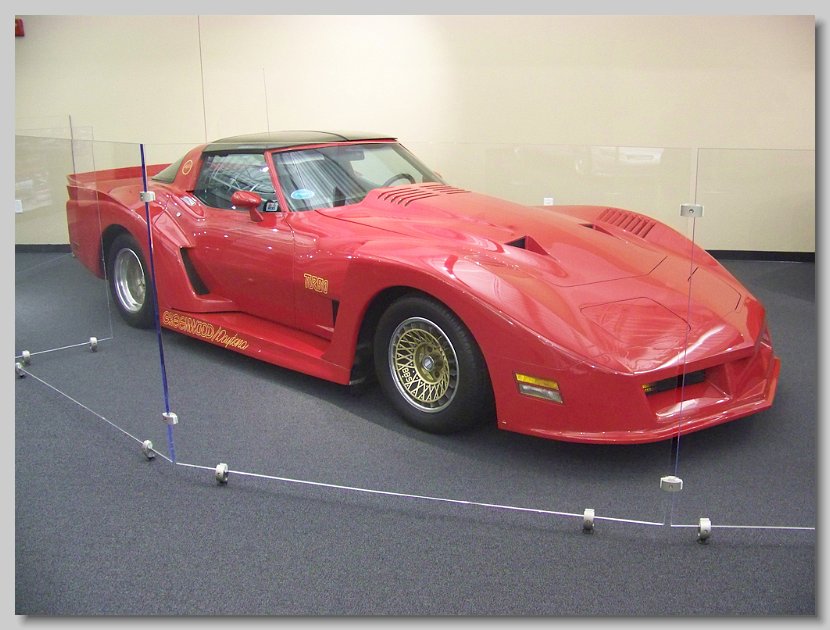 the museum is spectacular. They have at least one of every model Corvette ever built - in some cases the ONLY one ever built - as well as several concept cars and prototypes that were never built. Absolutely outstanding. Linda & Dave Courtney from Reedsport come here for Corvette reunions every couple of years, and were insistent that we visit the museum. We're glad we did.
Bowling Green had a couple of other things we liked - a Culvers Frozen Custard store (our first since Texas) and a Speedway Gas Station. A couple years ago we were gifted a Speedway Gasoline Gift Card (thanks, Adam and Amber), and this is the first time since that we've been in Speedway territory. We patronized both places.
Cave Country is all about caves, and we spent a lot of time underground. The geology of the area is what makes all those caves possible. It's called a Karst region - a topography made of layers of soluble bedrock such as limestone. Water seeping between the layers dissolves the rock, leaving caves and sinkholes. Usually the caves are wet, but Mammoth Cave is mostly dry, the result of a surface layer of about 50ft of sandstone.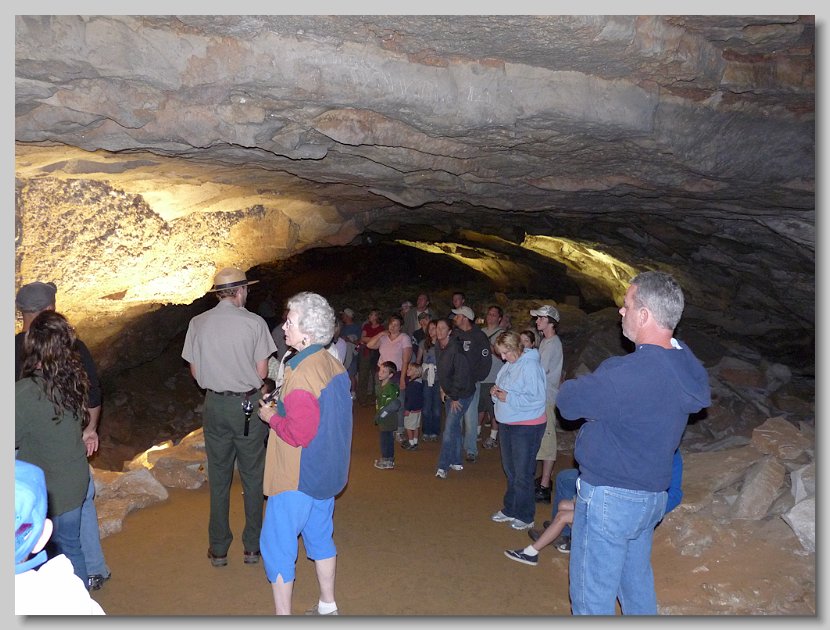 Mammoth Cave is the world's largest cave, with almost 400 miles of explored and mapped passages crammed into an area about 7 miles square and 600 feet deep. It's not a particularly pretty cave, but the size alone makes it spectacular. The rooms and passages we've seen are huge - rooms several acres big, walkable passages a mile or more long. We did two tours on two separate days, both pushing our endurance limits. Our first descent involved clambering almost straight down about200 ladder-like stair steps, followed by a 3/4 mile walk through part of the cave past the Frozen Niagara area, containing some of the nicest formations. Fortunately, the exit was somewhat easier as the 3/4 mile walk was more or less gentlyuphill to the exit. Our second tour, which about killed us, was down a 185 step staircase, followed by a two mile hike through the cave(lunch break in the middle) and then back up those 185 steps. We think we were the oldest people on that tour. By the time we saw sunlight, we sure felt like we were.
Our guide for the first tour was named Bob Cetera (bet he's glad his folks didn't name him "Ed"), a retired high school drama teacher from the Chicago area, about our age. He's also a talented photographer, and several of his images are sold on post cards in the park stores. He's a wealth of information about almost anything, and a delight to chat with, which we did on a couple of occasions.
A few miles north of Cave City is the town of Horse Cave, home to the American Caving Museum, operated by the American Cave Conservation Association, which also offers tours of the Hidden River Cavern. The cave is right in the middle of town, and is a remarkable example both of what people can do to totally mess up something like that, and also of what the cave can do to heal itself once you get people to leave it alone. Being in the middle of the town, the cave naturally became the town septic tank, and eventually the waste killed all the life in the cave. For over 50 years, the stench rising from the cave permeated the town, especially in summer. Finally, the EPA got involved and helped the town get a decent sewer system. And the cave then cleaned itself, over about 10 years, with the aid of a few floods and a very fast moving river that runs through it. Neat story, neat cave.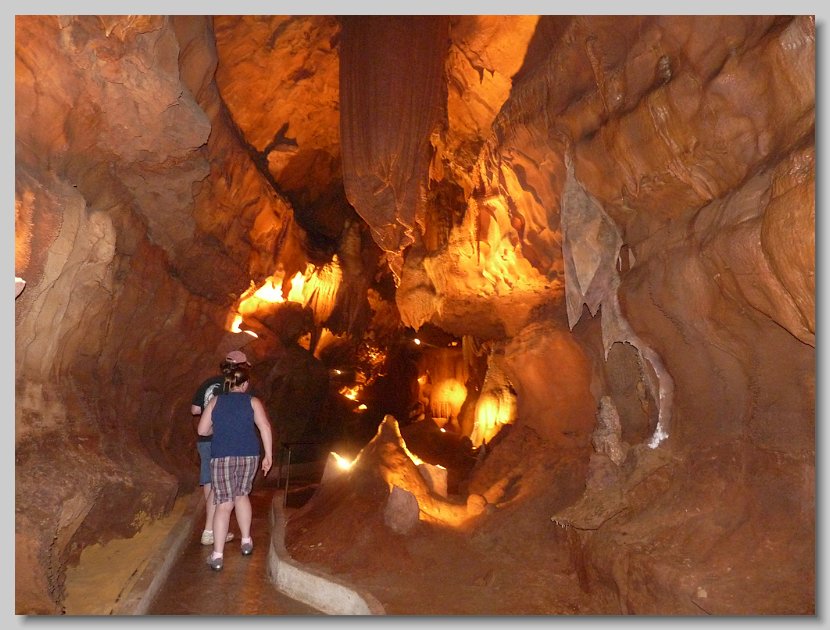 Within Mammoth Cave National Park is one of the oldest commercial caves in the country, Diamond Caverns. It's probably the most spectacularly formationed cave we've ever been in. It's not a particularly large cave - takes about an hour to tour the whole thing - but the variety of formations is absolutely incredible, and to their credit they've lit it using only white lights, so you can see the natural beauty. Way cool.
We also toured the Lost River Cavern, on the south side of Bowling Green. It's a relatively new cave, geologically speaking, accessible only by water, and the tour is a boat ride. Unique for us, and fun.
On June 2, we stowed our stuff and headed across the state to Lexington (21). Lexington is the heart of Kentucky Bluegrass Country. We looked up "Bluegrass". Bluegrass isn't usually blue. It's almost always green like normal grass. But if you don't cut it and let it grow to full height (about 3 feet) and then let it blossom, the flowers are blue. So now we know.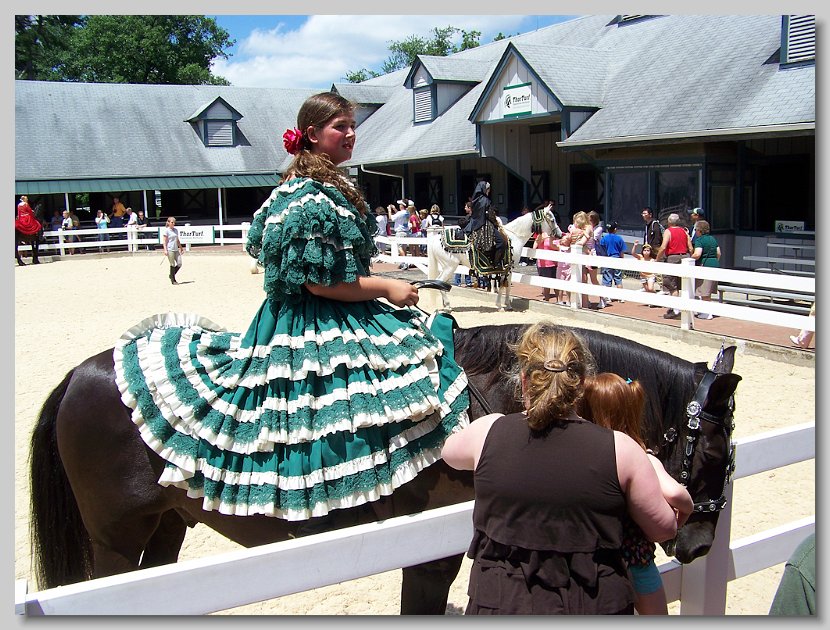 Bluegrass Country is where all those race horses come from. It's beautiful around here! We stayed at the Kentucky Horse Park, a state park developed to host competitive horse events. The adjacent campground is available for public use except during major horse events and shows.
Our visit was dulled some when we were setting up the RV after arrival. As we were setting up, one of the hydraulic hoses in our levelers burst. Without hydraulic pressure, we couldn't level the coach or extend the slide. Plus, there was hydraulic fluid all over the pavement. Kitty litter took care of the fluid on the pavement. Getting the hose replaced or the leak fixed was another story. There are only two RV dealers in this town. Both were booked solid in their service department until well after we were due to leave. One of them found one of the guys in the service department willing to come out and take a look on his own time. Turned out to be the young son of the owner, who came out, looked the situation over, and said he'd be back the next day with the parts to fix it. But he never came back. On our second call to the dealership, found out that the young man is not highly motivated nor very well organized, but being the boss's son there isn't much the service manager can do about it. A couple more calls and we found a truck and trailer service company, and they came out within hours and replaced the hose. Shoulda called them first instead of wasting two and a half days waiting for somebody to show up. We came in on Wednesday, and it was Friday evening before we were able to finish setting up. We didn't know then about a new hydraulic problem. But that's for our next report.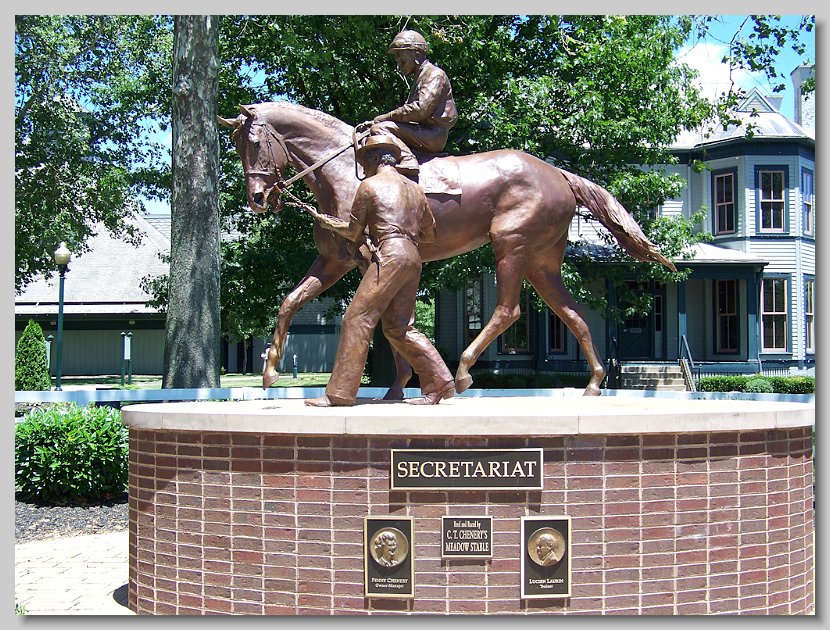 Lexington is arguably the horse capitol of the US, if not the world. Name any famous race horse and it probably came from or was trained on one of the many horse farms of Lexington. Man-o-War, Secretariat, Seattle Slew - all local heroes. The Kentucky Horse Park is probably unique in the world - they have a couple of museums, show and competition facilities for almost every kind of horse event, and plenty of space for the resident and visiting animals to enjoy. We spent most of Sunday afternoon at the park, and didn't begin to see everything. Thankfully, the park closed about the time our feet wore out.
Several historical figures came from Lexington. Mary Todd Lincoln, wife of Honest Abe, was born and raised here, and we were able to tour her childhood home. The tour is mostly about the life and legends of Mary Todd Lincoln, with the house as a delightful background. We couldn't take any pictures inside the building, so you'll have to trust us when we say it was lovely.
Probably the most favorite son of Lexington is Henry Clay, the Great Compromiser. Clay was a lawyer turned politician turned statesman. Among other distinctions, he is the only US Congressman ever elected Speaker of the House on the first day of his first term. He was one of the most outspoken proponents of starting the War of 1812, and was also given much of the credit for negotiating the end of that war. He served in the US Senate, ran for (and lost) the Presidency 3 times, and served a term as Secretary of State to President John Quincy Adams. He was also a gentleman farmer, raising horses and cattle, and a portion of his estate, Ashland, is tourable. The home on the estate was rebuilt after Clay's death by his son, following the same plans, but somewhat more luxurious. The original home had been damaged by earthquakes, and Clay couldn't afford to rebuild it during his lifetime. Again, no pictures inside the home, and the tour is as much about the life of Clay as it is about the house. A very nice afternoon.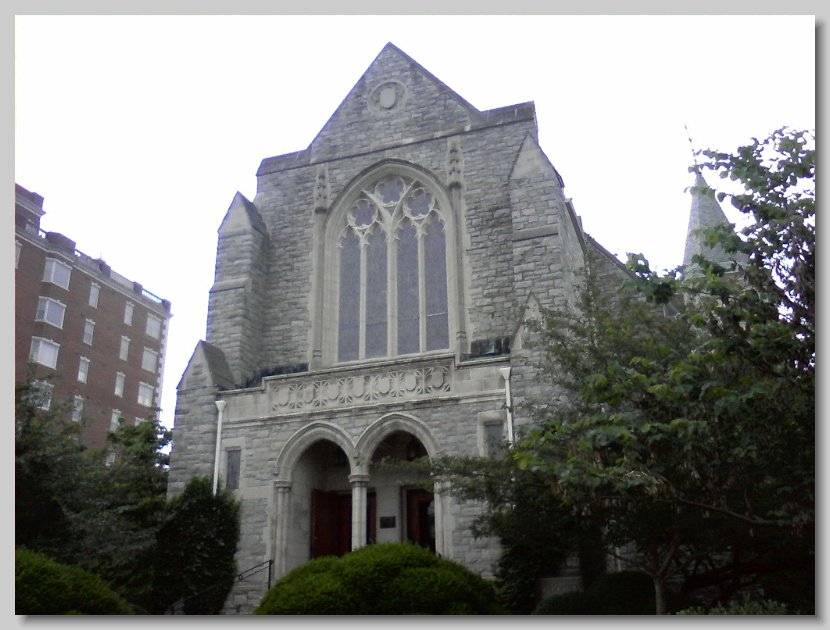 We worshipped at the Second Presbyterian Church of Lexington, a wonderful gothic-style church with great stained glass, huge pipe organ and a cross-shaped sanctuary. After the Civil War, when the Presbyterian Church split into Northern and Southern organizations, First Pres of Lexington chose to affiliate with the Southern church. So the folks who wanted to stay with the Northern church formed Second Pres. Today, of course, the Presbyterian Church is again united, but both churches remain and, apparently, thrive. First Church has about 800 members, Second about 1000. They both claim to be the "original" Presbyterian church in town.
A few miles southeast of Lexington is the Shaker Village of Pleasant Hill, a preserved and restored Shaker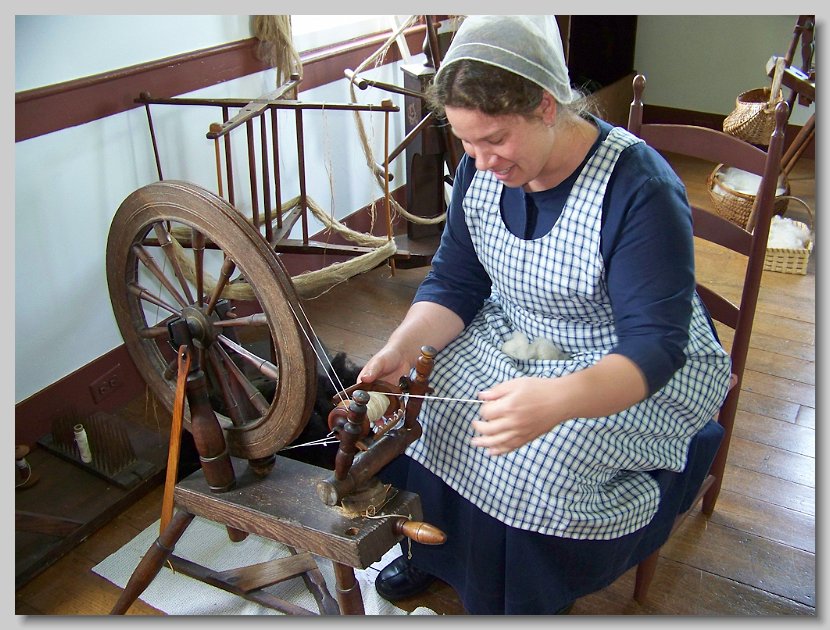 settlement. The Shakers were an interesting communal religious sect who practiced hard work, but also celibacy, thus requiring some energetic evangelising. They also operated orphanages and adopted many children who grew up in the sect and became members. At one time, this village housed over 700 Shakers, and many of the original buildings have been preserved and restored. Today it operates as an educational organization, funded primarily by the proceeds of the restaurant and hotel operations in the old buildings. The village is staffed by costumed guides and docents who re-enact and explain things. It's a fascinating window into a segment of the past. The last Shaker in the settlement passed away in 1923. Today, there is only one active Shaker settlement left, in Maine, with just 3 members.
There are many parts of Kentucky we didn't visit. We'd like to spend some time in Louisville, but RV parking is a challenge near any big city. Likewise, we didn't get to any of the legendary bourbon distilleries, visit the original Kentucky Fried Chicken store, or go see if there are really any Dukes in Hazzard. Maybe next time.
Judy's culled our Kentucky pictures down to about 117 for our slideshow. You can see them here.