June 30 - July 24 - Michigan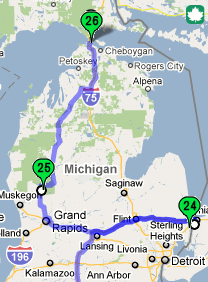 Three and a half weeks in Michigan! Al hasn't spent that many consecutive days in Michigan since he moved out about 50 years ago. And he survived!
We'd planned on a two-day drive from Columbus IN to our first destination, St Clair MI (24). But by the time we'd reached our anticipated overnight stop, it was only 1pm, so we pushed on and made the whole trip in the one day. St Clair is one of a chain of several small towns along the St Clair River, which connects Lake Superior to Lake St Clair, and thence to Lake Erie. It's just a few miles south of Port Huron, a busy border crossing for folks wanting to get from the midwest to New England via Canada. We stayed at the 1000 Trails park near St Clair for a week, and pretty much just hung out over the 4th of July. The St Clair River is the most spectacular shade of blue, but we couldn't find any information on why it's that color. Apparently it has been blue for a long time - even the bridges across the river to Canada are called "The Blue Water Bridges". The riverfront park in St Clair is very nice, and boasts the longest fresh water boardwalk in the country.
From St Clair, it was about 225 miles to the Woodlands on the Lake Resort (25), a few miles east of Fremont MI, and about 30 miles from Al's home town of Muskegon. Fremont, of course, is the pureed vegetable capitol of the world, being the home of Gerber Baby Foods. We found a comfortable site with enough clear sky for decent satellite reception, and settled in for two weeks. Our settling in was a little lumpy, though. As we were checking in, our auxiliary power generator shut down and wouldn't restart. We use it mostly for powering the air conditioners when we travel on hot days. And as we were setting up, the hydraulic system that powers our leveling jacks and extends our slideout room died. Fortunately, we'd already leveled and the room was almost all the way out, so it was livable. We inquired at the park office about drive-by RV fixers in the area, and were referred to On Site RV Service. Turned out they were a gem of a find.
On Site RV Service is Ryan and Lindsay Boike, a young couple with a truck full of tools. Turns out Ryan is factory trained and certified on the hydraulic system we have. We called them on Wednesday afternoon, and they showed up Friday noon and Ryan diagnosed a bad pump motor. He put in a call to the factory in Iowa, and came back to say they were backed up at least a day and he didn't expect to hear back until Monday. He also looked at our generator, but said he didn't do generators. We started researching generator fixing places. We'll be spending a week at the big Oshkosh WI air show without any hookups, and having a working generator will be essential.
All this RV fixing anxiety delayed our connecting with any relatives until Friday afternoon, when we drove to Muskegon to visit with brother John and wife Marcia. John is 5 years younger than Al, but in precarious health. In the two years since we'd been in Muskegon, John has lost half his weight. He suffers from pulmonary fibrosis, incurable except by lung transplant, and his heart isn't strong enough to allow that much surgery. But recent changes to his meds are giving him more energy and increased mobility, and he's getting out and about some.
One day, we discovered a video rental store going out of business and managed to get five DVDs we've been wanting. The whole bill was less than the normal cost of one DVD, and we wish we'd found the store sooner.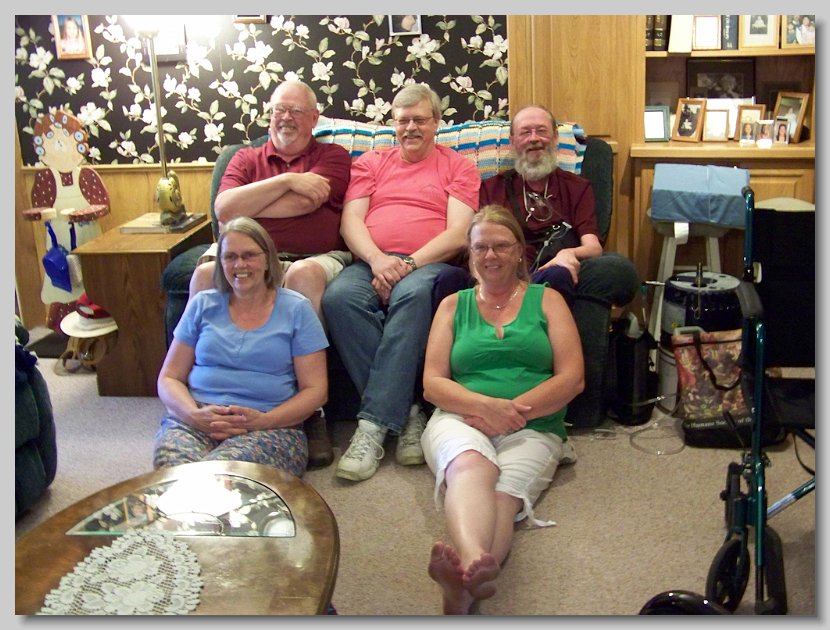 Sister Vicki always hosts the family gatherings, and everybody assembled Sunday afternoon. All the sibs were there (Al's the oldest of 5), and all the spouses, and some of the nieces and nephews. Turns out we'll be coming back to Muskegon in about a year - niece Beth and fiance Mike (who visited us in Arizona a year or so ago) have set the date for June 11 next spring. As usual, Vicki's husband John grilled the main edibles. Too much food is a family tradition. And we posed for the requisite "all the sibs" pictures, making sure we can all remember what each other looks like until next time.
Monday morning started off well when Lindsay called to say that she had received the necessary parts to fix our hydraulics about the same time she received the shipping notification email. A couple hours later, they came out and replaced the pump motor and pump motor relay, we all held our breath, and it worked! Ryan and Lindsay fix RVs in the summer in Michigan and in the winter in Gulf Shores AL. We've added them to our permanent list of reliable people to call when we're in their neighborhood and in need.
Also on Monday we found an RV dealer about 60 miles down the road who could fix our generator, and best of all they didn't make appointments - first in, first serviced. So on Wednesday morning, we got up early and drove to the shop, arriving almost an hour before their published opening time. They were already open, ushered us right in, and went to work. Turned out the generator worked fine for them, but they did a diagnostic and found a bad switch, which they replaced. With generator humming (more like a roar, actually), we headed back to the RV park. It felt good after a week to have resolved our anxieties. But the generator saga will continue.
Tuesday evening, the sibs and some of the spouses met again for dinner at a local favorite restaurant, and managed to have a rare meeting of the family corporation. When Al's dad died, all of his investments had been transferred to a corporation owned equally by the sibs. Now that we're all getting older, it's time to be thinking about the future of the corporation.
Al's mother was the oldest of 12, and every Friday her surviving sisters (there aren't many left) gather for lunch. We crashed the gathering our second Friday in town to catch up, and afterwards spent some time visiting with Al's Aunt Marion and Uncle Lee. We promised to visit them whenever we were anywhere near their home in eastern Texas.
When we were here in 2006, we visited the Meijer Sculpture Gardens near Grand Rapids - a marvelous garden setting for a couple dozen large contemporary sculptures. This year, the gardens were hosting an exhibit of glass art by Dale Chihuly. We'd seen his installation at the Phoenix AZ Botanical Gardens, so seeing this one was a nice bonus. If you like, see our pictures from our 2006 Meijer Garden visit here. This year's slideshow will focus on the Chihuly exhibit.
Our last weekend in town, Vicki and John hosted another gathering at their "cottage" not far from the RV park. It was informal, and we met some folks new to us. And had more of John's grill-master production. Then we said our goodbyes.
After doing some necessary shopping and a few errands, we packed everything up, retracted our slideout (Yea! It worked!), fired up our generator (Yea! It worked!) and headed north to the land of confusing pronunciations.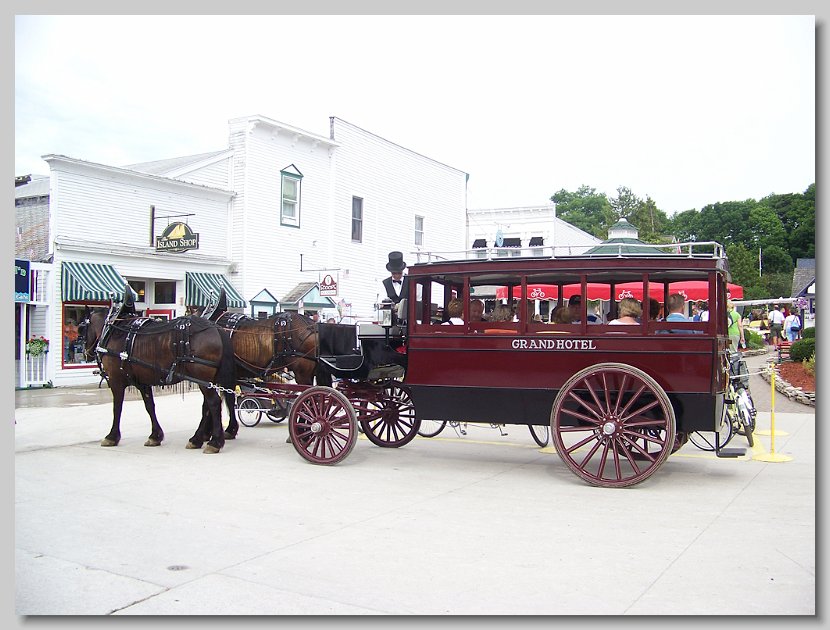 We'd booked three nights in Mackinaw City MI (26), at the northern tip of Michigan's lower peninsula. It's the jumping off point to visit Michigan's premier resort, Mackinac Island (also pronounced Mackinaw). We caught the ferry for an 18-minute ride to the island, where we were met by a horse-drawn tour wagon. Mackinac Island is mostly automobile-free, with horses and bicycles being the primary modes of transport. Our two-hour tour included some island history, a stop at the old fort, a visit to a delightful butterfly garden, and the obligatory wander along Main Street. And of course, a generous helping of the famous Mackinac Island Fudge. Yum. And when our feet wore out, we climbed back on the ferry and went home.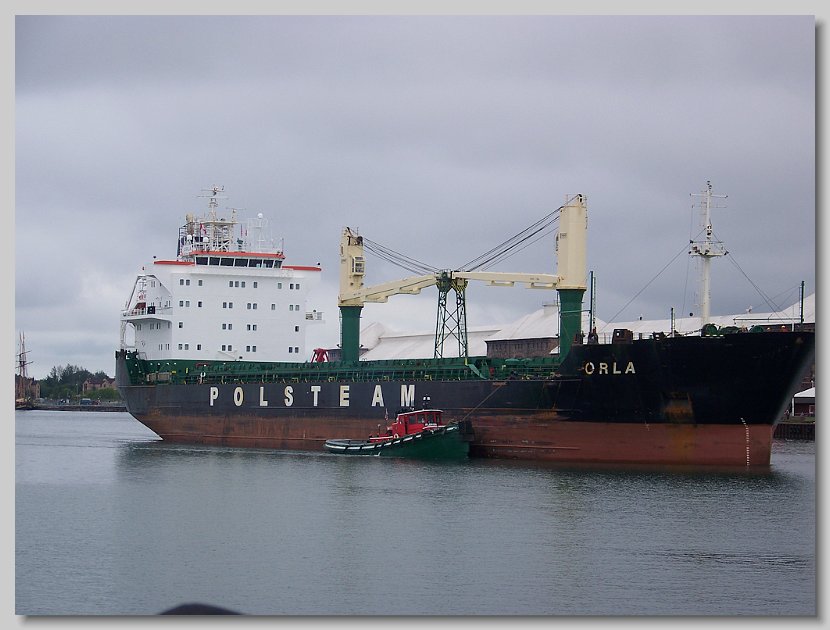 Next day, we drove about an hour north (across the spectacular Mackinac Straits Bridge - nicknamed "Mighty Mac") to tour the Soo Locks at Sault Ste Marie MI (pronounced Soo Saint Marie). The Soo Lock system connects Lake Superior with Lake Huron, some 21 feet lower, and is a vital part of the Great Lakes shipping industry, allowing ocean-going vessels which navigate the St Lawrence Seaway to get as far inland as Minnesota. Equally important, it allows the products of northern Minnesota and western Ontario to be shipped anywhere in the world. We took a two-hour boat tour which took us both ways through the locks and provided some interesting information about the area. And for lunch, we pulled into the West Pier Drive In, reputed to have the biggest burgers in the Soo. Had to have been 2/3 of a pound. Inexpensive, messy, marvelous, and they brought them to the car.
And on the 24th, we packed up everything and paid the toll to drive the rig across that marvelous bridge to the Upper Peninsula. We then turned west and headed for Wisconsin. But that's our next report.
A real mixed bag of pictures in our slideshow this time. See them here.