Aug 1-15 - Westward to Washington State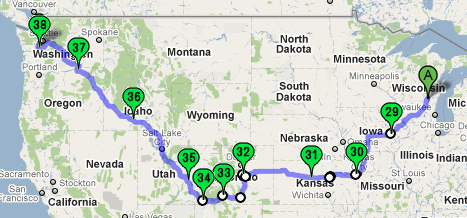 We set out from Oshkosh WI (A) on August 1, bound for Jan & Denny Prichard's in Longbranch WA, with a few interesting stops along the way. Took us about two weeks to get there, and we saw some neat things along the way.
But first - housekeeping. We stopped for two nights at the Amana Colony RV Park in Amana IA (29), to restock supplies and do laundry. And after a strenuous week at AirVenture, we also did some recovery.
Day 3 of our westward trek found us in Kansas for the first time - another state added to our map. We parked at a curious campground near Bonner Springs (30), just outside Kansas City, and with the temperature well over 100 degrees, we basically stayed inside in the cool.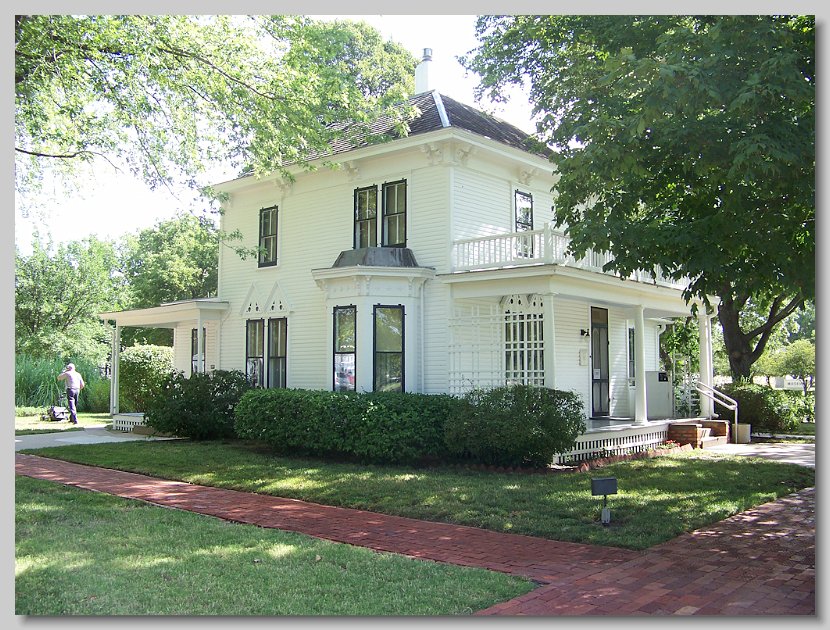 Next morning, we gassed up the rig and headed west. We stopped for a few hours in Abilene KS to visit the Dwight Eisenhower Museum and birthplace. It's a very nice complex, built around the modest home Ike and his siblings grew up in. The museum itself is bigger on the inside than it looks from the outside, and follows his and Mamie's life and accomplishments. It's a very nice exhibit, and well worth a few hours. Then we continued west, stopping for the night in Russell KS (31) at an inexpensive and very basic campground. Russell is the home town of former US Senator Bob Dole, and seems to be a community based on agriculture and oil. We drove through the downtown area, where the streets are all paved with cobblestones (no way you can go fast on those surfaces), and there are a lot of old sandstone buildings. We were looking for a place to eat, but didn't find much. We wound up at Pizza Hut. So much for Kansas.
Day 5 found us westbound again, stopping for the night at the very nice Colorado Heights Resort at Monument CO (32), just north of Colorado Springs. We've stayed there once before, as it's one of our membership parks and we can stay for free. For dinner, we found Rosie's Diner - a 50's diner transplanted from New Jersey. It's the diner that was used in all those Bounty "The Quicker Picker Upper" paper towel commercials, Rosie being played by actress Nancy Walker. Neat place. A bit spendy, but good food. We also visited the Colorado Springs Camping World in an attempt to find some replacement lug nuts for one of our wheel covers. Looks like we'll have to order them from the factory.
Day 6 we headed south and west across the Rockies on US 160, stopping overnight at the Alpine Trails RV Park in South Fork CO (33). There are folks who spend all summer in these mountains and valleys of southern Colorado. Judging by the buildings, there are also folks who spend a lot of time there in the winter for the skiing.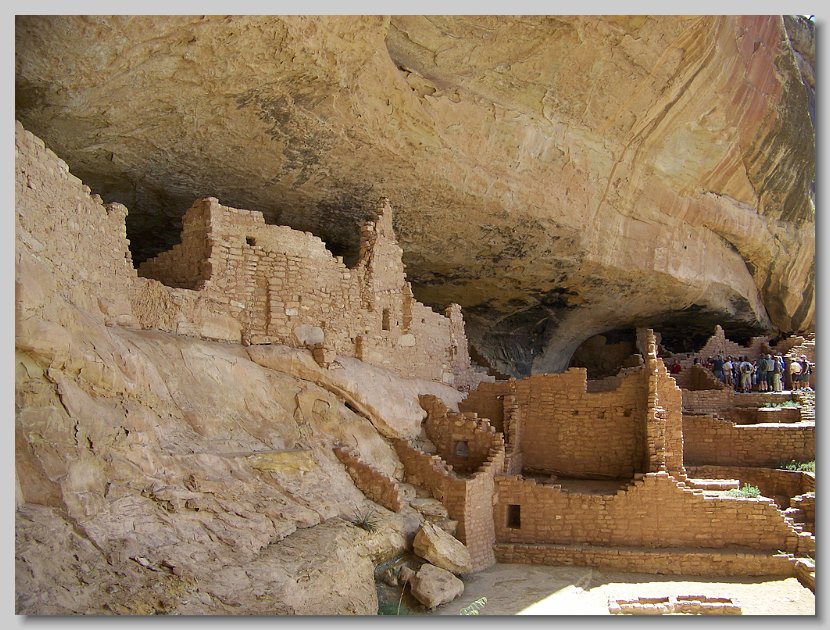 Day 7 found us at Mesa Verde National Park CO (34) for 3 nights. Mesa Verde is home to some of the best preserved Native American cliff dwellings and pueblos in the country. We bought a couple of tours that got us into some of the cliff dwellings, and also came with some fairly respectable physical exertion. Those cliff dwellings are a hundred feet or more down inside canyons at upwards of 8,000 feet altitude. There's not all that much air available to us flatlanders. The dwellings were absolutely spectacular, and our guides were very knowledgeable. Many photos can be found in our slideshow.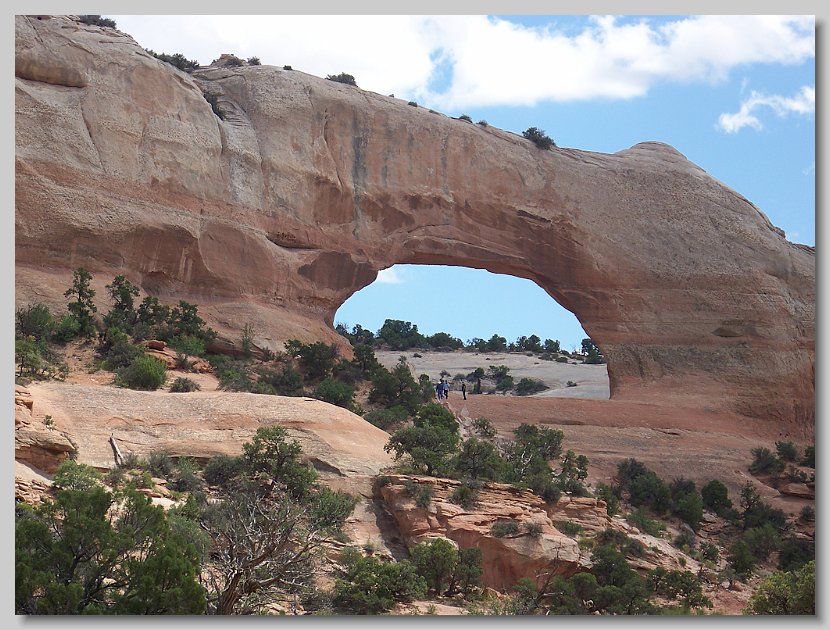 Three days later we drove a couple hundred miles to Moab UT (35), where we stopped for 3 nights at the Arches View Campground, just north of Moab. We'd come for scenery, and we were rewarded in spades. Arches National Park contains a couple thousand natural arches carved into the sandstone rocks by winds and water. You can drive all the roads in the park in about half a day, and if you're into hiking, the opportunities are limitless. We visited a site where you can see the footprints of dinosaurs in a solidified sandbar. The prints are kind of indistinct, as they're being constantly eroded. It occurs to us that, while interesting, these tracks must not be all that unusual or valuable, or they'd be better protected and preserved.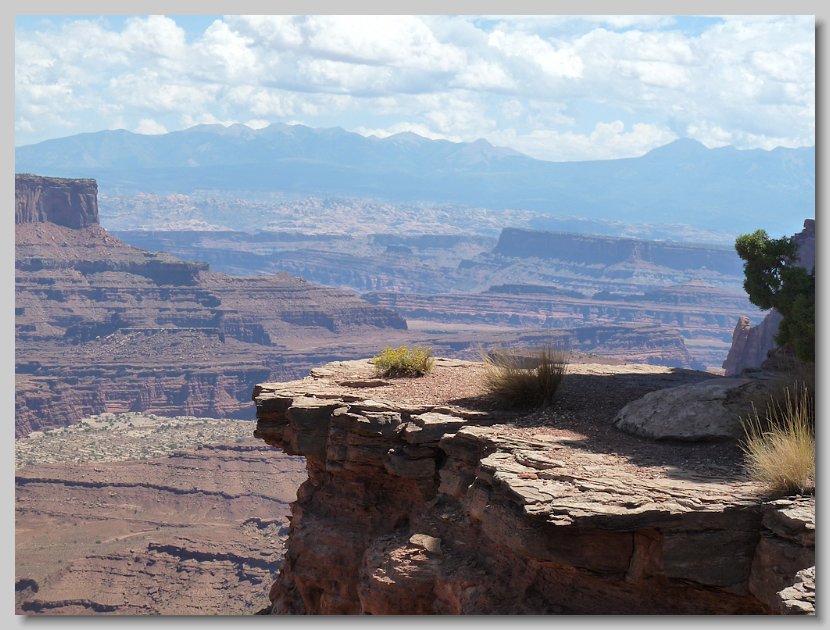 The other scenic outing from Moab was Canyonlands Nat'l Park, with some spectacular canyons and gorges carved out by the Colorado River. It's not quite as spectacular as the Grand Canyon a couple hundred miles further downriver, but it's gotta be a close second. Lots of "Oh, wow" moments.
And then a brisk three-day drive to Longbranch, with overnight stops at the Jerome ID Walmart (36), where we've overnighted before, and at the Umatilla OR Marina and RV Park (37), right on the banks of the Columbia River. And on Aug 15, a day ahead of plan, we rolled into Jan & Denny's driveway (38).
We'll be at Jan & Denny's until around the end of September, ostensibly housesitting while Jan & Denny take their sailboat out for a month or so. But we'll be plenty busy - there are several modifications we need to make to the motorhome that are easier done when we're not living in it, and Denny's offered his wonderful workshop. Six or seven weeks in one place is something we've not done since we started roaming 3 1/2 years ago. Ought to be interesting. Stay tuned.
As always, we took a lot of pictures, and we've posted about 130 of our favorites in our slideshow, which you can find here.