Nov 3-29 - November Stuff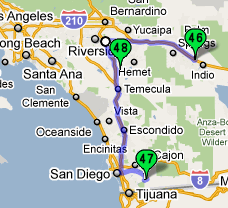 After a couple of months of relative (for us) high activity, we were looking forward to spending some time not doing much of anything. November 3, we arrived at the 1000 Trails Palm Springs Resort (46), which is actually on the outskirts of Palm Desert. We like this area - the weather is really nice this time of year, and for the most part it's an attractive place. Like any other artificial community irrigated into existence from the desert, it's a pretty lush-looking place. We shudder to think how much precious water goes into those lawns and water features.
The morning of Nov 11, we got a call that Al's brother John had passed away in Michigan. John was five years younger than Al, and had been diagnosed about 5 years ago with pulmonary fibrosis. It's a debilitating disease where your lungs pretty much turn to fiber and stop doing what lungs are supposed to do. John said they could easily tell how far it had progressed with a stethoscope, as you could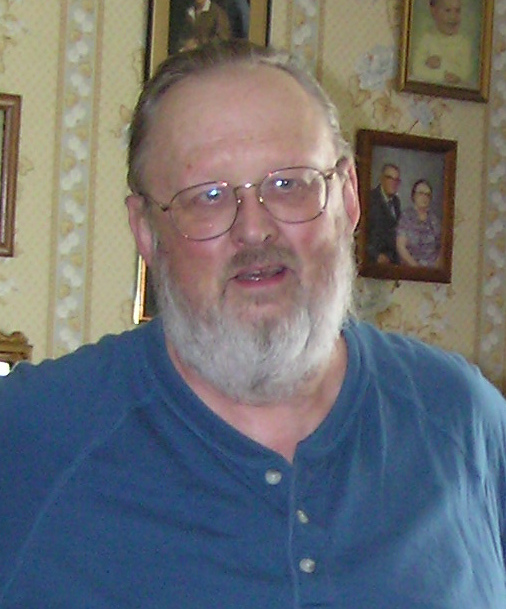 John in 2006, as we'll remember him.

hear the fibrous tissues crackling as he inhaled. The only remedy for pulmonary fibrosis is a lung transplant, but by the time John's was diagnosed, his health was such that a transplant was pretty much ruled out. So we made arrangements to fly to Michigan for the celebration of John's life.

Being west coast people, we've not been as connected to Al's family back in Michigan as we should be, so we learned a lot about John at the celebration. There were a couple hundred people there, and many shared their stories. John had been a "special needs" teacher (Michigan's teacher of the year once), served a term or two as a city councilman in Muskegon, and was active for years on the city planning commission. He called himself a "former hippie", but truth be known he was a hippie to the end, and relished it. He touched a lot of people, made a lot of friends, and the love he generated was much in evidence.

Al had a chance to meet several cousins he didn't remember, as well as several aunts and uncles he did remember. Al's the oldest of his generation on either side of the family, and moved away from Michigan in the early '60s. There are lots of cousins who came along after he left that he never knew back then. We're quite sure there were cousins in the crowd we still haven't met.

Judy took a lot of pictures, which we printed and sent back to John's wife Marcia. And after two days in the Michigan cold, we flew back to the warm of Palm Springs. Despite the media frenzy about such things, we were not scanned, patted or groped at any of the airports we transited.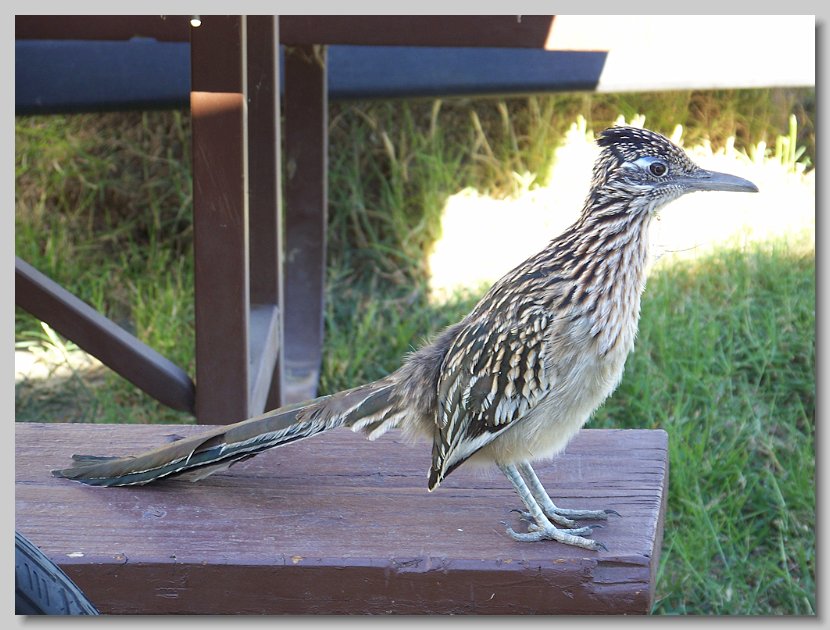 While in Palm Springs, we started the process of resolving a flaky display on our new microwave oven, while it's still under warranty. It's not easy trying to deal with service companies who expect appliances to be more or less stationary, but after a couple of false starts and a bunch of phone calls, we're on the right track. One service company came to the RV in Palm Springs and did a diagnosis. But they couldn't get us the parts. Working from their diagnosis, we contacted a repair center in the San Diego area who ordered the parts, received them, and we have an appointment on Dec 16, when we get back to the San Diego area, to see if it works. We also took advantage of the area to get the motorhome washed and waxed. There's a mobile detailing service we've used a couple of times before, and they sure do make the rig look good.
We took in two shows in the desert. Our first was a performance at one of the local casinos of the vocal group "Straight - No Chaser". It's ten guys who sing lots of neat stuff. They started out as a college group at the University of Indiana about 10 years ago. We first encountered them a few years ago via a youtube video of their version of "The 12 Days of Christmas". They're back together now, and touring a couple times a year. Fun show.
Just before we left Palm Springs, we went to a "Keyboard Conversations" evening with pianist Jeffrey Seigle, who spent a couple hours talking about and playing the music of "Gershwin and Friends". He does these conversations on many different subjects, and will be doing four of them in Palm Springs this season. Another neat show.
There are lots of things we like about the Palm Springs resort. It's level, which means we can ride our bikes easily, and we did. The Curves is only a half-mile away, so Judy was able to go regularly. And there are lots of neat places to eat. Before leaving the Palm Springs area, we discovered the Chicken Pie Factory. With a name like that, you just gotta give it a try. We had lunch there one day,and enjoyed it much. We'll be back in Palm Springs shortly after New Years for a couple of weeks. We're starting to think this might be a nice place to spend a whole winter.
The Day before Thanksgiving, we drove about 175 miles to the 1000 Trails Pio Pico Preserve (47), just west of Chula Vista. Due to some poor planning, we made a last-minute decision to go there, and wound up having to park in a section of the park with no cell service, so our Verizon internet didn't work either. Fortunately, the in-park wifi signal was very reliable, and we were able to stay on line. Our Thanksgiving dinner was delicious steak at the nearby TGI Fridays, the first place we found open for the holiday. Once we found a cell signal, we pulled off the road and made holiday calls to our families. We did a little shopping on the Black Friday weekend, but mostly lazed about. On that Sunday we visited the Chula Vista Presbyterian Church, one of our favorites of the many churches we've visited the past few years. The pastor recognized us from last year. We'll return to Pio Pico on 12/15, and stay through the holidays.
And on Mon 11/29 we drove about a hundred miles north to the 1000 Trails Wilderness Lakes Preserve (48). It's another one of our favorite places to park. More about that next time.
There are about 30 pictures in our slideshow, most of them from our flying trip to Michigan. You'll find them here.