Jan 5 - Feb 2 - Palm Springs CA & Bullhead City AZ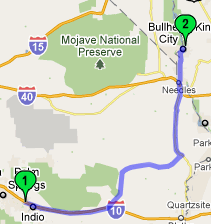 The Palm Springs area is turning into one of our favorite places to kick back. The weather is usually nice, the whole area is very attractive, there are many great places to eat, and a really nice church we patronize. We've started talking about maybe next winter settling in someplace for 3 or 4 months, and Palm Springs is definitely on our short list. It's not the cheapest place to winter, but it's most certainly one of the nicest.
The 1000 Trails Palm Springs "Resort" is located just a few yards from I-10, and one of the busiest rail lines runs just the other side of the highway, so it's not the quietest place. Our space turned out to be closer to the road than ever, so we went to the local building supply store and invested in some ear plugs. Al used them to good effect each night, and slept well. We discovered a fun RV parts store out in the country near Desert Hot Springs, where we were able to find a new door latch for the RV. Considering that those latches haven't been made for almost 10 years, it was a very satisfying find. They even had a choice of colors. Wandering that store is a bit like prowling through an old attic, with stuff piled high everywhere, but the folks who run it have a pretty good idea of what they have and where it is. Their "watch dog" greeted us enthusiastically before heading for a sunny spot and a snooze. Blair Station is a rare resource, and we're glad to have found it.
We're big fans of the improv comedy show "Whose Line Is It Anyway", both the original British version and the more recent American version. So when we learned that two of the stars of both series - Colin Mochrie and Brad Sherwood - would be doing a two-man show in Palm Springs, we jumped at the opportunity and bought tickets. It was quite possibly the most enjoyable 2 hours (no intermission) we've ever spent. The laughs started even before they came on stage, and almost never stopped. These guys don't perform very often, so if they ever get anywhere near you, we strongly recommend their show.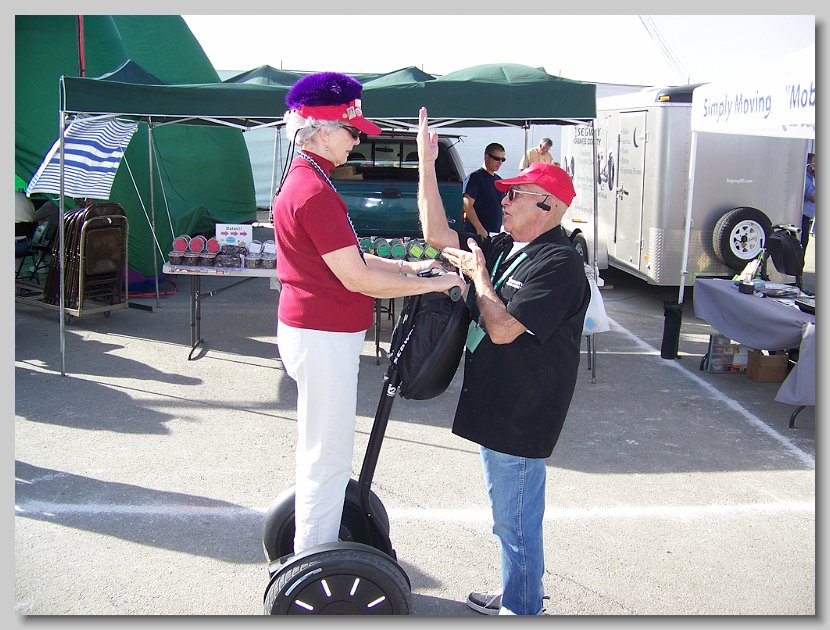 The Western Area Rally of the Family Motor Coach Association is held every January in Indio CA, and this year we made our plans so we could go. It's one of the largest regional rallys, drawing around 1400 motor coaches. Again this year, we day tripped into the rally every day and again in the evening, prowling the exhibit halls, touring the display motor homes, and enjoying the evening entertainment. The exhibit hall of a good RV rally has just about anything you can want (and bunch of stuff you don't), so we took advantage. We were able to find just the right "bulbs" to finish upgrading all of our interior lights to LED. We can now run all of the lights in the RV at once, and use about the same electricity as one of our old fixtures. And these are much cooler operating.
We also bought a full set of "Air Tabs" - stick-on plastic gizmos that are supposed to eliminate the "wake" created when you move a bus like ours down the road. The benefits are supposed to be better gas mileage and less dirt on the towed car. We'll compare our mileage this year to the last couple and in a year or so see if there's any difference. We do know that on our first full tank of fuel after installing the tabs, we got about 1/2 mpg better than our average. But it's really too soon to draw conclusions.
And some folks who make frozen pancakes were giving away free samples - full packages of 18 pancakes, two per customer. Toward the end of the rally, they were offering seconds. We wound up with a total of 72 frozen pancakes, which we've been enjoying since. They're probably hoping we'll get addicted and start paying for some, but we'll probably still be eating these in July.
On Jan 19, we hooked up and drove to Bullhead City AZ. We spent a couple weeks in Bullhead City two years ago, and it's an enjoyable place for a visit. Most of the time we were there, the wind blew pretty hard, not conducive to being outdoors much. Our two big events were another improve comedy show with veterans from the "Whose Line" show and a balloon festival. The show "Whose Live Anyway" features Ryan Stiles, Greg Proops, Chip Esten and Jeff Davis, and frankly wasn't nearly as entertaining as the show in Palm Springs. We think the casino crowd just wasn't in the mood, but the gang on stage just wasn't as polished either.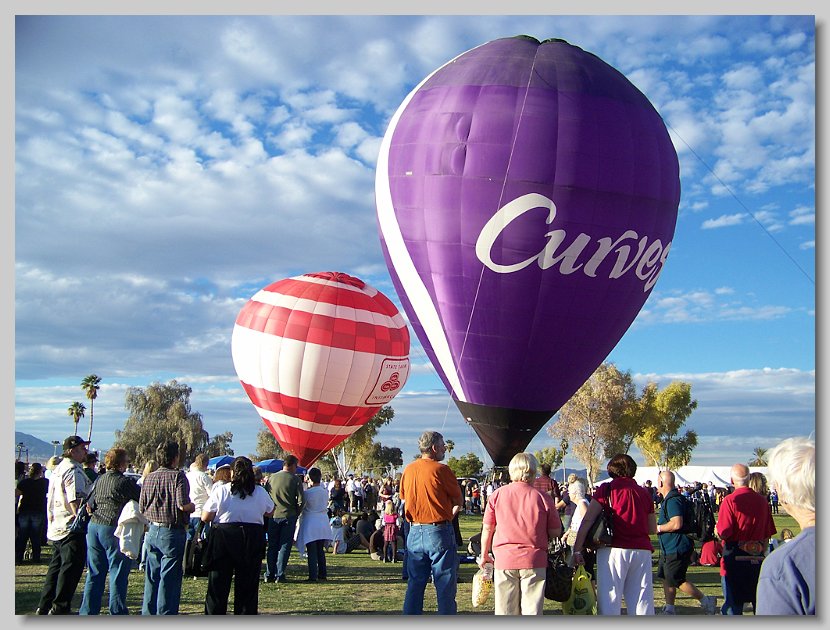 We found out there was going to be a balloon festival at Lake Havasu City, so we rented a cheap room for a night and went down to see what was up. Unfortunately, due to the aforementioned winds, nothing was up. The festival went on, lots of people went, but no balloons flew, although a couple achieved a tethered inflation. We got a little sun, ate too much, and slept in the noisiest Motel 6 room on the planet. Oh, well.
Other than that, our Bullhead City stay was pretty mundane. We did a little shopping, had some work done on the car, and did battle with the internet. Bullhead City is not Verizon territory, although Laughlin NV, just across the river, is. But our Verizon internet access was extremely poor. We rented some wifi from the RV park, and in expectation of no Verizon at our next stop in Lake Havasu City, bought a pay-as-you-go wireless internet plan from Virgin Mobile, which didn't work much better than Verizon. But we managed.
And on Feb 2, we hooked up and headed for Lake Havasu City, 65 miles down the road. As we pulled out of the RV park, we realized we had almost no brakes on the motor home. But we had enough, and made the trip uneventfully, if cautiously. More on that next time.

Only about 25 pictures in our slide show this time. Check them out here.