Feb 2 - March 2 - Lake Havasu & Yuma AZ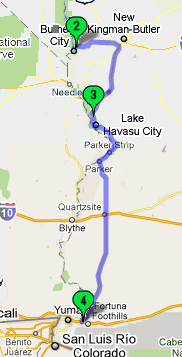 We're spending our Winter leisurely wandering the Arizona deserts, in search of warmth and new experiences. We found some of each.
On Feb 2, we drove south from Bullhead City (2) to Lake Havasu City (3), a distance of just 61 miles. We stayed at the Lake Havasu RV Resort, about 5 miles north of the downtown area. You'll recall that when we left Bullhead City, we didn't have a lot of brakes left in the motorhome. So our first order of business was to resolve that. A quick check confirmed our suspicions - we had almost no brake fluid. Another quick check under the rig showed no evidence of any catastrophic fluid leakage. We went to our friendly neighborhood "everything" store - WalMart - and bought a couple pints of brake fluid. Two pints weren't enough to fill the reservoirs, but two more did it. We had brakes again.
Lake Havasu City was pretty much created from nothing about 50 years ago by Robert McCulloch, the chainsaw magnate. It's most well known as the home of the London Bridge, which he bought when London didn't want it anymore and then reassembled in his new town. We'd been here a couple of times on day trips, but never spent any real time. Lake Havasu (the lake) is one of the many artificial lakes created as numerous dams were built to exploit the Colorado River. The lake is the big draw to the area, and water-based tourism is big. In the winter, there are lots of snowbirds about. In fact, as you drive south along the river to Parker Dam, about 30 miles south, there are many, many RV parks and encampments.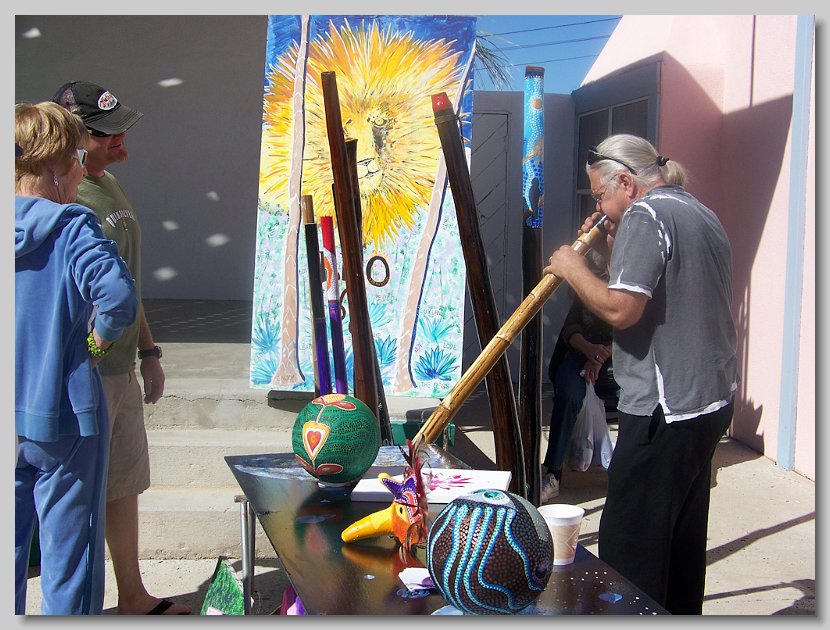 We found and enjoyed Waldo's BBQ. We saw and very much enjoyed "The King's Speech". We went to Winterfest, a big street fair that takes up most of the main drag downtown for a weekend. We rode our bikes about, and generally relaxed like retired folk do. We toured the small but excellent Lake Havasu Museum, where we discovered that there's a replica of the Umpqua River Lighthouse on the shores of the lake someplace we'd never find it. And we found that our Verizon internet access worked very well in Lake Havasu City, despite Verizon's coverage maps showing that it wouldn't.
As we were preparing to leave Lake Havasu, we first heard about the Winter Blast, which started the day after we left. Winter Blast is a gathering of all the fireworks people in the western part of the country, and for four or five nights, they shoot off their wares, both to impress potential customers and to show off to their competitors. And it's free to watch. Winter Blast could bring us back to Lake Havasu one of these winters. It sounds awesome.
On Feb 16, we hooked up and headed south to Yuma (4), about 150 miles. On the way we passed through Quartzsite, where thousands of RVs spend all or part of the winter, thanks to two huge RV areas managed by the BLM. It's said that everybody who RVs should spend at least some time around Quartzsite. We haven't yet.
We'd spent just two days in Yuma last year, so having a full two weeks to explore was great. We parked at the Desert Paradise RV Resort, about 7 miles east of downtown, where we got a supposedly special rate as 1000 Trails Members. We were checked into the park by a couple of folks from Eugene OR, and parked right next to a couple from The Dalles OR. Judging by the number of Oregon license plates about, we suspect there were not a lot of people left in Oregon in February.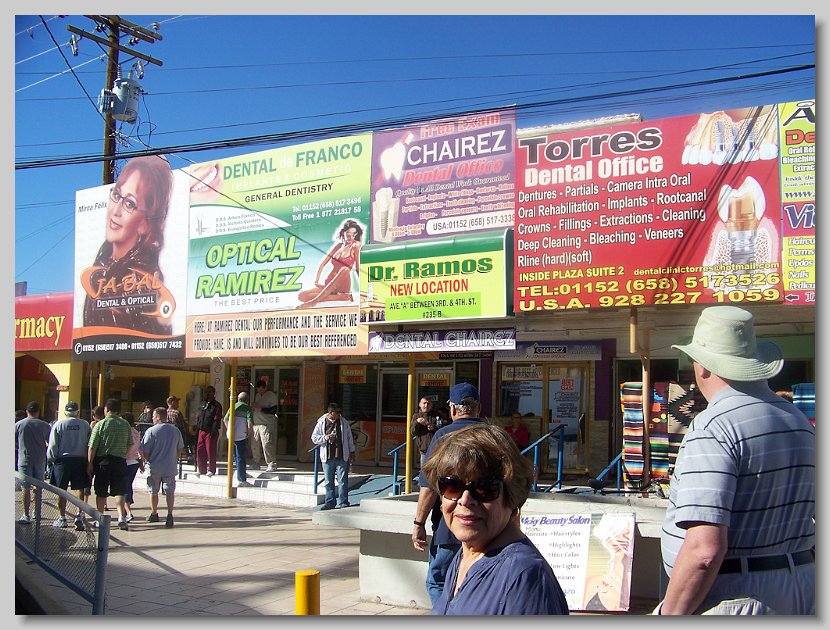 After settling in, we connected with friends Lynn and Terri Schreiner from Salem OR, meeting them for dinner at the Texas Roadhouse. And the next day, we met them again at the border crossing into Los Algodones, Mexico. Los Algodones is a medical tourism town, and the 4-block square tourist section is crammed to overflowing with dental clinics, eyeglass clinics and pharmacies. The spaces in between are filled with liquor stores and street vendors. We spent several hours wandering and shopping, the latter aided greatly by Terri's fluent Spanish. Judy negotiated a price on a new handbag that pleased her, although Terri thought she could have done better. We had a delightful lunch in an open-air cafe, and we bought some medications. Most non-narcotic drugs are available without prescription in Mexico, and we were able to buy some of ours for much, much less than the co-pay north of the border.
The next day, we had an earthquake. Actually, we just felt it - the quake itself was about 60 miles south near Guadalupe Mexico. It was a 5.1 and did almost no damage anywhere, but we rattled pretty good for about 20 seconds. Most of the RVs in the park emptied quickly as folks congregated in the streets and compared notes. There was a 4.5 aftershock the next day most people felt, but we were in the car at the time and missed it.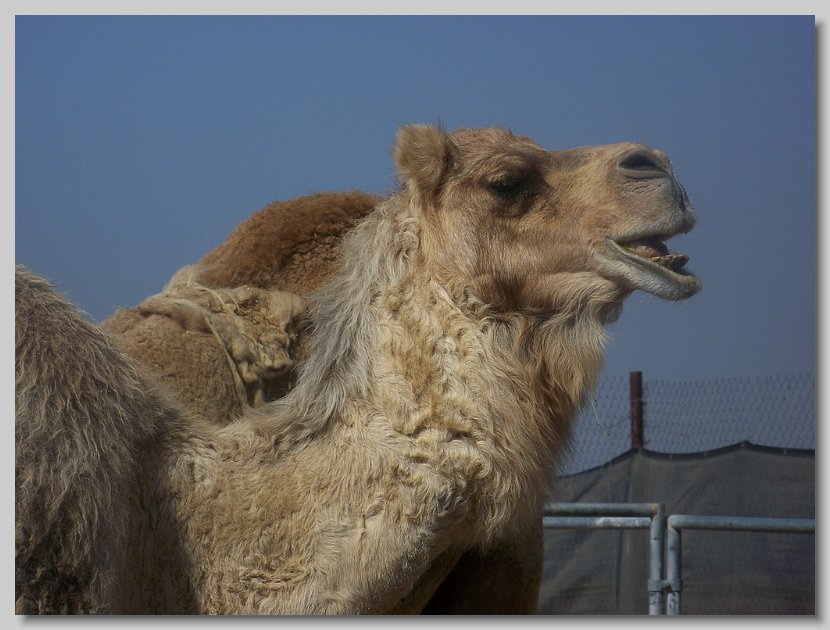 Yuma claims to have the best winter weather in the country, and we won't argue the point. The snowbirds outnumber the locals about 10 to 1. We made a couple of visits to the Arizona Marketplace, a 1200 vendor "flea market", where we bought some stuff. We visited some of the touristy places, including a Camel Ranch (mostly a petting zoo), the Peanut Patch (great fudge and all the local peanuts you could ever want), and Castle Dome, a reconstructed silver mining complex north of town. All were very enjoyable.
The Castle Dome Mining District is about 30 miles north of Yuma. It was, for a time, one of the most productive silver mining operations in the country. Today it's a tourist attraction, ghost town, and fascinating place to visit - nine miles up a dirt road, crossing the middle of the Army's Yuma Proving Grounds. On the day we were there, they had several folks in old west costumes wandering about being old westerners. Neat place, neat people. According to the guy who owns most of the place, there are still an estimated 700 million tons of silver-bearing deposits down there. Unfortunately, there are no silver smelters anywhere near, and it's not (yet) cost-effective to haul the stuff to a distant smelter.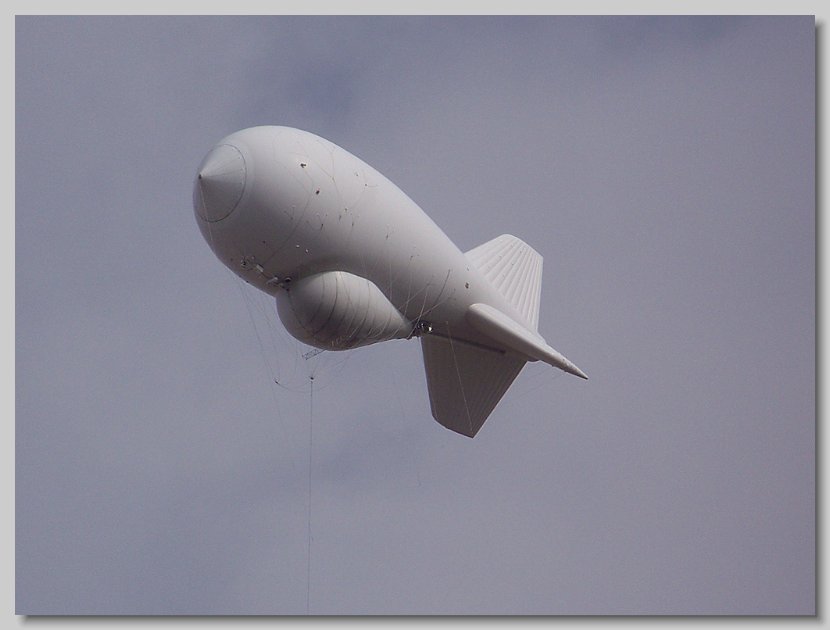 While driving the dirt road to the mining village, we spotted what looked like a blimp overhead. It's an Aerostat, one of a dozen high-tech balloons operated by the Feds to help spot illegal border crossers. The balloons are loaded with ultra-sensitive radar and other sensors. It's also speculated that there are very sensitive cameras in those balloons, but the Feds won't confirm (or deny) that. As we were returning from the mining district, the balloon was being brought down, presumably ahead of a storm front, so we got a much better view of it. Fascinating stuff.
Anyhow, we found Yuma a very enjoyable place to be. We weren't able to locate a church we'd be comfortable in, but we didn't look all that hard, and we were only there two weeks. Other than that, it's one of the contenders should we decide to spend more time someplace some winter.
About 75 pictures in our slide show this time. Check them out here.