June 1-28 - Roaming around the Midwest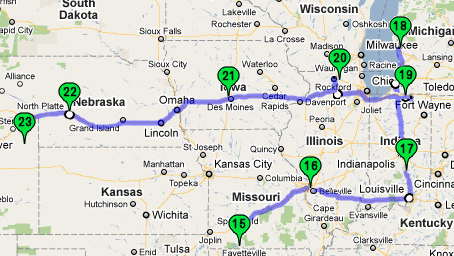 Lots to cover in this report. On June 1, we pulled out of Branson MO (15) bound for St Louis, where we intended to ride the lift to the top of the St Louis Arch. We didn't realize armadillos had moved as far north as Missouri - we saw a dead one about every mile as we crossed the state. It was a pretty uneventful drive until the last mile. About a mile from the Casino Queen RV Park in East St Louis IL (16) we heard a loud "pop" and the tire pressure alarm showed one of the RV tires rapidly losing pressure. We limped into the RV park with a blown tire - fortunately one of the rear duals - and once settled, called the Good Sam folks who sent a truck out to put on our spare.
Illinois requires that all casinos in the state be floating, and probably intended them to be riverboat casinos as you'll find in Iowa. Well, the Casino Queen does float - on a layer of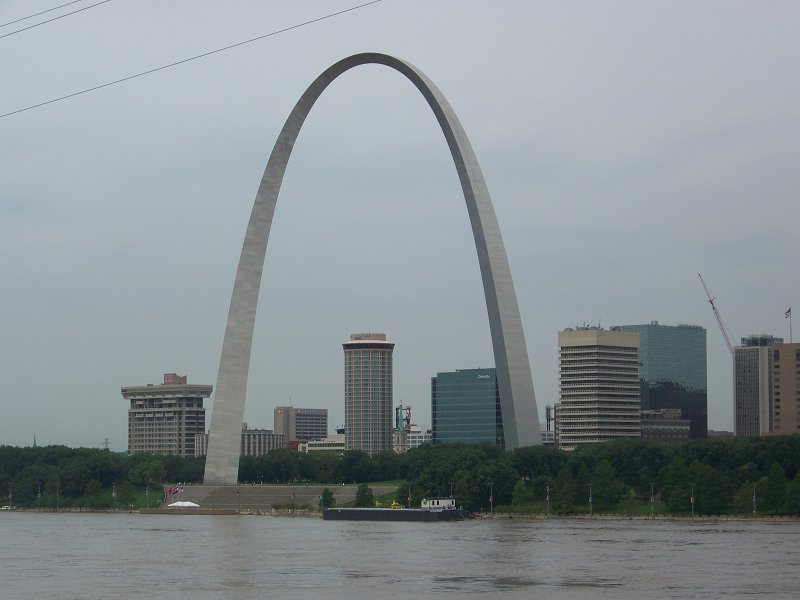 concrete poured on a layer of styrofoam floating in a 400' by 150' "swimming pool". Unless you knew, you couldn't tell. It floats on the Illinois side of the Mississippi River (which was almost flooding), across from the St Louis Arch. We rode the metrolink train across the river and then rode to the top of the arch for some spectacular views. Equally spectacular was the marvelous museum under the arch - actually underground - focusing on the Louisiana Purchase and the Lewis and Clark expedition, which started out in St Louis. The Gateway Arch itself is the centerpiece of the Jefferson National Expansion Memorial, stands 630ft high, and was opened to the public in 1957. The ride to the top is interesting - not particularly comfortable, but well worth it.
After 2 nights in St Louis, we headed east to Columbus IN (17) for a few days to visit the Piersons. As has become our custom,
we parked at the Ceraland Recreation Complex south of town. Downtown Columbus is home to the Columbus Commons, a city-owned roofed-over town square kind of place, with a performance hall, an extraordinary playground, some sculpture and space for a future restaurant. The old building had been torn down a few years ago, and the new facility was formally opened while we were there. The Pierson kids - Brian and Laura - both sang with the Columbus Indiana Children's Choir for the opening ceremonies of the new Commons structure, and we all returned the next day for an inaugural concert by a marvelous a cappella group named "Toxic Audio". They were much better than their name would imply. We went out for dinner a few times and generally hung around with the Piersons for 4 days.
On June 7, we headed north to Muskegon MI (18) for a week, the highlight of which was the wedding of niece Beth and her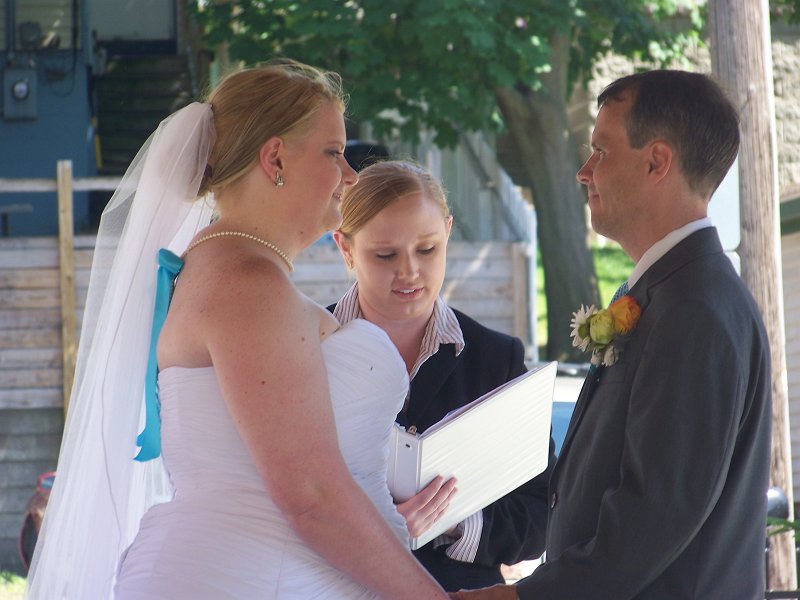 Mike. Just north of Indianapolis, we took a rock hit to the windshield that left a pretty good sized divot - something we figured we could get fixed in Michigan. We spent a week at the new (2yrs old) Duck Creek RV Resort just north of Muskegon. It's one of just a handful of US RV parks to get a perfect score from the folks who rate RV parks. We had a few meals with the sibs, enjoyed the wedding immensely, saw some relatives we hadn't seen in a long time, and tried to get our windshield fixed. Turned out it needed to be replaced, so we made arrangements for that to be done in Elkhart IN after we left Muskegon. One highlight of our week in Michigan was a visit with Al's aunt Marion, who had been hospitalized when we tried to visit her in Texas. Marion is the senor member of Al's mother's family, and a treasure trove of family history.
On June 14, we hooked up and headed for Elkhart IN (19) to get our windshield replaced. On the way out of town, we stopped to have our tires checked and shuffled, getting rid of the blown tire and getting the spare mounted on a good wheel. We'd never been to Elkhart, the RV capitol of the US. We parked for two nights in the side yard of Quality Glass, toured the RV Hall of Fame and Museum, did some shopping at an RV Surplus Parts store, and mostly hung out. We're grateful to Progressive Insurance and our agent in Portland OR for making the whole thing almost painless.
On June 16, we headed west, stopping for 6 nights at the Pine Country Outdoor Resort, a 1000 Trails park in Belvidere IL (20). Belvidere is an interesting town - home to a large Chrysler Motors plant that makes Jeeps, and decorated with some delightful murals. We had a couple of nights of interesting weather nearby, but we remained essentially unaffected.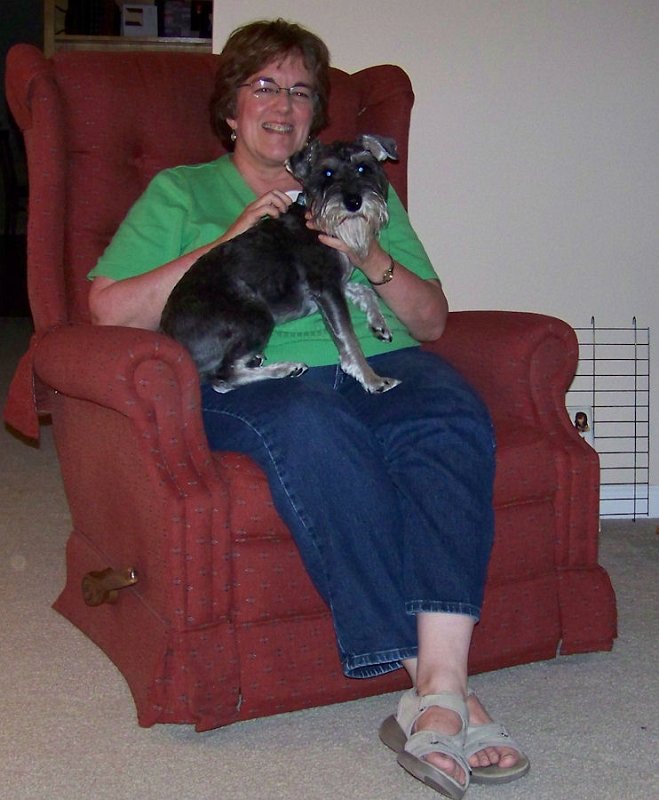 On June 22, we headed west, stopping overnight in Des Moines IA (21) and North Platte NE (22) before arriving in Yuma CO (23), where our friend Marcia Muir is the new pastor (since last September) of First Presbyterian Church. Yuma is an interesting town of about 3500 people in a county of about 10,000. 50 years ago, it was a farm town. Today it's an "agribusiness community". Yuma county is home to one of the largest beef feedlots (125,000 head) in the country and is consistently one of the top 5 corn producing counties in the country (to feed all those cattle). The town and First Pres both celebrated their 125th anniversary just before we arrived. The church has a couple hundred friendly members, and while everybody in town knows Marcia, she's still learning all of their names. Marcia has a new "man" in her life - a 15-month old miniature Schnauzer named Macintosh. Mac is a rescue dog from Kansas, and he and Marcia had been housemates for just 2 weeks when we arrived.
In four short days, Marcia introduced us to practically every restaurant in town. We took in a wonderful quilt show in the nearby town of Wray, and spent a delightful hour with Rick Chance, a cabinet maker with the soul of a musician. Rick builds autoharps and dulcimers, and he and Judy had a great time with each other's instruments. Rick's mother Margie is proud to be 82, and rides her bicycle to church on Sundays. Really neat folks.
And on June 28, we hooked up again and headed west to Estes Park CO for a gathering of friends. That's for our next report.
Only about 115 pictures in our slide show this time. Check them out here.