May 16 - June 1 - Little Rock AR & Branson MO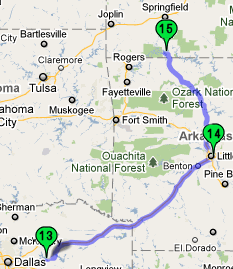 We left Texas hoping we'd be behind the spring tornado season in the Midwest. We weren't. As west coast kind of folks, we tend to forget the awesome power of these Midwest storms. We hope that if a bad one comes our way, we'll remember to hunker down instead of watching it.
The drive from Lake Tawakoni (13) to Little Rock (14) was about 269 miles, and we parked in a delightful city-owned RV park in North Little Rock for a week, directly across the Arkansas River from downtown Little Rock itself. The Downtown Riverside RV Park is right on the river - on the river side of the flood wall - and the views of the nighttime Little Rock skyline are spectacular. For the most part, the weather was good. We had one day of hard rain - almost 3 inches - and the next day the river rose 3ft, but still well below our "high but soggy" level.
Little Rock was named by the French "le Petite Rocher" for the small rock outcropping along the south bank of the Arkansas River, and it was translated into English after some of the early settlers started building homes and businesses on the high ground around the outcropping. There actually was a "Big Rock" on the north side of the river - le Rocher Francais (the French Rock) - but apparently it didn't appeal to the settlers as much.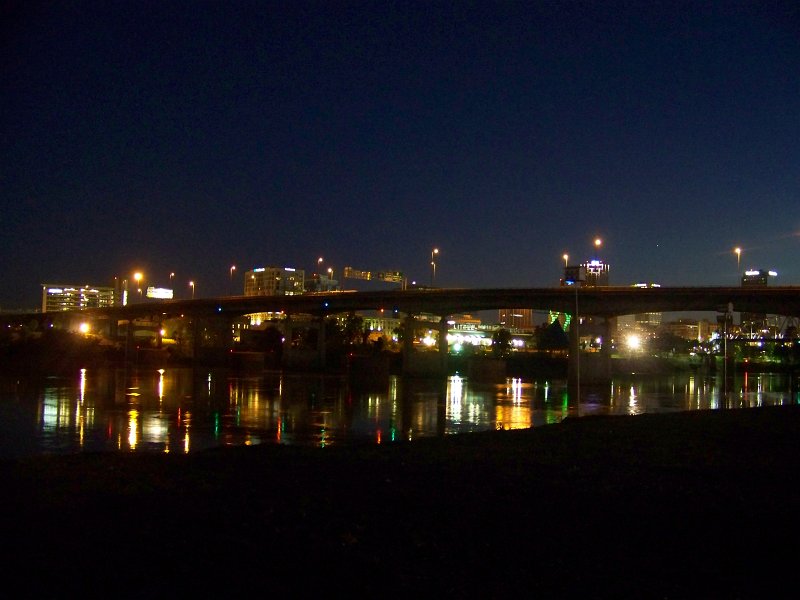 Downtown Little Rock has been undergoing a revival the last few years, sparked by the Clinton Presidential Library and Museum. The main tourist area of downtown is served by the Riverfront Trolley, which you can ride all day for $2. The trolley boarded just a couple blocks from our RV park, and we rode it two days, once to get an overview of what was available and once to visit the Clinton Museum. Two former railroad bridges across the river are being converted to pedestrian bridges, one of them adjacent to the RV park, and will make access to Downtown Little Rock even easier when completed.
We've been to half a dozen or so presidential libraries, and it seems like the more recent the presidency, the more the museum seems to be a big "See what I did!" experience. Clinton's being the most recent, it seemed the most blatant, although the elder Bush library in Texas wasn't far behind. This is the first Presidential library to include a full-size replica of the Oval Office - all the others are either partial
replicas or scaled down somewhat. The replica of the Cabinet Room contains touch-screen terminals at most of the seats that let visitors explore and interact with Cabinet Room type things. The main exhibit area contains eight alcoves, one for each year of the Clinton presidency, as well as many displays of artifacts and memorabilia. The name Monica Lewinski appears just once, in very small print, at the bottom of one display panel. We'd heard it was there and looked for it.
The main traveling exhibit at the Clinton Library was of the assorted art of Theodore Geisel, better known as Dr Seuss. Most delightful. A smaller exhibit featured the work of an artist who creates three-dimensional "portraits" of famous historical figures. Don't call these 18" tall highly detailed figures dolls or statuettes - they're much more than that. There was a school tour of 5th or 6th graders going through, and all that detail was pretty much lost on them.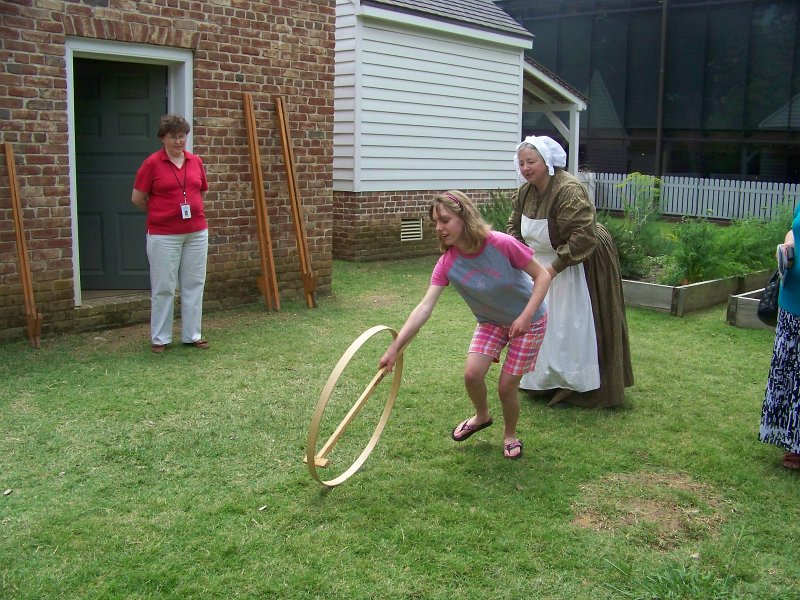 The Historic Arkansas Museum in downtown Little Rock is free, except for a $2 charge if you want a guided tour of the historical village on the site (we did). Their big traveling exhibit was of "Gone With The Wind" memorabilia, accompanied by an exhibit comparing the movie version of the Civil War with reality. Very interesting.
When we arrived at the RV park, we asked if there was one restaurant we shouldn't miss while we were there. The recommendation was the Riverfront Steakhouse at the Wyndham Hotel. They even had a two-for-one entree offer. The food was outstanding - quite possibly the best steaks we've ever eaten. And with the two-fer, the final cost was almost affordable. We ate a lot of fast food the rest of the week to try to balance the budget.
After a week in the Little Rock area, and having survived assorted storms and predicted raptures, we headed north to Branson MO (15), about 175 miles. This was the day after that monster tornado chewed through Joplin MO, which is only about 100 miles west of Branson. We had good weather for the drive, with some light rain the last 30-40 miles. The light rain was accompanied by some spectacular lightning. After setting up in Branson, we had light rain the rest of the day, and the sound of thunder was almost continuous until we went to bed. The lightning was very impressive.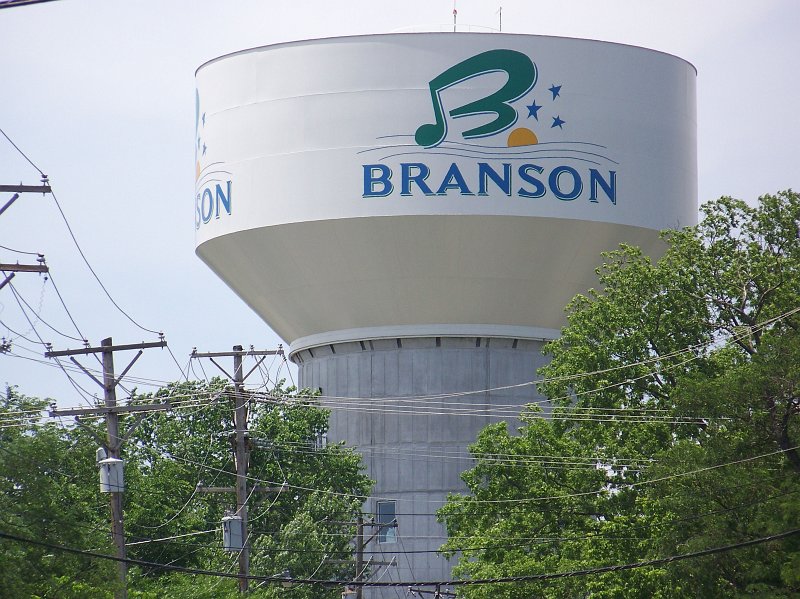 Branson's an interesting town. The latest census puts the permanent population at just over 10,000. The Chamber of Commerce says there are over 22,000 "tourist lodging units" in the city. There are over 50 performance venues hosting over 100 shows at any given time. There are dozens of attractions, ranging from a half-size replica of the front half of the Titanic to the requisite water slides and go kart tracks. There must be 150 places to eat, not counting the fudge shops. There's almost no level ground in the whole town - it is the Ozarks, after all. We set about reading up on what was happening in Branson (a lot) and figuring out what we wanted to see and do. On recommendation of the RV park's owners, we went to Danna's BBQ and Burgers, just up the street. Huge servings, wonderful food, and we brought home a bunch for future mastication.
Tuesday dawned bright and sunny, and after Judy went to the local Curves for her workout, we ordered some show tickets, did a little shopping, indulged in our first Culver's meal since leaving Arizona, and helped supervise the folks who were repairing and filling the park's swimming pool. And in late afternoon we started hearing about the tornados that were grinding through Oklahoma City, so we watched the TV coverage of that for a couple of hours - Oklahoma City isn't all that far from Branson. Checking the internet, we were able to see that the storms weren't likely to get to Branson, but we double-checked the weather radio to be safe. About 1am, the radio went off with a severe thunderstorm warning and the rains started. It rained about half an hour, along with some really spectacular lightning, and then it stopped. Found out in the morning we'd had about 1.3 inches of rain in that half hour. Helped fill the pool, it did. We continue to be impressed by the awesome power that nature can unleash in these Midwest thunderstorms.
Side note: If you're into weather watching, wunderground.com has a feature called the WunderMap, which lets you see all kinds of weather info overlaid on a Google map, which you can zoom in or out as you want. It updates every minute or so, and really shows what's happening. And weather.com has a neat new map feature that attempts to predict what the radar will show over the next six hours. It's been pretty accurate the times we've used it, giving us a good idea of when the rain would start or stop. It's wasn't spot on about whether we'd have gotten all that rain Tuesday night, but it was close.
In 2006, our first major motorhome trip brought us to Branson over the Memorial Day Weekend, and we chose to stay again at the same RV Park, Ozark Country Campground, on the southwest side of town, through this Memorial Day Weekend. It's an odd feeling to stop and realize how many places we are familiar enough with to know our way around. Branson is getting to be one of those places. Despite the fact that it's a totally unreal place, we feel comfortable here. In a way, that's kind of scary.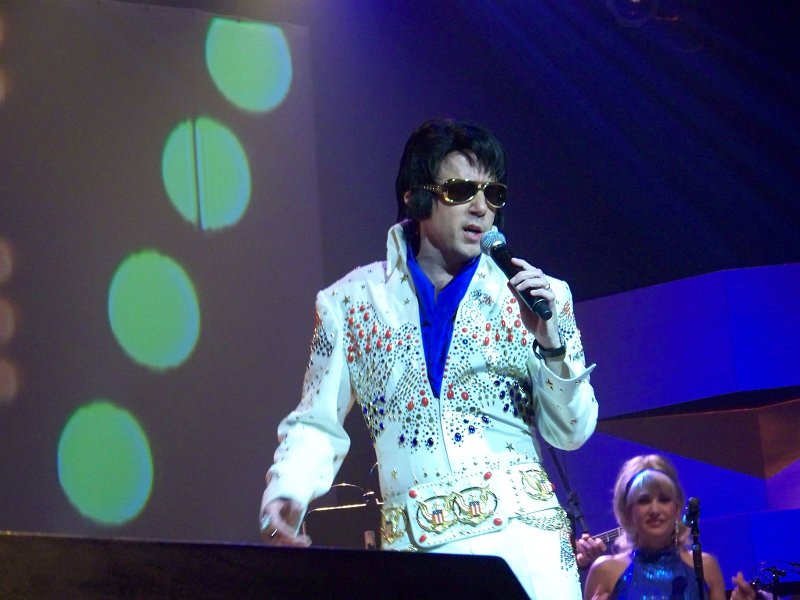 You can't come to Branson and not see shows. The challenge is which shows to see. There are over 100 shows of every kind. The biggest category are the tribute shows - people doing their interpretations of people you may have heard of. Elvis tops the list (at least 5 shows). There are shows featuring people paying tribute to folks no longer alive (John Denver, Roy Rogers, Patsy Cline, Red Skelton), people doing impressions of people still alive (Garth Brooks, George Strait, Merle Haggard, The Eagles) and living people who look like they could be dead (The Oak Ridge Boys). Then there are magicians, ventriloquists, acrobats, hillbilly comedies, musical reviews, tenors (Redneck, Texas, and 12 Irish), and buffalo stampedes. There's a kung fu musical, the Osmond Brothers and Yakov Smirnoff. There are things that make you wonder (a huge plastic King Kong clinging to a smallish skyscraper, the "world's largest 5 and dime store"). There's country, gospel, cowboy, rock 'n' roll and the Rat Pack. There's Andy Williams. Branson is kind of like Las Vegas with root beer instead of martinis.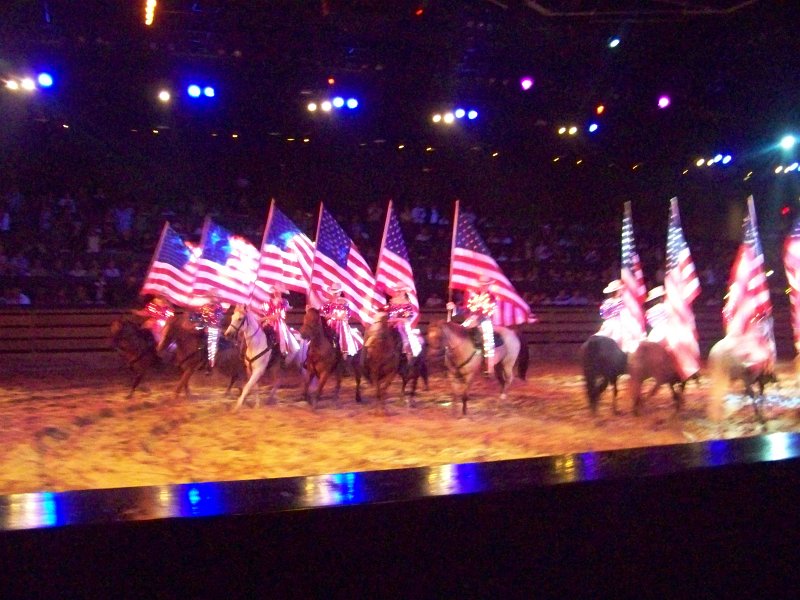 Trying to stay within budget, we picked three shows that came highly recommended, and saw them all before the holiday crowds arrived. "Six!" is a six person a capella vocal group, all brothers, making amazing music. Dolly Parton's Dixie Stampede Dinner Show is a modern day Buffalo Bill Wild West Show with fried chicken, and a lot of fun. Dolly makes her appearance toward the end of the show on a 40ft projection screen, which is almost big enough for her. And the Rankin Brothers are two guys who do impressions of practically every 50's rock singer or group you've ever heard of (including yet another Elvis), plus country and gospel stuff. And just before we left town, we added in a magic show - Kirby VanBurch, reputed (if you believe the ads) to be one of the best magicians in the history of mankind. His show was, in fact, very good - NO photography allowed - rats!
We'd heard the Branson economy was hurting this spring - a combination of some flooding, those tornadoes, high gas prices and the economy in general. We didn't see a full house at any of the shows we attended. We didn't have a wait at any of the restaurants we patronized. Our campground never did fill up, even over Memorial Day weekend. Five years ago, it took us 45 minutes to drive the 6 miles from the RV park to church. This year it took just 20 minutes to make the same drive. The only traffic jam we encountered was after our first show when 3 theaters in the same block simultaneously discharged their customers onto the main drag. We were still home in 15 minutes.
We spent 9 days in Branson before heading northeast to the St Louis area and beyond. That's for our next report.
There are about 80 pictures in our slide show this time. Check them out here.