June 28 - July 7 - Estes Park CO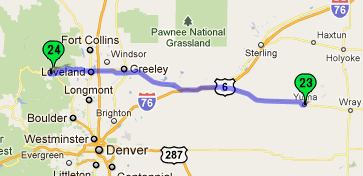 Several months ago, we learned that the Piersons from Indiana had an opportunity to spend a week at a family retreat at the Presbyterian Church's national retreat center at Ghost Ranch NM. From there, they'd be heading to Estes Park CO to spend a few days with Wes & Vendy Lockard, and suggested that we meet them all in Estes Park. Sounded good to us. On June 28, we drove the 163 miles from Yuma CO to Estes Park, and settled in at The Heritage, Wes & Vendy's wonderful Estes Park retreat adjacent to Rocky Mountain National Park.
We've been to a lot of tourist towns, and Estes Park is one that does it right. They seem to have the right mix of touristy stores and resident services. Plus all that wonderful scenery! When we were here two years ao, the park was not yet open for the
season, so we naturally wanted to go into the park. Since Wes & Vendy need no excuses to do just that, we all spent a delightful day, including sightings of two (yes, two) moose(s). We'd not seen a moose in the wild for almost 20 years, so it was a big deal for us. The scenery in the park is, of course, spectacular, and the higher reaches still offered plenty of snow.
We were joined after a day or two by Ron & Nancy Krantz, who evacuated from the Los Alamos NM area because of a massive wildfire. Ron is Wes's cousin, and an avid golfer. The six of us enjoyed an outing at one of the local miniature golf courses, where the Aslaksons finished dead last. But Judy got a hole in one on the 19th hole - the ball return hole - and won a free round of golf.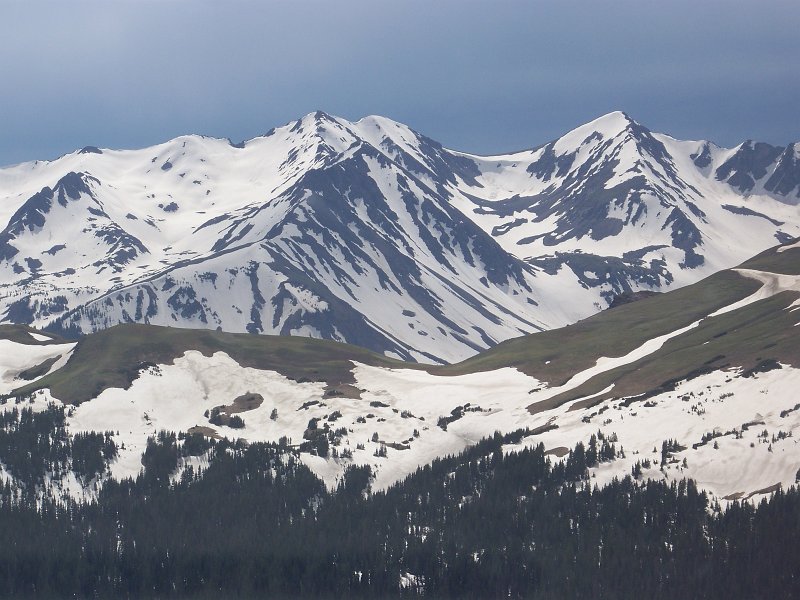 On July 3, the Piersons arrived, having driven all the way from New Mexico in one day. Joyous reunions followed. On the 4th, Al, Wes and Luther went downtown to a big car show, then everybody gathered back at the house for a cookout. The evening fireworks were spectacular, and we had a prime vantage point - Wes & Vendy's front porch.
Over the next few days, we socialized a bunch, ate out a few times, played some games, did another round of putt-putt golf, did some touristing, and on Thursday the 7th, the Piersons headed for home . . . and a few hours later, we headed for Rapid City SD. 'Twas a wonderful long week filled with lots of warm fuzzies.
Judy's culled about 100 from the more than 700 images taken by the Lockards, the Piersons and us. You can see them in our slideshow for this leg of our life. Just click here.