July 30 - Aug 18 - Wyoming Part 1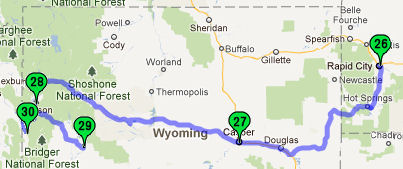 We've not spent much time in Wyoming. We've probably still just skimmed the surface, but this summer we've spent more than a month in the Cowboy State. Wyoming has fewer people than any other US state, and they're pretty well scattered - the biggest city is Cheyenne, with a population of just over 60,000.
A few months ago, we got an email about an RV Rally centered around the Grand Teton Music Festival at Jackson Hole. But it was really spendy - $1800 for a four day event. But it got us thinking, and we started investigating. We wound up assembling our own Music Festival package the week before the RV rally, and we think we got better music while saving a bunch of money. It was still spendy - this is Jackson Hole we're talking about - but we had a spectacularly wonderful time. So our month of August pretty much grew out of our 5 nights in Jackson Hole and a different, less spendy RV rally we attended over Labor Day weekend in Gillette WY.
On July 30, we pulled out of Rapid City (26) and headed into Wyoming. First stop, the Fort Caspar Campground at Casper WY (27), where we spent a quiet Saturday night. Casper's an oil town, and practically every business we saw was somehow connected to the oil business. Next morning, we headed across Wyoming toward Jackson (28), expecting an easy drive. And for the most part, it was, until we crested the Owl Creek Mountains and started down toward the Snake RIver Valley. It would have been OK if it had just been raining. It would have been OK if it had just been 15 miles of unpaved highway through the construction. But the combination of driving rain and muddy unpaved road was a strain. The Harley rider ahead of us wasn't having a good time, either. We made it, but we're still finding places where the mud invaded.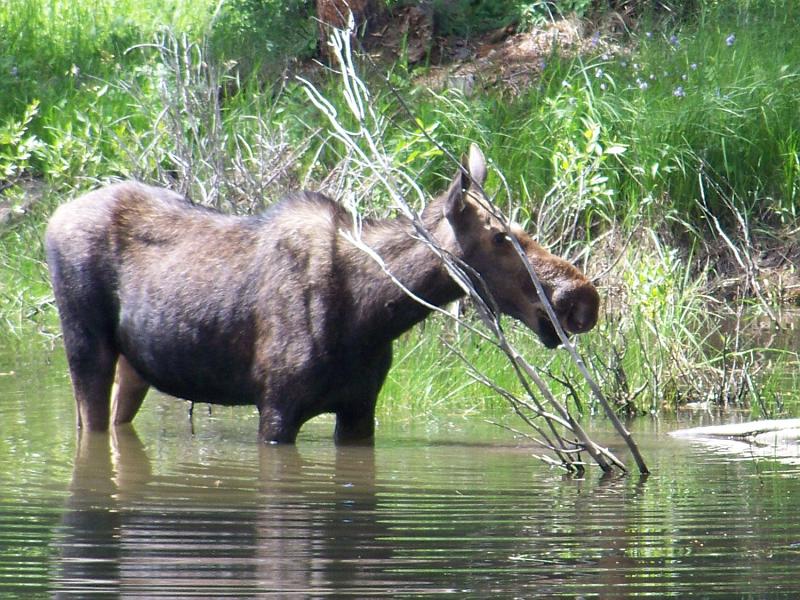 The Jackson Hole Campground is half-way between the city of Jackson and Teton Village, the ski resort where the music festival is held. The spaces are tight, there are lots of trees, the Verizon signal is iffy, and the rates are as high as the mountains. We liked it. And since the music festival activities were all at night, we had our days free to enjoy Jackson and Grand Teton Nat'l Park. Remember those two moose we saw in the Rocky Mountain Nat'l Park? We saw two more here, including a magnificent bull moose. And we probably saw dozens of osprey. There were several nesting sites within a few miles of the RV park, and most of them had fledglings just getting ready to fly.
Grand Teton Nat'l Park is all about scenery, and it is truly spectacular scenery. If you've been following our travels for a while, you've seen our previous pictures of the Tetons. Well, we have more. We couldn't help ourselves.
We spent one rainy afternoon at the wonderful National Museum of Wildlife Art, a world-class facility with an amazing collection of art, all about wildlife. The featured show was entitled "Yellowstone to the Yukon", and featured paintings and sculpture of the wildlife in that area. If you're ever in Jackson, be sure to include this museum on your agenda.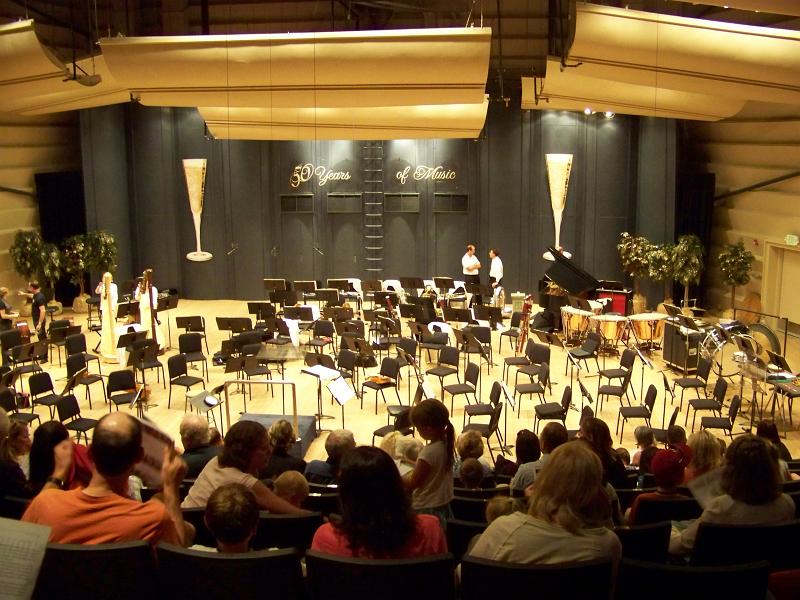 Like most summer music festivals, the Grand Teton festival fills it's orchestra with members of other orchestras. And as it's a seven week festival, and as Jackson is well heeled, they get some pretty good musicians. We saw players from the Metropolitan Opera Orchestra, the Philadelphia Orchestra, and the National Symphony Orchestra, to name just a few. We saw many music professors from major colleges and universities. There are at least 25 members of the orchestra who've been coming for at least 25 years. They make pretty good music together. The guest artists that led us to pick this week was the Los Angeles Guitar Quartet (LAGQ), a marvelously talented group.
We attended three concerts of the Music Festival - a children's concert featuring a narrated performance of Stravinsky's Firebird Suite, complete with dancers, but unfortunately marred by about a dozen small children who started screaming at the first loud orchestral sounds; a full concert by the LAGQ that was every bit as good as we'd hoped; and a chamber music evening called "Musicians' Choice", where various members of the orchestra perform selected works in small groups of 2 or 3 performers. And just for contrast, and because we like it, we went to a chuckwagon supper and cowboy music show at the Bar J Ranch. And of course, we found plenty of other opportunities to eat - the Mangy Moose and Bubba's BBQ top our list for this trip. We'll have to figure out how to spend more time in Jackson Hole. It's a neat place.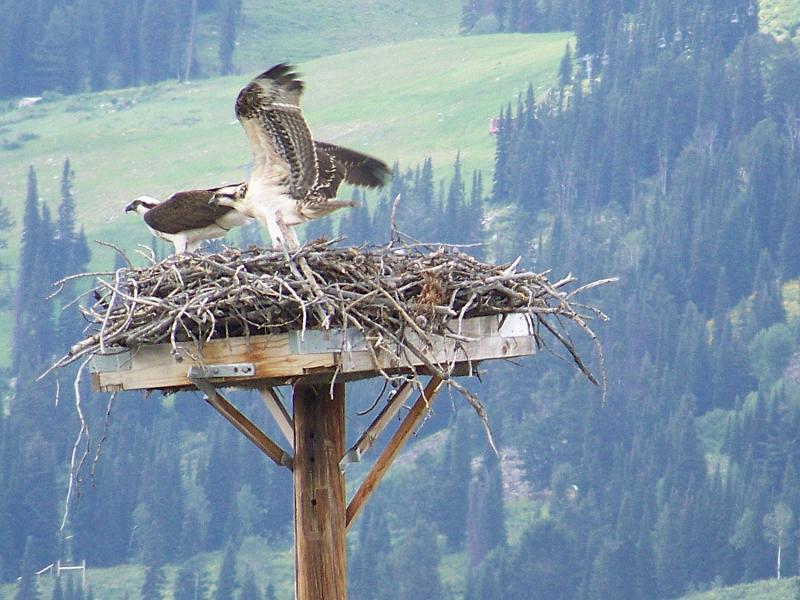 Feeling the need to decompress and be more economical for a while, our next stop was the Wind River View RV Park near Boulder WY (29), about 100 miles south of Jackson. Boulder is a very small town - the gas station is also the restaurant, saloon, motel and local trading post. 10 miles north, however, is Pinedale, which has actual stores and residences. This is the Green River Valley, and there's a bunch of history hereabouts we'd never heard before. Pinedale is home to the Museum of the Mountain Men, because the Green River Valley was pretty much the center of the beaver pelt trade that spawned the Mountain Men, and fueled the beaver felt top hat fad of the early 1800's.
We'd heard of some of the mountain men - Jim Bridger and Jedediah Smith. But we know a lot more now. The mountain man era lasted less than 20 years, when the fashions changed and silk hats became the new fad. But were it not for that beaver trade, there never would have been an Astoria OR, many of the trails that later became the Oregon Trail wouldn't have been blazed as early, and there'd probably be a whole lot more beavers in Wyoming these days. Today the Green River Valley is home to one of the most productive natural gas fields in the country. The Jonah field will have more than 400 wells when it's matured; estimates are over 10.5 trillion cubic feet of natural gas down there. And there are a couple of other gas fields as well. There are archeological sites with remnants of settlements almost 12,000 years old. And there's also the Wind River Pizza and Pasta Company in Pinedale, which makes truly fine pizza.
A day or so after we arrived, we met Tom and Brenda Bullock from Shreveport LA when they parked in the site next to ours. Tom's an avid fly fisherman, Brenda's a music teacher by training and has been church organist and pianist "forever" back home. They came north so Tom can terrorize the trout, at which he's been quite successful. Being as he's a catch-and-release kind of guy, we'll have to take his word for it, of course. Neat folks.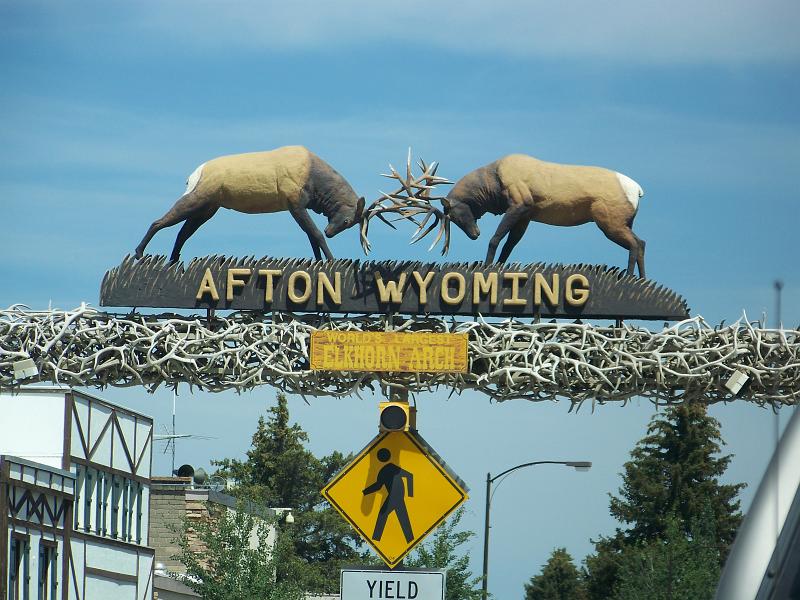 From Boulder, it's about 112 miles to the Star Valley Ranch (30), in the Star Valley (duh!), which runs along Wyoming's western border. Originally named the Salt River Valley for the river that runs through it, the name got changed 150 or so years ago, and nobody can remember why. We spent a week at the Star Valley Ranch four years ago, when it was our base for visiting Jackson Hole. This time we pretty much kicked back. One day we drove the 80+ miles to Idaho Falls ID to patronize the big box stores and stock up on stuff. Mostly we hung around the rv park, rode our bikes some, and worked on these reports. And a day or two after we arrived, Tom & Brenda pulled in up the street, and were joined by some friends - Gary, Jane and Rusty in a second rig. We had a couple of nice visits.
We like the Star Valley Ranch. It's a 40+ year old golfing community, with three golf courses, about 800 RV sites (most of them owned by residents), and a generally positive and friendly attitude. Nearby Thayne WY has the Star Valley United Church, a thriving Presbyterian-Luthern church (in alternate weeks, it's a Lutheran-Presbyterian church). As we'd been 4 years since our last visit, we were treated as first-time visitors and given the traditional welcoming jar of jam, which Judy has been enjoying ever since. We also ate twice at Tootsie's, where the New York style pizza is just as good as it was four years ago. And we drove north a few miles to Alpine WY and over-ate at the Cheeseburger Factory, where the cholesterol drips from the rafters.
Only about 70 pictures in our slide show this time. Check them out here.