Aug 18 - Sept 6 - Wyoming Part 2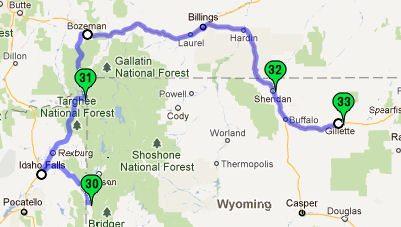 Our August in Wyoming continues . . . .
From Star Valley (30), it's about 175 miles to West Yellowstone MT (31). We drove up the "back side" of the Grand Tetons, following the Snake River almost to Idaho Falls before heading north to Montana. We were impressed by the huge numbers of nesting osprey along the Snake. There must be a nesting pole every mile or so, and we saw birds in almost every one. Ospreys are apparently doing very well hereabouts.
We've always stayed at the Yellowstone Grizzly RV Park in West Yellowstone. It's the nicest RV park in the area, and also the spendiest, but it's extraordinarily convenient. We noticed what seemed to be an inordinate number of huge luxury motorcoaches rolling into the park. Turns out the park was hosting a week-long "Buses and Bikes" rally for those big buses driven by folks who also have motorcycles. We counted 51 of those really big rigs. Must have been at least $30 million worth of big buses. We feel so puny and so poor . . . . The day after we arrived, Tom and Brenda Bullock and their entourage arrived from Star Valley, staying at a smaller RV park up the street. We connected a couple of times before we moved on.
Yellowstone has to be our favorite National Park - at least so far. We love the wildlife and the diverse landscapes. Until this year, we'd only been able to spot four of the park's "Big 5" animals - Bison, Elk, Moose, and Bear - but no wolf. We really wanted to see wolf this visit. Our first two days in the park, we saw very little wildlife of any kind. A couple of bald eagles, a handful of elk, a couple of mule deer, and a bison or two way off in the distance. We've never been to Yellowstone this late in the year, so we didn't really know what to expect. Our third day in the park, we headed up into the Lamar Valley, in the
northeast quadrant of the park. And we found bison! At least 1000 of them. It's breeding season, so the bison weren't paying a lot of attention to us. They wandered back and forth across the highway, the bulls staying very close to their chosen cows, the cows looking completely disinterested. We took way too many pictures of bison. And then, as we reached the northern end of the valley and were about to turn around, we encountered another traffic jam, and spotted what looked like a black bear wandering away from the bison herd. A second glance confirmed this was no bear - we'd found our wolf! It was a couple hundred yards away, and we managed to get a couple reasonably focused pictures (and a lot of badly focused ones) before he dropped into a gully and was out of sight. Pretty much made our day and our week. (We know it's a "he" - young males are often exiled from their parent's pack when they reach breeding age, and wander around solo until they can steal a mate and start their own pack.)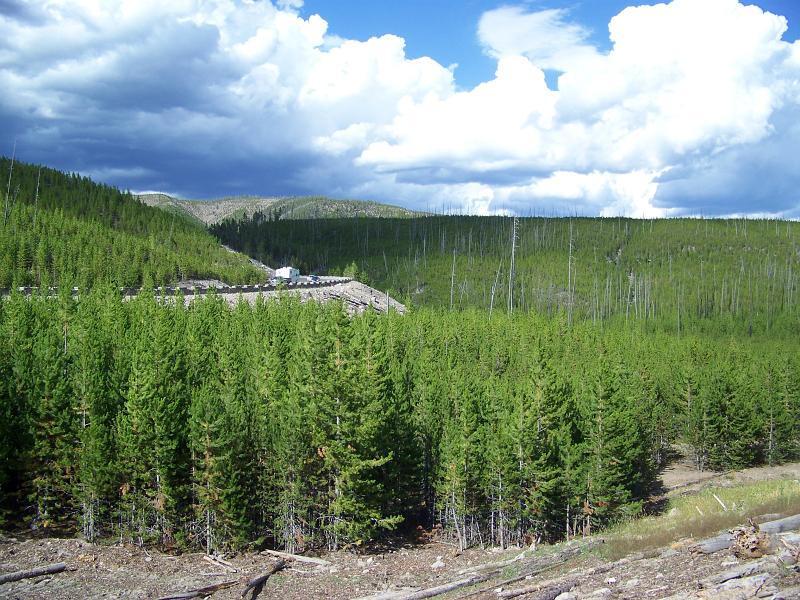 The big wildfires of 1988 burned over a third of Yellowstone Park, and for many years the scars were very evident. The cones of the lodgepole pine, Yellowstone's predominant tree, will only open and release seeds after intense heat, such as a wildfire, so the park essentially reseeded itself. This year the number of new trees really made an impression on us - there must be millions of 23yr old pine trees covering the burned areas. Yellowstone is exceedingly green this summer, and the new growth is very dense. Presumably as the trees mature they'll thin themselves, but right now the new forests look impenetrable.
We've posted a zillion Yellowstone pictures over the years, so we'll try to restrain ourselves this time. Yeah, right . . .
From West Yellowstone, we made it a two-day drive east to Gillette WY (33) for the 2011 Escapade, an annual gathering of the Escapees RV Club. We'd not been to any Escapees event, despite being members for a couple of years now. We overnighted en route at Peter D's RV Park in Sheridan WY (32), a very convenient place to spend the night. We like Peter D's - they have a great attitude. As it says on their website - Peter D's RV Park has nutritional value. If you don't stay here, Pete don't eat. Somehow, they'd messed up our reservation, but fortunately had a spot for us - one of two still left before they completely filled up. We overate at the local Wyoming Rib and Chop House and wandered around downtown some enjoying the many sculptures scattered about the streets.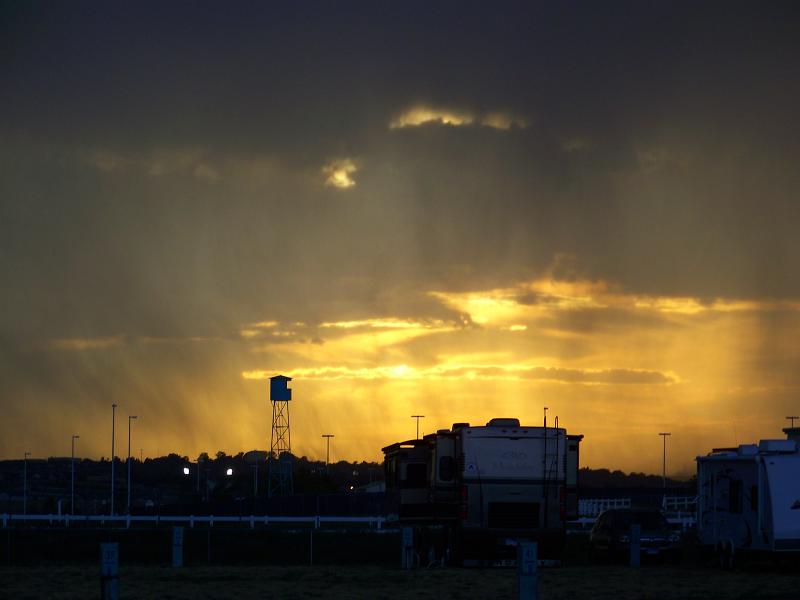 We arrived early and stayed late for the Escapade, as the on-site parking was relatively inexpensive, and we've learned that you pretty much need to have someplace organized to park over a holiday weekend. So while the rally itself lasted just 6 days (8/28-9/2), we parked at the Gillette fairgrounds for 11 nights (8/26-9/6). The official attendance was almost 700 RVs and just under 1300 people. The Cam-Plex in Gillette is a combination fair grounds and exposition center, and somebody had the foresight to install about 1200 RV sites, which we all used to good advantage. The main building, which housed most of the workshops, the main exhibit hall and a performance venue, can be opened up into an ice rink. Or, as a concert venue, it can seat upwards of 9,000 people. It's a well-used place - as our event ended, three more moved in.
Gillette's an interesting, relatively prosperous town - about 30,000 people with a median income of almost $80,000 per household. It's an energy town, thanks to some very big low sulfur coal mines, numerous oil wells, and even some methane wells.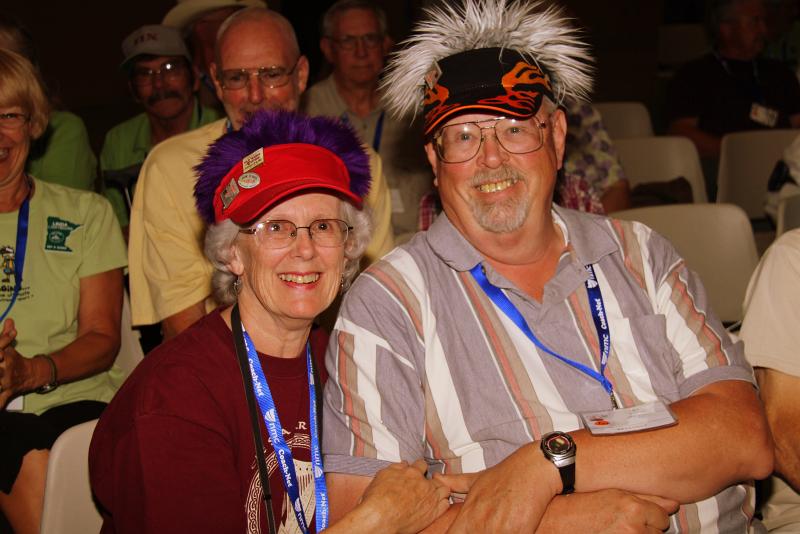 We've never been to any event of the Escapees RV Club, so this was our baptism, so to speak. Escapees are very friendly folks, and the club itself seems a little less commercial than some of the others. We went to a few seminars, Judy took some line dancing classes, we went to most of the nightly entertainment, and took advantage of the gathering of RV vendors to pick up a few things and have some minor work done. We sold a few spare things to folks who could use them, lightening our load somewhat.
While we were at the Rally, the Blue Ox people, who make the auxiliary braking unit we use, decided they needed to replace it with a new one. We arranged with the Cam-Plex office to accept the delivery, as it would arrive after the rally ended. And when it arrived, they refused it! Called them up to see what happened, and they said they didn't have any paperwork, so they refused it. As the FedEx guy was going to try again, we offered to bring them paperwork. Not necessary, they said, we have our notes now and we'll get it for you. So when the FedEx guy came back 2 hours later, they refused it again! We then went to the local FedEx office, where they were very familiar with our situation. We gave our phone number to the FedEx driver, and then met him at the end of his shift to retrieve our packages. Interesting way to kill a day. Sheesh!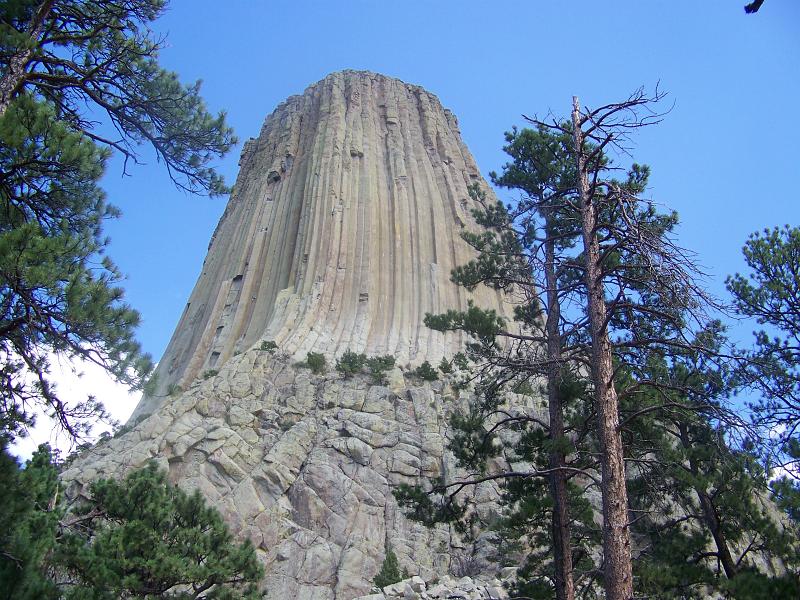 After the rally officially ended, we made a day trip to the Devils Tower National Monument, about 60 miles away, and had our own close encounter with the big rock. We even managed to walk the 1.3 mile trail completely around the tower, some of us more energetically than others. Devils Tower is impressive, rising at it does nearly 700 ft from relatively flat plains. 50 million years ago, it was the solidified granite lava that plugged a volcano, and was a couple hundred feet below ground level. Over the years, erosion and river action washed away everything else, leaving just this big rock. It has special meaning to the Native Americans hereabouts, and every year in July the hiking trails in the park are closed to the public so the Native Americans can have their religious ceremonies.
After restocking some of our supplies to take advantage of the low sales tax rate, on Sept 6 we hooked up and pulled out, heading south.
There are about 125 pictures (culled from over 800) in our slide show this time. Yeah, we know. Check them out anyway here.