Sept 6 - 21 - Colorado Springs Area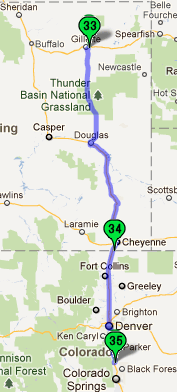 On the day after Labor Day, we pulled out of the CamPlex grounds in Gillette WY (33) and headed south. We topped off our fuel tank as we left Gillette, and by mid-afternoon were set up for the night at the Terry Bison Ranch (34), just south of Cheyenne. We never saw any actual bison at the ranch, but did see a few camels and what was purported to be the world's oldest buffalo chip. While in Cheyenne, we did a little shopping at the local Sam's Club and enjoyed a dinner at the Texas Roadhouse. And then the skies open up and it rained. Hard. Fortunately, it had pretty much stopped by the time we had to pack up the next morning. Timing our departure to make sure we avoided any Denver rush hour traffic, we continued south to the Colorado Heights RV Resort at Monument CO (35), a few miles north of Colorado Springs.
We'd never spent more than an overnight in the Colorado Springs area, and with two weeks, we figured we could at least hit the high spots. The highest spot we did hit was the top of Pikes Peak, riding the Pikes Peak Cog Railroad up to 14,110 ft. Quite a view, and we endured well, considering we were 4000 feet higher than the level at which airplanes need to be pressurized so people can continue breathing.
We visited the Garden of the Gods Park a couple of times, being as it was free and also along the route we took to other places. A city park, the Garden of the Gods is best known for the spectacular red sandstone formations. The hidden treasure is the Garden's Trading Post near the south entrance, some of it dating back well over 100 years. It's been expanded and modernized several times, and along with the usual touristy stuff contains a wonderful gallery of jewelry and regional art. We restrained ourselves, although Judy did buy several packages of herbal tea flavored with various forms of chocolate.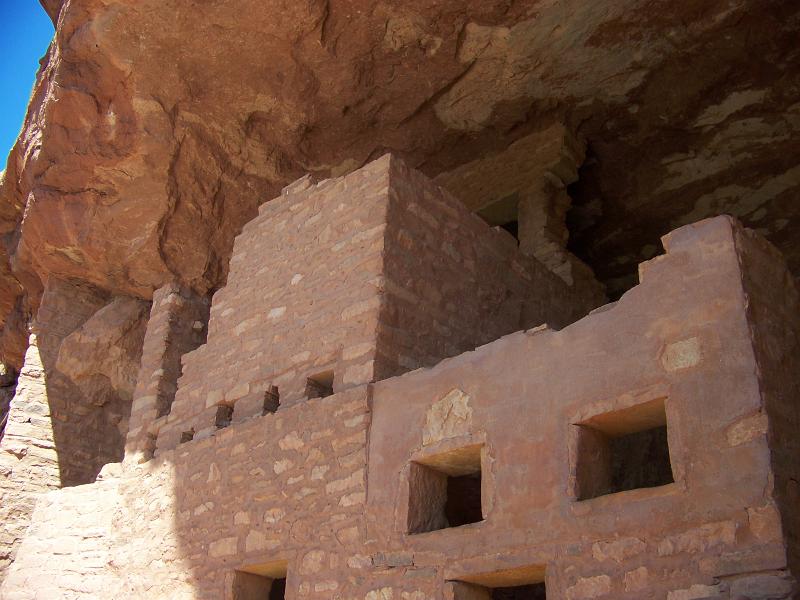 We happened upon the Manitou Cliff Dwellings - some reconstructed (or maybe fabricated) Indian cliff dwellings. Seems that in the 1890s, somebody went down to the Four Corners area and came back with several wagon loads of pieces of old Indian cliff dwellings. From those pieces, they then built some cliff dwellings under a natural sandstone cliff outside Manitou. So - is it real or is it fake? Yes. But it's also a reasonably accurate depiction of the kinds of authentic cliff dwellings we've seen. And it's been in operation for almost 125 years. Despite our initial misgivings, it's really a very nice place with a wonderful museum containing many interesting and authentic relics.
We made a couple of trips to the gold mining region of Victor and Cripple Creek. Judy's dad was born in Victor CO back in 1902, and we thought it might be fun to see if we could find where he was born. Victor was a thriving gold mining town of about 20,000 people at the beginning of the 20th century. Judy's grandfather was a gold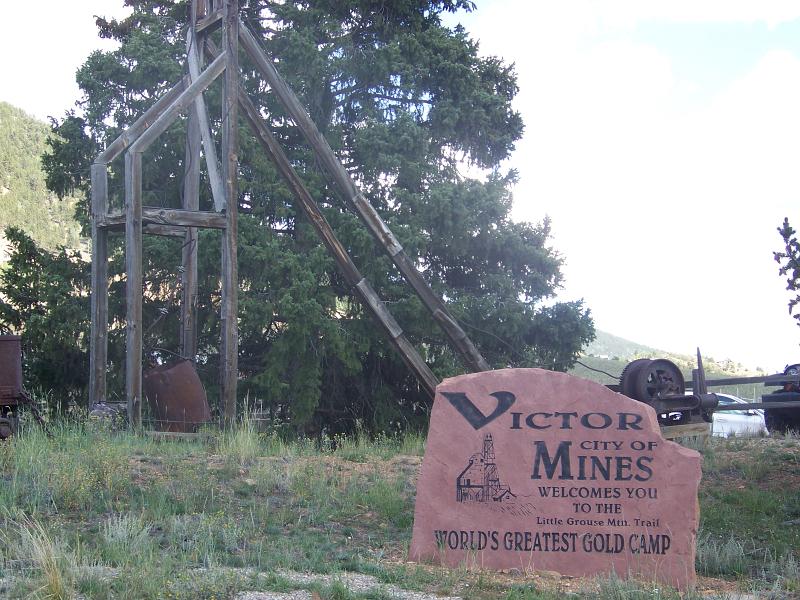 miner. The person manning the visitor center in Victor suggested we visit the historical museum in Cripple Creek, where they had copies of old city directories for Victor. And we did, after first stopping at one of the Victor bordellos, now an ice cream shop. In Cripple Creek, we were able to look at both the 1902 and 1904 Victor city directories and found the address of Alex Larson, Judy's grandfather.
A couple days later, we returned to Victor and found the street and where the address would have been. It's now an empty space between two houses, but we took some pictures anyway. We were quite pleased with ourselves. We found out much later we could have also visited the mine that Judy's grandfather worked in. We're always saving something for next time, it seems.
Victor is still a gold mining town. The massive Cresson mine currently produces about $9 million in gold every week. They've built an overlook on top of a mountain - and from about 11,000 ft you can look down into the pit and watch the ore being hauled out. Most impressive. Especially when you have to dodge those monster dump trucks to cross the road to get out.
Halfway down the mountain from Victor is the Rocky Mountain Dinosaur Research Center. It's a private museum, the outgrowth of a commercial paleontology operation. The folks from this place go out onto private land, search for (and usually find) old fossils, bring them back, clean them up and then either sell them or, more often, make casts and sell replicas. They are one of the leading places in the world in the dinosaur reconstruction business, and their work appears in practically every major museum in the world. They have some spectacular specimens on display, including a lot of actual fossils - you usually see resin casts in most museums.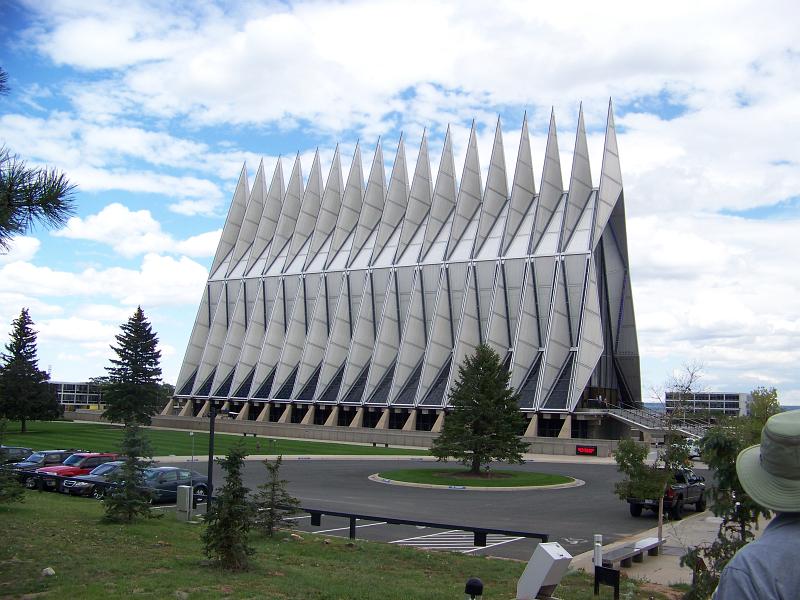 You can't visit Colorado Springs without a tour of the US Air Force Academy, the newest of the US military academies. But then, the Air Force is the newest of the military branches. Being the newest, there aren't the kinds of historical artifacts you'll find at West Point or the Naval Academy. But there is that spectacular chapel. We toured it, and as much of the academy grounds as we were allowed. Neat place.
After two weeks in Colorado, we headed south into the Land of Enchantment - New Mexico, and were seriously enchanted. But that's for next time.
There are about 100 pictures in our slide show this time. Check them out here.