Sept 21 - Oct 9 - New Mexico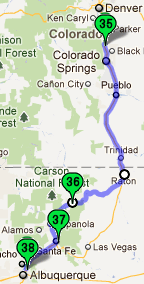 New Mexico calls itself "The Land of Enchantment", and there's much to enchant you. We've been to Albuquerque twice before, and even spent a few days in Santa Fe a couple years ago, but as we were essentially filling time on our way to the Balloon Fiesta in Albuquerque, we found some new things to see. Funny how it always seems to work out that way.
From Monument CO (35), we drove south on I-25 to Raton NM and then over the mountains to Taos (36), someplace we'd heard a lot about. We stayed at a small (just 19 spaces) RV park just outside of Taos, and while checking in found that we'd taken the more difficult route over the mountains. Next time we'll know.
Taos is an interesting town. In winter it's a ski place with lots of art galleries. The rest of the time, it's an art gallery type of place without snow. There are, according to the Chamber of Commerce, about 8,000 people in Taos. About 1/3 consider themselves Artists. There are over 200 galleries and nearly 300 massage therapists. And Taos Pueblo, just north of town, is the oldest continuously occupied community in North America - the Native Americans have been living in those Adobe structures for almost 1,100 years. And try as we did, we were unable to detect the Taos Hum.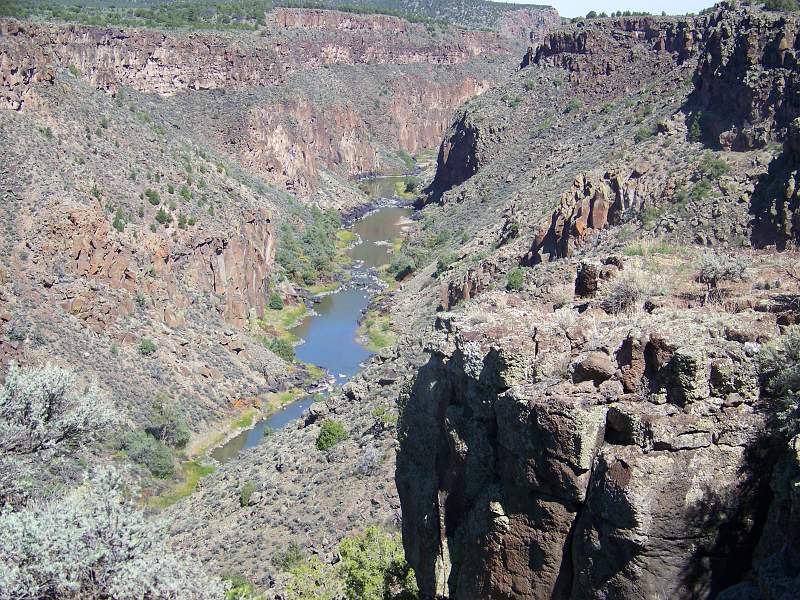 The Rio Grande River starts somewhere north of Taos, and by the time it gets to the Taos area, it's developed a really spectacular gorge. West of the Sangre de Christos (means "blood of Christ") Mountains, the high desert is pretty flat, so it's surprising to encounter the Rio Grande Gorge at up to 800 ft deep. Most of the gorge is contained within the Wild & Scenic Rivers System managed by the federal Bureau of Land Management. We're told that down in the gorge, there are many petrogylph sites and numerous native dwelling ruins. But the only way down is to hike (or more accurately climb) to the bottom. As neither of us have passed rappelling 101, we choose to believe without seeing. But the views from the rim are spectacular, and naturally we took pictures.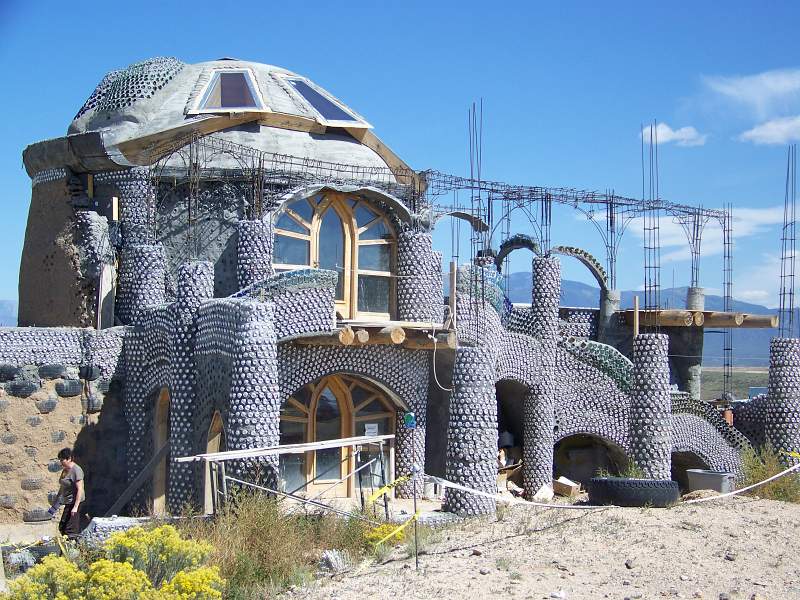 You may have seen the Earthship housing development on TV. It started as a counter-culture off-the-grid kind of place, but is now one of the leading places to see how to build for minimum environmental impact. Every building is a work of art (depending on how you define art). The structural walls are primarily built of old tires rammed full of earth. Non-bearing walls are either lots of glass or adobe-stucco with lots of old bottles and/or drink cans embedded. Recycled materials are used whenever possible. Solar panels are everywhere. Most buildings have wind turbines. Water comes from rainfall, and is collected, filtered and recycled four times - the final use being to flush the toilet. One existing home is for sale at $450,000 and claims an annual utility bill of under $100 - that for the backup propane water heater and electric generator. It's hard to describe, but we took pictures.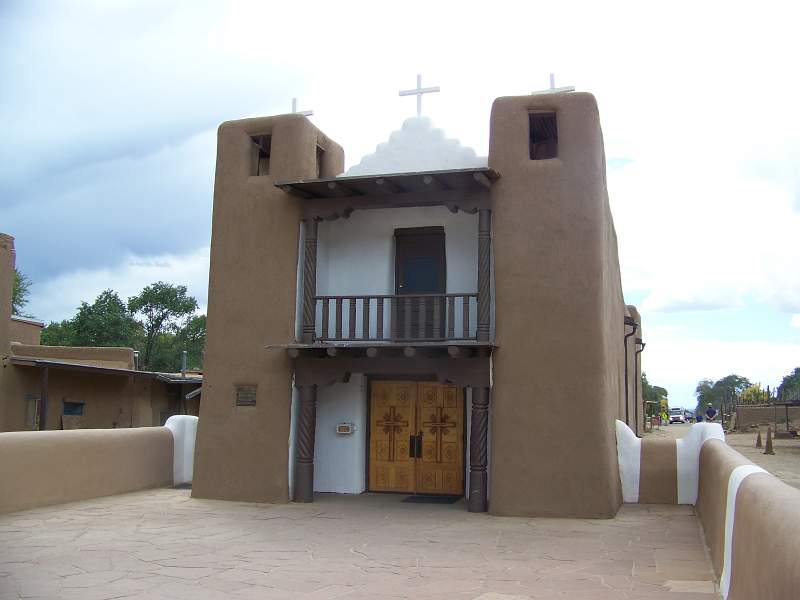 In New Mexico, Indian reservations are called "pueblos". We toured the Taos Pueblo, which claims to be the oldest continuously occupied community in North America. Somebody's been living in the walled pueblo village since around 1000 AD. Today the pueblo population numbers about 2000, with fewer than 50 people actually living inside the walls. In addition to those residential units, there are many stores and shops selling native crafted items, the old cemetary, and the Catholic chapel. The Taos Pueblo has no written language (and doesn't intend to develop one), instead passing their language down verbally from generation to generation. Seems to be working, as we didn't hear a lot of English or Spanish spoken outside the shops. Judy added some very beautiful jewelry to her collection, purchasing direct from the artist who created it.
We toured the Millicent Rogers Museum. Millicent Rogers was one of the heirs to the co-founder of the Standard Oil Co, and landed in Taos in the 1940s and commenced collecting things. Unhappy after Clark Gable reportedly declined to marry her, she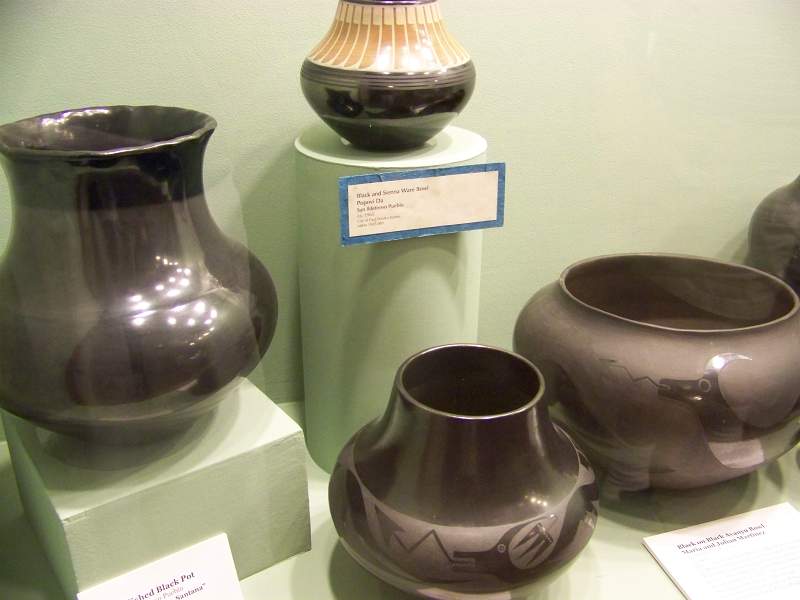 busied her self with her collections of Southwest art and native jewelry. Several years after her death, her family decided to give her collections to a museum to be named in her honor. After several more years, a suitable building was found (someone donated a home) and the museum opened to the public. The native jewelry collection is spectacular.
If you follow the Antiques Roadshow, you'll be familiar with the black-on-black pottery of native potter Maria Martinez. The Millicent Rogers Museum houses perhaps the largest collection of Maria pottery, much of it acquired when Maria's family donated an accumulation of pottery and memorabilia after her death. Maria made and sold her pots for around a dollar each; today they bring many thousands of dollars each.
After 9 nights in Taos, we drove about 100 miles south to Santa Fe (37), a town rich with history.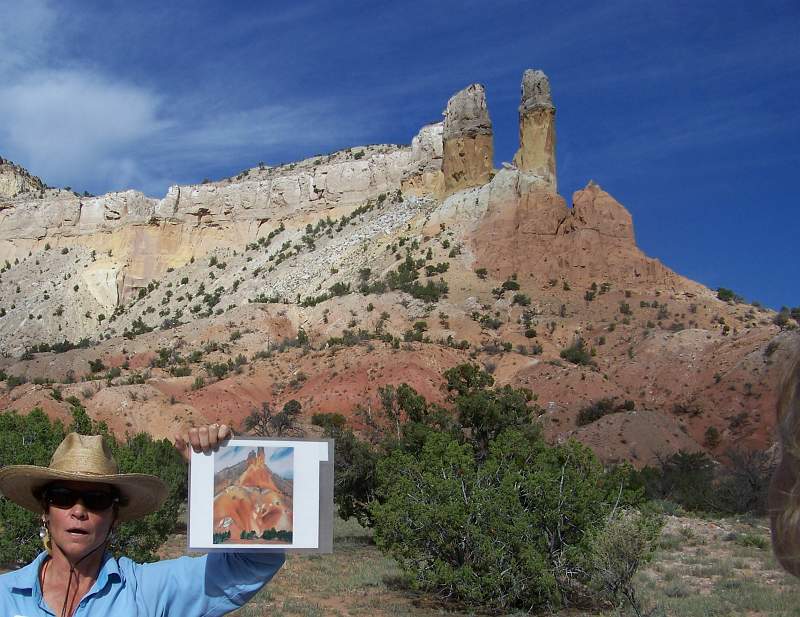 Ghost Ranch is a retreat and conference center owned by the Presbyterian Church USA, and it's located about 80 miles north of Santa Fe. A former dude ranch, Ghost Ranch has many facets. Besides the conference and renewal center, it's known for discoveries of many dinosaur fossils, including some found nowhere else on earth. It's known for spectacular scenery, which has attracted filming crews for several major motion pictures. It's a rich archeological site, and new knowledge is unearthed almost every year. And it's known as the home of artist Georgia O'Keefe, who made Ghost Ranch her home for nearly 50 years, and the subject of many of her paintings. We went specifically to take the Georgia O'Keefe and Ghost Ranch Landscapes tour, which takes you to sites on the ranch that inspired some of O'Keefe's most notable paintings. See some of those sites in our slideshow.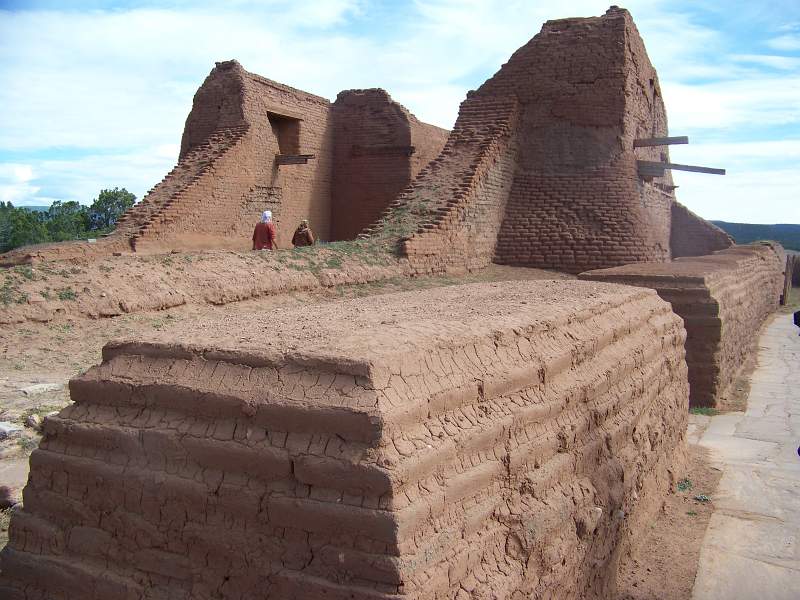 A few miles east of Santa Fe is the Pecos Pueblo National Monument, which contains the ruins of the Pecos Pueblo. There's evidence of humans living in the area 12,000 years ago, but the Pecos Pueblo was apparently first occupied in about 1000 AD. By the time the Spanish arrived in the mid-1500's, it was a major trade center. The Spanish also brought missionaries, and the resulting conflicts started the decline of the pueblo. By around 1838, the only people left were the priests, and so they too left. Today, we can wander through the pueblo ruins as well as the ruins of the old mission church complex. Sometime in the 1950s, actress Greer Garson moved to the Forked Lightning Ranch, which adjoined the national monument ground. Today, her old ranch is part of the park, and her former home is the visitor center. Neat place.
After 5 nights in Santa Fe, it was just about 65 miles south to the Balloon Fiesta in Albuquerque (38). We've been wanting to go to the Balloon Fiesta ever since we first heard about it several hundred years ago. Back in February, we made our reservations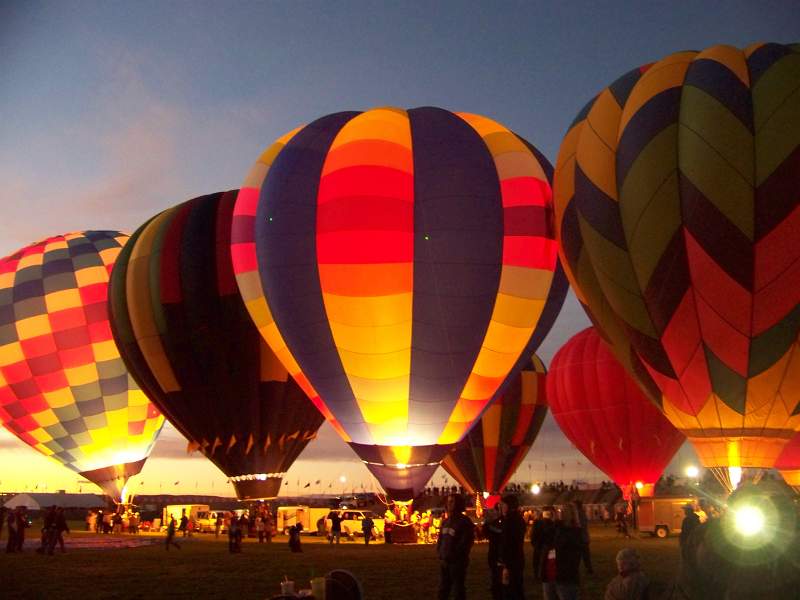 to park as close to the launch field as we could afford. We pretty much built our whole summer around getting to Albuquerque for the final weekend of the fiesta. And on Wednesday Oct 5, we arrived. And so did the rain. There are two main activities every day at the Fiesta - a morning mass ascension around 7AM, and a nightly "glowdeo" around dusk when the balloons inflate and then fire off their burners to glow. We arrived on Wednesday, when there were no scheduled events. All events were scrubbed on Thursday and Friday, although a few balloons did inflate on Thursday morning before the event was scrubbed. There were fireworks on Thursday and Friday evenings, which we watched sitting outside in the rain. And on Saturday morning, the weather was perfect. The last two mass launches went off without a hitch. Saturday evening's glowdeo was spectacular. And on Sunday morning, it seemed like every hot air balloon in the world was floating directly over our RV, including the one which almost landed on us. We took hundreds of pictures. We had a great time. We met some neat people. We bought gasoline for under $3 a gallon. Even with the rain, it was absolutely spectacular.
And on Oct 9, after the final activities of the Balloon Fiesta, we packed up and headed for Cottonwood AZ, to wind down and get ready for our Western Caribbean cruise. But that's fodder for our next report.
We started out with almost 1400 pictures from these 18 days in New Mexico. The 149 that survived a painful culling process are in our slideshow. Check them out here.