Oct 9 - Nov 10 - Arizona & Cruise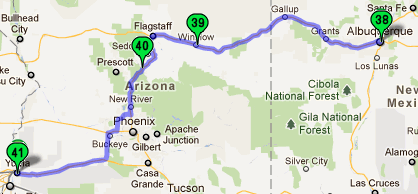 When last heard from, we were leaving the Balloon Fiesta in Albuquerque NM (38). We pulled out mid-morning and headed for Cottonwood AZ, stopping overnight at Camp Walmart in Winslow AZ (39). If you go downtown, you can see a statue of somebody "standing on a corner in Winslow Arizona" (Eagles 1972 song "Take it Easy"). We didn't go downtown, but we can testify that we did "take it easy" while parked in the Walmart parking lot.
Next morning, Al woke up another decade older. Hopes that nobody would remember were soon dashed when Judy wished him a happy birthday. Being aged, we completely forgot about the time change as we crossed into non-savings-time Arizona, and arrived at the 1000 Trails Verde Valley (40) park in mid-morning, well ahead of our planned noonish arrival. (We find a noonish arrival works very well for us - all the folks leaving a park on that day are gone by then, and most of the folks coming in don't get there until later in the day. Our selection of sites is usually quite broad.) As a result, we were able to get completely set up before lunch, and celebrated with lunch at Cottonwood's Hog Wild BBQ, one of our all-time favorite eating places.
We came to Cottonwood to decompress after the Balloon Fiesta and to prepare to take a much-anticipated cruise down the east coast of Mexico. That involved arranging to put the RV in storage while we were gone, booking some hotel rooms both in Phoenix (we flew out from there) and in New Orleans (where the cruise started) and finding a place to leave the car for a week in Phoenix. The 1000 Trails park offered storage with electricity (keeps the refrigerator running) for just $7.50 a day, and we booked 9 days. A neat website, www.parksleepfly.com, offers lots of motels and hotels that'll keep your car and provide free airport shuttles, and we wound up at a relatively inexpensive Quality Inn about 3 miles from the Phoenix airport. And Expedia found us a hotel room in New Orleans for the night before the cruise. We'd booked our flights with credit card miles several months ago, so mostly what remained was for Judy to organize our luggage, which she did exceptionally well.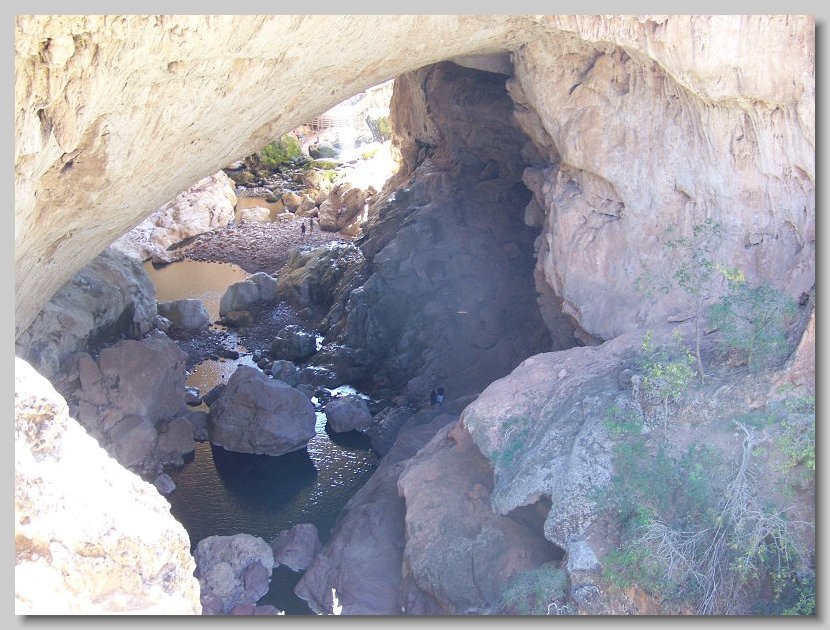 In between getting ready and chatting with our neighbors, two guys from Florence OR, we drove about 30 miles south to visit the Tonto Natural Bridge State Park, home of what is claimed to be the largest travertine natural bridge in the world. Travertine is created when calcium-rich water evaporates and leaves the minerals behind. We've seen it a lot in Yellowstone, and it's a very popular building material in Italy. In this case, the travertine built a layer over time several hundred feet thick, and during several hundred years of lower water, the river that had deposited the travertine cut a most impressive tunnel. The Natural Bridge today stands 183ft high, 400ft long and 155ft wide. It's very impressive. The park abounds with hiking trails, most of which are beyond our abilities. But we did walk a couple of the tamer ones, once into the canyon to see an "Arizona Waterfall" - a few dribbles of water running down a cliff face. And we ate the lunch we'd packed on one of the very nice picnic tables scattered about the parking area.
On Oct 21 we moved the RV to the storage area and drove to Phoenix, only about 2 hours away. After checking into the motel and realizing how early it was, we decided to splurge on dinner at Organ Stop Pizza in Mesa AZ, which is a very nice pizza place built around an immense Wurlitzer theatre organ. We munched through two sets of organ music before heading back to the motel. Next morning, we moved the car to the motel's long-term parking area, got our free breakfasts, and caught the shuttle to the airport, in plenty of time for a noon flight. And after getting almost undressed and being scanned, we were allowed to fly to New Orleans, with a plane change in Houston. We got to NoLa around 6:30pm, and by the time we got to the hotel it was 8:30pm, and well past dinner time.
It was in leaving the hotel to find dinner that this trip almost went south. Walking down the sidewalk, Al managed to trip over a loose grating and after a particularly ungraceful dance, landed painfully at the feet of the doorman of the Marriott Hotel. After several minutes to inventory possible injuries, Al got up and we managed to go inside the Marriott for a really nice bar-menu dinner. By the end of dinner, Al had stiffened up pretty well, so getting back to our hotel (and the pain killers) took some doing. Next morning, a hot shower and lots of Tylenol did some magic. A further inventory of scrapes and bruises found just one, a saucer-sized multi-color decoration back where Al couldn't see it. Judy said it was very impressive. Al's major complaint was a severely wrenched back. Fortunately we'd packed a wearable lumbar support belt, which helped a lot. And we managed a careful walk to the nearest Cafe Du Monde for a breakfast of beignets.
We'd stayed at this hotel before, in fact we were "trapped" there on 9/11 when all the planes were grounded. And we knew the cruise ship dock was just on the other side of the convention center, which was just across the street from the hotel. After some discussion, we decided to walk from the hotel to the ship, luggage and all. About a half-mile. Easy.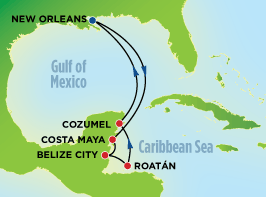 What we didn't know was that in the last 10 years, the convention center has more than tripled in size. We walked, and walked, and walked some more, dragging our luggage behind us. About 2 miles later, we made it to the ship. Al's back was not a happy hiker. But we endured, and shortly after noon boarded the Norwegian Spirit, which would be our home for the next week.
We booked this cruise specifically because at every stop we could tour to Mayan ruins. We booked it as late into hurricane season as we could and still get a really low fare. And the weather was spectacular the whole cruise, except, of course, for Hurricane Rina.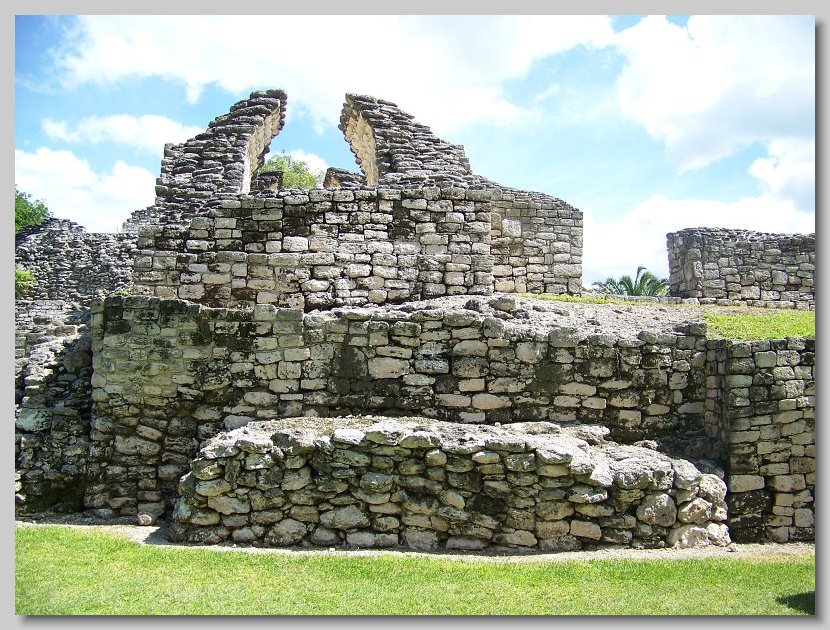 Our first port came on the third day, when we docked at the artificial community of Costa Maya. Costa Maya (means Mayan Coast) is a cruise ship port about half-way down the Yucatan Peninsula, with no residences, just shops, bars and restaurants. We boarded a tour bus for a day trip about 80 miles inland to the Mayan ruins at the Kohunlich archeological site. Our excellent tour guide explained much of what is known about this 2000 year old site, which has several major structures. We think of them as "pyramids", but they're more like huge buildings build on big earthen mounds. We had a couple hours to wander and climb and learn. It was awesome. Al's back survived. And as we arrived back at the port, folks were boarding up the store windows. "Hurricane's coming", they said. When we reboarded the ship, we soon got a briefing from the bridge explaining that the captain thought we could dodge the storm, and so we would proceed to our next scheduled port. But stay tuned, he said. Weathermen have been known to make mistakes.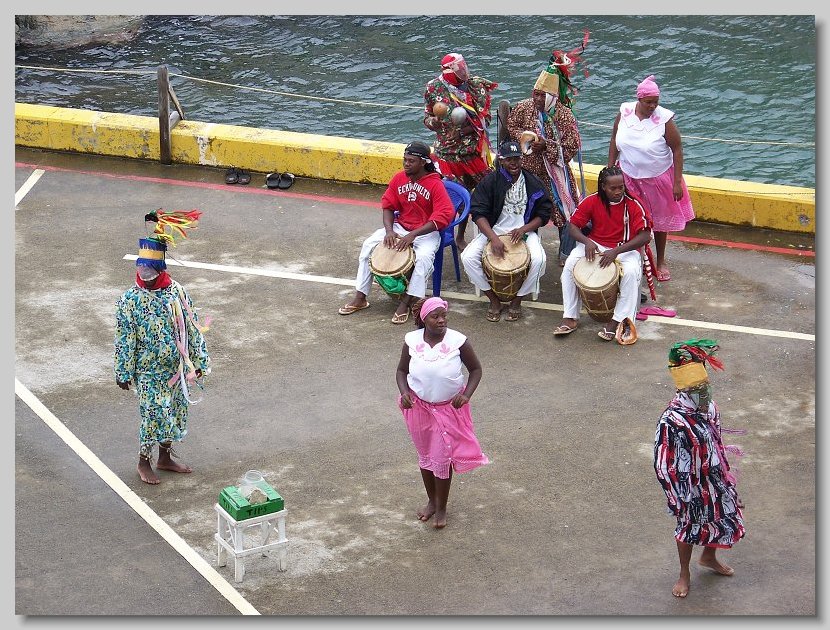 Port next day was Roatan - an island about 30 miles off the coast of Honduras, with the usual cruise ship shops quay-side. As we returned to our cabin after breakfast, we got the notice that our tour d'jour had been canceled because of weather. About then it started to rain. It rained off and on all day while we were docked at Roatan, but we managed to go ashore and wander the shops between showers. It was a relaxing day. And come time to sail that evening, there were a few passengers who managed to delay sailing by about half an hour. There were several ship's officers waiting for them on the dock when they came strolling along. Don't know if they got the message. We think their shore excursion may have featured local libations. Our briefing that evening said we were on track for our next port, Belize City in Belize, but we should prepare for a rough night, as we'd be skirting the hurricane.
Belize is a relatively new country, having obtained independence from the United Kingdom in 1964. With just over 300,000 people, it's one of the least-dense countries in the Americas. After a roller-coaster-worthy launch ride over hurricane-motivated water from the ship about 7 miles into the harbor, we boarded an even smaller boat for our tour. It was delightful. First half of the tour was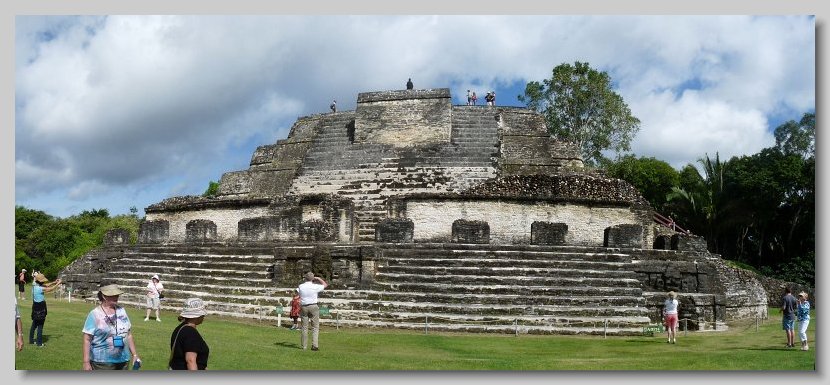 up the Belize River as our guide pointed out the wildlife. We saw crocodiles, manatees, birds of all kinds, magnificent iguanas, some very noisy howler monkeys, bats and probably other things. Very enjoyable, and almost no strain on Al's back, which was still protesting almost every move.
About 5 miles upstream, we stopped for lunch at a riverside cafe (chicken, rice, beans, wimpy salad, soft drink). Judy wandered through the small marketplace and bought a colorful shirt, which has become one of her favorites. And after lunch, we boarded an aging bus for a bouncy ride to the Altun Ha archeological site. Again, several magnificent structures dating back at least 2,000 years. Judy climbed to the top of one massive temple structure, while Al and his back stayed below to take pictures.
We had one more scheduled stop on the cruise, Cozumel Mexico. But as we were eating dinner it was announced that we'd be skipping that port and would be headed east almost to Cuba before heading back to New Orleans. The hurricane, it seems, was due in Cozumel about the same time we were. Almost immediately, we knew why the captain had changed the plan. The ship started a fairly dramatic rolling in the heavy waves, resulting in the ship's gift shop selling out of seasick pills. Fortunately, there were still complimentary pills available at the front desk.
On Friday Al gave in and went to the infirmary, where the ship's doctor provided some muscle relaxants and some super-Tylenol, and wondered why we hadn't come in much sooner. And after seeing how much the muscle relaxants helped, Al wondered the same thing.
As we left the "Chocoholics Buffet" Saturday night, we could see shore lights on either side of us. We'd entered the Mississippi delta, and that meant we'd be back in New Orleans in 6 or 8 hours. Sure enough, when we got up the next morning, we were dockside. We waited as long as we could, but by 10am they wanted us off the ship, so we headed down the gangway, found our luggage, then a taxi, and headed for the airport. Our so-called meals that day were airport and airplane food, quite a come-down from cruise ship cuisine. Back in Phoenix we found our luggage again, called for the motel shuttle, and went back to the motel to spend one more night. Next morning, we had our free breakfast at the motel, drove back to Cottonwood, got the RV out of storage, and got set up again. Al still had a few muscle relaxants that Dr Law back in Oregon had prescribed for just such an occasion, and they seemed to work as well as the ones from the ship.
After two days, during which we restocked the perishable foods and Judy did a bunch of laundry, we packed up and headed southwest to Yuma (41). We spent a week in Yuma, enjoying the weather. We went across the border into Algodones Mexico twice, taking advantage of the low Mexican prices to get Judy a couple pair of new glasses. And we also picked up a bottle of 100 of those muscle relaxants (for all of $7.00) to keep Al's back happy. Other than that, we mostly relaxed.
Our original plan had been to go from Yuma to Las Vegas, but when the weather got cold in Vegas, we changed plans and on Nov 10 we headed for the Palm Springs CA area. But that's for our next report.
Our slideshow with about 113 images covers pretty much the whole month. Check it out here.