Jan 1 - Feb 1 - Winter in Southern California - Part 2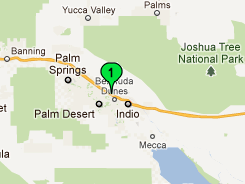 It's been a lazy January in the California desert. Our first extended stay has gone well, but then we've rarely been anyplace it didn't go well. Our intent was to kick back, and we did. So, not a whole lot to report.
The headlights on our PT Cruiser had gotten pretty fogged up, and we were quite sure we weren't getting sufficient light onto the road. We'd bought one of those headlight cleaning kits you see advertised, but after lots of elbow grease, we saw no difference. But the local WalMart offered a headlight restoration for just $40, and we let them have a go at it. Our lights were in pretty bad shape - it took them about twice as long as the normal job, but the result was great. The tough part was killing two hours in a WalMart.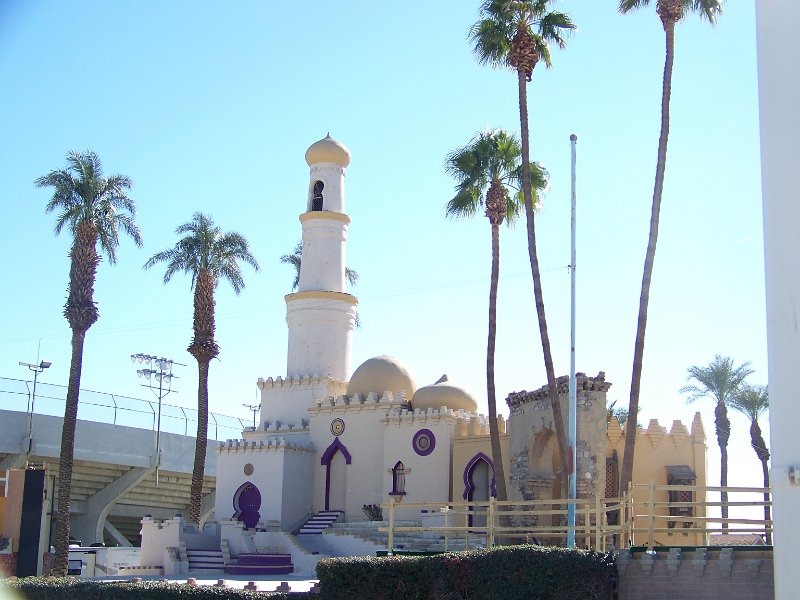 The annual Western Motor Home Association gathering at the Date Festival grounds in Indio is always a good event. We registered as day trippers, as we were already comfortably settled at the 1000 Trails park about 5 miles from the rally. Day 1 we went and registered and started getting the lay of the land until Judy broke a tooth on a piece of taffy. Spent a few hours finding a dentist who would check it out (which happened the next day). The dental thing went well, and we were assured the tooth (actually the space) would be just fine until we could see our regular dentist in February. So we sent an email to our dentist to alert her to our arrival the first week in February.
Bored yet? This is dull stuff. It's our life.
The rest of the RV rally went off without further hitch, and we managed to pick up a few RV things from the vendors at hand - a new motion-sensing porch light, some new cleaning gizmos. Judy went to the Red Hat gathering, and the evening entertainment was enjoyable, especially closing night when we were regaled by an excellent comedian and a Dixieland jazz band from Tuscon.
We heard back from our dentist Veronica Hernandez, who had gone to Russia to adopt twin girls. She wouldn't be back until the end of February, so we adjusted our plans and reservations and we'll now see her the first part of March.
After the RV rally, we picked up a couple of new light fixtures for the inside of the rig, and got rid of one that had an intermittent switch. Dick & Rosemary Allen from Bend OR - who fix cracked windshields - came by to see if a repair we'd had done in Albuquerque was salvageable. Alas, no, but we had a nice visit anyway. As we'd replaced both halves of the RV windshield last summer, we've decided to live with this crack until we get another or it decides to spread. We don't want to annoy our insurance company if we can help it. They've been good to us.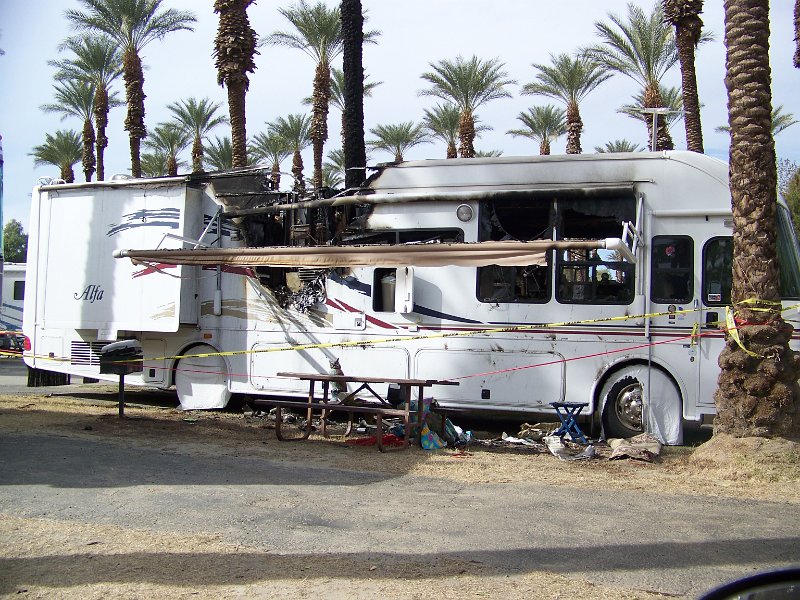 We try to ride our bikes around the RV park every day, and one afternoon we noticed a motorhome with lots of caution tape around it. A second glance revealed the rig was completely burned out. We asked around and found that the rig had burned in the middle of the night a couple days before. Don't know how we missed it. The guy in the rig next to the burned one said about 1AM there was a banging on their door, and the folks said "Sorry to bother, but our rig is on fire". Doubt we could have been that laid back. Anyhow, nobody was hurt, and the fire was confined to just the one rig. The fire had started in the refrigerator. Usually when an RV starts to burn, it's gone in just a few minutes. These folks were very lucky, as the refrigerator was between the bedroom and the only door. Gives pause for thought.
One Saturday we had a tremendous dust storm. For about 5 hours, the sand and dust blew furiously The highest wind gusts were recorded not far from us at 90mph. There were several pileups on I-10 due to zero visibility (and California drivers), and a big tent blew down at the PGA golf tournament in La Quinta. Some folks were stranded at the top of the Palm Springs Tramway. A day or so later, Al went up on the roof to clean out the roof vents, and sucked about a half pound of sand from the vent covers into the shop vac. Fortunately, just some dust inside the rig, which Judy continues to hunt down and eradicate.
One day we got an email from Norm & Debbi Hassler, former Reedsport folks now living in Butte Falls OR. Norm's a software engineer (we used to call them programmers) for Marketron, the current successor to CBSI, and he and Al used to work together. Norm & Debbi both sang in most of Judy's cantatas when she was doing them. They were spending the month in Desert Hot Springs, just a few miles from us. We met up at the local Tony Roma's Ribs & Steaks place and had a delightful dinner (tasty and messy, just the way ribs should be) and caught up on our respective lives.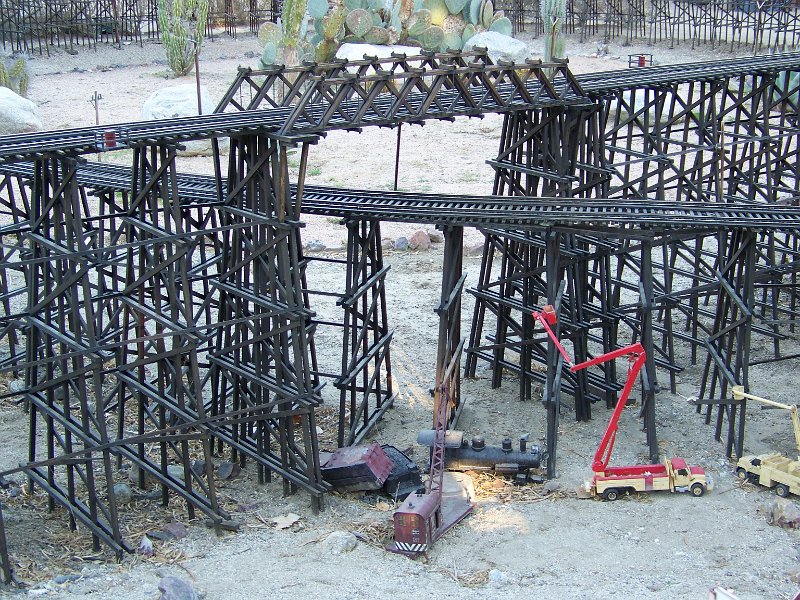 Before Christmas, we'd gone to the Living Desert to see the holiday lights, and noticed that their marvelous model train layout had been expanded significantly since our last visit in 2009. So on the first 80 degree day of the month, we went back to the zoo to check it out. Of course, we also checked out some of the animals. There are about 3300ft of train track in a model layout that covers about 3/4 of an acre. There are usually 7 or 8 trains running about. They've expanded their model of the Grand Canyon and are in the process of building a model of Mesa Verde National Park, complete with cliff dwellings. We've said it before - if you like model trains, this is a must see.
Oh, and we relisted our home for sale back in Reedsport. Hopefully, this will be the year somebody adopts it.
We're still running the motorhome on the fuel we bought in Yuma AZ in mid-November, and we're not looking forward to the inevitable fillup at California gas prices - some of the highest in the country. But on Feb 1, we yielded and filled up (at $3.62 per gallon) before moving our rolling home about 140 miles to the 1000 Trails Soledad Canyon park at Acton CA, east of Los Angeles near Palmdale and Lancaster. But that's for our next report.
Only about 37 pictures in our slide show this time. Check them out here.