Jan 1 - Jan 30 - A Warm New Year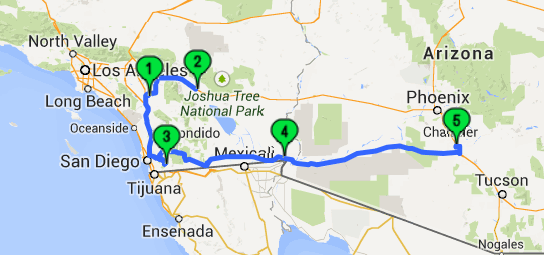 Being warm in winter, especially the way this winter has been in other parts of the country, is what snowbirding is all about. And while much of the rest of the continent was suffering from the "polar vortex", we were most comfortable in the sunny southwest. Such comforts are a big part of this nomadic lifestyle we've chosen.
We started the year at the 1000 Trails Wilderness Lakes Resort at Menifee CA (1), but on Jan 2 we hooked up and drove around the mountain to the 1000 Trails Palm Springs Resort at Palm Desert CA (2). We have tried to be in Palm Springs the first two weeks of January most years so we can avail ourselves of the RV marketplace and other activities associated with the annual Western Region Rally of the Family Motor Coach Assn.
Our avowed intentions of "see something new" kind of fizzled in January. We just had too many things get in our way. Back in December, we were gently rear-ended in Chula Vista, the result being a slightly bent bike rack on the back of our Honda. The damage to the other guy was more severe - that steel bike rack pretty well mangled his front end. Anyway, the bottom line was we needed to replace that bike rack, which we ordered once we got to Palm Desert and were confident we'd be someplace long enough to get it. When it came in, we discovered we'd need to modify the new one a bit so it would work in our situation. That started a week-long search for someone to cut, drill and weld some steel. Eventually we connected with a sometime sports car race driver named Jack Willes who had all the facilities to do the job. And although it took him only a couple hours, it took up most of our week to make it happen. The end result - a perfectly adapted bike rack, but no time at all to do the "new" things we vowed to do.
We also finally resolved our ongoing GPS frustrations. Al did a lot of digging on the internet and finally came to the conclusion that our USB GPS receiver just wasn't compatible with Windows 8. So he ordered one that was. Ordered two, actually, just to be safe. Problem solved. The GPS has been working faultlessly since. There's a moral in that story somewhere. Probably has something to do with Norwegian stubborn.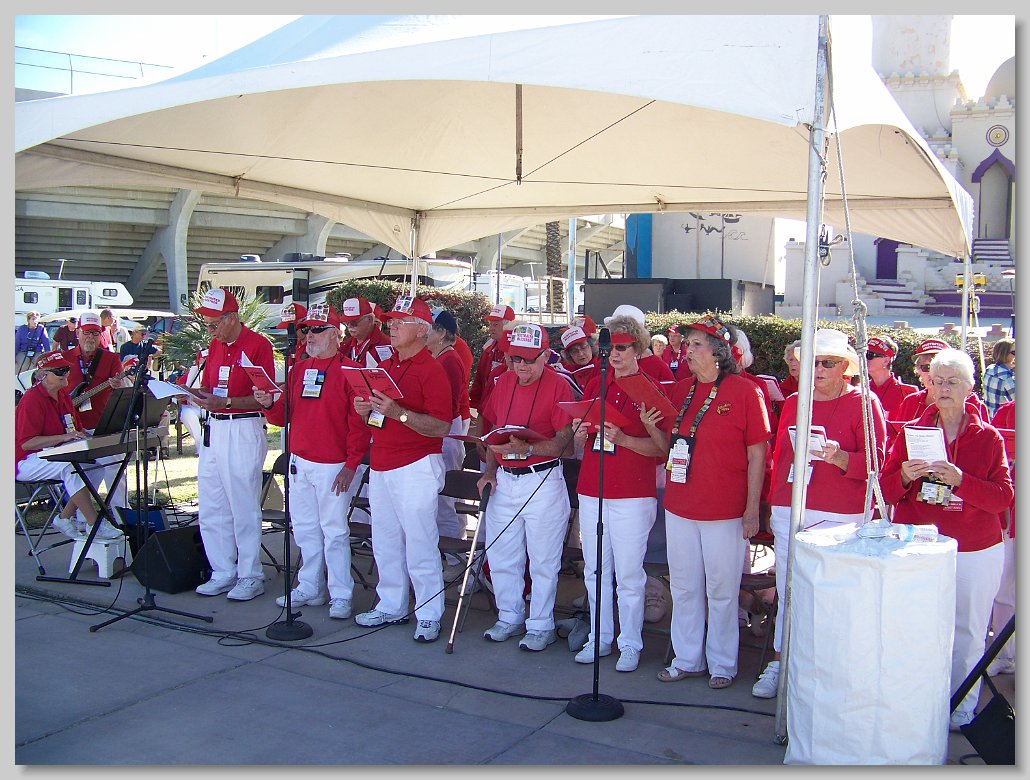 The FMCA rally is one of the largest gatherings of motorhomes in the country - about 1150 rigs parked at the Indio Date Festival Grounds for a week, plus about 300 more units for sale. We wandered the exhibit halls, didn't buy much at all, enjoyed the ice cream socials, toured a bunch of display coaches just to see what's new, and went to the evening entertainments. The best of the entertainments was a Kentucky story-teller named Carl Hurley, who looked a lot like Marryin' Sam and sounded like a cross between Jeff Foxworthy and Andy Griffith. His observations about people and life in general were very well received by the aging folks in the audience. Speaking of aging - the FMCA national president was looking for volunteers for a "young people's outreach" effort, directed at recruiting new, young members "under the age of 60". We seventy-something folks are indeed becoming obsolete.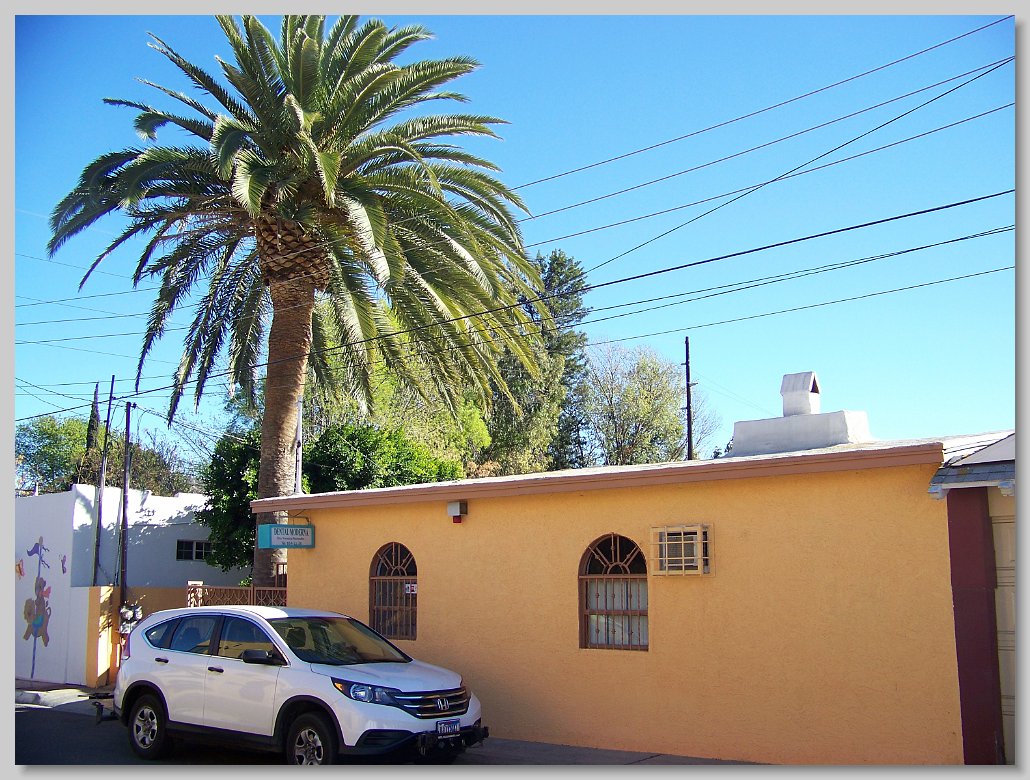 We cut our stay in Palm Springs short by a few days to return to the Pio Pico Resort (3) for a few days so Al could make another visit to our dentist for some denture-tweaking, and when that went well, resumed our original plan and headed to Yuma AZ (4) for two weeks. Yuma's really snowbird central, with the population quadrupling in the winter. It's sunny, it's warm, the skies are almost always blue. Shortly after arriving, we made one more visit back to our dentist for one final adjustment and then set out to enjoy our two weeks in the sun. Besides relaxing and finding something new to see or do, we had just two things on our list - a cross-border visit to Los Algodones MX to restock some of our meds, and a visit to the Arizona Marketplace, one of the nicer "flea market" type venues in the southwest. We got those things done, but unfortunately along the way, Al caught a nasty cold which laid him low for most of a week. So, no exploring for new things quite yet.
About those Mexican medications: It is always amazing to us how inexpensive medications are south of the border. For example, the generic stomach acid reducer omeprazole sells in the US for around 39 cents a pill - $39.00 per hundred. In Mexico, we paid $2.79 for 120 pills. Similar savings abound on other drugs. Most are "made in Mexico", but some of ours were made in the USA. It's little wonder that folks from all over North America are stocking up. While you are supposed to bring back no more than a 90 day supply, nobody seems to question what's in your bag. We suspect if we were here a few more weeks, we could easily get a year's supply of all our meds for about half the cost of our annual prescription insurance premiums. Something to think about.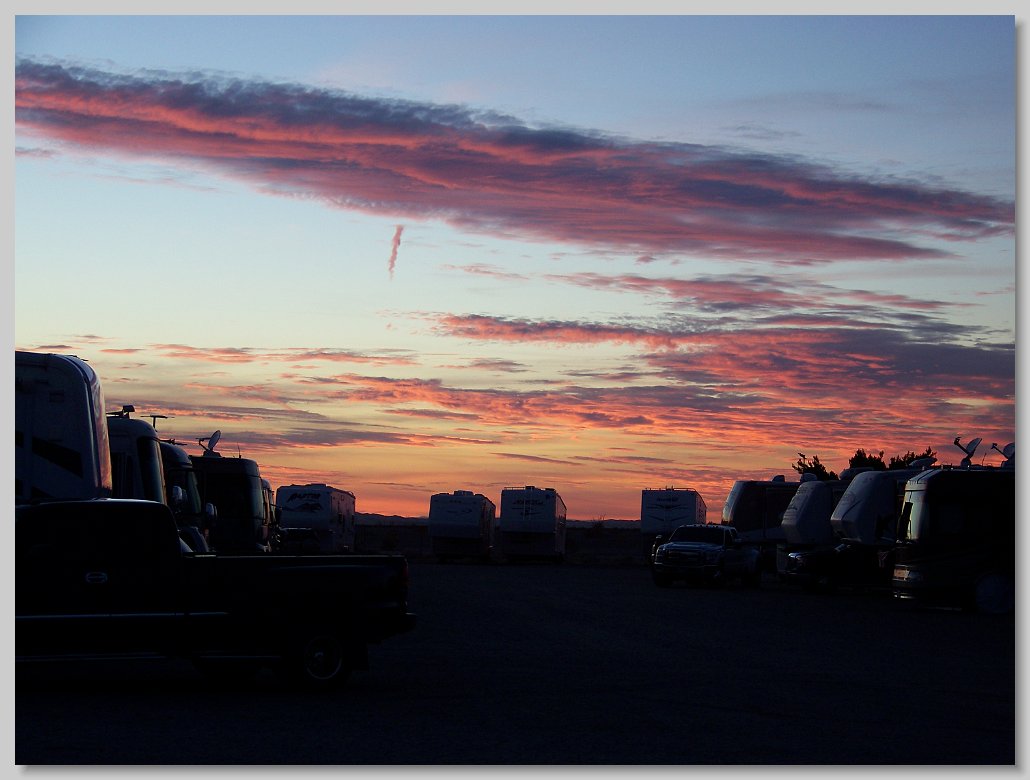 After our two weeks in Yuma, during which it actually rained once (officially, it was a "trace", which is the average January rainfall in Yuma), we hooked up on Jan 30 and headed east to the Casa Grande RV Resort in Casa Grande AZ (5). We'll be there for nine nights, resting up and steeling ourselves for a two day dash across Texas to the San Antonio area. But that's for next time.
Only about 27 pictures in our slide show this time. Check them out here.