Jan 30-Feb 28 - Heading East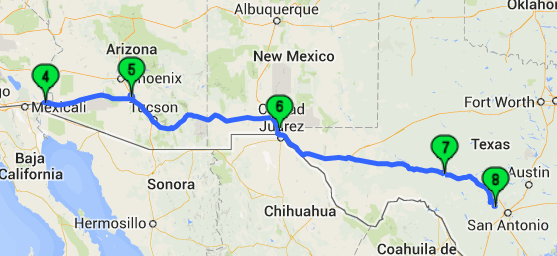 It's not easy to head cross-country eastward this time of year - so much of the middle part of the US is snowbound. So we stay as far south as we can - essentially following Interstate 10 until we get to the middle of the country.
On Jan 30, we drove the 200 miles from Yuma (4) to Casa Grande AZ (5), where we spent nine nights. Casa Grande is a town we don't visit often enough, and we never stay long enough. It offers almost everything we want - nice weather (at least in the winter), pleasant scenery, plenty of affordable restaurants, decent shopping, and a church we like. It's close enough to Phoenix to access all the big city offers, and far enough away to have a small town feel. Maybe someday we'll try to spend a whole winter.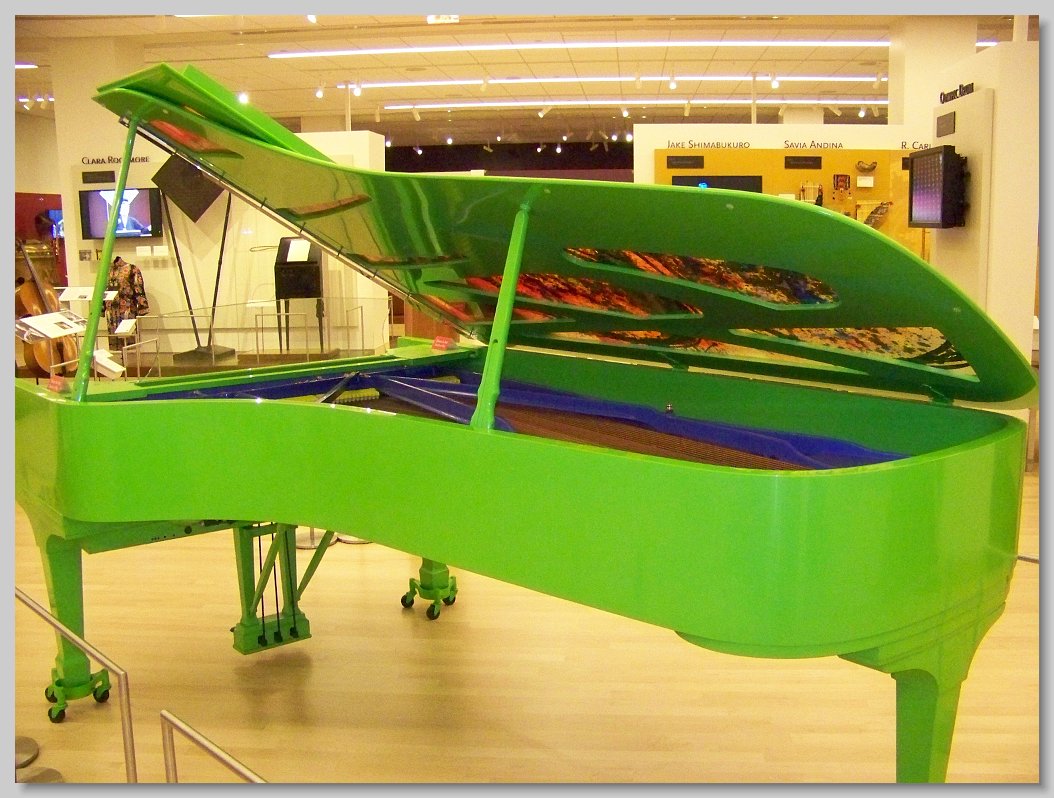 Other than just living, we had two outings, both return visits to places we'd been before. Our first was to the Musical Instrument Museum on the north side of Phoenix. Our previous visit was in 2011, shortly after the museum opened. We didn't see it all then, so this time we focused on the parts we hadn't seen. And we still didn't see all of those. The MIM is the only museum in the world dedicated to musical instruments, and their objective is to display instruments from every country in the world. We think they've done that. Plus, there are dedicated exhibits on particular subjects. There's a hall devoted entirely to mechanical music-makers - band organs and music boxes and the like. There's another with displays devoted to individual performers and artists - Joshua Bell's first violin, Elvis Presley's last guitar, John Lennon's piano. There's an Experience Hall, where you can play instruments - mostly percussion, but there are also a couple of harps and a theramin. The Experience Hall is a very loud place when there's a school group touring, as there was the day we were there.
A special traveling exhibit mounted by the Rock & Roll Hall of Fame was devoted to "Women Who Rock", and featured artifacts (mostly clothing) associated with significant female performers over the years - from Mahalia Jackson and Billie Holliday to Lady Gaga and Taylor Swift, and about 100 others of every genre in between. Judy commented on how petite so many of these ladies were (or are). Anyhow, we wandered the halls until our feet gave out. Most enjoyable.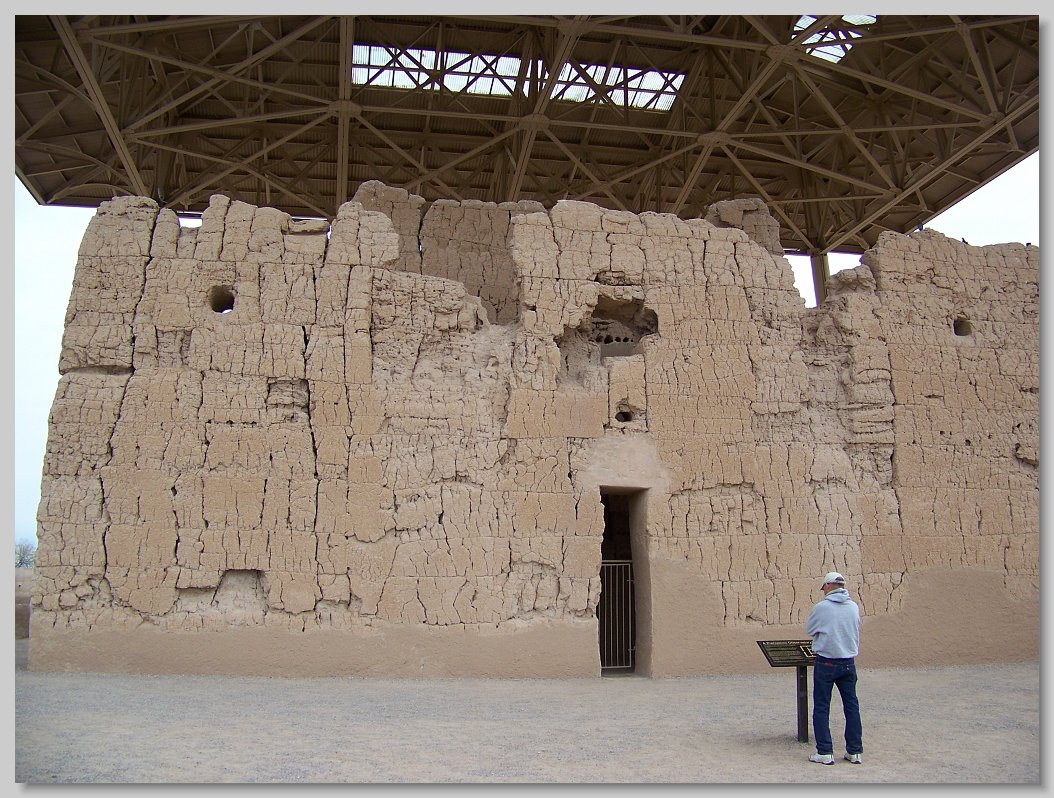 The Casa Grande Ruins National Monument is one of the most significant archaeological sites in the southwest. "Casa Grande" means "Large House", and is the name given to the main building in the complex by the first Europeans to see it. Dating to around 1300 AD, the village probably housed around 2,000 people, and has been described as the largest pre-history desert agricultural community in the US. The irrigation system developed by the residents to make agriculture possible is the largest yet discovered. The community was abandoned around 1400 AD, probably when the water supply became unreliable, and the residents dispersed and evolved into many of the Sonoran tribes of today. It's a fascinating place to visit.
We also very much enjoyed the availability of a Culver's restaurant, with their butterburgers and frozen custard. It's good to be back in Culver's territory.
On Sat Feb 8, we hooked up and headed for Texas. It's about 1000 miles to the 1000 Trails Medina Lake Resort about 20 miles west of San Antonio, and there's not much along the way to distract us, so we just drive and drive and drive. There's an awful lot of West Texas. But the trip turned out to be less stressful than we'd expected. We've learned a bit about pacing and timing since the last time we made this run, and although long, we didn't arrive exhausted. We overnighted the first night at the Sunland Casino and Race Track (6)just outside El Paso TX, and the second night in a very popular rest area along I-10 just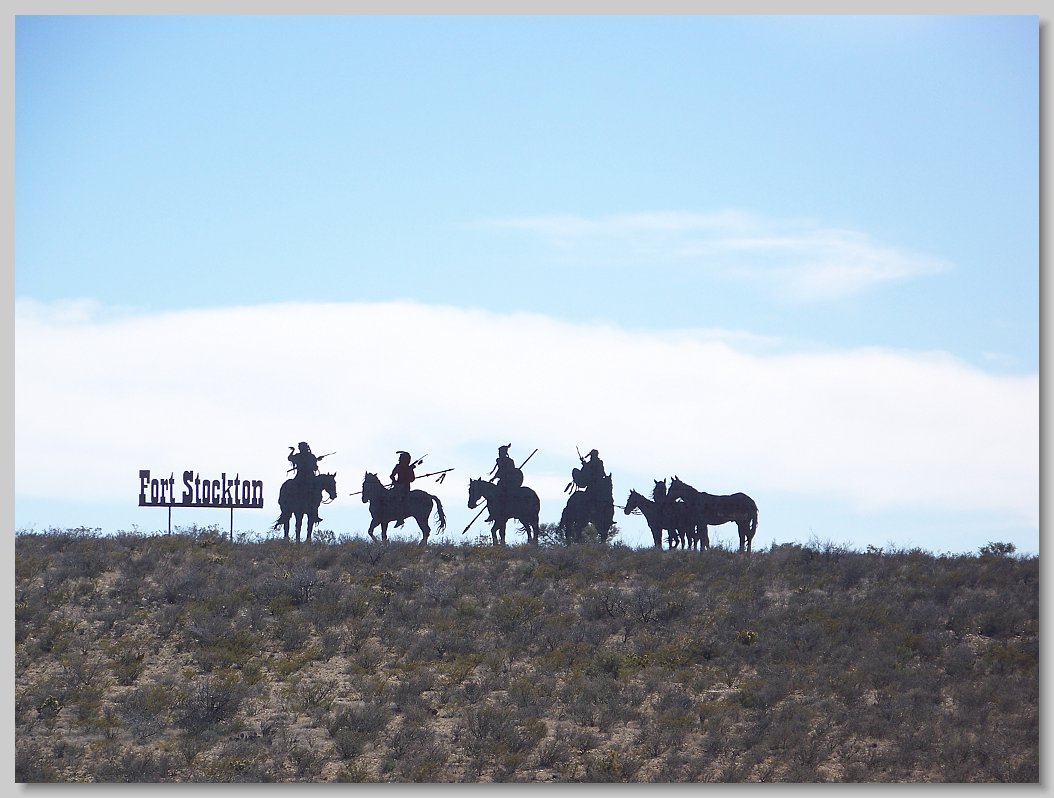 outside Sonora TX (7).
The drive was pretty routine. Just outside Van Horn TX, we came upon a motorhome that was just about done burning up. Didn't look like anybody was hurt, but the RV was a total loss. We always feel fortunate when that's not us beside the road, but obviously you can't help but feel for the guy who got out with the clothes on his back and lost pretty much everything else. And we'll probably never know any more than that brief snapshot in time.
Interesting billboards we didn't get pictures of department: Just outside Fort Stockton TX, we came upon two billboards, side by side. The first, in stark white letters on a black background, posed the question "If you die today, where will you spend eternity?" And right beside it, another billboard with an apparent answer: "Ozona Texas - just 138 miles straight ahead." And as we approached San Antonio, a billboard advertising a lady lawyer asked "Ever try to argue with a woman?"
Anyhow, after about 1000 miles in two and a half days, we pulled into the 1000 Trails Medina Lake Resort (8) at Lakehills TX, about 20 miles west of San Antonio. There hasn't been much water in Medina Lake since the drought started about 4 years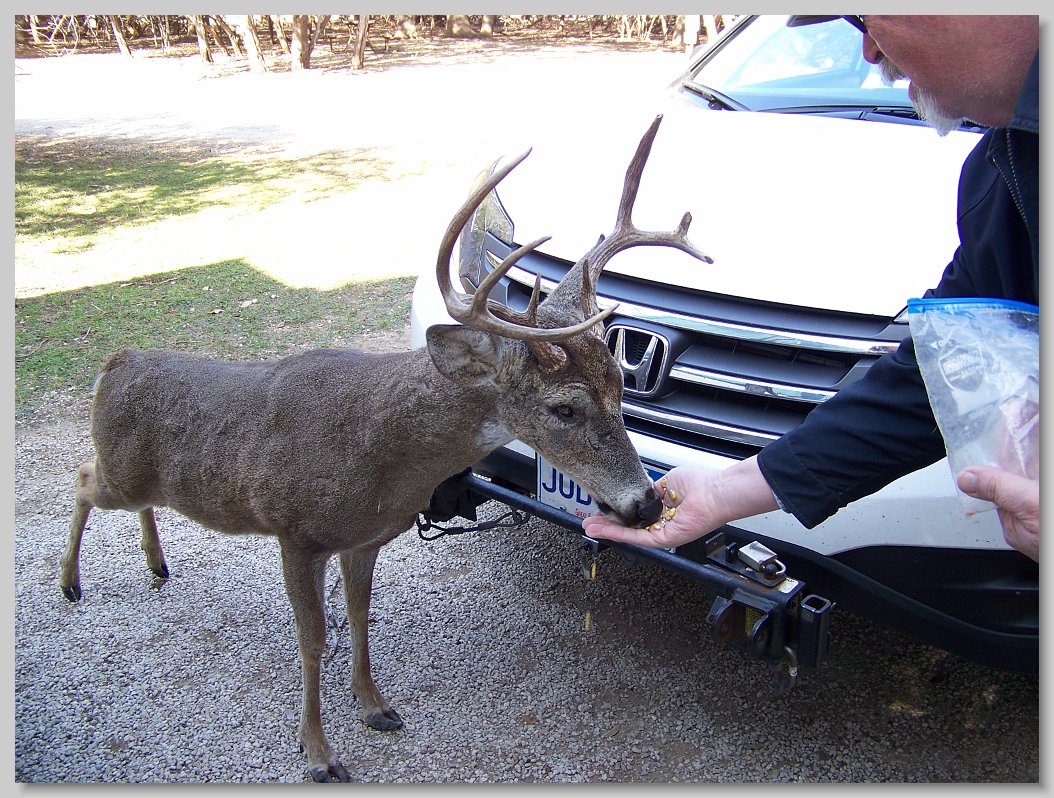 ago, so the RV park isn't as populated now as it could be. We spent three weeks tucked in amongst the live oaks and juniper trees, enjoying the company of the resident Texas white-tail deer, accomplished beggars quite used to being fed treats. We obliged. Lots of pictures of deer in our slideshow. We also shared our space with some very busy red squirrels, a couple of beautiful cardinals, lots of noisy pigeons, several unidentified songbirds and a jackrabbit or two.
We'd planned on using our base in the Texas Hills to visit some things in the Austin area and in LBJ country, but after thinking more about it, decided to move the motorhome that-away instead of making day trips. So we'll do that in March. Our stay at Medina Lake was thus pretty low key. One neat thing: Judy became a bit of a local celebrity at the Curves in nearby Bandera as "the old lady who does all those Jillian routines". Curves has been trying to reposition itself to appeal to a younger market by bringing in more energetic exercise routines, and Judy's been keeping up. Yay Judy!
We made a trip into the SAS Shoe Factory in San Antonio to replace some of Judy's shoes. We had some of that legendary Texas Hills BBQ. We enjoyed very much visiting at the Pipe Creek Presbyterian Church. We rode our bikes around the park, and read a bunch of books and worked a bunch of crossword puzzles. We watched many of the figure skating events from the Winter Olympics. And we decided that the folks around San Antonio are probably the friendliest folks we've encountered in our travels. And that's saying a lot, considering the friendly folks we've encountered most everywhere else.
There are about 66 pictures in our slide show this time. Check them out here.