Mar 1 - Mar 31 - We're Winter Texans! - Part 1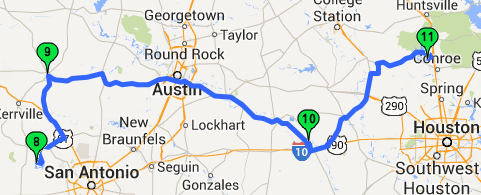 We started the month at the 1000 Trails Medina Lake RV Resort (8) at Lakehills TX, and ended it at the 1000 Trails Lake Conroe Resort (11) at Willis TX. In between, we enjoyed some mighty fine Texas hospitality and some mighty unpredictable Texas weather. We have a lot to report from March, so there are two reports. This is the first.
A few years ago, we became aware of a Bank of America promotion called "Museums on Us", whereby with any BofA account card and a photo ID you get free admission to a select group of museums the first full weekend of every month. Ever since, we've been hoping to be someplace with a participating museum at the right time of the month. This month, we were. So on Saturday March 1, we drove into San Antonio to revisit the Witte Museum.
We stumbled upon the Witte in 2006 quite by accident, and enjoyed it very much then. This visit was free, the BofA program saving us around $30 in admission. The Witte is San Antonio's major museum, and it's expanded and improved a lot since we were here 8 years ago. It's a class act. We took some pictures, of course.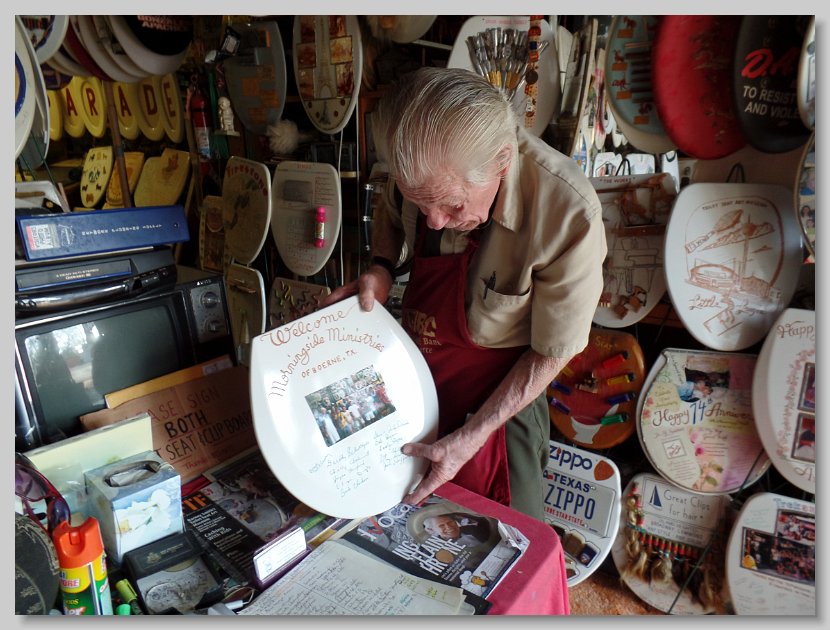 And then we went to another museum - one of a kind, to be sure. It's Barney Smith's Toilet Seat Art Museum. Barney is a 92 year old retired master plumber who has personally created almost 1200 decorated toilet seats. We'd seen a couple of TV features about the museum over the years, but we weren't fully prepared (how could you be?). Barney came out to greet us, and we spent over an hour as he showed us around his garage, where all 1196 toilet seats are displayed - we saw the first one and the last one, which he was finishing as we arrived. He knows where every one of them is, and they aren't hung in any recognizable order. We wound up signing two of the seats - one for Oregon folks, another for members of the Escapees RV Club.
We asked him which was his favorite, and he took us right to it, and told us the story of an eight year old boy who'd been assigned the Kipling poem "When Earth's Last Picture Is Painted" for a declamation pageant in 1929. He then proceeded to recite that poem, complete with declamation-type gestures. And then it morphed into a story about that same boy, four years later, who fell out of a tree and broke both wrists when he landed on a girl from a neighboring farm. Of course, Barney was that boy, and when he was 18, married that girl he'd fallen onto and fallen for. They'd been married 74 years when she passed away, just five weeks before we were there.
Why toilet seats? When he was a boy, he said, his father, also a plumber, would mount the antlers of animals he'd shot on plaques and hang them on the walls. When Barney shot his first deer, he wanted his father to mount those antlers on a plaque. But daddy said it was too expensive - the depression and all. So Barney found a old toilet seat that was shaped a lot like a plaque and mounted his antlers. And so it began.
Barney won't be around forever, so if you're in the San Antonio area and at all interested, better see the seats (and Barney) while you can. Click here for more info, and if you're going, be sure to call ahead so Barney can put on his shoes and get the garage doors open.
On March 2, we said our goodbyes to the friendly folks at Pipe Creek Presbyterian Church, and by the time we got back to the rig, the temperature had dropped from 72 to 40 degrees. The Polar Vortex had caught up with us. We took some time to top off our propane tank and hunkered down. Next day, with the temp just barely above freezing, we hooked up and drove about 70 miles north (the RV park folks said "you gotta be nuts going north in weather like this") to the charming town of Fredericksburg TX. It was even colder when we got there. The weather forecast included the term "thunder-sleet", a new one for us, and while we had some spectacular thunder and lightening that night, no sleet. And by the next day, temperatures were back in the 60s and we were comfortable again. We settled in at the Fredericksburg RV Resort (9), a relatively new RV park right in town, and within half a mile of all the major attractions.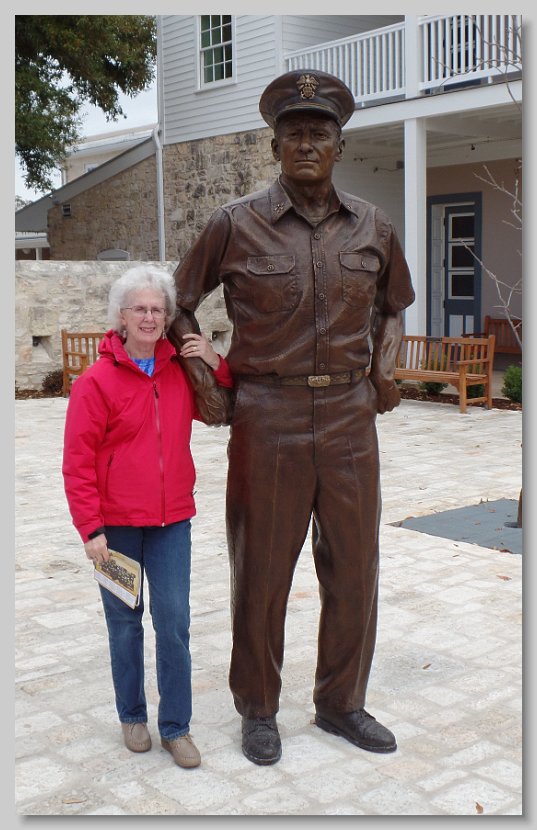 Fredericksburg is a 150 year old town of German heritage with a world-class museum - the National Museum of the Pacific War. If there's anything you ever wanted to know about WW2 in the Pacific Theatre of Operations, this is the place. But why Fredericksburg? It's the home town of Fleet Admiral Chester Nimitz, who was co-commander of the Pacific War operations - sharing the command with a guy named MacArthur. The museum complex covers most of a full square city block. Your admission ticket is good for two days, which isn't nearly enough time to see it all. We're not particularly serious history buffs, but it still took us about 8 hours over two days to get through all the buildings. And we just skimmed the surface. It's an amazing facility - not only explaining what happened in the Pacific during the war, but also why. One more check mark on our bucket list.
There are a few regional burger chains around the country that have developed almost fanatical followings - In-n-Out Burgers in California, White Castle in the Midwest. In Texas, it's Whataburger. On our way to the war museum the first day, we pulled into the local Whataburger for lunch, only to be intercepted in the parking lot by the store manager who explained that the restaurant would actually open tomorrow. Today was their last training day. And while we chatted, he started trying to figure out how he could get us some food anyway. Finally, he scribbled something on his business card and invited us back that evening to the VIP reception for local business leaders. So we went. A very good meal, and free. We were probably the only people there who didn't know anybody else - the token tourists in a tourist town. We do like Texas hospitality. We went back a few days later, and the manager told us the opening had been way better than expected - they did about 50% more business than planned, and had to reorder food a couple of days sooner than planned. He was quite happy.
Much more March in our next report . . .
Only about 60 pictures in our slide show this time. Check them out here.