Apr 1 - Apr 30 - Many More Museums!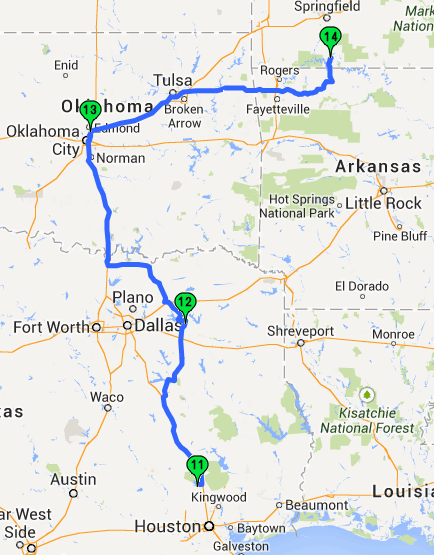 April was an interesting month, but we did some neat things - mostly museums, and mostly in places we'd not been before.
The month started at the 1000 Trails Lake Conroe Resort at Willis TX (11), and what with screwy weather (rain, wind, cold) we didn't do too much. On April 9, we hooked up and headed a little over 200 miles north to the 1000 Trails Lake Tawakoni Resort at Point TX (12). We went there because it's the closest 1000 Trails park to the Dallas area, and there were some things we wanted to see in Dallas.
Earlier, we'd discovered that the tires on our new mobility scooters left ugly black marks on some carpets in museums, and we needed to fix that. So we began a search for non-marking tires - a search that took most of the two weeks we were at Lake Tawakoni. So we didn't use our scooters when we drove into Dallas to tour the new George W Bush Presidential Library and Museum. Fortunately, the museum isn't particularly physically taxing.
It's interesting to visit the presidential museums of presidents who've served in our recent memories. Interesting because the stories presented by the museums are often quite different than the images presented through the "news" media during those presidencies. You almost wonder if there were two presidencies, and the media only told you about one of them. The Clinton Museum made almost no mention of that president's reported peccadillos and indiscretions, and the "W" museum presented that presidency in an almost unfailingly positive fashion. Interesting.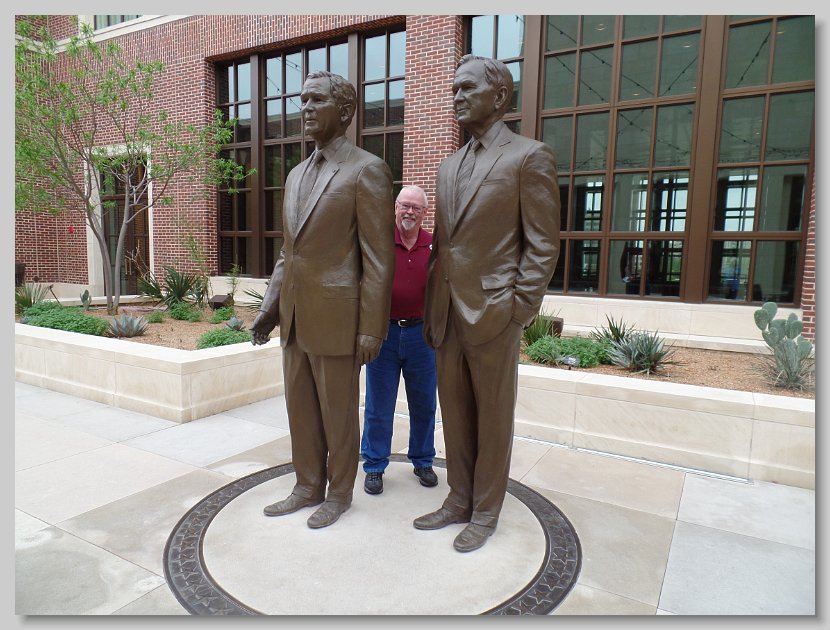 Much of the Bush museum focused on the 9/11 tragedy and the following war on terrorism that consumed so much of the nation's attention. There was a lot of background material presented as Bush explained why some things were done, and why some things were not done. Much food for thought. As with most newer museums, there was a lot of use of video and interactive multi-media displays. And, as with many other newer museums, there was an apparent tendency to "dumb down" the displays and materials. If you're a real history buff, the Bush museum seemed pretty light on details. But there was a lot of personal detail about the Bush family, which was good stuff.
With this library visited, we have just three more to go - Carter, Kennedy and Hoover. There are a few presidential museums that operate outside the presidential library system - Lincoln and Washington come to mind - that we've seen as well. Our journey continues . . .
We'd booked two weeks at Lake Tawakoni with anticipations of making more than one trip into Dallas, but we had a few attacks of major storms that kept us glued to the weather radar displays on the internet hoping we'd not have to seek shelter. Fortunately, all we got were some torrential rains and brisk winds. We also started suffering from apparent allergies as all that rain brought forth all kinds of pollen we'd not been exposed to recently, so we spent more than one day cooped up sniffling and sucking down anti-sneeze concoctions.
We attended two delightful services at the United Presbyterian Church of Greenville TX - Palm Sunday in the middle of a torrential rainstorm, and Easter Sunday on a beautiful spring day. It's was good to go to a Presbyterian Church that seemed to know who they were and what they were about, after having visited so many that seemed to be trying to figure all those things out.
After two weeks, on Wednesday April 23, we headed north into new territory, and drove about 250 miles to the Twin Fountains RV Resort at Oklahoma City (13). We'd never been to OKC, and were looking forward to seeing bunches of new things.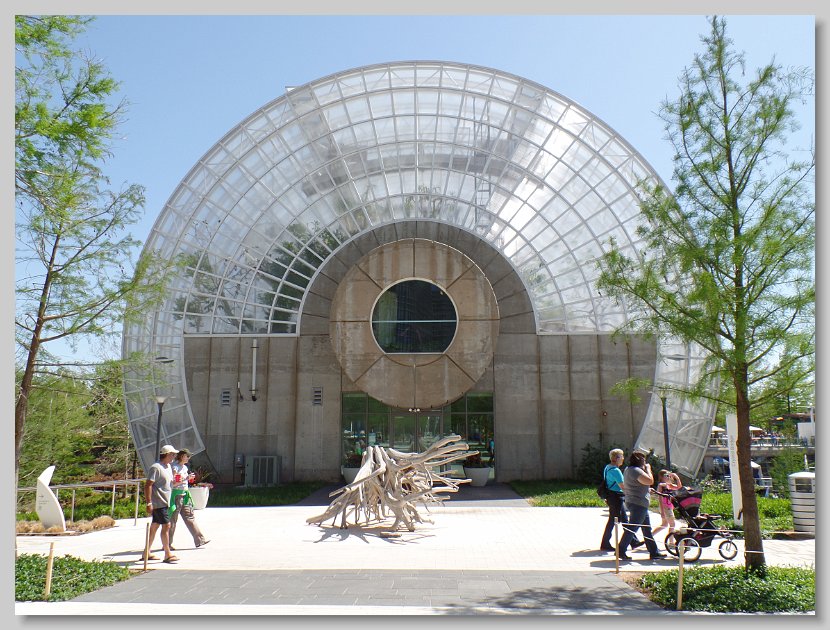 But first things first, we had some significant shopping to do, we had a leaking tire on the car that needed attention, and we needed to get our new non-marring tires mounted on our scooters. That took us until Friday morning,
Friday afternoon we headed into downtown OKC to visit the Myriad Botanical Gardens. Turns out the gardens were the focal point of the annual OKC Arts Festival. So we saw a lot less botany and a lot more art than expected. Our scooters enabled us to spend upwards of 3 hours rolling about the festival with minimal fatigue. And we got a lot of positive reaction from folks we encountered. Makes us wonder if we should be selling them ourselves. . . . . nah, we're retired.
On Saturday morning, we went to the world-famous National Cowboy and Western Heritage Museum, just up the street from our RV park. The Cowboy Museum was one of our two "gotta do" places in OKC. It's a wonderful facility celebrating and chronicling cowboy and western life. There are several galleries devoted to significant works of western art, and many more showing the artifacts of western life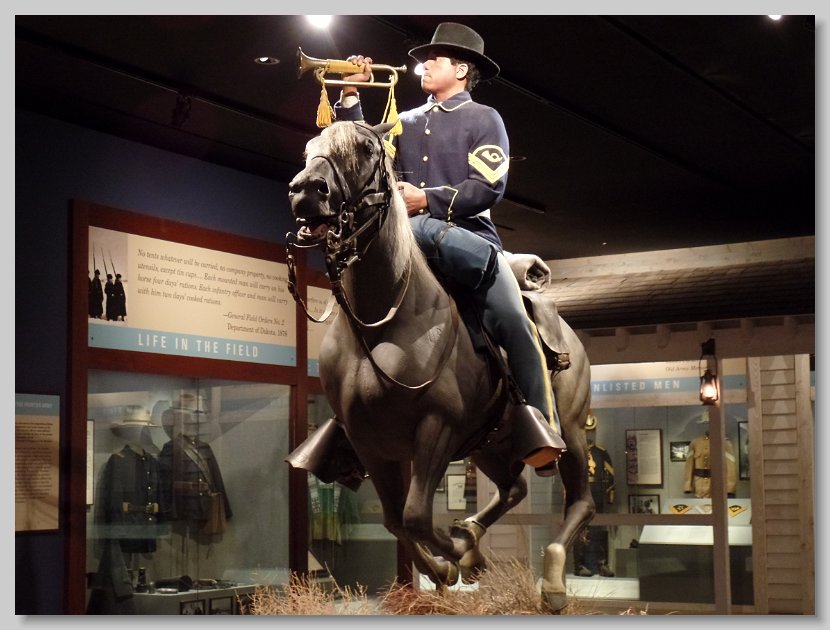 - guns and saddles and brands and barbed wire. Arguably the most popular gallery was the Performers Gallery, with displays devoted to all the western stars of cowboy movies and tv shows. The largest was for John Wayne (big surprise there), although there were lots of other folks featured. We had lunch at the museum and our scooters enabled us to spend most of the day without wearing ourselves out. And again, we got lots of positive comments from folks who saw us, wanting to know more about the scooters.
Sunday morning we were awaked at 5:30 by the weather alert radio advising us of approaching severe thunderstorms, high winds and damaging hail. So for a few hours we watched the weather radar and local television, tracking the progress of those storms. We didn't get any of the baseball-sized hail the forecasts warned about, and aside from some rather heavy rains and spectacular thunderclaps, we were spared. It was fascinating watching the radar displays as those storms just erupted from nothing about 20 miles from us and starting moving by us at 65mph. Scary. The threats were over in about two hours. That same storm front kept moving east and over the next three days resulted in about 40 deaths from tornados in states ranging from Eastern Oklahoma to Mississippi to the Carolinas.
After the storms cleared up, we got cleaned up and headed for church at Westminster Presbyterian Church in Oklahoma City. It's a church of over 1800 members, has three pastors and three Sunday services. We got there for the 11am service and found about 40 or so other folks. Adding in the choir and brass quintet there might have been 75 people there. The excuse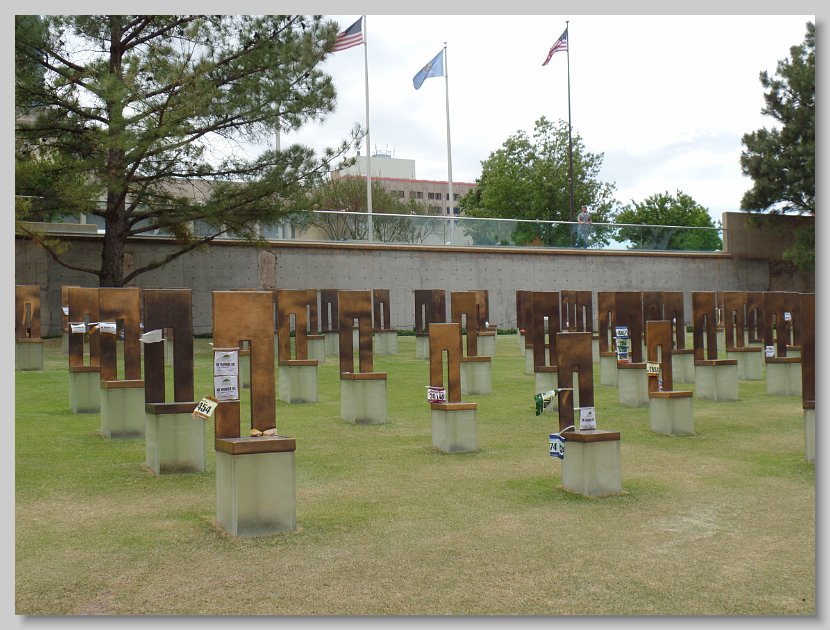 was that the Oklahoma City Marathon was running that day, and many streets around the church were closed. We suspect the weather played into it as well. But it was interesting rattling around in that sanctuary built to hold several hundred folks. The service was great, although the congregational singing was kind of sparse.
Our other "gotta do" for OKC was the Memorial for the victims of the bombing of the Alfred P Murrah Federal Building in April of 1995. The memorial occupies the site of the former building, and honors the 165 people, many of them children, who lost their lives in one of the USA's earliest domestic terrorism events. It's sad that so many things we visit are memorials to victims of man's inhumanity.
On a lighter note, our last day in town we visited our oddball museum of the month - the Museum of Osteology. That's right, bones. Skeletons. Over 300 of them, ranging from a hump-backed whale to a baby hummingbird. Absolutely fascinating. We took a few pictures, as you might imagine.
For those with any interest in broadcasting, our RV park was on the northwest corner of OKC, where all of the TV towers are located. We counted at least 11 "tall" towers, many of them with just one antenna showing, While some towers had two or three antennas, it seems like a tremendous waste of steel. But interesting, nevertheless. And we got really good reception at our RV park.
On April 30, we hooked up and headed out. 300 miles and 6 hours later, we pulled into the Turkey Creek RV Village in Hollister MO (14). Hollister is just across a bridge from downtown Branson MO, and Turkey Creek is owned and operated by the Escapees RV Club, with a mission to keep the prices low. We didn't have anything on our agenda for Branson other than kicking back for a week. That's hard to do on the cheap, but this park makes it more possible.
About 97 pictures in our slide show this time. Check them out here.