Apr 30 - June 3 - Not Much to Report (in 2500 words or less)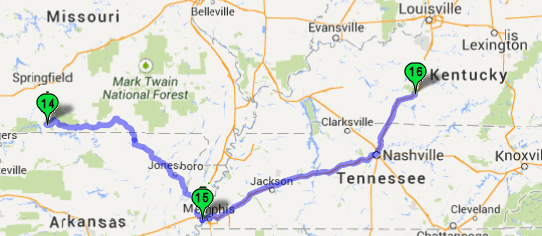 On April 30, we set up camp at the Turkey Creek RV Village in Hollister MO (14), just across the bridge from downtown Branson. Turkey Creek is one of the RV parks owned and operated by the Escapees RV Club, and one of their objectives is to keep the costs down. So the park is pretty much no-frills, but also relatively inexpensive for a tourist town where almost everything else is pretty spendy.
We've been to Branson a couple of times and like the town. In previous visits, we'd seen pretty much all the shows we wanted to, and we expected a low-energy week. And so it was. Other than running a few errands and going out to dinner a couple of times, we basically didn't do much. Judy did visit the local Curves for her workouts, but that was about it.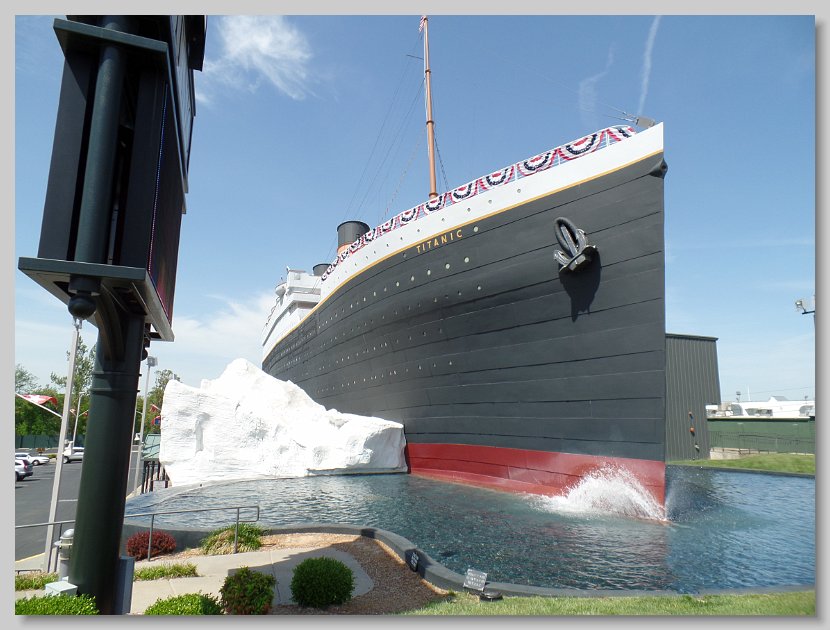 One thing we did do was tour the Titanic Museum. Shortly after the wreckage of the Titanic was discovered, a privately-financed expedition went down to try to recover artifacts. The guy who organized that expedition then took some of the things that were recovered and built a couple of museums around them. One such museum is in Branson. The building is a half-size replica of the front half of the Titanic, complete with iceberg. Inside, there's a directed walk through lots and lots of information about the ship, the passengers on that fateful maiden voyage, and the recovered artifacts. It's absolutely fascinating. There's even a full-size replica of the famed Grand Staircase. We understand there's a twin museum in Pigeon Forge TN.
After a week, we hooked up and headed across NE Arkansas to the town of West Memphis. Al had picked what looked to be a direct route, but turned out to be mostly rural roads through some beautiful scenery. The remnants of spring were evident, with dogwoods in bloom along the roads. And we passed through Arkansas' rice growing country. We didn't know that as much as 2/3 of US rice production comes from NE Arkansas. There were miles and miles of rice paddies in various stages of growth.
After a slower drive than anticipated, we pulled into the Tom Sawyer Mississippi River RV Resort in West Memphis AR (15). As you might expect, West Memphis is right across the river from Memphis TN. We'd never been to Memphis, and were looking forward to seeing the sights of Basin Street, Graceland and all the rest. And then something completely unexpected happened.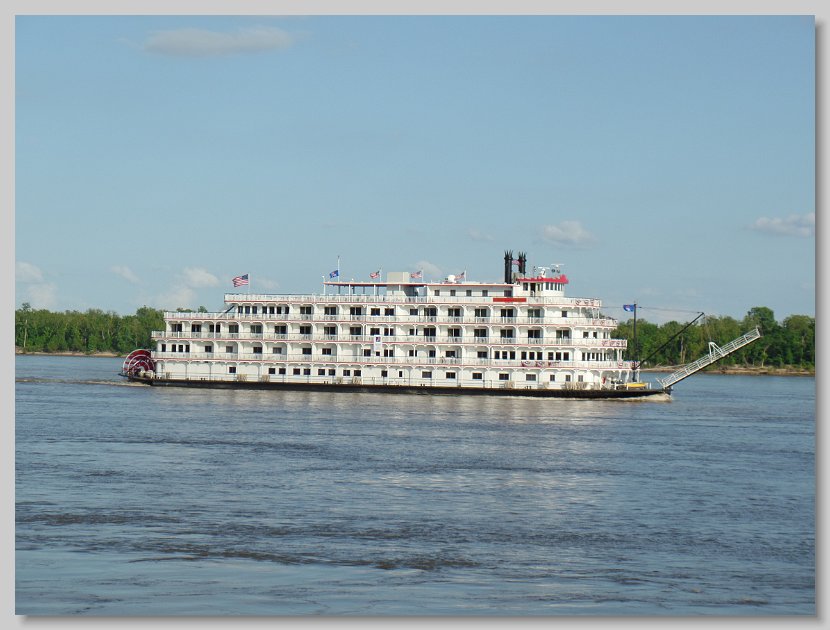 The RV park says they are "so close to the Mississippi River that sometimes we're in it". We'd made reservations twice before and were called at the last minute to say the park was flooding and being evacuated. This spring, it didn't flood. The park is inside the levee, and our site was about 40 feet from the water. And for a week, we pretty much just sat there and watched the river go by. There's a lot of tug and barge traffic, and once a paddle-wheel cruise boat went by. There were fish jumping. We saw a sign in a bar in Northern California several years ago that said "If you're lucky enough to live by the water, you're lucky enough". Maybe that was it. It was very relaxing. Bottom line, we still haven't really been to Memphis. We drove in once for church at the spectacular Idlewyld Presbyterian Church, a magnificent gothic structure with a very nice service. That was about it.
We did search out some of that legendary Memphis BBQ, and found it, interestingly enough, at a run-down red building behind a gas station just off I-40 west of West Memphis. The Roadside BBQ is known as the "little red shack with the grill out back". According to the on-line reviews we looked at, it has the best BBQ in the area. The place hasn't been painted in years, judging by all the signatures on the walls. Judy said the toilet in the ladies room wasn't attached to the floor. There's no air conditioning. But the people behind the counter are very friendly. And the BBQ is to die for. We went twice, and were recognized and welcomed back on our second visit. We may have been spoiled for any other BBQ. Only time will tell.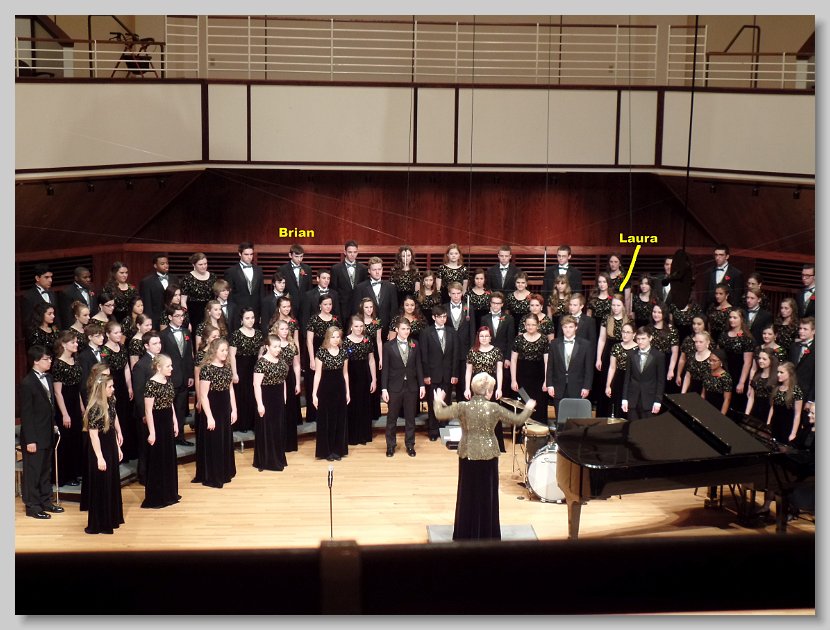 After a week of relative indolence, we hooked up and headed out across Tennessee to the Diamond Caverns RV Resort at Park City KY (16). We'd planned a 3-week stay, backtiming to arrive in Columbus IN for Brian Pierson's High School graduation in early June. But the Piersons called and invited us to join them for the final concert of the year of the excellent Indianapolis Children's Chorale. It would be Brian's final concert, and the last time Brian and Laura would both sing in the choir. So after two days, we hooked up and headed north to Columbus for a most enjoyable weekend. And then we drove back to Park City for the balance of our planned three weeks.
The Diamond Caverns RV Resort is a 1000 Trails park, so we stay free as part of our membership. And it's just a few miles from the entrance to Mammoth Caves National Park. We've been to Mammoth Caves a couple of times and have taken every tour they offer that doesn't involve crawling through tight spots, so this time we never even went into the park. But Judy became a temporary regular at the Curves in nearby Glasgow KY. And we took advantage of our stay to have some necessary work done on our Honda CRV at the dealership in nearby Bowling Green. About $1000 later, we had new tires, new brakes, an oil change and a transmission fluid change. Good to go for many thousands more miles. Interesting note - they had to order the brake pads. Seems like most cars just 2 years old don't need new brakes yet. But we had over 30,000 miles on the odometer plus another 10,000 miles of towing behind the motorhome. But it also seems like maybe there's something going on while we're towing that we haven't noticed. We'll have to pay better attention.
Al had been gaining weight for several months, and his back was protesting more than usual while we were in Park City. After deciding to lose some weight, we were hoping things would improve. And then one day he flopped into a chair and apparently pulled an abdominal muscle. Much discomfort ensued. We didn't completely work through it all until we got to Indiana in June, but in the meantime, Al didn't do much moving around. But he was losing weight, to great satisfaction and not a little smugness.
We'd also been working through a problem with one of our new mobility scooters that was finally traced to a bad motor controller. Having two scooters so we could swap out parts as suggested by the factory helped the diagnostics process a lot. And once we got a new controller from the factory, the scooters were once again whole and working well. But there was a lot of disassembly and reassembly involved, which probably didn't help Al's back any. Such is life.
Anyway, we ended May and started June getting ready to head north again, and keeping a wary eye on the weather, as there were some spectacular rainstorms moving about the area.
Only about 42 pictures in our slide show this time. Check them out here.