August 1-31 - Hanging Around in South-central Pennsylvania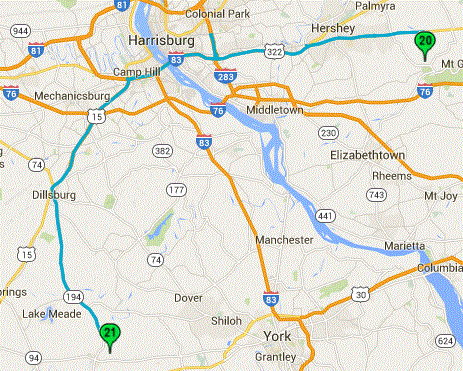 As you can see from the map, we didn't move around much in August - less than 100 miles total. Didn't do a whole lot, either. But it was a very enjoyable month.
We spent the first 7 days of August happily camped at the 1000 Trails Hershey PA Resort (20). We ate out a few times at the local Fuddruckers, made a trip to the nearest Costco (in Harrisburg), and had a couple of dinners at the local Texas Roadhouse, taking advantage of their "Wild West Wednesday" promotion. We made one trip to Lancaster PA, the closest Bank of America branch, to replenish our pocket cash supply. And while we were there, we checked out the 1000 Trails Circle M Ranch Resort, where we had reservations to live for three weeks when we left Hershey. And after driving around Lancaster and the RV park for a while, we decided we'd not be happy there. So we went back home and changed our plans.
On August 1, two of the three closest Curves locations closed down. Fortunately, the one that survived was only about 11 miles from the RV park, so Judy was able to continue her almost-daily workouts.
On August 8, we pulled out of the 1000 Trails Hershey RV Resort (20) and headed east. We made a stop after about 7 miles at the local Ford dealership in Campbelltown PA to have the transmission fluid, oil and filter changed on the RV. After about 2 hours we continued on to the 1000 Trails Gettysburg Farm RV Resort (21) near East Berlin PA. We'd spent a few weeks at Gettysburg Farm last spring, and enjoyed it then.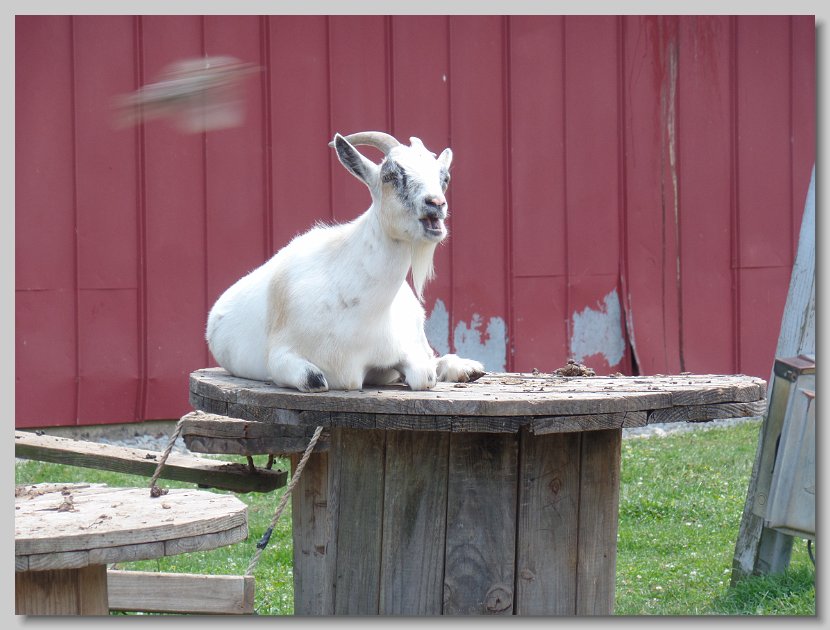 We often encounter animals at the RV parks we stay at - deer, various kinds of birds, squirrels, rabbits, the occasional coyote. At Gettysburg Farm, it was goats. Actually, Gettysburg Farm has all kinds of farm animals, but the goats have free run most of the time. They're cute and energetic and willing to be very friendly if they sense you have anything resembling food.
We were about equidistant between Hanover and York PA, and visited both a few time. We attended First Presbyterian Church in York three times - an old, active church with lots of history. We did most of our shopping in Hanover - and they had a convenient Five Guys, which we like. Judy persists in having birthdays, so we celebrated on August 20 by going to Hanover for a movie and dinner. The movie was the new "Man From Uncle", a fun show, and the delightful dinner was at the local Red Lobster. Judy picked it because she'd seen the TV commercials for their annual CrabFest, and then ordered just about every kind of seafood except crab. And she was happy. Post dinner, a very nice rainbow to cap off the day.
We had one day of particularly heavy rain, causing some concern when our area was included in a flash flood warning. As the RV park adjoins a fairly large creek on two sides, we weren't sure what would happen. Our rain gauge showed just about 4 inches of rain that day, 3 of them in just one hour. But we stayed high, if not completely dry, and the creek stayed within its banks.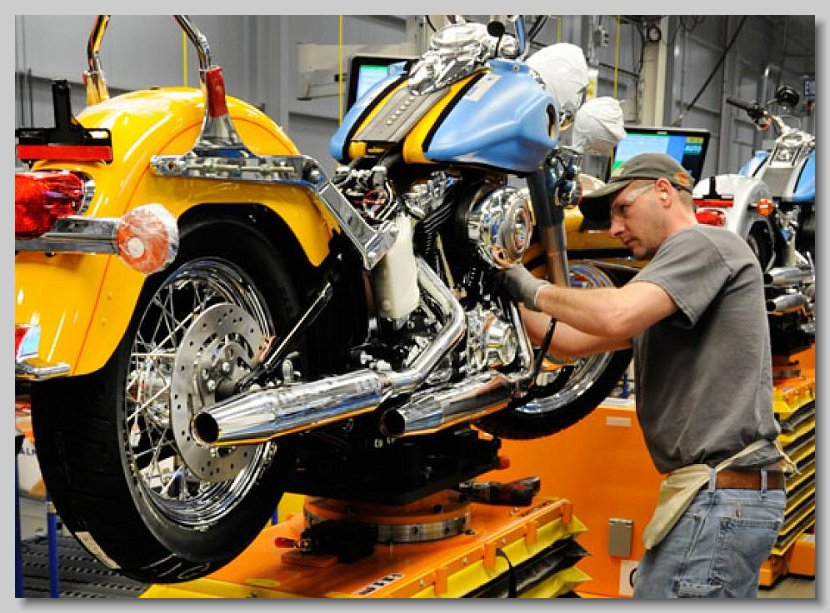 When we stayed here in the spring, there were a couple of factory tours we didn't get around to. This time, we made it to the Harley Davidson assembly plant in York to watch them building motorcycles. The excellent factory tour takes just under 90 minutes. Unfortunately, they don't allow photography within the factory. We suspect it's mostly to keep the tour moving, because you can find all kinds of pictures and videos on the internet. We've added a couple of those to our slideshow. The factory is highly automated, but still employs lots of people. They work two shifts of 10 hours a day, four days a week. Everybody gets a three-day weekend. And they turn out some beautiful bikes.
The other tour we wanted to take was of a small violin making shop in York. But the owner, who gives the tours, was on vacation. We're hoping we can get a tour when he gets back in September and we're still in the area.
On August 26, we hooked up again and drove the 47 miles all the way back to the 1000 Trails Hershey Resort (20) and settled in for a two-week stay. We've learned to plan our holiday stays to arrive well before the hoards descend, especially in popular areas like Hershey. The plan worked, and we were able to snag a very nice site.
An aside: We bought our Honda CRV new in April 2012, but it's still "new" to us. And this month the odometer rolled past 50,000 miles. Plus another 20,000 miles being towed behind the motorhome. Suppose it won't actually last us the rest of our lives?
Judy took a few pictures during August, and we've put just 17 of them into our slideshow. Check them out here if you choose.