Sept 1-30 - Mostly the Shenandoah Valley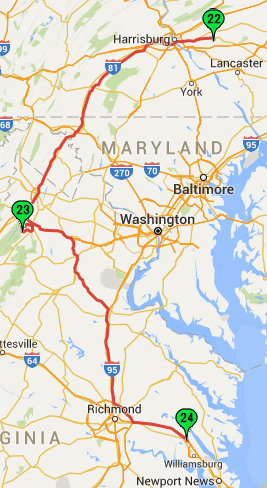 September was a month of adventures, some planned, some not. We began our month at the 1000 Trails Hershey Resort (22), where we'd figured on just hanging out until after Labor Day. No big activities - eat out, shop some. But on Labor Day Sunday, Judy's tablet e-reader started acting up - wouldn't take a full battery charge, would lock up for no apparent reason. It's the first generation of the Google Nexus 7 tablet - actually delivered the day before the official release date in 2012. As electronic gixmos go, it's absolutely ancient. Anyway, after several hours of fruitless fiddling, we decided to shop for a new one - and settled on the brand new Samsung Galaxy S2 8" tablet, which we finally found in stock at the Staples store in Lebanon PA. Picked it up on Labor Day. Subsequent fiddling with the Nexus restored it to operation, but by comparison it seems so primitive. Judy's happy again. And that was our unplanned adventure while in Hershey. We also said farewell to Derry Presbyterian Church in Hershey - quite possibly our favorite of the many churches we've visited. We doubt our future travels will take us back to Hershey, and we'll miss it.
On Sept 8, we hooked up and headed south 166 miles to the Skyline Ranch Resort (23), outside Front Royal VA. We'd never spent any time in Virginia's Shenandoah Valley, which offers a lot to see. Front Royal is a town, not a city - not sure of the distinction - and was originally named LeHewTown, after the Frenchman who originally owned the whole area. Best guess is that "Front Royal" derived from the French term "le front royal", referring to the British frontier. Best story, though, has it that back in colonial days, the local militia trained its recruits in front of the big oak tree - the Royal Oak - that stood in the town square. Seems the none-too-bright recruits couldn't figure out which way to face until their sergeant told them to "Front the Royal". In any event, when the town was finally incorporated, it got the name Front Royal. We chose it as our base for two weeks as it was central to several things we wanted to explore.
In 1750, Robert Harper got a land patent on 140 acres at the confluence of the Potomac and Shenandoah Rivers in northern Virginia, and set about trying to make his fortune. Abut 10 years later, he started a ferry service across the Potomac to accommodate the people moving westward to settle the new frontier. Three years later, the Virginia Assembly established the town of "Shenandoah Falls at Mr. Harper's Ferry". But within 20 years, it became commonly known as Harpers Ferry, and the name stuck. It's about 40 miles from Front Royal.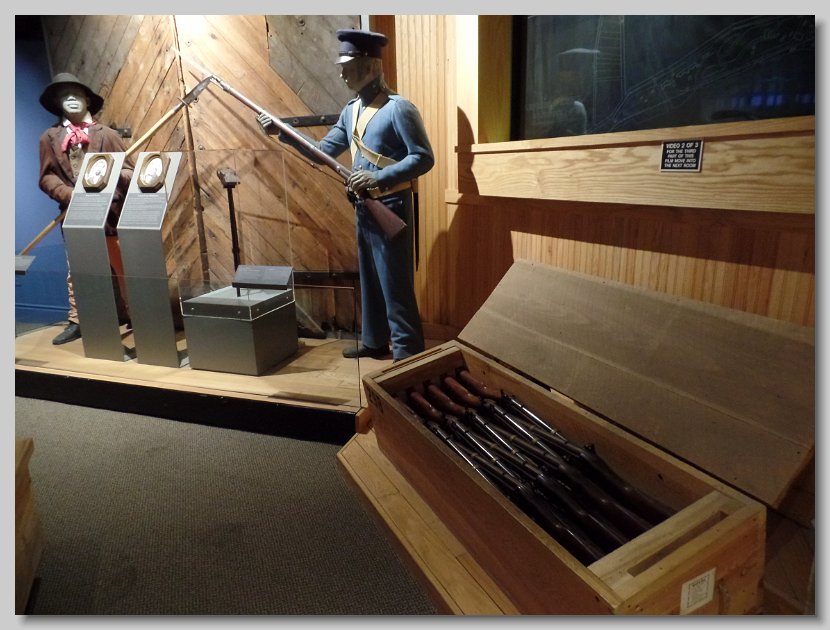 Today, of course, Harpers Ferry (now in West Virginia) is best known as the site of John Brown's raid that kind of kick-started the civil war. In 1859, radical abolitionist Brown and 121 supporters took command of the federal arsenal at Harpers Ferry, and took hostages. Their hope was twofold - to attract attention for the abolitionist cause, and to encourage slaves in the area to join them and form a new "free" country somewhere in southern Pennsylvania. The latter never happened. but they did get plenty of attention. After several skirmishes with local militia, the US army sent in professional troops. Brown was captured, the hostages were freed, and the furor was over. Ironically, it was then Colonel Robert E Lee who put down the abolitionist revolt. Brown was tried and hanged. But the furor was hardy over - within two years, the Civil War was being fought. Harpers Ferry changed hands eight times during the war, and never recovered. Today, the town is principally owned by the National Park Service, where historical happenings are recounted and explained. There isn't much of the original town left - several devastating floods saw to that - but some buildings have been reconstructed. We spent most of a day wandering the streets and absorbing history.
We like caves. And arguably one of the most beautiful and most visited commercial caves in the country is Luray Caverns, about 30 miles south of Front Royal in Luray VA. Of course we toured and took pictures. One of the features is a unique "Stalacpipe" organ - when gently tapped, some stalactites emit a musical tone. 37 of them have been wired to an organ console, and it can be played. It's a popular wedding venue. And the sound is really appealing, although with only 37 notes to work with, some songs can be hard to recognize. This Youtube video we found gives you a sample. And there are plenty of silent pictures of the caverns in our slideshow.
In 2007, we spent some time in the Lynchburg VA area, about 200 miles south of Front Royal, and made a day trip north to Charlottesville to tour Monticello, the home of Thomas Jefferson. We found out that there were two other of the founding father presidents that lived in the Charlottesville area, so this time we drove south to Charlottesville to tour the homes and estates of James Madison and James Monroe. Both were quite interesting - Monroe's home because of how modest it was; Madison's because of how torn up it is. The Monroe home was lived in before Monroe was President - after serving, he built a more "appropriate" mansion near Washington. This one was a four or five room home over a basement kitchen area. Known as "prudent" financially, Monroe was the only one of the "Charlottesville Three" who didn't leave his heirs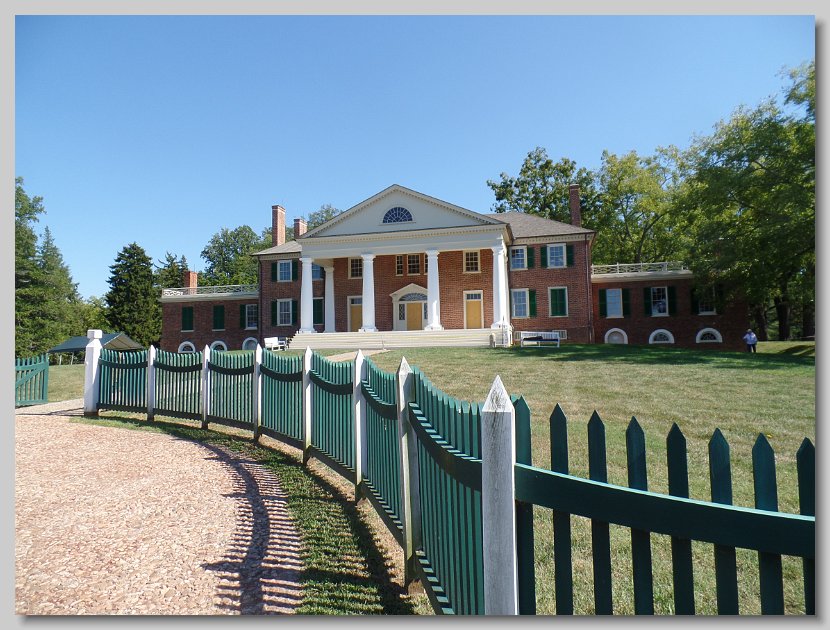 strapped for the funds to keep the family lands. Madison's home was much more extensive, and is currently undergoing a major renovation and restoration project. Many of the rooms were empty, and the grounds were all torn up. And neither of the homes allowed inside photography. But having toured both, we've now been to the homes of the first six US Presidents, and a few others besides.
If you've ever messed about with car audio systems, you've dealt with Crutchfield - the go-to source for all things in automotive entertainment systems. We certainly have. And they're based in Charlottesville, and have a hands-on retail store! We needed to upgrade the radio in the motorhome (our ancient Ipod is dying, and modern car radios play music from USB sticks), and the Crutchfield store gave us a chance to actually see how the song info is displayed. Neat find.
In Front Royal, we were parked under an oak tree, For most of two weeks, we were rained on by acorns, followed by scampering squirrels claiming them from our roof. Never encountered that before. We were also just a few miles from the northern end of Skyline Drive, the main road through Shenandoah National Park. It runs along the crest of the mountains, and offers some spectacular views of the valleys below. It would be even more spectacular when the leaf peeping begins - we understand traffic is backed up for about 10 miles at the park entrance when the leaves are at their peak. But we've now added another National Park to our tally - upwards of 100 parks visited, and more to come (we hope).
On Sept 23, we hooked up and drove 169 miles to the 1000 Trails Williamsburg Resort at Williamsburg VA (24),checking in for a 3 week stay. We had nothing special in mind for Williamsburg - Judy would go to Curves, we'd enjoy the restaurants, maybe go to a museum or two. Al had a few minor projects to work on. But our stay started on a down note - our slideout wouldn't slide out. Without that extra 3 feet of living room space, the rig is not very comfortable to live in. And a slideout problem is potentially very expensive. We envisioned repairs upwards of $5000. Thankfully, a gifted RV tech came by the next morning and found a clamp we didn't know about that had hung up. A couple hundred dollars later, all was well and we were much relieved.
We've written before about Bruton Parish Church, the 300 year old Episcopal church inside Colonial Williamsburg. Three nights a week, they have Candlelight Concerts. Our first night, it was an organ recital by a young lady just completing her doctoral work in organ performance. It was absolutely spectacular. And the next morning, at Williamsburg Presbyterian Church, we were treated to some equally spectacular organ work. Williamsburg Pres may very well have the best church organist we've ever heard, and we've heard some very good ones.
A week into our stay, Hurricane Joaquin came into our awareness. As we ended September, it was expected to make landfall in our general area. So we ended the month watching and waiting for a more definitive forecast, and making contingency plans on where we might go to escape. Generally, that would probably be 4-500 miles inland. Only time will tell, but the fact that you're reading this means we survived.
Judy took a few pictures during September, mostly in the Shenandoah Valley, many underground, and we've put about 86 of them into our slideshow. Check them out here if you choose.