October - Williamsburg & Lexington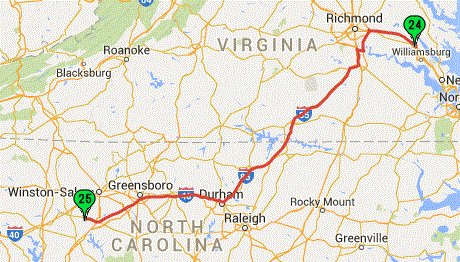 We started October in Williamsburg VA (24), keeping a wary eye on the progress of Hurricane Joaquin, which, according to some predictors, could be heading for us. Fortunately, those predictors were wrong, and the storm moved harmlessly out to sea. We did get some rain, but that was about it. And once the rain cleared, we got back to life as usual.
When we were in Williamsburg in the spring, we spent time at Historic Jamestowne, the site of the first permanent English settlement in North America. We got so wrapped up in the archeological tour we didn't get around to seeing the rest of the park. So we went back.
Historic Jamestowne may be the most fertile archeological site in the country - possibly in the world. We overheard one archeologist saying that at most other digs, you dig for a week and maybe find one artifact. Here, she said, you find a dozen things in every shovelful. They've found more than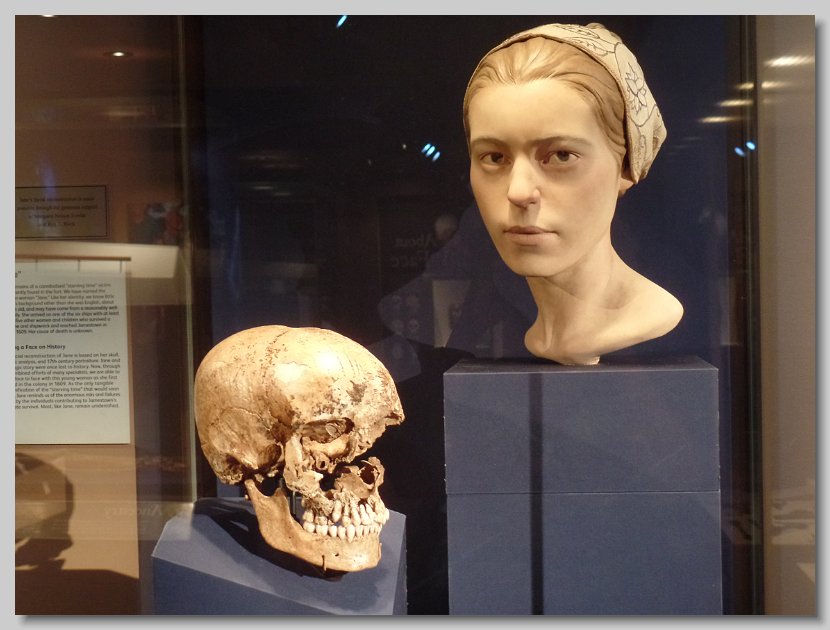 2 million artifacts since serious digging began 40 years ago, and there's no apparent end in sight. Arguably the most significant recent discovery was that of the skeletal remains of "Jane", a 14-year old girl whose bones showed unmistakable signs of cannibalism. "Jane" has become a bit of a celebrity at Jamestowne and throughout the scientific world.
Despite our intent to "see the rest" of the park, we were encouraged to again take the archeological tour. Different guide, new things found in the last several months. So that's what we did. Our spring tour focused on the history of Jamestowne as revealed in the archeology. This tour focused more on the artifacts, and touched some on the newest revelations. It was fascinating. And if we ever go back, we expect to be fascinated all over again. We did make it to some of the rest of the settlement site and toured the museum. There are pictures, of course, in our slideshow.
French emperor Napoleon Bonaparte reportedly said "An army travels on its stomach". But when you visit the US Army's Transportation Corps museum at Fort Eustis VA, there's nary a stomach on display. There is, however, every kind of transporting device imaginable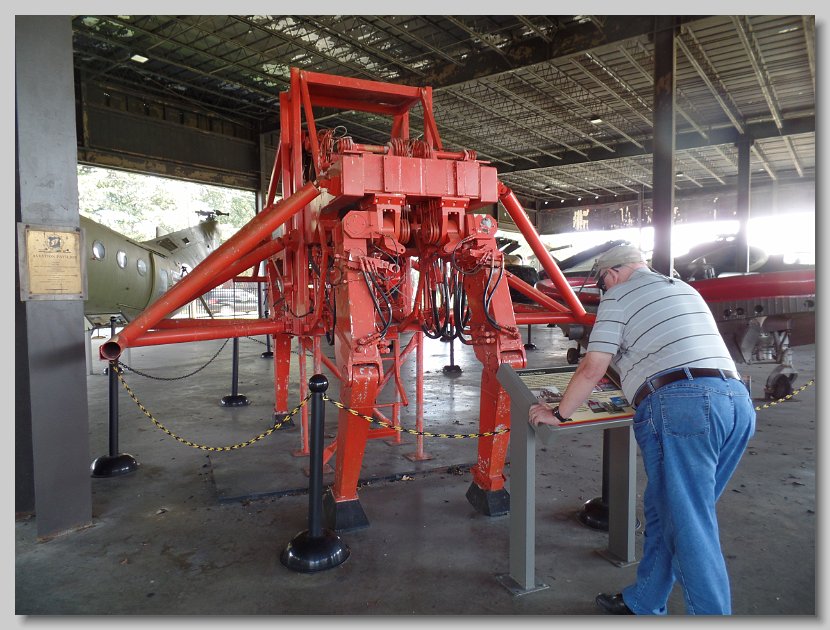 - from mules to backpacks to bicycles to freight trains to hovercraft to helicopters to Conestoga wagons. The Transportation Corps is responsible for moving everything the army needs - people, food, weaponry, munitions, fuel, supplies of all kinds. You get a real appreciation for the logistical end of a military operation. It was a most interesting afternoon.

Williamsburg is home to The College of William and Mary - second oldest university in the US. William and Mary was actually proposed first (1619), but Harvard got their act together and was first to hold classes. Chartered in 1693, the college was named after the then-current British King and Queen. The original building was designed by renowned British architect Christopher Wren. It's the only college to have an official coat of arms, and was the first to have a fraternity - Phi Beta Kappa in 1793. And while the college went through some rough times - enrollment was down to just a handful of students at one point - and the buildings were destroyed several times by fires and wars, it persisted, and today thrives.

Inside the latest reconstruction of Wren's original building is the Wren Chapel, which houses one of the oldest playable organs in the country. Dating to about 1740, the organ was found in England 75 or so years ago and ultimately installed in the chapel. Other than electrification of the air handling system and replacement of some of the leather components, the organ is completely original. And every Saturday morning, the organist from Bruton Parish Church plays it for a half-hour. Still sounds pretty good. We made this short video so you can hear for yourself.

On October 14, we hooked up and headed south, leaving Williamsburg for probably the last time. Destination: 1000 Trails Forest Lake Preserve just outside Lexington NC (25). We had no specific plans for our time in Lexington - just to hang out for three weeks, pig out on some North Carolina BBQ, and hope for some fall colors. We succeeded in all three.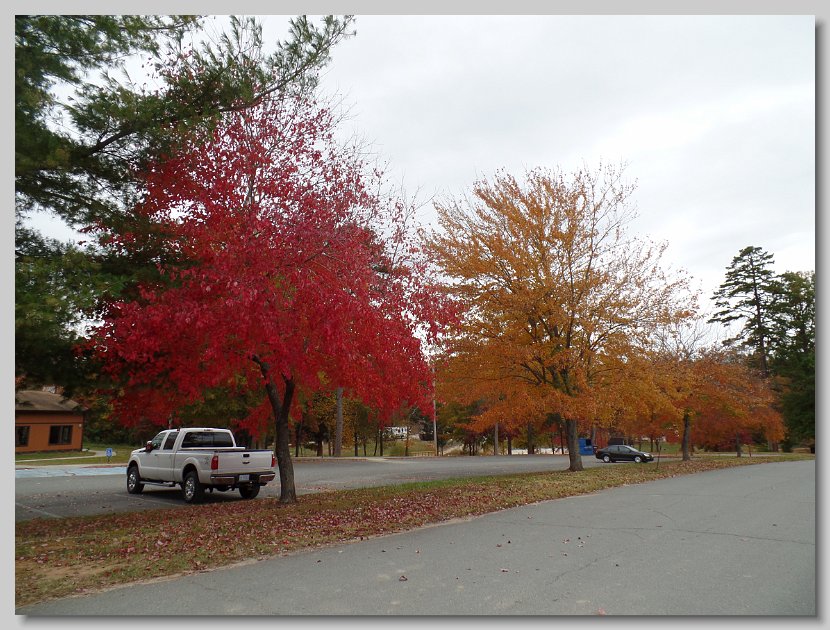 Lexington NC is the self-proclaimed BBQ capital of the world, with about 20 BBQ restaurants for about 20,000 people. One of them, Tarheel Q, is just a mile from the RV park, and we ate there about twice a week. We're not big fans of North Carolina's signature vinegar-based BBQ sauce, or "dip", but Tarheel Q makes a vinegar and tomato sauce that we got to like. And the chopped pork, chicken and ribs were most excellent. The other diners were mostly locals, and everybody seemed to know everybody else. And by the end of our stay, folks were starting to recognise us too.
We visited twice at First Presbyterian Church in Lexington. It's a classic-looking church with very friendly people. And traditional enough that the females mentioned in the bulletin were all identified as "Mrs." or "Miss". Progress comes more slowly to some places, apparently.
We often find ourselves wishing we could hear "the rest of the story". One afternoon, returning to the park, we came upon an accident right at the park entrance - a tractor trailer truck versus pickup. The pickup was much the worse for the encounter. Emergency vehicles hadn't got there yet. A few minutes later, we heard the sirens of the responders. We never heard any sirens leaving - not a good sign. We did hear that the pickup had been exiting the RV park. It's hard to believe anyone in the pickup could have come out unscathed. But we never heard any more info. We hope nobody was seriously hurt, but the lack of sirens leaving the scene would seem to indicate otherwise.
Fall colors? We saw some. And on the rare sunny days, the colors were very nice indeed.
Oh - some say that Al had another natal anniversary in October. He's rather thankful that nobody noticed.
On November 1, we hooked up and headed south again - destination the Atlanta area. That's for our next report.
Judy took a few pictures during October, and we've put about 50 of them into our slideshow. Check them out here if you choose.