Jan 1 - Feb 29 - Not Much Interesting In Our Lives, But Still ...
We came to Florida for the winter to avoid colder weather, and judging by what we've heard, that seemed like a good move. While we had some winter - occasional rain, some chilly nights - we didn't have to shovel anything. But winter conspired against us in other ways. We started January with Al still suffering from a nasty cold. But it had pretty much gone away within a week, leaving behind a persistent cough. We also began the year with some refrigerator problems. Fortunately we were able to resolve both those things.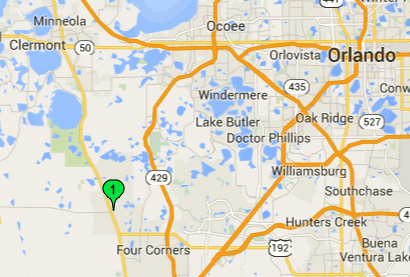 For many reasons, we decided to rent a space at the 1000 Trails Orlando Resort (1) for 3 months. It's not inexpensive to do that, but in the end it turned out to have been the right thing to do. We were properly positioned to deal with our winter problems.
The persistent coughing finally got tiresome, and Al found a walk-in clinic (at Walgreens, of all places) and was diagnosed with bronchitis. Meds were thus prescribed and within another week, the symptoms had pretty well gone away. We were fortunate to be in an area where there are a lot of walk-in clinics, largely to cater to the large number of tourists.
And we probably couldn't have been in a better area to have RV refrigerator problems. There are a LOT of RV's around central Florida, thus a lot of people who fix them. The problem was that the fridge wasn't cooling properly. We started by getting the refrigerator expert from Camping Connection to come out and evaluate. He did some checks and said that we probably should replace the box. While it was limping along at that time, there was no way to tell when or if it would die. Having lost confidence in the fridge, we then faced the challenge of what to do about it.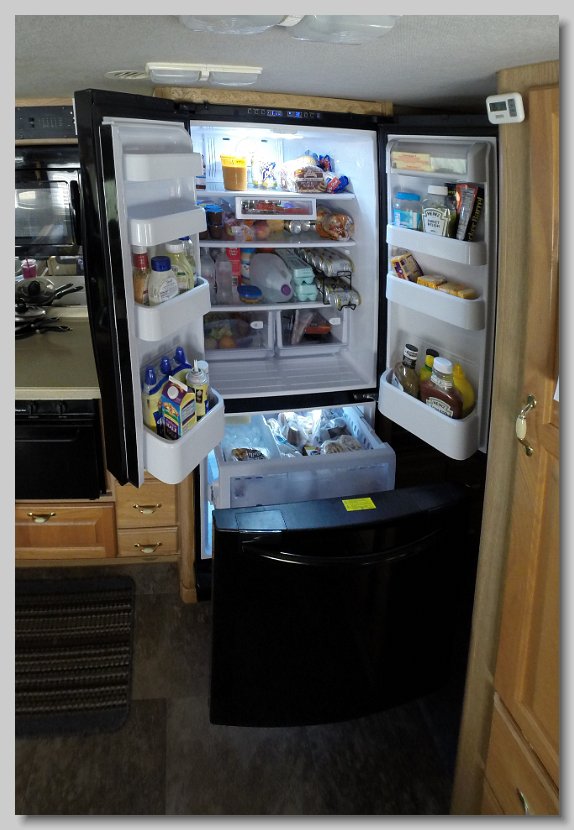 RV refrigerators are not cheap. Ours was the biggest RV refrig made - at around 11 cu ft. It was shoehorned into a tight space, and the RV had probably been built around it. A direct replacement would cost upwards of $4,000 plus installation - no small challenge considering that the refrigerator won't fit thru the RV door. They have to take a window out to get the old one out and the new one in. Fortunately, we were in this area where there are people who know how to do that.
But upwards of $5000 to do that was very daunting. We'd been exploring possibilities, and decided that going with a standard residential refrigerator rather than an RV model would be the way to go. Problem would be finding one that would fit in the same space as the RV unit. And our initial searched turned up none. But a fresh search after the diagnosis found just one that could be made to fit. And it was in stock at Home Depot. And it was on sale. After chatting with the folks at Camping Connection, who would be doing the installation, we bought it. At just over $1200 it was a lot less expensive than the RV unit. We'd be giving up the ability to run the refrigerator on propane, but that wasn't a deal killer. And squeezing it into the RV would mean we'd lose our furnace. But as we try to not be in places where we need that furnace, we went ahead.
It took a day and a half to complete the job, requiring two trips to Camping Connection. But we got a new fridge, half again bigger than the old one (on the inside anyway), neatly trimmed up and looking like it belonged there.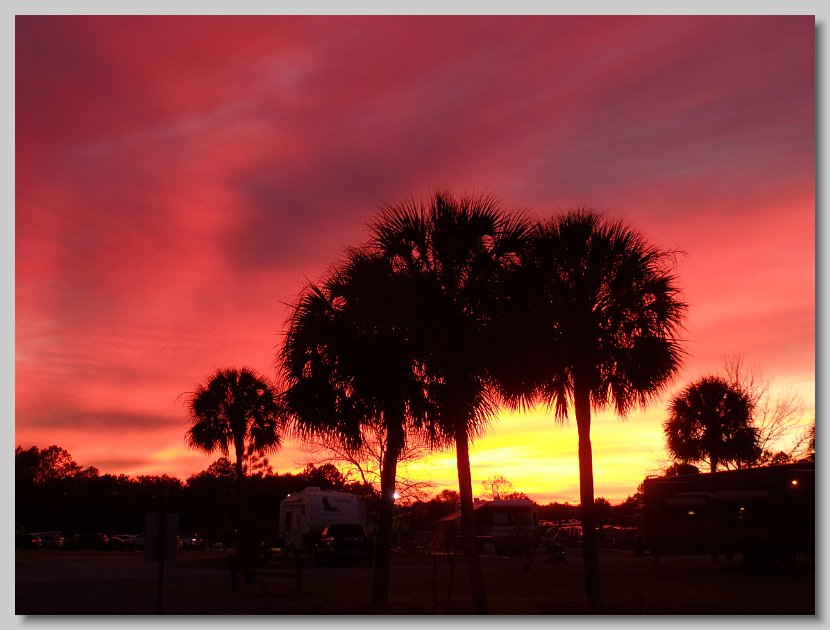 Our remaining challenge was getting some brake work done on the RV. We were pointed to the local Ford dealer, where we spent a morning only to be told that they couldn't get the parts and would have to call us. Disappointing. Also disappointing (and disturbing) was how they could manage to unmount a window shade while diagnosing the brakes. And when we hadn't gotten a call back in two days, we found another place - a tire and brake shop - that (a) confirmed the parts were locally available and (b) would be happy to have us come visit. So we did. Their diagnosis was less dire than the one from the Ford dealer, and thus the repairs were less costly. They said the parts were rather standard, and even in stock at the local Auto Zone. So much for the local Ford dealer. But now the RV has sound brakes all around. With all the running about, we managed to put 81 miles on the motorhome while "staying stationary" at just one RV park. And never did get a call back from the Ford dealer
We managed to see two live Metropolitan Opera productions in the theatre at Disney Springs - Bizet's "The Pearl Fishers" and Puccini's "Turandot". The music and stagings were spectacular, although on the whole we decided that those composers wrote much better music than stories. The plots were all pretty thin and extremely silly. We also managed to see the new Star Wars movie.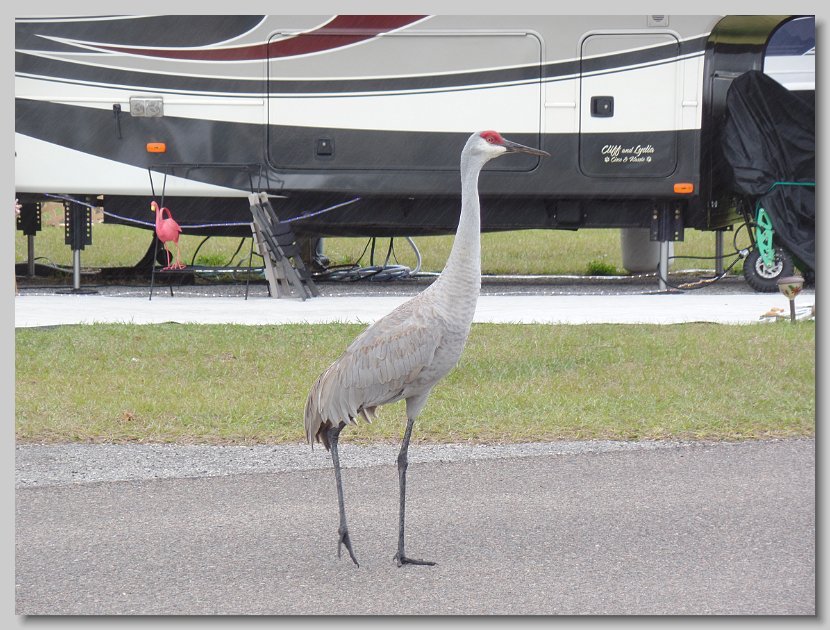 In a move that surprised even us, we both upgraded our vintage flip-phones to smart phones. We upgraded Al's first, primarily to get a backup internet connection - the smart phone can create a WiFi "hotspot" that we can access from the computer or our tablets. As a plus, the move actually reduced our monthly Verizon bill a few dollars. A couple of weeks later, we stopped in at the Verizon store to discuss a special promotion, and wound up getting Judy a new phone as well. And further reduced our monthly bill. We're still getting used to our new electronics. So far we've been able to answer the phone and make calls. Not much else yet. The phones are definitely smarter than we are!
The weather wasn't really conducive to bike riding, our primary form of outdoor activity. Mostly, it was too windy. So our winter exercise was much less than anticipated, except for Judy who made her daily treks to Curves.
Our 3 months of pre-paid rent expired on March 1, and we moved on - headed south to the Florida Keys. But that's for next time.
Judy took only a few pictures during these two months, and we've put about 16 of them into a mini slideshow. Check them out here if you choose.