Dec 1 - 31 - Not Doing Much in Central Florida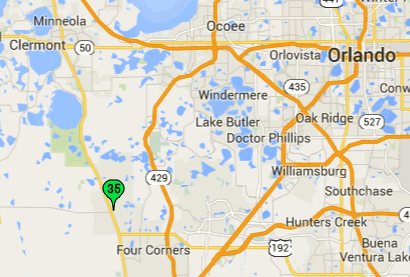 Seems kind of silly to take up a whole report about not doing much for a month, but here goes.
Our first day back at our season site at 1000 Trails Orlando was all about recovering from our trip. After that came restocking the larder and getting started on our "to do" list.
We've been deferring some needed and/or desirable RV repairs until we got to Florida because we have a lot of faith in the RV fixers at Camping Connection, just a couple miles away from the RV park. So we took our list in and got started.
All in all, by month's end, we'd replaced a leaking hydraulic hose, replaced the umbilical cable that connects the RV to the Honda when we're towing it, replaced our entry steps (which were sagging badly and feeling less safe), replaced the fabric on one of our awnings and replaced the springs on the other awning. All spendy but necessary.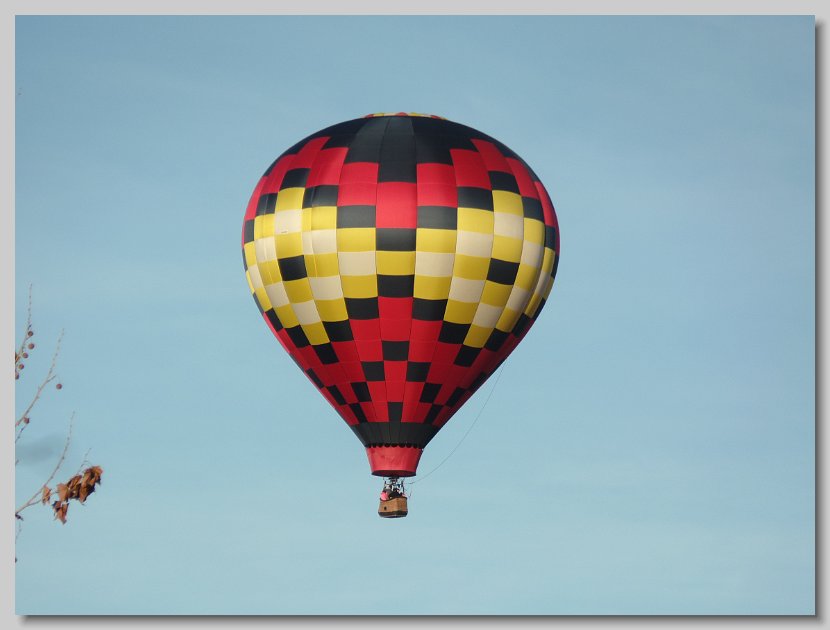 A week before Christmas Al came down with a miserable cold, which lingered through the end of the year. That pretty much put the kibosh on our holiday plans, which weren't all that extensive, and pretty much drained any initiative to do much of anything else. One thing we did manage to do before the cold got fully developed was to go to the opera.
Well, sort of. Ten years ago, the Metropolitan Opera began a program of live high definition telecasts of some of their New York productions, to be shown in select cinemas around the world. We've never been in an area with a participating theatre at the right time until now. So we took advantage of the opportunity to see a marvelous production of Mozart's "The Magic Flute". And even though the seats were $20 each, plus $25 for one popcorn and Coke and two hotdogs, we not only got to eat popcorn during the opera, we didn't pay the $100+ price of a ticket at the Met itself.
We enjoyed a couple of spectacular sunsets, followed a gopher tortoise to its burrow, and watched the occasional hot air balloon drift over the park. We got to ride our bikes around the park a couple of times. In other words, it was a relatively inactive month. We're blaming it all on Al's cold, of course.
Saturday before Christmas we found that our refrigerator wasn't cooling properly. Took a few hours to find someone willing to look at it on a Saturday, and we managed to keep it limping. The initial diagnosis wasn't encouraging, but the RV fixer tried a couple of things, replaced a couple of parts, and we kept our fingers crossed. At year's end, the fridge still wasn't working just right, and we were still concerned. RV appliances are not inexpensive. The prospect of having to replace a refrigerator was daunting.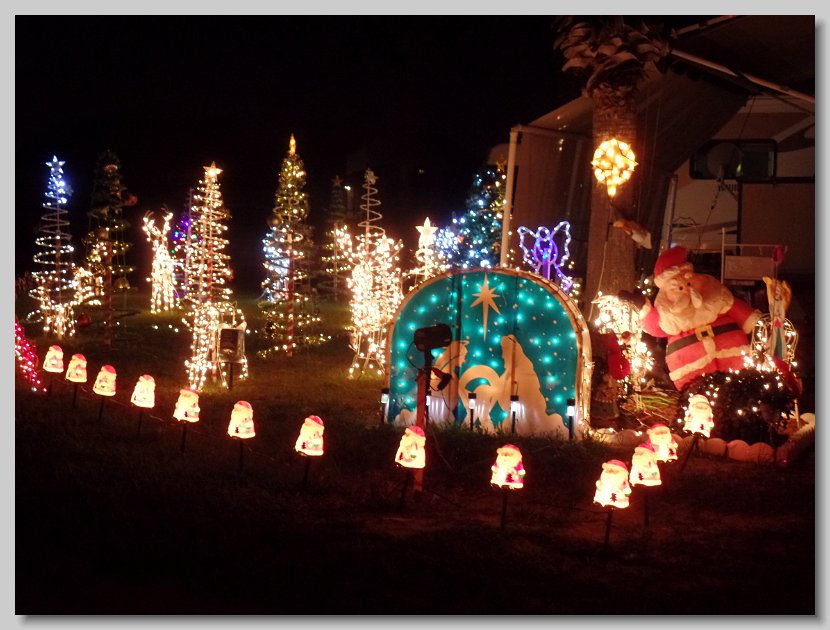 We didn't do much Christmas stuff - one night, we drove around the RV park and looked at other folks' decorations. And we called family around the country on Christmas Eve and Christmas Day. Other than that, Christmas was spent coughing and sniffling (Al) and staying out of the spray range of sneezes (Judy). New Years Eve much the same. It was not the best of months.
So we ended the year where it began, at 1000 Trails Orlando, where the weather was not rainy, snowy or windy (the whole point of being in Florida). In between we saw some neat stuff, all in the Eastern time zone.
Only a handful of pictures in a mini-slideshow this time. Find it here.
Year-End Perspectives: Of interest to us, anyway . . .
We started and ended our year in Clermont FL. We drove our home on wheels a total of 5,202 miles. The motorhome burned 730 gallons of gasoline at an average price of $2.29 per gallon, averaging 7.399 mpg. Cheapest gas was $1.79.9 per gallon, costliest exactly a dollar more. And we bought it all using a 5% cash-back credit card, which helped the cost somewhat.
We drove our Honda a total of 13,688 miles, burning 528 gallons of gas at an average price of $2.32 per gallon, averaging 25.9 mpg. And used the same 5% cash-back card.
We try to stay in RV parks where our memberships get us free or steeply discounted stays. But when we want to go places where such parks aren't available, we pay the going rate. And when we choose an extended stay, even in membership parks, we pay a monthly rate. This year, we paid that going rate at several of our stops. Thus our average cost per night stay was $7.09, slightly better than the average of $7.27 a night we've paid since we started full-timing in 2007 - and more than $2 a night under last year's average. With our paid site for two months plus a very costly week in the Florida Keys scheduled for March, 2016 is starting expensively rent-wise, but hopefully we'll bring the average down as we get deeper into the year.