May 9 to June 8 - Northward to Family & Friends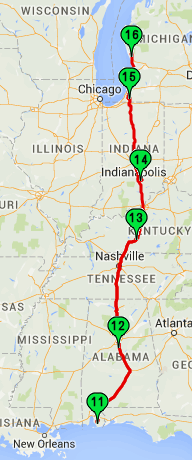 On Monday, May 9 we hooked up and said goodbye to the Gulf Coast and headed north. Interstate 65 starts at I-10 a little west of Mobile AL and ends at I-90 in Gary IN, a little east of Chicago. In between, it passes through or around Birmingham, Nashville, Louisville and Indianapolis. It also passes two of our planned destinations as we head north.
After leaving the Rainbow Plantation at Summerdale AL (11), we joined I-65 a little north of Mobile and had an uneventful drive to the South Birmingham Campground at Pelham AL (12), where we spent the night. We'd stayed there before, in 2010, so we knew it would be a nice place to overnight. In the morning, we timed our departure to avoid Birmingham's rush hour and, after a stop for fuel just north of the city, continued northward. It was not an especially uneventful day. Our first challenge came when we spotted signs for the Russell Stover Candy Outlet in Athens AL and decided to stop. After we turned into the parking lot, it became apparent that we couldn't turn our rig around to get back out. So we unhooked the car, backed and filled, and finally got the motorhome pointed in the right direction, After hooking the car back up, we went inside and overstocked on candy. About 15 pounds later, we got back in the rig and pointed it north again.
After taking the bypass around Nashville TN, traffic came to a full stop. We made very little progress for an hour, presumably because of an accident ahead of us. And, of course by the time the jam cleaned up and we were rolling again the only traces we saw of anything were some scuff marks on the shoulder.
Around 4pm we pulled into our destination, the 1000 Trails Diamond Caverns RV Resort at Park City KY (13). We like Diamond Caverns - it's actually located within the Mammoth Caves National Park, and it's reasonably convenient to Bowling Green KY and all the necessary shops and restaurants. Over the next 10 days we visited Bowling Green several times, mostly for shopping and eating, once for church. We didn't do any touristing - mostly just lazed around. We were essentially killing time in anticipation of our next stop.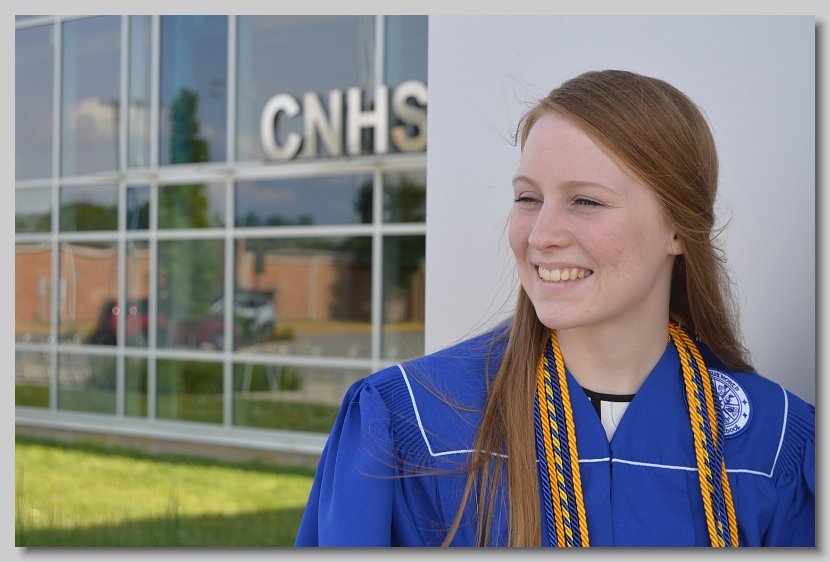 On Friday, May 21 we got back on I-65 and drove the 170 miles to the Ceraland Recreation Park and Campground just outside Columbus IN (14). We came to Columbus for the high school graduation of Laura Pierson, Luther and Linda's youngest. Doesn't seem like it could possibly have been 18 years ago that we stood over a bassinet at Lower Umpqua Hospital in Reedsport to get our first glimpse of a very small feisty redhead. Anyhow, over the next 10 days we joined the Pierson Family for a seemingly endless stream of activities. We drove to Indianapolis to hear Laura's final concert with the Indianapolis Youth Chorale (final except for a tour to Vancouver BC in late June). We ate out with various members of the Pierson family several times, and spent time with both Laura and Brian, who was home from college. We met Brian's girlfriend Sara, and sat with the family as Laura strode across the stage to get her diploma. We went to the Pierson family Memorial Day Picnic. And on May 31, we were gone. It was an emotional parting, as we suspect we won't be back to Columbus. Luther even came to Sam's Club to see us off as we gassed up the rig on our way out of town.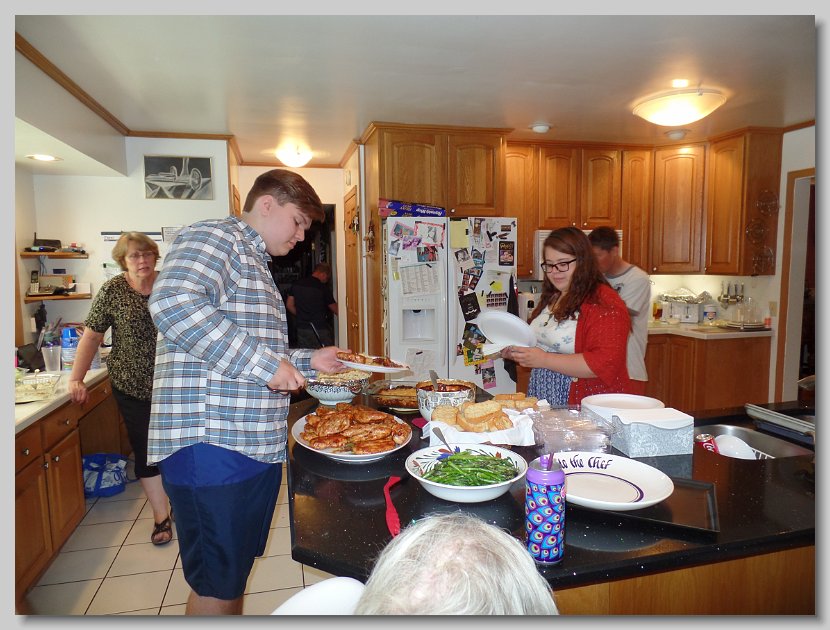 We try to keep our daily drives to under 250 miles - both so we can travel before it gets too hot, and because we get more tired sooner than we used to. So 217 miles up the road, we stopped at the 1000 Trails Bear Cave Resort, just north of the Michigan-Indiana state line (15) to spend the night. And on June 1, we drove the final 112 miles to the Duck Creek RV Resort in Muskegon MI (16), Al's home town. We were there for more graduation celebrations. Al's nephew Chris was being honored with a family cookout. Chris actually finished up his high school in December, but Christmastime is no time for a graduation reception. Springtime, on the other hand, is.
We had dinner with Al's sibs a few times, visited brother Dave and Deb's new house, and had a delightful lunch with one of Al's two surviving aunts. Eileen's 86 and still going strong, In fact, she drove to the lunch and brought along a cousin-in-law neither Judy or Al remembered having met before. And, of course, we attended the graduation cookout and celebration. We were also able to check first hand on the progress being made by Al's sister-in-law Marcia, who was diagnosed with Altzheimers about a year ago. She's doing the best she can, thanks to her great sense of humor and strong family support system.
After pointing out to all the sibs that they were all younger than us and ought therefore to come visit us sometime wherever we were on the west coast, we hooked up on June 8 and headed west, which is really where we belong. That's for our next report. This leg of our life accounted for just over 1,000 miles of RV driving.
We took many pictures during our gatherings with loved ones, and some of them are in our slideshow. Check them out here if you choose. There are only 43.